Brie Bella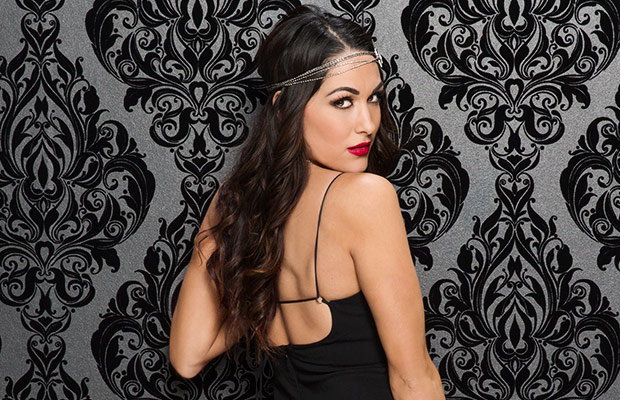 In August 2008, WWE saw the debut of a delectable Diva who quickly made a name for herself, thanks to her moves on her way to the ring and dizzying ones in it. Continue Reading | Brie Bella In Bikinis and Lingerie | Brie Bella In Her Underwear | Even More Photos Of Brie Bella In Her Underwear | Brie Bella Kisses AJ Lee | Brie Bella Posing | Brie Bella Feels Eva Marie's Boobs | Brie Bella Poses Nude Holding A Guitar | Never Before Seen Photos From Brie Bella's Wedding | Brie Bella With Her Former Boyfriend | Brie Bella Dressed As A Zombie | Latest Brie Bella News

Brie Bella Photos
---
---
SEE NEW PHOTOS OF THE BELLA TWINS DRESSED AS THE LEGION OF DOOM/ROAD WARRIORS
SEE PHOTOS FROM DANIEL BRYAN AND BRIE BELLA'S WEDDING
THE BELLA TWINS WRESTLE AJ LEE AND TAMINA SNUKA ON SMACKDOWN – SEE PHOTOS
THE BELLA TWINS GUEST STAR ON USA NETWORK'S "PSYCH" AS ZOMBIES (PHOTOS)
SEE NEW POSED PHOTOS OF BRIE BELLA
THE BELLA TWINS TAKE ON AJ LEE AND TAMINA SNUKA (RAW – MARCH 10, 2014)
NEW TOTAL DIVAS PROMO PHOTOS – THE BELLAS, SUMMER RAE, EVA MARIE, NATALYA & THE FUNKADACTYLS
SEE BRIE BELLA'S VALENTINE'S DAY PHOTO SHOOT
CAMERON & THE BELLA TWINS TAKE ON AJ LEE, ALICIA FOX & AKSANA (RAW – FEB. 10, 2014)
CHECK OUT THESE PHOTOS OF BRIE BELLA IN HER RING GEAR AND MORE
NEW CHRISTMAS PHOTOS OF THE WWE DIVAS – THE BELLA TWINS, VICKIE GUERRERO, THE FUNKADACTYLS, NXT
BRIE BELLA GOES ONE-ON-ONE WITH TAMINA SNUKA (SMACKDOWN – DECEMBER 20, 2013)
SEE PHOTOS OF BRIE BELLA AND DANIEL BRYAN'S ENGAGEMENT
THE BELLA TWINS FACE THE FUNKADACTYLS (WWE SMACKDOWN – NOVEMBER 15, 2013)
BRIE BELLA (WITH NIKKI BELLA) TAKES ON AKSANA (WWE SMACKDOWN – OCTOBER 4, 2013)
DANIEL BRYAN AND BRIE BELLA ANNOUNCE THEIR ENGAGEMENT
BRIE BELLA AND THE FUNKADACTYLS VS. LAYLA, ALICIA FOX AND AKSANA (WWE RAW)
HOT NEW PHOTOS OF THE BELLA TWINS
BEHIND-THE-SCENES OF THE BELLA TWINS' SIZZLING PHOTO SHOOT
THE BELLA TWINS WORKING OUT PHOTO SHOOT
HOT NEW PHOTOS OF THE BELLA TWINS
PHOTO OF THE BELLA TWINS WITH "THE BEAUTIFUL PEOPLE" – VELVET SKY AND ANGELINA LOVE
WWE LEGEND REVEALS THE GROSS THING THE BELLA TWINS WOULD DO BACKSTAGE AT WWE SHOWS
PHOTOS OF THE BELLA TWINS, LILIAN GARCIA AND ROSA MENDES PARTYING IN LAS VEGAS
PHOTOS – THE BELLA TWINS' DOMINATRIX PHOTO SHOOT
Photo of Brie Bella wearing Daniel Bryan's "Yes!" shirt
The Bella Twins on the cover of Maxim magazine
Photos of Alicia Fox, Natalya and The Great Khali wrestling Brie Bella, Drew McIntyre and Nikki Bella
The Bella Twins' new photo shoot at a wrestling school
Hot new photos of The Bella Twins
New modeling photos of The Bella Twins
Photos of Kelly Kelly & Eve wrestling The Bella Twins on Raw
New bikini photos of Brie Bella
New photos of The Bella Twins in their ring gear
Photo of Brie Bella putting her arms all over a WWE writer in a pool
Raw photos – Kelly Kelly and Alicia Fox vs. The Bella Twins
New photos of The Bella Twins in their catsuit ring gear
New posed photos of The Bella Twins in jeans
Before They Were Stars – Photos of The Bella Twins as kids
Photos of The Bella Twins' hot new ring outfits
Hot new bikini photos of The Bella Twins
The Bella Twins Photo Gallery (Set One)
The Bella Twins Photo Gallery (Set Two)
Photos of The Bella Twins without makeup

For Your Information
---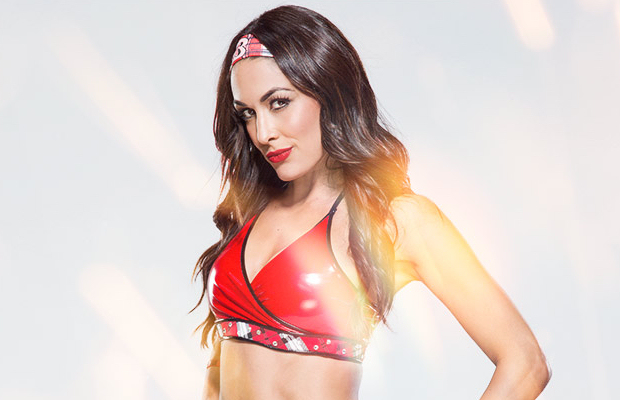 How can people tell Brie apart from her twin sister Nikki?: In a 2009 interview with WWE Magazine, the twin duo explained how people can tell them apart. Brie said, "I have two beauty marks on my chest, and our faces are shaped differently. We joke that I have more of a banana head, and Nikki has an apple head. She has the bigger booty, too, which she's proud of."
Nikki added, "Oh, heck yeah! I carry way more curves than Brie. And I usually have a flower in my hair. I love celebrating my Mexican-Italian heritage, and a flower makes me feel Spanish…and pretty!"
Another way to tell the identical twins apart is by a tattoo. Brie has a tattoo just above her waistline while Nikki does not.
Daniel Bryan: Brie Bella got engaged to fellow WWE Superstar Daniel Bryan on September 25, 2013 after dating for almost three years. Bryan popped the question while on a hike in Big Sur, California.
"I have never in my life seen him so nervous. I've been by him when he's gone out for WrestleMania and some really big things," Bella revealed to EOnline.com. "He got really, really nervous and he started talking about how long we've been together. He got down on one knee and compared our love. He said he'll love me forever like the ocean goes on."
Bryan was biding his time to pop the question in order to have that perfect moment. "I've had the ring for a long time. Just trying to find the moment that fits," remarked the Washington native. "A moment that's worthy of Brie."
The marriage proposal was broadcast on the season one finale of E!'s Total Divas (airdate December 15, 2013).
Has Brie Bella ever appeared nude?: While Brie Bella has never posed nude, she has suffered a wardrobe malfunction that displayed a glimpse of nudity.
During a segment promoting E!'s Total Divas on the July 22, 2013 episode of Raw, Brie's nipple inadvertently popped out of her top. By order of WWE officials, she went on Twitter to apologize for the unfortunate mishap.
"I apologize 4 my wardrobe malfunction I'm embarrassed & it looks as though the humidity made my tape come off," stated Brie immediately following the show. "You'll never see that again!"
Find Brie Bella online: Brie holds accounts on both Facebook and Twitter. Sharing accounts with her sister Nikki, Brie can be reached on Facebook at facebook.com/nicoleandbriannagarcia and on Twitter at twitter.com/nicoleandbri. Nikki also has a personal page on Instagram, which is located at instagram.com/briannagc.
How old is Brie Bella?: As of 2013, Brie Bella is 30-years-old. She was born on November 21, 1983 to parents of Mexican and Italian descent and was raised in Scottsdale, Arizona.
What is Brie Bella's theme song called?: Her theme song is called "You Can Look (But You Can't Touch)." It is sung by Kim Sozzi and produced by Jim Johnston.

About Brie Bella
---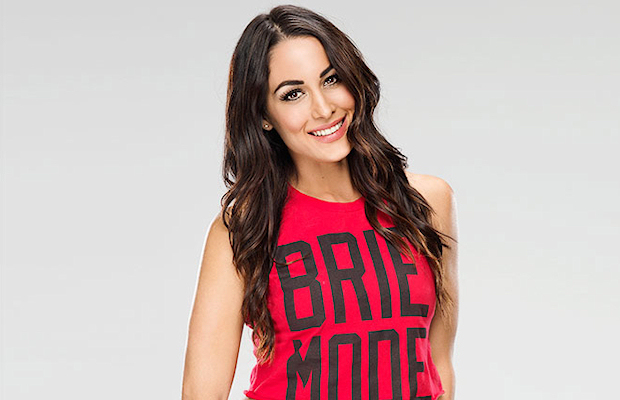 Brie Bella bested two-times Women's Champion Victoria in her first match on SmackDown and proved it was not beginner's luck when she pinned WWE's Black Widow the next week for the second straight time. A few weeks after her debut, Natalya and Victoria uncovered the fact that Brie had a twin sister, named Nikki, who would switch places with her during matches.
Even though the twins lost their underhanded advantage they didn't allow it to slow down their quest for glory in the ring, which hit its high point on April 11, 2011 when Brie captured the Divas Championship from Eve on Raw. She reigned supreme for just over two months, losing the butterfly belt to Kelly Kelly on a special "Power to the People" episode of Raw on June 20, 2011.
For most of their WWE run, The Bella Twins, Brie and Nikki, have been virtually interchangeable – that was the key to their "twin magic" after all. However, since their return to WWE in March 2013 following a brief sabbatical, both have had a major impact in the sports-entertainment organization, with a healthy Brie being more active. And while both have been criticized for their wrestling ability, the twin duo has shown marked in the improvement in the squared circle and become true cornerstones of the WWE Divas division.
Despite the occasional disagreement, the Bella Twins always back each other up. Whatever the situation, they have a knack for causing mischief, and keeping the cameras focused on them at all times. At their entrance song says, "You can look but you can't touch."