Daffney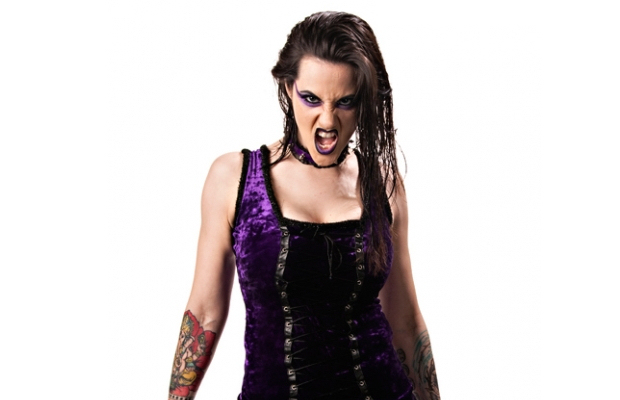 Hot Daffney Photos | Daffney's Mugshot Following Drunk Driving Arrest
Daffney, who's real name is Shannon Claire Spruill, is a 15-year veteran and cult favorite … Debuted in TNA Wrestling in December 2008 as The Governor, a caricature of Alaska governor and former United States Vice Presidential candidate Sarah Palin … Eventually began competing under her own name and paired up with Dr. Stevie Richards, who helped "The Scream Queen" get in touch with her inner psychotic.
Teamed with Raven in a Monster's Ball Match at Slammiversary 2009, losing to Abyss and Taylor Wilde … Lost a Match of 10,000 Thumbtacks to Wilde on iMPACT! … Suffered a concussion after taking a chokeslam from Abyss at Bound for Glory 2009 … Saw limited action in the subsequent months, although she did take time to turn on former partner Rachel Summerlyn in SHIMMER … Displayed her vicious side when she attacked Tara and ODB with a tool box upon her return to TNA Wrestling … Unsuccessfully challenged Tara for the TNA Women's Knockout Championship at Destination X, but stole her pet tarantula, Poison, as a consolation prize … Suffered an embarrassing loss in a four-way Knockouts "lock box" match, which saw her perform a striptease per the match stipulation … Suffered a concussion, a stinger and a deeply bruised sternum during a bout against Miss Betsy (a/k/a Rosie Lottalove) on April 20, 2010… Left TNA Wrestling on March 15, 2011 after her contract expired.
Has a WCW Cruiserweight Championship on her resume … Main finishing moves are the Lobotomy swinging fisherman suplex and the DaffKnees facebreaker … Has competed as Draculetta for Wrestlicious… Before joining TNA Wrestling, Daffney shot non-nude pictorials for Wrestling Vixxxens.
For Your Information
---
Has Daffney Posed Nude?
For those curious, Daffney has never posed naked. Though she did pose for Wrestling Vixxxens, a defunct website known for featuring women of wrestling in a nude state, it was not nude.