Hulk Hogan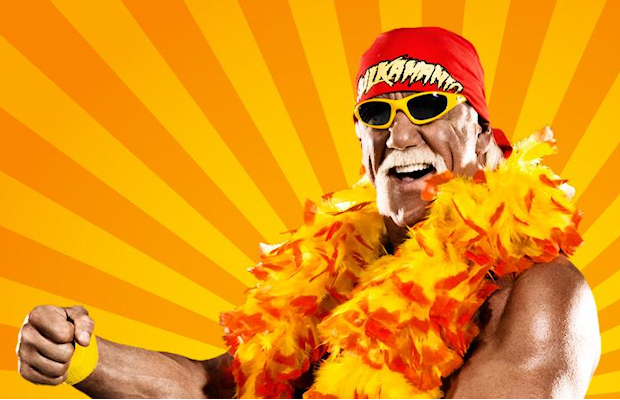 "STONE COLD" STEVE AUSTIN SHARES A BEER WITH HULK HOGAN | HULK HOGAN CALLS TONY ATLAS A "BROWN CLOWN" | Photos Of Hulk Hogan's Former Florida Mansion | Hulk Hogan Addresses Randy Savage and Stephanie McMahon rumors | Hulk Hogan In WCW | HULK HOGAN MEETS WWE SUPERSTARS AND DIVAS BACKSTAGE AT RAW
Is there a star more synonymous with the world of professional wrestling than Hulk Hogan? The premiere figure in WWE's rise from a regional New York-based wrestling promotion to worldwide entertainment juggernaut in the raging 1980s, this larger-than-life icon set the standard for what a professional wrestler should be. "The Hulkster" packed 93,173 fans into the Pontiac Silverdome, won the WWE Championships on six occasions, starred in television shows, films and his own animated series (remember Hulk Hogan's Rock 'n' Wrestling?) and became a hero to an immense legion of fans called Hulkamaniacs.
Clad from head to toe in fire engine red and canary yellow, "The Hulkster" initially established his unwavering love of the the good ole USA when he barged his way through the dastardly Iron Sheik to capture the WWE Championship for the first time 1984. This "Real American" immediately became a household name, headlining the first WrestleMania while brushing his 24-inch pythons against celebrities like Billy Crystal, Mr. T and Cyndi Lauper on Saturday Night Live and MTV. The legions of Hulkamaniacs knew no bounds as legendary artist Andy Warhol showed up at his bouts and children all across the country listened attentively while their idol told them to "train, say their prayers and eat their vitamins."
"The Hulkster"'s overwhelming presence had a way of making angles seem more meaningful. His greatest opponents—Ultimate Warrior, "Rowdy" Roddy Piper and King Kong Bundy—became more noteworthy parts of professional wrestling history when they stepped inside the squared circle to face Hogan. "The Immortal One"'s greatest matches read like a shortlist of defining moments in the illustrious history of WWE. Who could ever forget his iconic encounter with The Rock at WrestleMania X8, his showdown with Randy Savage at WrestleMania V or his collision with the colossal Andre the Giant at WrestleMania III?
And Hogan was nothing if not smart. Jumping ship to the Ted Turner-owned World Championship Wrestling in the mid-90s, he turned heel when he sensed fans had gotten tired of his "American Made" persona. As the mastermind of the nWo, Hogan reinvented himself as a cowardly villain and took WCW to the top of the professional wrestling industry.
Eventually, the New World Order ran its course and fans became nostalgic for the Hulk Hogan they grew up with. That Hogan returned to WWE in 2002 in all of his yellow and red glory to ask a new slate of competitors that question: "Whatcha gonna do when Hulkamania runs wild on you?" This exciting rumble down memory lane brought "The Immortal One" his sixth and final WWE Championship, induction into the WWE Hall of Fame and evidence that WWE wouldn't be the same without "The Hulkster."
To the excitement of Hulkamaniacs all across the globe, Hogan returned to WWE in 2014 as he hosted WrestleMania 30 and celebrating his 61st birthday live on Monday Night Raw. Now that he's back where he belongs, what else will "The Hulkster" have in store for WWE fans?

Hulk Hogan To Wrestle John Cena At WrestleMania 32?
---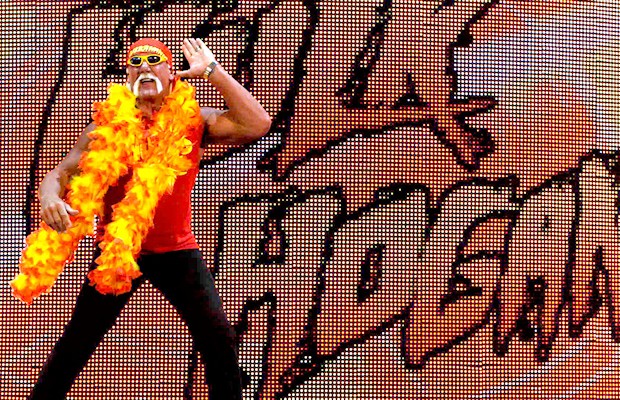 It's no secret that Hulk Hogan wants to wrestle one more time, and he wants to do it at next year's WrestleMania 32 at AT&T Stadium, where WWE is hoping to shatter attendance records. However, there are some concerns with Hogan's health and his ability to not only carry but be carried through a one-on-one match. Furthermore, due to Hogan's injuries, he's very limited in what he can do, and there's probably no way that he can do his signature big boot and big leg drop.
Despite that, Hogan taking on John Cena in a one-on-one encounter is considered a possibility. Vince McMahon has begun drawing up potential matches for the event and is giving consideration to holding this dream match once and for all.
Hogan's contract with WWE isn't contingent on a wrestling match and neither McMahon nor Triple H are keen to give him one. However, Hogan continues to politic for it and Cena isn't necessarily opposed.
Hogan said last month at the Body Power Expo in Birmingham, England that he has been training for a match at Wrestlemania 32 with McMahon challenging him to get into shape. He claimed to be at his lightest weight since he was a teenager at 295 pounds—likely untrue since he was believed to have been in the 270 pound range in the early 1990s.