Matt Hardy Mugshot (No. 2)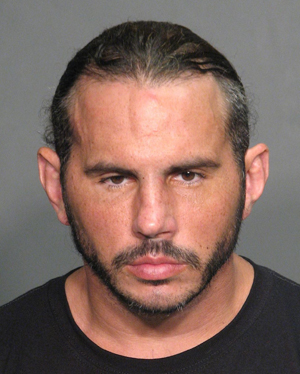 Matt Hardy was arrested on September 12, 2011 at Raleigh-Durham International Airport and charged with driving while impaired.
A driver called airport police shortly before 2:00 p.m. to report that a 2011 red Chevrolet Camaro was swerving across traffic and had nearly hit two different cars three times. When officers stopped the vehicle, they found Hardy behind the wheel.
Hardy's speech was slurred and he appeared to be trying to "speak normally." When officers asked him to step out of the car, Hardy first tried to get out without putting the vehicle in park.
The former WWE Superstar said he was at the airport to pick up his girlfriend, 24-year-old Florida model Rebecca Reyes.
Police said a breathalyzer test was negative for the presence of alcohol. However, Hardy failed a field sobriety test by being unable to walk more than a few steps on a straight line, toe-to-toe, without stumbling. A North Carolina Highway Patrol drug recognition officer examined Hardy and determined that he was under the influence of drugs.
Hardy was charged with driving while impaired, and blood was drawn for lab analysis. Police took him to the Wake County Detention Center, where he was immediately released on his own recognizance. He is scheduled to appear in District Court in Raleigh on Nov. 30.
Previous Image
|
Next Image