Jeff Hardy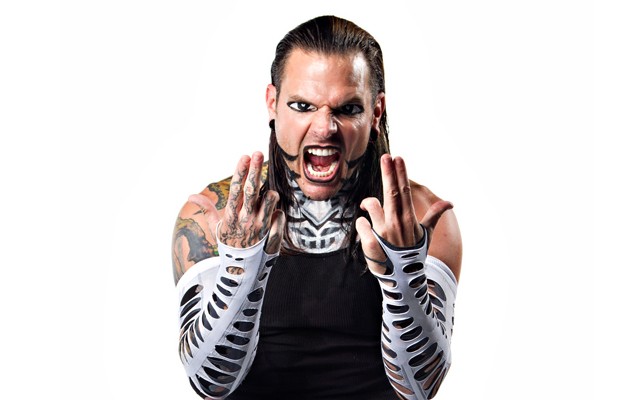 Ten years ago, if you asked somebody if Jeff Hardy would still be competing today, the answer would probably be "no." While his high-flying style of offense certainly excites audiences, his kamikaze attacks oftentimes leave people wondering how much longer he can continue damaging his body. Miraculously, the ultimate risk taker has defied the odds and avoided serious injury to become one of TNA Wrestling's most popular Superstars.
Latest Jeff Hardy News | DRUGGED JEFF HARDY SHOOTS ON CM PUNK – VIDEO | PHOTOS OF JEFF HARDY WITH CANDICE MICHELLE | Jeff Hardy With His Wife | Jeff Hardy With A Ring Rat | More Jeff Hardy Photos
Alongside his brother Matt, Jeff first began making a name for himself in 1998. Known as the Hardy Boyz, Jeff and Matt spent the next few years redefining the art of tag team competition. Their battles with the Dudley Boys and Edge and Christian, particularly their TLC Matches, featured truly groundbreaking action that today's teams strive to recreate.
On his own, Hardy has proven to be a true artist. Using the ring as his canvas, Hardy has executed his awe-inspiring Swanton Bomb to create the ultimate portrait of success. A multiple-time Intercontinental Champion, Hardy rose to main event status in 2008 when he challenged Randy Orton for the WWE Championship at the Royal Rumble. Hardy finally reached the top of the mountain in December 2008 when he pinned Edge during a Triple Threat Match at Armageddon.
Now that he's at the top, there's no telling how this daredevil plans on coming down.
Jeff Hardy Talks About Possibly Returning To WWE
---
On the latest episode of WOOOOO! Nation! with Ric Flair, Jeff Hardy discussed the possibility of returning to WWE.
"I think there's a huge possibility down the road. I'm not sure when, but I think both Matt and myself would love to end our careers in the WWE, and it'd be super, double great to be able to have a few more good ones with the Dudley Boyz, for sure." Hardy added, "as far as us returning [to WWE] and having some more matches with them, it all depends on how long they're going to be there and how long it takes us to get there. I mean, but, definitely, it's a possibility. I'm just not sure when right now."
The two items left on Hardy's bucket list are things to accomplish in WWE. Namely, Hardy would like to compete in a Hell in a Cell Match and headline WrestleMania before he retires from in-ring action.
"I've done most of everything I've wanted to do, but I guess there [are] two big things. I mean, and those two big things are I never got to do a Hell in [a] Cell in the WWE. That's a pretty big one. And I've never main-evented WrestleMania, so, ultimately, if it could all work out one day, before it's all over, I'd like to do those two things."
You can listen to the interview here.