John "Bradshaw" Layfield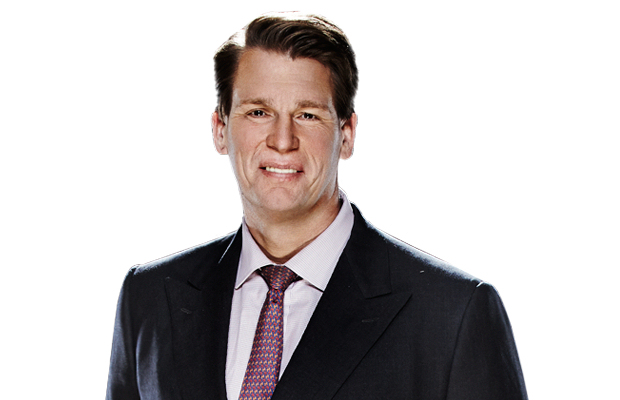 Never challenge John Bradshaw Layfield to a street fight — especially on Wall Street. The former WWE Champion may have been vicious in the ring, but the self-made millionaire is downright heartless when it comes to making a buck.
Gifted with the business sense of a banking executive, the big man from Sweetwater, Texas could've easily made his fortune by sitting behind a desk, but there was nothing JBL loved more than a fight. A pro football player before stepping in the ring, Bradshaw first made an impression in WWE as Justin "Hawk" Bradshaw, then as a member of The New Blackjacks alongside Barry Windham. The WWE Universe took notice of the aggressive Texan, but it wasn't until JBL linked up with the imposing Ron Simmons that he made a lasting impact.
Dubbed The Acolytes, the roughnecks went demonic as The Undertaker's henchmen in late '98, but found their true calling as cigar smoking, beer swilling troublemakers who never entered a barroom they didn't destroy. Gruff and dangerous, the rechristened APA (Acolyte Protection Agency) caused more property damage than a natural disaster r as they claimed three Tag Team Championships together.
WWE fans who grew accustomed to JBL's reputation as a bartender's worst nightmare were in for a shock in 2004 when the Texan reemerged as a self-styled millionaire who rolled to the ring in a limousine adorned with bull's horns and wore custom made suits. Claiming to be a "Wrestling God," JBL surrounded himself with a team of adversaries he called his Cabinet and defeated Eddie Guerrero for the WWE Championship. The tycoon's title reign would last an unbelievable 280 days as he overcame the likes of Big Show, The Undertaker and Booker T with the underhanded maneuvering of an Enron executive.
Eventually, JBL's infuriating run as champion came to an end at the hands of a young John Cena, but the mogul continued to experience success whether it was as a WWE color commentator or a financial analyst on networks like CNN, MSNBC and Fox News.
JBL retired to Bermuda with a multi-million dollar net worth in 2009, but he returned to WWE in 2012 as a color commentator on Raw, SmackDown, pay-per-views and the host of the Slammy Award winning "The JBL & Cole Show" on WWE.com and WWE's YouTube channel.
Clearly, even money couldn't buy the tough Texan the happiness he gets from poking fun at Michael Cole and other WWE announcers.