Lex Luger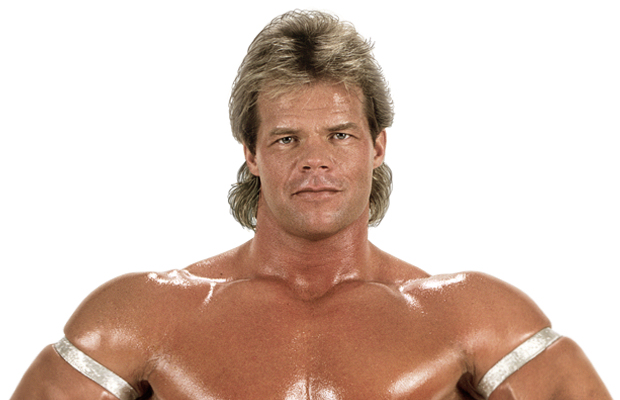 After a series of injuries forced him to leave pro football, Lex Luger trained with Hiro Matsuda to the learn the art of the ring. Following a celebrated stint in World Championship Wrestling, WWF fans first saw Luger as part of the World Bodybuilding Federation. Luger was officially unveiled at the 1993 Royal Rumble as "The Narcissist." He became one of the most hated Superstars in the WWF, as before each match he posed in front of full-body mirrors.
That summer, Luger shocked the world on America's birthday. After numerous Superstars and professional athletes failed to slam then-WWF Champion Yokozuna, Luger flew via helicopter onto the deck of the USS Intrepid to answer the call. In a Herculean display of strength, Luger lifted and slammed the 600-plus pound champion. As everyone in attendance rejoiced, the days of "The Narcissist" were gone and the WWF's "American Original" had arrived.
Covered in the red, white and blue of the USA, Luger embarked on the "Lex Express," a nationwide bus tour during which he campaigned for a shot at the WWF Championship. Millions of fans from far and wide answered the call to support him. Lex received a shot at Yokozuna's title at SummerSlam 1993, but only won by countout and the belt remained with the giant sumo. Luger wasn't done with Yokozuna, however. Luger and Bret "The Hitman" Hart were declared co-winners of the 1994 Royal Rumble. They both had a chance to capture the WWF Championship from Yokozuna at WrestleMania X. Unfortunately, the title wasn't in the cards for Lex, as Hart defeated Yokozuna for the belt.
He went on to form a popular team with the British Bulldog, dubbed the Allied Powers. The duo faced off against the Million Dollar Corporation and were considered top contenders for the World Tag Team Championship. In September 1995, Lex suddenly left the World Wrestling Federation, making a shocking appearance on the debut episode of WCW Monday Nitro, which was widely acknowledged as the first major salvo of the Monday Night War.
Latest Lex Luger News | Recent Photos Of Lex Luger | Lex Luger Reunites With Former nWo Members In 2012 | Lex Luger Looking Very Skinny and Using A Cane | Photos of Lex Luger with Miss Elizabeth | Photos of Lex Luger in TNA | Lex Luger Mugshots
Lex Luger Talks About What He's Doing These Day
---
June 20, 2015 – Former WCW star Lex Luger recently caught up with Bill Apter, who he credits for putting him on the map when he was an unknown entity working in Florida. The two talked about Luger's early years in wrestling and what he's up to these days.
"I just moved to Charlotte, North Carolina. I'm working on a brand new non-profit with Nikita Koloff, the Russian Nightmare. We're enjoying that. We're very excited about it. It's called the World Wrestling Outreach. We do fund-raising for communities through wrestling events, fan friendly events. We go to schools on Fridays and churches on Sundays," Luger said.
In addition to that, he says there is another branch in which he promotes physical wellness.
"We also do the World Wellness Outreach. That's for people being physically, mentally, fit," said Luger.
Lex Luger Now Wheelchair-Bound
---
The health of former WCW World Heavyweight Champion Lex Luger continues to deteriorate.
Luger, 56, is now wheelchair-bound after being able to walk on his own in recent years (with assistance from a cane). The former WWE and WCW competitor appeared at the Mid-Atlantic Wrestling Legends Fanfest in Charlotte, North Carolina, in August 2014 and was confined to a wheelchair throughout the event. He also had to sign autographs with a pen stuck between his ring and pinky fingers.
Luger's health problems stem from a spinal stroke he suffered on October 19, 2007 that led to temporary paralysis. Nearly a month after his spinal stroke, Luger was still in a quadriplegic state, having no movement in either his arms or legs. In June 2008, Luger was said to be able to stand on his own for short periods of time and walk using a walker. In 2010, Luger stated in an interview that he was able to walk more comfortably, and able to drive again.
What Is Lex Luger's Current Role With WWE?, Claims He Was Drug-Free During WWE Run
---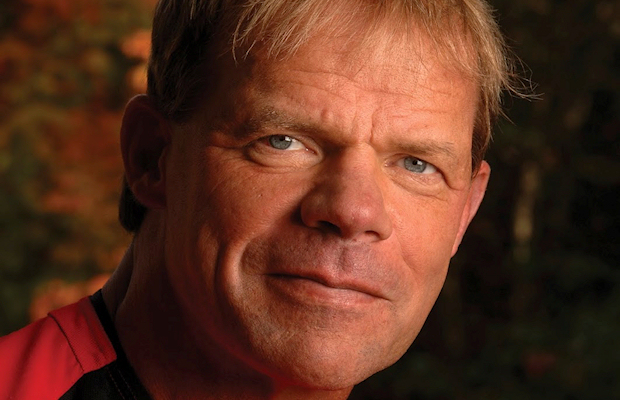 September 29, 2013 – Lex Luger, who has not appeared for WWE since infamously bolting from the company on September 4, 1995 to join WCW, is now working for Vince McMahon's organization again.
In 2011, the former WCW World Heavyweight Champion revealed in a radio interview that he was counseling WWE performers on nutrition, wellness and exercise as part of the company's Talent Wellness Program. In an interview with Power Slam to promote his recently released autobiography, Wrestling with the Devil: The True Story of a World Champion Professional Wrestler – His Reign, Ruin, and Redemption, "The Total Package" says he's still involved with WWE.
"I do informal stuff behind-the-scenes, when I am needed. I enjoy doing that. When they want somebody to tell the young guys all the things that you don't want to do, I'm there," said Luger.
Having gone down a deep, dark path culminating with the shocking death of girlfriend Elizabeth Hulette (famously known as Miss Elizabeth) on May 1, 2003, Luger is able to use his personal experiences to teach today's performers on a healthier lifestyle.
Elsewhere in the interview, Luger claimed that he was drug-free while performing for WWE from 1993 to 1995.
"They were pretty strict with the testing when I was in the WWF. During that period, I managed it without drugs," Luger said.
Regarding how often WWE performers were drug tested then, Luger says, "It was strict. They'd sometimes test three or four nights in a row. We called the [people who administered the tests] white coats. We'd never know when they'd arrive. I was pleasantly surprised that I could maintain my physique as well as I did back then [without performance-enhancing drugs]."