Melina Perez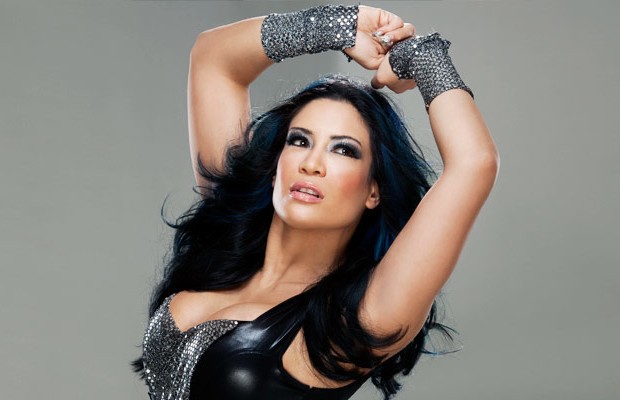 Melina, a former fashion model, first made a name for herself in April 2005 when she guided fellow socialites Johnny Nitro and Joey Mercury to the WWE Tag Team Championship. (Continue Reading ▸)

Melina Perez Photos
---
HOW DOES MELINA LOOK LIKE NOW? – SEE RECENT PHOTOS OF HER
MELINA APPEARING IN MOVIE – SEE PREVIEW PHOTOS
PHOTOS – MELINA WRESTLES VELVET SKY IN PUERTO RICO
PHOTOS OF VELVET SKY WRESTLING MELINA
PHOTOS OF MELINA WRESTLING CANDICE MICHELLE IN A PUDDING MATCH
Photos of Melina wrestling Jillian Hall
Photos – Melina's return to the ring after being released by WWE
Modeling photos of former WWE Diva Melina
Photos of Melina and John Morrison together
Melina Photo Gallery (Set One)
Melina Photo Gallery (Set Two)
Melina Photo Gallery (Set Three)
Melina Photo Gallery (Set Four)

For Your Information
---
Background
Melina Perez was born on March 9, 1979 in High Desert, California to Mexican parents and raised in Los Angeles. While growing up in "The Golden State," Perez competed in beauty pageants and won such competitions as Miss Hawaiian Tropics Anaheim, Group USA Bridal Show, Group USA Fashion Show and Ms. California Belleza Latina. Perez also appeared on television and in print advertisements for Nike.
In 2001, Perez took interest in professional wrestling and began training at Jesse Hernandez's School of Hard Knocks in San Bernardino, California. Multiple people at EWF said that she had the most natural ability of any female who entered the grappling academy. In 2002, Perez auditioned for World Wrestling Entertainment's reality competition program, Tough Enough III, and made it through to the final twenty-one before being eliminated in the final cut of the premiere episode. Despite the setback, she was encouraged to continue pursuing her squared circle dream.
"[WWE has] footage of me crying. I cried because it was like maybe I wasn't meant to do this," Perez recalled to Eric Gargiulo of PhillyBurbs.com in 2008. "I really honestly thought that maybe they thought that I couldn't do it, but Al Snow pulled me aside and said, "You know what? Don't let this set you back. You can make it. I believe in you." When he said that, it took all of that doubt that I had, "Maybe I can't do this, maybe I wasn't meant to do it" and made me think, "You know what? He said I can do it, I can do it." So I just kept on trying."
Less than two years after the unfortunate episode, Perez was signed to a developmental contract by WWE.
Ms. Fanservice
In 2005, Melina's signature split entrance replaced Stacy Keibler's buttocks-giggle as the most stimulating introduction by any Diva in WWE. Taking advantage of her tremendous flexibility, Perez would perform a split on the ring apron and – from the floor – then bending forward and crawling under the bottom rope to expose her panties. She retained the entrance after splitting from MNM to focus on wrestling, but competed in tights, thus averting the panty shot (or thong shot). The sexy routine was originally brainstormed by Melina, Johnny Nitro and Seth Skyfire when the three were affiliated with WWE's then-developmental league, Ohio Valley Wrestling.
With her provocative clothing exposing her undergarments as well as large amounts of cleavage, Melina would often be susceptible to wardrobe malfunctions. While the three-time WWE Women's Champion and a two-time WWE Divas Champion did not incur a major wardrobe whoopsie during her six-year tenure with the sports-entertainment organization, she suffered similar embarrassment during an encounter with Hornswoggle on the October 1, 2007 edition of Raw.
During a match against arch-rival Mickie James, Hornswoggle distracted the former beauty pageant winner and caused her to lose. Incensed, Melina dashed under the ring after him, but what happened next is anybody's guess. Moments later, Hornswoggle emerged waving Melina's wrestling outfit like a victory flag for all to see. The mortified starlet could only bear to poke her head out from under the ring apron and scowl at the midget formerly known as Little Bastard.
Weeks earlier, Hornswoggle showcased his peeping tom behavior by slyly watching Melina take a shower. While she did not show much skin, it would most certainly be deemed "too hot" for today's WWE's family-friendly environment.
Melina's Relationship With Batista
Melina Perez had an on-again, off-again relationship with John Morrison, whom she managed in WWE. The two grappling stars met in 2002 during auditions for Tough Enough III. Melina has also been romantically linked to Batista.
"I was heartbroken after me and my wife split up, and I started dating other girls. I really fell for Melina," Batista revealed to Mike Mooneyham of The Post and Courier in a 2007 interview promoting his autobiography, Batista Unleashed.
Although Batista says his ex-wife believed he was sleeping with Perez while the two were still married, it wasn't true. "It did make me feel guilty being friends with her," Batista said in his book. Since then, as I've said, Melina and I have gotten closer and our relationship has become physical. That's caused a bit of controversy, but I don't give a s**t. She's my friend, and I love her very much."
Batista then dated another WWE Diva in Rebecca DePietro, who briefly appeared as a backstage announcer for ECW in late-2006 and early-2007. Their relationship was short-lived, and he continued seeing Melina again.
"I really fell hard for Melina," said Batista.
Their relationship wasn't exactly a secret among wrestlers in the WWE locker room. "We've been open about it for a long time now," Batista said then.
Contrary to popular belief, Batista dated Melina when she was not romantically affiliated with the former Johnny Nitro.
"He (Hennigan) knew everything from day one. From the day we started talking," said Batista. "That was one of the things that a lot of people didn't realize and didn't bother to ask. Melina and John weren't together anymore. He was always aware of what was going on, and she was very honest with him. They split up and moved apart, and we started dating each other. She still considers him her best friend in the world. But he always knew exactly what was going on."
Batista also let Melina read beforehand what he wrote about her in his autobiography.
"I still love her and am very in love with her. I wouldn't put that out there if it were hurtful to her. I didn't want to just throw her under the bus and put it out there without her knowing about it."
The professional wrestling industry, though, put a toll on their relationship and they eventually broke apart.
"It's been pretty rocky for us. A lot of it has to do with the business. It's very hard to date in this business. We still talk on a daily basis, and there's still a lot of love there. But we're having a really hard time.
"Trying to have a relationship with anybody is hard enough, but trying to have one with people in this business, knowing what goes on, is difficult. New guys and girls coming out and coming in … it's really hard."
In 2008, Melina was asked by Eric Gargiulo of PhillyBurbs.com whether she was surprised at how much Batista wrote about their relationship in his book. She responded, "Kind of yes and kind of no. Like, I was surprised to see it but knowing him, he wears his heart, he'll tell people how he feels. He doesn't hide anything, and he didn't say as much as he would have said, and for reasons I guess? But in his way, he put the most important people in his life in that book, and that's his way of saying that I'm an important person in his life.
Melina believes it's difficult to date with the demands of WWE's rigorous road schedule.
"Like, right now I'm not dating at the moment because it's hard," she said. "I think it is hard because you're always on the road, and I think it's hard to explain to somebody not to take it personally, "that it's not that I don't want to spend time with you, I just have to do this for my job," and there are moments when you have free time and you are in the middle of something. It's kind of like you're on-call. They'll call you up and say, "Can you do this, can you go here. We're going to need you to do this." You have to go, you have no other choice. I can't plan things because in our business, you just can't plan things. It just happens at the moment. It's difficult but I believe that they'll be the right person that'll understand."
Why Melina Perez never posed for Playboy: Although Melina Perez was not shy in providing fan service over the course of her professional wrestling career, the buxom Latina grappler had no aspirations in following in the footsteps of Sable, Chyna, Torrie Wilson, Christy Hemme, Candice Michelle, Ashley Massaro and Maria in the famed pages of Playboy.
"I always tell people that I'll never say never because I don't want to be one of those girls that one day does it and everyone says, "She said she'd never do it." I'll never say never but at this point in time I wouldn't do it because I'd find it weird to have my family open up the magazine, or have somebody go up to my family, "Here's your daughter." That'd just be weird," Perez explained to Eric Gargiulo of PhillyBurbs.com in 2008. "Right now I want people to see me as Melina. I don't want to be known as that girl who stripped in Playboy. I have a lot to show the world other than that."
Perez, however, did participate in a Diamonds in the Buff photo shoot for WWE's official website where she lounged nude on furniture with her boobs strategically covered by MNM's WWE Tag Team Championship belts.
Find Melina Online
Melina Perez has made her presence known on social media with accounts on Facebook, Twitter and Instagram. Her Facebook account is located at www.facebook.com/RealMelinaCom while her Twitter handle is RealMelina. Fans can also find Perez on Instagram at RealMelina.
Melina's Theme Song
Melina Perez has made her presence known in WWE through music as she utilized "Paparazzi" by Jim Johnston as her theme song throughout the entirety of her six-year career in WWE. The catchy tune was introduced with the promotion of MNM.

Going Strong With Melina Perez
---
Melina, a former fashion model, first made a name for herself in April 2005 when she guided fellow socialites Johnny Nitro and Joey Mercury to the WWE Tag Team Championship. During their reign, the trio, which was known as MNM (Mercury, Nitro and Melina), annoyed fans with their constant namedropping. According to the threesome, Paris Hilton and Kevin Federline were just a few of their high-profile Hollywood friends.
Melina's managerial credits also included leading Nitro to the Intercontinental Championship. Despite her impressive efforts outside the ring, it was the Diva's moves in between the ropes that had professional wrestling industry insiders and fans buzzing.
In early 2007, Melina dedicated herself to becoming a force in the then-Women's Division. Within weeks, she accomplished her goal when she defeated Mickie James to capture the Women's Championship. Her successful reign was highlighted by a WrestleMania 23 victory over Ashley in a Lumberjill Match. Despite losing the championship two months later to James, Melina won it back that very night and went on to a total of three Women's Championship reigns. The beauty from the City of Angels made history when she competed in the first ever women's "I Quit Match" against Beth Phoenix.
In October 2009, Melina became one of the few Diva's to hold both the Women's and Divas titles.