Nikki Bella Photos You Need To See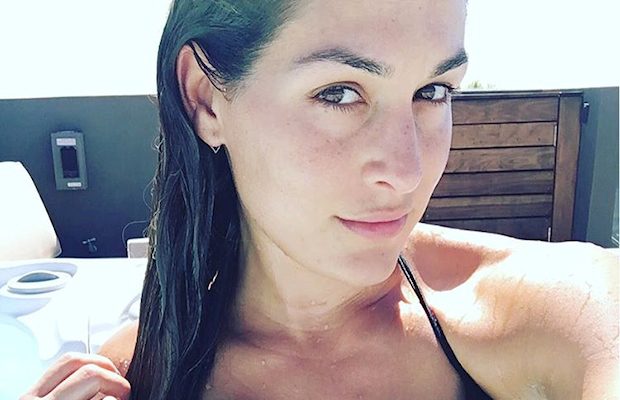 Check out Nikki Bella from a whole different angle in this amazing photo gallery of the SmackDown LIVE star and two-time Divas Champion.
In August 2008, Nikki Bella joined Big Show and Hornswoggle in the elite fraternity of WWE Superstars to debut from underneath the ring. The troublesome tactic of replacing her identical twin sister, Brie, mid-match became known as "Twin Magic." While Nikki was instrumental in Brie's first Divas Championship, "The Fearless One" would eventually cement her own status as one of the definitive female champions in WWE history.
Nikki, who considers herself a "tomboy" with a feminine side, intended to play professional soccer until a severe leg injury put an end to her dream. From there, she joined Brie in WWE. Though unsuccessful in landing spots in the 2006 Diva Search, The Bella Twins caught the eyes of high-ranking executives and joined the developmental program the following year. After training at Florida Championship Wrestling for the competition they'd eventually crush, Nikki and her sister joined the main roster in 2008 and turned heads anytime they set foot inside the squared circle.
With a dash of "Twin Magic," Nikki and Brie stirred up WWE, culminating with a Divas Championship reign apiece in 2011 and 2012. But after a brief hiatus from WWE, the twin duo began an amazing reinvention, with Nikki cementing herself as the mean-girl powerhouse of WWE and holding the Divas Championship a record-setting 301 days.
As a key member of the SmackDown LIVE Women's division, she continues to fearlessly test the limits of competition.
70 Amazing Photos Of Nikki Bella Showing Off Her Boobs →
Nikki Bella is definitely not shy about showing off her considerably sized assets, and by assets we mean breasts. Check out these hot photos of the sexy WWE Superstar showing them off…
See All Nikki Bella Photos →
Nikki Bella on PWPIX.net, your go-to source for the best photos of the sexy WWE Superstar…
40 Hot Photos Of Nikki Bella's Booty You Need To See →
When it comes from behind, WWE fans can tell Nikki Bella apart from her twin sister Brie through her booty! Check out these 40 amazing photos of the WWE Superstar's ample posterior…
There Are Nude Photos Of Nikki Bella →
Though Nikki Bella has not participated in a photo shoot involving nudity, that doesn't mean there aren't any legitimate nude photos of the WWE star circulating online. Click here for details…
Nikki Bella Has A Wardrobe Malfunction →
Nearly one year to the day of Brie Bella suffering a nip slip during an episode of Raw, Nikki Bella appeared on camera having an embarrassing wardrobe malfunction of her own…
Nikki Bella Appears Braless While Out With John Cena →
Who needs a bra, anyway!? Nipples, side boob, and cleavage are all fair game when it comes to Nikki Bella, and she has no problem going outside without a bra on to pull off a hot look…
20 Hot Bikini Photos Of Nikki Bella →
Amidst all the WWE excitement, Nikki Bella always takes time to slip into a two-piece and show off her amazing body. Check out 20 of the best bikini photos of Nikki Bella…
Nikki Bella In A Bikini Rubbing Her Boobs →
While there are tons of hot pics of Nikki Bella out there online, plenty in skimpy swimwear, and plenty with the WWE Superstar showing off her incredible assets, this one is really nice…
Photos Of Nikki Bella In Her Underwear and Showing Hard Nips →
After hitting three million followers on Instagram, Nikki Bella celebrated the milestone by posting some revealing photos of herself in her bra and panties. Check out the hot photos here…
Nikki Bella Wakes Up On Her Birthday With A Girl →
Nikki Bella, who turned 32-years-old on November 21, 2015, starts off her birthday waking up in bed with a girl who is not her twin sister Brie. Check out this shot of Nikki in her panties…
Nikki Bella Has A Tattoo On Her Ass →
"Can you believe that we got tattoos when we were 15?" Nikki said to a laser technician on Total Divas before revealing the burning heart tattoo on her booty. See photos of her tattoo…
Nikki Bella Shares An Epic Boob Selfie Before The 2015 ESPYS Awards →
Showing off her dress for the 2015 ESPY Awards in Downtown Los Angeles, Nikki Bella posted this hot selfie with her huge assets on display. The risqué photo gives fans a close-up look at the WWE star's cleavage and there's no way around it, her breasts are huge and spectacular…
Nikki Bella's Sexy Slammy Awards Outfit →
At the 2015 Slammy Awards, R-Truth announced that Paige had won the Diva of the Year Award before realizing that he misread the card. Nikki Bella was the true winner, who stepped up to the podium in a revealing see-through outfit. Check out these hot photos of Nikki's outfit…
Nikki Bella Just Loves Showing Off Her Boobs →
While hanging out backstage on at Monday Night Raw on December 2, 2014, Nikki Bella took the opportunity to show off her cleavage in a plunging red wrestling top…
Nikki Bella Still Posting Hot Photos Of Herself →
Even while out of commission due to a rash of debilitating injuries, it didn't stop Nikki Bella from continuing to post some pretty revealing photos of herself. Check out these hot photos…
Nikki Bella's Hottest Instagram Photos →
As the longest-reigning Divas Champion of all-time, Nikki Bella knows how to bring the heat in the squared circle … and on Instagram. Here are the sexiest social media shots of Nikki…
Sexy Booty Shot Of The Bella Twins In Bikinis At The Beach →
Nikki and Brie Bella, also known as The Bella Twins, took to the beach in Los Angeles in their bikinis to generally cause a scene to onlookers. Check out this booty photo of the twin duo…
Nikki Bella In Victoria's Secret Lingerie →
Nikki Bella certainly knows how to treat her followers on Instagram. Check out this must-see photo of the Total Divas star getting up from bed in purple Victoria's Secret lingerie…
Nikki Bella Sitting Pretty In A Bikini →
Nikki Bella took to Instagram to show off her figure — including her amazing booty — in one of her hottest bikini photos yet. You will definitely agree that she looks great…
Amazing Shot Of Nikki Bella Showing Off Her Cleavage →
Before getting her sweat on, Nikki Bella went on Instagram to share a revealing selfie showing off her tremendous assets in a plunging top. Check out this hot photo of The Bella Twin…
Nikki Bella In A Revealing Red Dress →
A rash of injuries in 2015 still couldn't put Nikki Bella down. Check out this revealing shot of the WWE Superstar putting her ample assets on display in a sexy red dress…
The Bella Twins Throw A Slumber Party →
While vacationing in Paris, France, The Bella Twins decided to throw a slumber party for themselves. Check out this hot shot of Nikki and Brie in bed together in their nighties…
Nikki Bella Shows Off Her Flat Stomach In Sports Bra Selfie Post-Workout →
As a female performer for WWE, it pretty much goes without saying that Nikki Bella always has to stay in shape. Following a workout, she snapped this photo showing off her flat stomach…
Nikki Bella Reveals Her Hot Outfit For Hell in a Cell →
Before challenging Charlotte for the Divas Championship at Hell in a Cell in 2015 at the STAPLES Center in Los Angeles, California, Nikki Bella showed off her hot outfit for the match…
Nikki Bella Exposes A Lot Of Cleavage In A White Dress →
Nikki Bella is certainly not shy when it comes down to showing off her assets and this shot is no different as the two-time Divas Champion exposed some serious cleavage on Instagram…
Yet Another Nikki Bella Post-Workout Selfie →
The longest-reigning Divas Champion of all-time shares this revealing post-workout selfie of herself looking in tip-top shape with her amazing cleavage on display in a rolled-up pink top…
Nikki Bella Shares A Makeup-Free Post-Workout Selfie →
Nikki Bella somehow always looks good, even after a hard workout. The two-time Divas Champion knows this and doesn't shy away from posting sweaty selfies such as this one…
Get Up Close and Personal With Nikki Bella →
Nikki Bella definitely knows how to light things up as the two-time Divas Champion and Total Divas star sent out this close-up chest flaunting photo of herself in red wrestling gear…
Are There Nude Photos Of Nikki Bella?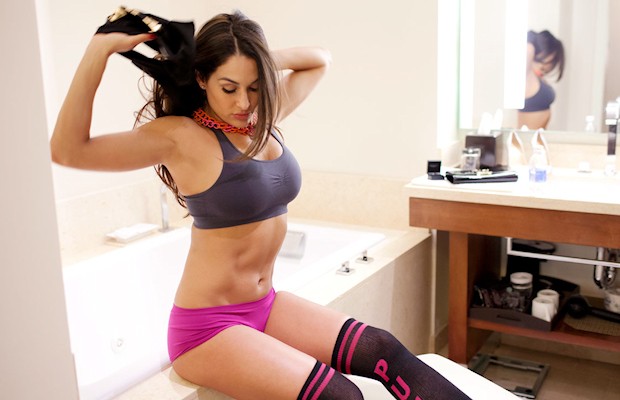 Playboy announced in October 2015 that beginning with the March 2016 issue, the publication would no longer feature full frontal nudity. With this change, that means fans could potentially see the return of WWE's female Superstars to the publication.
For years, WWE fans saw a Diva grace the cover of the famed magazine as part of the hype for WrestleMania. But when WWE committed to presenting family-friendly, TV-PG content and storylines in 2008, it was no longer right for the women to appear naked in the publication.
That could all change with the revamped Playboy solely featuring photos of women wearing clothes. As a means of publicity, it would make sense for WWE to join forces with the magazine once again. There's a whole range of WWE female stars who could take part in a pictorial for Playboy, including The Bella Twins.
"You can look, but you can't touch."
Nikki Bella and her sister Brie would certainly be favorites for a WWE-themed Playboy pictorial. They are two of the most prominent female characters in WWE, not to mention the top stars of Total Divas on E!. They're also hot as hell, and everyone knows Playboy loves twins.
Nikki and Brie are WWE's go-to girls for publicity, which is why they would be top candidates for Playboy. They say the right things and are great at promoting the WWE brand. There is also the fact that Nikki dates WWE's top Superstar, John Cena, and Playboy would almost surely want to ask her about their sex life.
2015 saw Nikki emerge as one of WWE's top performers and become the longest-reigning Divas Champion in history. She's as big of a star as any of the women on the WWE roster, so a pictorial in Playboy would be possible. But until that day comes, fans will have to settle for hot Instagram photos of Nikki. Now that doesn't mean there aren't any real naked photos of Nikki online.
On Raw on July 21, 2014, Brie, whose character had recently quit WWE, appeared in the audience as a fan to show her support for Nikki. Brie, however, couldn't help herself and argued her way into a physical confrontation with Stephanie McMahon that saw her slapped and banned from ringside.
As hot as the confrontation came across on TV, it was quickly overshadowed by the fact that Nikki, who wrestled Eva Marie, Rosa Mendes, Alicia Fox and Cameron in a 4-on-1 Handicap Match minutes later, had a wardrobe malfunction!
After being thrown out of the ring by her opposition, Nikki was lying in pain on the floor. While struggling to regain her composure, disaster struck.
With millions of fans watching worldwide, Nikki's breast became exposed on live television.
Her red top momentarily slipped below her bountiful cleavage.
Though Nikki's wardrobe malfunction was a blink-and-you-miss-it moment, it quickly went viral after photos surfaced online. Since then, millions of fans have gotten a glimpse of her humiliating moment.
This wasn't the first time where a Bella Twin suffered a wardrobe malfunction during a live episode of Raw. In fact, it was almost one year to the day that Brie suffered a nip slip during an in-ring segment with her Total Divas co-stars. The incident was enough to prompt an apology from Brie on Twitter and vow that it would never happen again.
Since the two-time Divas Champion has never posed in her birthday suit before, you are probably wondering whether more naked photos and videos of Nikki have surfaced online.
On August 31, 2014, almost 500 private pictures of various celebrities, mostly women, and with much containing nudity, were systematically stolen and uploaded online. This massive breach of privacy, which is known as "The Fappening," involved some of the biggest celebrities around, most notably actress Jennifer Lawrence. So was Nikki Bella a victim of most significant celebrity nude scandal in the history of mankind?
While it seems highly possible that nude photos of Nikki would leak online since she often posts revealing selfie shots of herself on Instagram, it hasn't happened … yet.
Nikki Bella Has A Tattoo On Her Butt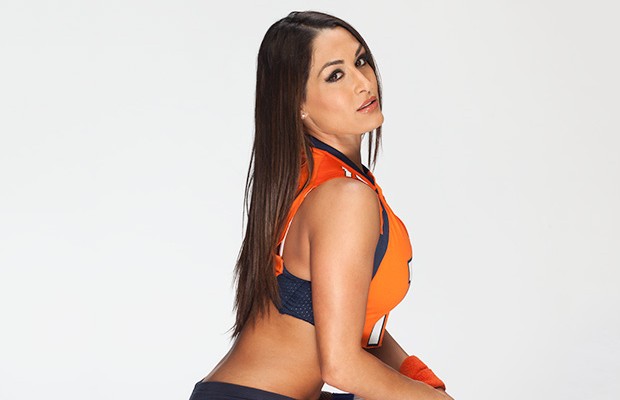 Besides her considerably sized breast implants, wrestling fans can tell Nikki Bella apart from Brie by her backside!
With her naturally larger frame, Nikki's booty is obviously bigger than her sister's. The twin duo doesn't mind to admit that Nikki has the bigger ass.
"I have two beauty marks on my chest, and our faces are shaped differently. We joke that I have more of a banana head, and Nikki has an apple head. She has the bigger booty, too, which she's proud of," Brie said in an interview with WWE Magazine.
Nikki added, "Oh, heck yeah! I carry way more curves than Brie. And I usually have a flower in my hair. I love celebrating my Mexican-Italian heritage, and a flower makes me feel Spanish . . . and pretty!"
During an episode of the hit E! reality series Total Divas, Nikki accompanied Brie while she had a tattoo of a fairy removed from her booty!
"Can you believe that we got tattoos when we were fifteen?" Nikki said to the laser technician, before revealing her burning heart tattoo on her own booty.
"I want to be a mom soon, so the fairy one just had to go," Brie added. "I don't even know how to explain it to my kids."
"My heart on fire is cool," Nikki said. "No, it's not," Brie replies.
"John [Cena] likes it," Nikki responds. "Your fairy was weird."
"Yeah, but the fairy is going away," Brie countered. "Your heart on fire is not cute."
Nikki then reveals she's keeping her tattoo forever.
About Nikki Bella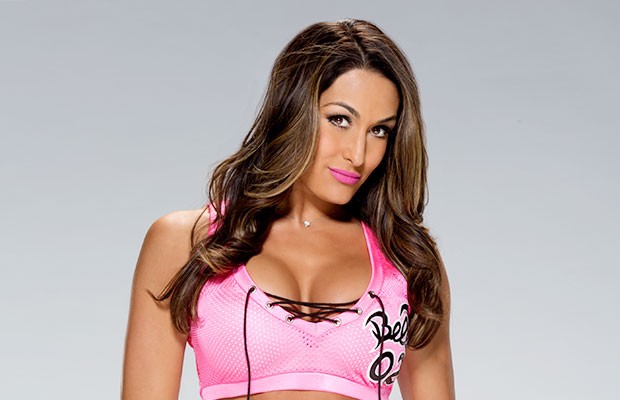 For years, Nikki Bella and her twin sister Brie were seen as little more than eye candy for channel surfers tuning into Raw or SmackDown. Determined to change the tune of her critics, Nikki remade herself as a bruising grappler who turned an overlooked title run into a march toward WWE history. On September 15, 2015, she became the longest reigning Divas Champion of all-time, surpassing AJ Lee's previous record of 295 days — her reign extended to 301 days.
Nikki, who admits to being a "tomboy" with a feminine side, originally intended to play soccer professionally until a devastating leg injury in high school put an end to that dream. After graduating from Chaparral High School in Scottsdale, Arizona in 2002, Nikki and Brie both moved to San Diego, California for college. They headed off to Los Angeles, California a year later, where they worked as waitresses at the celebrity-filled Mondrian Hotel on Sunset Boulevard in hopes of being discovered.
After years of auditions, modeling and an appearance on the short-lived NBC reality show Meet My Folks, the twin duo competed in the 2006 WWE Diva Search and were offered contracts despite failing to make the cut. But they initially rejected the offer, unsure about relocating to the company's developmental training facility in Tampa, Florida. But WWE came back calling back in 2007, and their mother was won over by representatives from the sports-entertainment organization. Nikki and Brie were thrilled at the idea of working side-by-side as entertainers and athletes.
Nikki and Brie eventually joined Florida Championship Wrestling (FCW), WWE's then-developmental promotion in Tampa, Florida. Training for the competition they'd eventually dismantle, the twin duo made their way onto WWE's main roster in August 2008 as members of the SmackDown brand. From day one, the femmes fatale turned heads whenever they set foot inside the squared circle.
Fans should know that Nikki is more than just a (really) pretty face. With a dash of "Twin Magic," the Bellas became a force to be reckoned with in the Divas division, culminating with Brie capturing the Divas Championship for the first time (from Eve on the April 11, 2011 episode of Raw). Nikki followed with a title victory of her own, defeating Beth Phoenix on the April 6, 2012 episode of SmackDown. The devious duo made a lasting mark in WWE — even if it meant hurting anyone who got in their way — and after a brief hiatus from the squared circle, a return in March 2013 proved that Nikki and Brie still have plenty of "Twin Magic" left in their collective arsenal.
Since returning to WWE, Nikki and Brie have drawn success as reality television stars on the hit E! series Total Divas, while remaining vigilant in pursuit of the butterfly-emblazoned belt. Many fans believe Nikki's real-life relationship with John Cena is the reason for her lofty position. Her hard work, however, cannot be ignored. The San Diego, California native has shown tremendous improvement in the squared circle over the years.
Nikki has everything WWE executives look for in a Diva. Well-spoken and intelligent, she can be relied upon to strongly represent the sports-entertainment organization in media interviews and appearances. She also looks great and is more than willing to give fans what they want. Given the number of photos there are online of Nikki wearing next to nothing, it should come as no surprise that she has a tremendous following on Instagram.