Randy Orton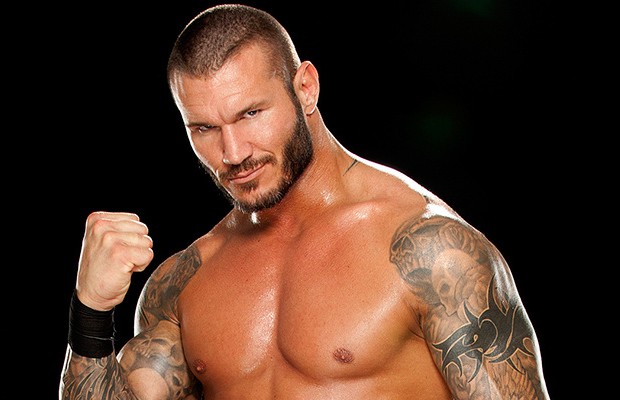 Few in the professional wrestling industry can match legacies with Randy Orton. Complete with a Royal Rumble victory, WrestleMania main events and multiple World Championship reigns, Orton's career is already among the most elite of all time. And he's still going strong. (Continue Reading ▸)

Randy Orton Photos and Videos
---
PHOTOS OF RANDY ORTON'S GIRLFRIEND
CHECK OUT PHOTOS OF RANDY ORTON AT HOOTERS
RANDY ORTON WASHING HIS HANDS IN THE BATHROOM
PHOTOS OF RANDY ORTON BACKSTAGE AT TLC AFTER WINNING THE WWE WORLD HEAVYWEIGHT TITLE
WATCH RANDY ORTON GET ATTACKED BY CRAZY FAN AT WWE SHOW IN SOUTH AFRICA
PHOTOS OF FORMER COUPLE RANDY ORTON AND MICKIE JAMES
RANDY ORTON FLIPS THE BIRD AT NIGHT OF CHAMPIONS
PHOTO OF RANDY ORTON WITH TNA KNOCKOUT MISS TESSMACHER
Photos of Randy Orton's ex-wife Samantha Speno
Brock Lesnar beats up Randy Orton

Going Strong With Randy Orton
---
Orton's legacy began in April 2002, when he debuted as a member of the SmackDown roster. As the son of "Cowboy" Bob Orton, many predicted great success for the multi-generational wrestler. But the young competitor refused to rest on his Hall of Fame bloodline. Instead, he used his undeniable in-ring talents and undeniable in-ring talents and unpredictably explosive personality to emerge as one of WWE's rising stars.
It wasn't long before Orton's exploits caught the eye of Triple H. Recognizing Orton as the future of WWE, The Game quickly took the up-and-comer under his wing and welcomed him into his Evolution faction, which also featured Ric Flair and Batista.
As a member of Evolution, Orton became recognized as a legitimate threat to any championship. In December 2003, he claimed his first title when he defeated Rob Van Dam for the Intercontinental Championship. Orton's reign proved to be one of the longest un recent memory, lasting an amazing seven months.
By the summer of 2004, a young Orton had accomplished more in WWE than most Superstars can claim in an entire career. Unbelievably, however, he was just scratching the surface. At SummerSlam in 2004, he permanently etched his name alongside history's greatest when he captured the World Heavyweight Championship. At just 24 years of age, Orton was the youngest to ever hold the gold.
Swelling with confidence, Orton planned to follow up his title reign with something no other Superstar had ever accomplished: Defeat Undertaker at WrestleMania. Ultimately, Undertaker's undefeated streak proved unconquerable. But that didn't stop Orton from topping the "Deadman" in subsequent contests, including a No Mercy Casket Match. When it was all said and done, the rivalry between Orton and Undertaker emerged as one of the decade's greatest.

No Mercy
---
By the fall of 2007, John Cena was enjoying a seemingly untouchable WWE Championship reign. But following a grueling match against Mr. Kennedy, an unsuspecting Cena was brutally attacked by Orton. Like a viper, the sly Superstar slithered toward Cena and delivered a merciless RKO that put the champ on the shelf for several months and ended his year-long title reign.
Mr. McMahon awarded the vacated WWE Championship to Orton at No Mercy. His reign, however, lasted a mere minutes. Shortly after being named champ, The Viper lost the gold to former ally Triple H. Later that same night, Orton made history when he defeated "The Game" to reclaim the title.
The No Mercy battles helped rekindle one of the most emotionally-charged rivalries in recent history. Over the next few years, Orton and Triple H continued to go to war over the WWE Championship, including main event matches at WrestleMania XXIV and WrestleMania XXV.

Legacy
---
In late 2008, Orton forged a partnership with fellow multi-generational WWE Superstars Cody Rhodes and Ted DiBiase. Collectively known as Legacy, the Orton-led alliance ran roughshod over WWE, picking up wins over Triple H, Batista and Shane McMahon, among others.
Part of the secret to Legacy's success was Rhodes and DiBiase's willingness to sacrifice themselves for Orton's greater good. But when the young duo's interference became more of a hindrance to Orton, Legacy began to crumble. In the end, Orton proved his superiority over his former allies, defeating them in a Triple Threat Match at WrestleMania XXVI.
On his own, Orton continued to shine as one of WWE's brightest stars. He pinned Sheamus to claim his sixth WWE Championship in September 2010. And later, he defeated CM Punk at WrestleMania XXVII, but not before punting nearly every member of Punk's Nexus to the sidelines.
Orton was drafted from Raw to SmackDown in April 2011. The change in scenery did little to slow his amazing momentum. Within days of the move, The Viper defeated Christian to capture his second World Heavyweight Championship. A few months later, he topped Christian again for the same title, proving that the WWE Universe is living in the Age of Orton.

Randy Orton Joins Forces With The Authority
---
On July 14, 2013 at Money in the Bank, Randy Orton continued his winning ways by defeating Christian, CM Punk, Daniel Bryan, Rob Van Dam and Sheamus to win the Money in the Bank All-Stars Match for a WWE Championship Contract, which earned "The Viper" an opportunity to challenge for the WWE Championship at a time of his choosing within the next year. At SummerSlam on August 18, 2013, Orton cashed in his Money in the Bank contract on Daniel Bryan, who had just captured the WWE Championship from John Cena. Chief Operating Officer of WWE Triple H shocked the world by Pedigreeing the new champion, allowing Orton to become WWE Champion for a seventh time—"The Game" also counted the pinfall victory. The following night on Raw, Orton was endorsed as the "face of WWE" by WWE Chairman and CEO Mr. McMahon and the newly formed Authority—Triple H and WWE Executive Vice President of Creative Stephanie McMahon—during a WWE Championship Coronation.
At Night of Champions on September 15, 2013, Orton lost the WWE Championship to Bryan after being struck in the head with a running knee. Triple H, however, stripped Bryan of the title the following night on Raw, citing referee Scott Armstrong's conspicuously fast three-count at the end of the match as evidence of a conspiracy to overthrow Orton as champion. The following month at WWE Battleground, Orton and Bryan faced off for the vacant title, but the bout ended in a no contest after a troubled and conflicted Big Show interrupted the night's main event, laying waste to both competitors in a fit of frustration. At Hell in a Cell on October 27, 2013, Orton once again challenged Bryan for the vacant WWE Championship, where he was successful in regaining the title after special guest referee Shawn Michaels struck Bryan with a swift Superkick for attacking Triple H.

Why Did Randy Orton Miss Raw?
---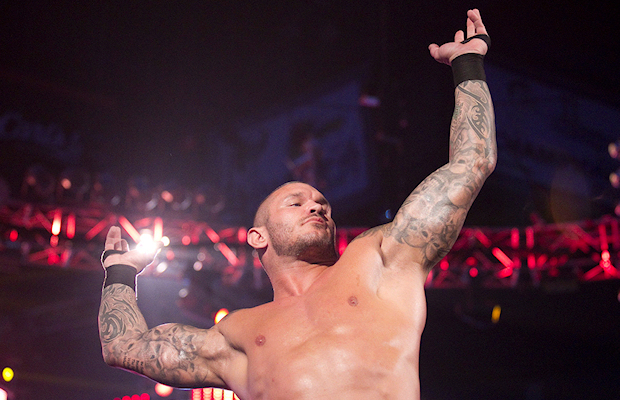 In case you didn't notice, Randy Orton did not appear on Monday Night Raw this week. He missed the show as well as the weekend tour because he is on vacation in Bora Bora. Here are photos he's been posting on Instagram.