Rey Mysterio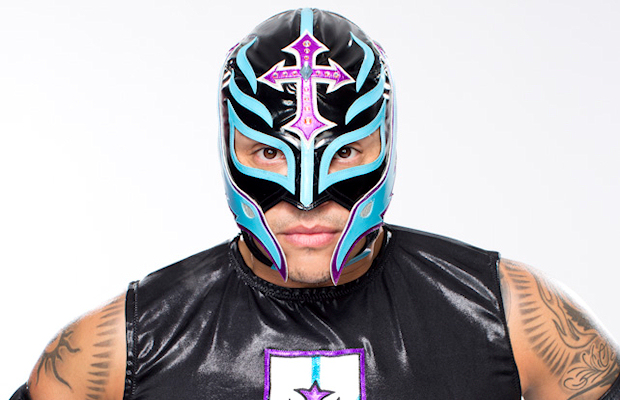 Rey Mysterio Unmasked Photos ▸
At 5'6″ and 175 pounds, Rey Mysterio is often considered WWE's ultimate underdog. Despite his size disadvantage, it's not uncommon to see the masked marvel chop his opposition down to size at a dizzying a pace. Utilizing a repertoire that features a unique combination of high flying and heavy impact, Mysterio has established himself as one of the premiere stars of the professional wrestling industry.
Mysterio's earliest years were spent perfecting his lucha libre style at events across Mexico. After more than five years battling the likes of Juventud Guerrera and Psicosis, the young high-flyer finally caught the eye of ECW's Paul Heyman, who introduced North American fans to Mysterio in 1995.
Word of Mysterio's innovative offense began to stretch past ECW's Philadelphia footprint; and it wasn't long before the San Diego native was scooped up by national powerhouse WCW. Within weeks of his June 1996 debut, Mysterio picked off Dean Malenko to capture the coveted Cruiserweight Championship. The win marked Mysterio's first of a record eight reigns with the title (WCW and WWE combined).
Mysterio made his WWE debut in July 2002, and as expected, cemented himself as a top threat in the cruiserweight division. He also started to show signs of becoming a main-event star. Shortly after his debut, the Master of the 619 captured the WWE Tag Team Championship with Edge; and as time went on, he partnered with other main eventers to claim gold, including Rob Van Dam, Batista and longtime friend Eddie Guerrero.
Following Guerrero's tragic passing in 2005, Mysterio focused his efforts on honoring his friend by winning the World Championship. He took the first step in realizing his goal when he last eliminated Randy Orton to win the 2006 Royal Rumble.
Then at WrestleMania 22, Mysterio accomplished the unthinkable when he defeated Kurt Angle and Orton to win the World Championship. Following the match, Mysterio celebrated his victory with Guerrero's family. The image of him embracing Chavo and Vickie Guerrero on the WrestleMania stage remains one of the most emotional scenes in WWE history.
Ironically, it would also be Chavo Guerrero who cost Mysterio his World Championship three months later. Fueled by jealousy, Guerrero turned on Mysterio at The Great American Bash, allowing King Booker to walk away with the gold. Over the course of the next year-plus, Mysterio repeatedly gained retribution from his former friend, including at No Mercy in 2006 and SummerSlam in 2007.
Mysterio joined elite company in April 2009, when he became the 21st wrestler to win WWE's "Triple Crown." The honor came at the expense of John "Bradshaw" Layfield, who Mysterio trounced in a matter of seconds to claim the Intercontinental Championship. A few months later, Mysterio became a two-time Intercontinental Championship when he defeated Chris Jericho to regain the gold in a Mask vs. Title Match.
In June 2010, Mysterio outlasted SmackDown's best when he won a Battle Royal for the right to challenge for the World Heavyweight Championship. Mysterio was given his opportunity at Fatal 4-Way, where he turned back CM Punk, Big Show and defending champ Jack Swagger to win the World Heavyweight Championship for a second time. He held the gold for four weeks before Kane cashed in this Money in the Bank briefcase and defeated a weakened Mysterio for the title.
The longtime SmackDown Superstar moved to Raw in April 2011, courtesy of the annual WWE Draft. As a member of the Monday night brand, Mysterio continued to prove himself as an elite WWE Superstar. Just months into his stay, the Master of the 619 defeated The Miz in a tournament finals to capture his first-ever WWE Championship. As a result of the victory, Mysterio became one of the elite few to have held both the World Heavyweight Championship and WWE Championship.
More than 20 years after his first match, Mysterio continues to prove his skeptics wrong. And with multiple world championship reigns, amazing WrestleMania moments and a Royal Rumble victory to his credit, the ultimate underdog continues to prove he truly is the "Biggest Little Man."

Rey Mysterio Talks About Why He Left WWE, His Relationship With Eddie Guerrero, More
---
August 5, 2015 – Former WWE Superstar Rey Mysterio recently spoke with Rolling Stone to promote AAA's upcoming Triplemania pay-per-view, which is being held in Mexico City, on Aug. 9. Mysterio comments on several topics including his time in WWE, why he left the company and his friendship with Eddie Guerrero. Here is an excerpt from the interview.
You left WWE about five months ago. What have these past five months been like for you?
I don't regret any steps that I take in life. This is something that I've been looking forward to for a while. I really wanted to have some time off, without feeling any sort of commitment to be on a certain schedule. Now, I'm doing things my way, under my terms. I'm dictating my pace towards retirement. I'm not on the grind. I was constantly competing. This is a good thing for me. This is something that my wife and I thought would be best for my body and for myself. I get to be a husband and a father again. I get to enjoy time with my kids now. I was a workaholic for so many years. I've missed so many birthdays and anniversaries. Now that my kids are a bit older, I want to be around and I want to enjoy it. I want to send my kids off to college if that's what they want to do. I want to do all the family things I've missed over the years.
Would you say that was the biggest reason you left WWE?
Family was the biggest reason. If anything, I'll probably do appearances. I'm not trying to stay busy. I'm trying to enjoy my time at home and be around my kids. I want to vacation. I'm a big family guy. I want to do more with them. That was the primary reason that I stepped away. Opportunities are starting to arise. After 15 years, I didn't know what was out there. I had been wrestling with WWE all that time and wasn't focusing on anything outside of that. I'm realizing that there's a lot of opportunities there. The question is just whether I want to take them.
For the last few months of your WWE run, it seemed to be somewhat of an open secret that you wanted to leave. Konnan, in particular, was very outspoken about them being hesitant to let you out of your contract. What's your relationship like with WWE today?
There's definitely no hard feelings with WWE. I'm very thankful to them for the opportunity that was given to me. The lifestyle I have now is due to the success that I had there. There's one thing that I've always been is appreciative of the opportunities that are given to me. I've always left every company that I've been with on good terms; WWE is no exception. I have no negative comments or feelings towards WWE at all.
As far as Konnan's part in all this, he got a little overexcited. I've been very close to Konnan for many years now. I thank him for much of my success in this industry. He opened the doors for me in AAA, ECW and WCW. I'm very thankful. Even though we don't see each other as much, we do talk a lot. He would hear many times that I was tired and constantly on the grind. I would pour my heart out to him on many occasions. When my term was coming up and that I was thinking about not re-signing, I told him about it, and I think he was just excited for me.
Looking back on your WWE career, is there anything you wished you had accomplished?
No, I accomplished so much that I never thought I'd be able to accomplish. Of course, I won the World Heavyweight title. I enjoyed being there, and getting to wrestle the people that I wrestled. I cherish every moment that I was there. When I wrestled Shawn Michaels for the first time, my first match with The Undertaker – I never thought I'd be in that position. I've done more than I could have ever imagined. I'm blessed that I've had the career that I have.
You've been a part of so many iconic moments in wrestling – winning the world title, the Rumble win, your great matches in WCW with Eddie Guerrero – if you had to choose one as your all-time favorite, what would it be?
I've gotten this question a lot. At first, I was saying it was 1997, Halloween Havoc with Eddie Guerrero. I really thought about it, and then I changed my answer. I realized that my favorite match was the ladder match we had at SummerSlam 2005. The reason why is that it was the last time I was in the ring with Eddie. I enjoyed every moment of that match. On top of that, how many fathers get to bring their kids to work and be on TV with them? Throughout that whole feud, my son was traveling with me. We were road buddies, we went to all the shows together. When it was time to shoot a vignette, he'd go into a working mode, and then go back to playing with toys. I enjoyed all that, and then the payoff was my last match with Eddie. I'm very blessed by that.
You were always close with Eddie. Following his death, how hard was it to get arguably the biggest push of your career, and reach possibly the pinnacle of your career, while having it so closely linked to that tragedy?
It was really, really hard. Me and Eddie would speak about going to Mexico and eventually selling out huge arenas with WWE, and how cool that would be. The opportunity for the title came to me way too soon in my opinion. I didn't expect it to come after Eddie's death. It was just so hard to absorb. At times, I think that I didn't enjoy it as much as I should have, because there was that one person missing that had to be there. It was hard for me not having him there to enjoy the run with me. Although I know he was with me and felt my emotion from heaven, it wasn't the same.