Rosa Mendes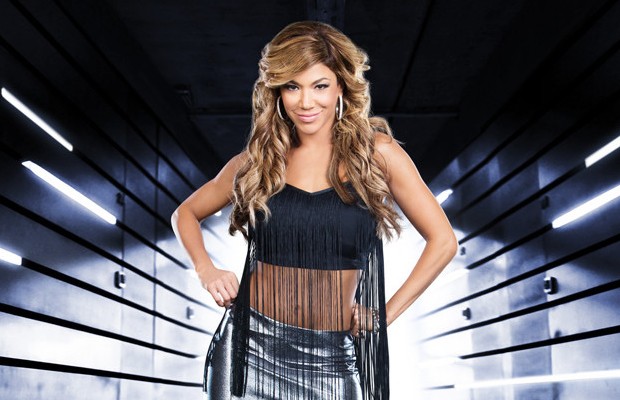 Milena Roucka, famously known as Rosa Mendes is proof that dreams come true.
Rosa Mendes Has A Wardrobe Malfunction During Wrestling Match ▸
During an episode of WWE Main Event on the WWE Network, members of the WWE Universe got a lot more than the $9.99 they bargained for; a Rosa Mendes wardrobe malfunction . . .
Rosa Mendes Suffers A "Wardrobe Malfunction" During A Photo Shoot ▸
On Total Divas, Rosa Mendes showed up to the set of her photo shoot and got into trouble with the photographer for altering her top and making it way too revealing. Despite the "wardrobe malfunction," they proceed with the photo shoot . . .
Latest Rosa Mendes News, Photos & Videos ▸
Rosa Mendes on PWPIX.net, your go-to source for the latest news, rumors, photos & videos . . .
Details and Photos On Rosa Mendes' Car Accident In 2012
Photos and details from the scene of a car accident involving Rosa Mendes on May 18, 2012 . . .
For Your Information
---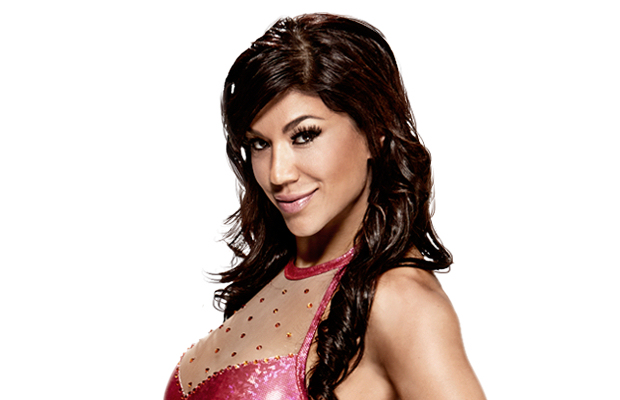 Has Rosa Mendes Appeared Nude?: While Rosa Mendes has never appeared nude for a publication, she has suffered multiple wardrobe malfunctions over the course of her career as a professional wrestler, resulting in the exposure of intimate areas.

On June 7, 2011 at a WWE SmackDown! taping in Roanoke, Virginia, Mendes suffered a wardrobe malfunction while competing against in a dark match against Natalya. The match ended abruptly when the official noticed something was amiss – Mendes covered her chest with her arms and hastily scurried to the backstage area.

Following the incident, Mendes remarked on Twitter, "A wardrobe malfunction that everyone wanted to see tonight."

In November 2012, a video surfaced on YouTube of "hidden camera" footage of Rosa Mendes purportedly appearing nude as she changed her garments in a women's locker room. The video was published by an individual posing as fellow WWE Superstar Brad Maddox and was quickly removed. Mendes, irate, lashed out at Brad Maddox on Twitter due to her initial belief that he published the video.
Does Rosa Mendes Have A Boyfriend?: The WWE Diva is now dating Bobby Schubenski, the co-owner of underground clothing company BlackCraft. In the past, she has been romantically linked to former WWE and World Heavyweight Champion Batista, former WWE Superstar Jackson Andrews and celebrity choreographer and music executive Bijan Rythmik Williams.
Rosa Mendes Appears In A Bikini: As a female performer for WWE, Rosa Mendes is required to appear in a bikini for various photo shoots and at live events as well. The Vancouver natives also appears in bikinis at her own discretion, photos of which can be seen here.

About Rosa Mendes
---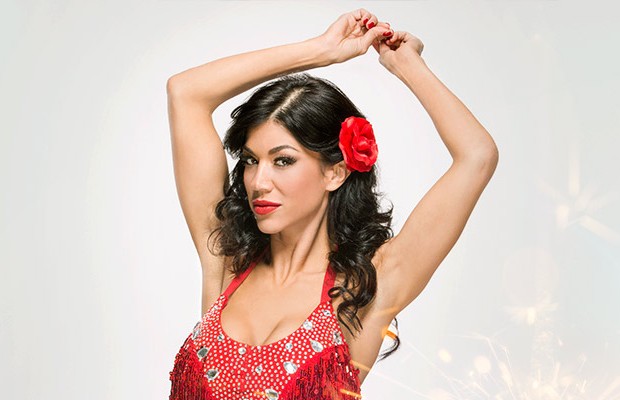 Beth Phoenix has thousands of fans around the world, but none as obsessed as Rosa Mendes—real name Milena Leticia Roucka. In late 2008, the beauty from Costa Rica began popping up at WWE events with signs that stated her affection for the "Glamazon." Mendes' fondness for Phoenix seemed innocent enough at first. But it wasn't long before she started to jump the guardrail and attack her idol's opposition.
Mendes' obsession could've turned ugly, but rather than shun her crazed fan, Phoenix made the unorthodox decision to actually bring her closer. As Phoenix's intern, Mendes earned a first-hand education in competing in the Divas division.
In October 2009, Mendes, moved from Raw to ECW, where she began a torrid relationship with Zack Ryder. The two up-and-comers dated until Mendes was shipped to SmackDown in the spring of 2010. While on SmackDown, Mendes' tireless work with a Shake-Weight was recognized when she was presented with the prestigious 2010 Slammy Award for Best Use of Exercise Equipment.
Rosa Speaks To WWE Magazine (December 2013)
---
With colorful gear and a matching personality, Rosa Mendes spreads her wings about WWE Hall of Famer Koko B. Ware, her relationship deal-breakers and which Diva she has all figured out.
So Koko B. Ware had Frankie, what would your pet sidekick be?
A puggle! I used to have one, and he was like a Diva himself. Totally spoiled–and he would walk with his head and chin up high.
Koko B. Ware called his famous move "The Bird." What would your signature dance be called?
I'd call my salsa "Rosa's Tango of Terror." Everyone would be distracted by how sexy it was, and then WHAM! I'd take them by surprise.
What's one thing that guys need to B. Ware of with Rosa?
Me catching them in a lie! Liars are cowards, and I'm all about honesty. If I'm more fearless than my man, then he's got no business in my world.
Will we ever catch you singing your own entrance music?
Not unless I wanted to lose all my followers and irritate everyone else. Rosa Mendes has no business singing anywhere around a ring!
What character would you love to play if you were a telenova star?
Someone who has a broken heart. I would show all the most emotional and aggressive layers that I'm capable of portraying.
Is Rosa romantic?
Absolutely, yes. I love the long walks, and quiet dinners. I can also be very romantic in return. But only when it's least expected.
What's one fashion trend for guys that really just needs to go?
Skinny jeans! It's a turn-off no matter who you are. Most guys backstage know not to wear them around me, because I'd call them out!
Is it hard to wrestle in heels?
It's not easy to do anything in heels, especially navigating around the ring. Not every girl would be able to pull it off, and that's why not every girl can be a WWE Diva.
Who is your favorite person to follow on Twitter?
Paul Heyman! He's the most talented in every single aspect of this business. I'd love to be a manager like him and be able to capture the WWE Universe in the same ways.
Tell us what you think is the key to the perfect selfie?
Stare at the camera while thinking about something you love, so everyone can see desire and passion in your eyes instead of a blank stare.
Who is the most competitive Diva in the ring?
AJ Lee. I realize that she's getting all the other girls distracted with insults and has them fighting with each other, so she can keep her title. I'm on to her!
Finish this sentence:
Rosa will go down in WWE history as the Diva who _______? Who captured people's hearts! If I haven't yet, I will soon.
Rosa Mendes Has A "Wardrobe Malfunction" During A Photo Shoot
---
On Total Divas, Rosa Mendes showed up to the set of her photo shoot and got into trouble with the photographer for altering her top and making it way too revealing!
Despite the minor "wardrobe malfunction," they proceed with the photo shoot.
EOnline.com's recap of the show is titled "Rosa Mendes Suffers a Wardrobe Malfunction During WWE Photo Shoot," which resulted in a huge spike for online searches of the veteran Diva.