Ryback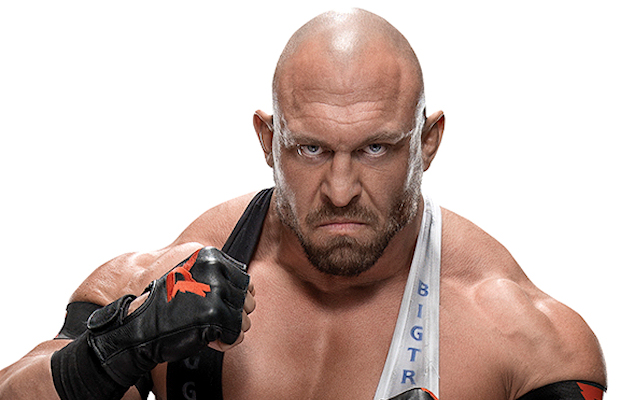 SEE PHOTOS OF THE ORIGINAL IDEA FOR RYBACK | RYBACK RESPONDS TO "GOLDBERG!" CHANTS AT WWE SHOW | RYBACK HAS TROUBLE LIFTING UP PAUL HEYMAN FOR SHELL SHOCKED | RYBACK BOTCHES HIS FINISHER DURING EPISODE OF RAW | WATCH RYBACK'S OFFICIAL WWE TELEVISION DEBUT | RYBACK'S FIRST WWE APPEARANCE | SEE PHOTO OF SKIP SHEFFIELD'S RETURN TO WWE FOLLOWING A LENGTHY TIME AWAY FROM INJURY | SEE PHOTOS OF SKIP SHEFFIELD HANGING OUT WITH FANS
The breakout WWE Superstar of 2012, Ryan Reeves, known as Ryback, has thus far failed to live up to the lofty expectations place on him. Can the 31-year-old turn the tide with his newfound partnership with Paul Heyman?
As a Rookie on the premiere season of WWE NXT in 2010, Reeves became known as the "Cornfed Meathead" Skip Sheffield, who goes to the ring full throttle. And his combination of muscle and hustle coupled with his signature catchphrase "yep, yep, yep, what it do," proved that Sheffield knew victories and putting smiles on fans' faces were equal parts of the job.
In the summer of 2010, Sheffield joined his fellow NXT rookies in the creation of one of WWE's most feared factions, Nexus. As a member of the renegade group, Sheffield shelved his fun-loving side in favor of a more ruthless brand of domination. Alongside leader Wade Barrett, the Texas native took part in systematically dismantling WWE's foundation, including brutal attack on Chairman Mr. McMahon, Hall of Famer Ricky "The Dragon" Steamboat and John Cena.
Sheffield headlined the 2010 edition of SummerSlam when he teamed with his Nexus cohorts to battle Team WWE in an Elimination Tag Team Match. During the contest, he eliminated both John Morrison and R-Truth before ultimately exiting at the hands of Edge.
In 2012, Reeves resurfaced as Ryback and would go on to be the breakout WWE Superstar of the year. His big break took place when an injury forced Cena out of a WWE Championship Match against CM Punk at Hell in Cell, resulting in the Las Vegas, Nevada native being slotted in the spot. Unfortunately for the 291-pound beast, he came up short in the match and subsequently, numerous pay-per-view bouts in the ensuing months.
At WrestleMania 29, before 80,676 fans at MetLife Stadium in East Rutherford, New Jersey, Ryback suffered a surprising loss to fellow powerhouse wrestler Mark Henry. Ryback, however, quickly shook off the loss by turning heel and becoming a contender to Cena's WWE Championship. Though Ryback knocked out the CeNation Commander-In-Chief in their Last Standing Match for the title at Extreme Rules, he did not capture the gold since the bout was ruled a no-contest. Ryback then came up short in a subsequent rematch at Payback, losing a Three Stages of Hell Match.
Ryback is often compared to former WWE and WCW World Heavyweight Champion Goldberg because of their similar bulldozing grappling styles.

Early Life
---
At the tender age of eight, Ryan Reeves began watching professional wrestling and was permitted to ring the bell at a World Wrestling Federation live event. Following his desire to become a professional wrestler, Reeves began lifting weights at the age of twelve. He was nicknamed "Silverback" as a youngster, after a youth companion joked that he looked like a Gorilla, and later embraced it as part of his ring name. While attending Western High School and Palo Verde High School, Reeves flourished in football and baseball. He also played baseball during his freshman year at the Community College of Southern Nevada, but broke his leg and wound up missing two seasons. He later attended University of Nevada, Las Vegas to enroll in their fitness management program.

Tough Enough
---
While attending the University of Nevada, Las Vegas, and working part-time at the Monte Carlo Hotel and Casino, Ryan Reeves spent time training to become a professional wrestler. In 2004, WWE announced that a fourth Tough Enough competition would be held on SmackDown! (in response to Raw holding the first annual "Raw Diva Search" contest) and Reeves sent a one minute videotape of himself to become a contestant. He was invited to Venice Beach, California, with forty-nine other contestants, with the prize being a $1,000,000 WWE contract split evenly over four years with only the first year guaranteed.
Despite suffering from bronchitis and a rib injury during the evaluation session at Venice Beach, Reeves became one of the eight finalists to appear on SmackDown!. Although he did not win the competition, Reeves impressed WWE officials enough land a developmental contract. After spending time healing from his injuries in Las Vegas, Reeves headed to Atlanta, Georgia, in March 2005 to begin training to become a professional wrestler.

Two Spoilers For Elimination Chamber
---
Rusev has officially been scratched from the Elimination Chamber pay-per-view, WWE announced shortly before Sunday's event.
Rusev was scheduled for the Intercontinental Championship Elimination Chamber Match, but WWE says Rusev has "not been medically cleared to compete" after suffering a reported injury at Tuesday's SmackDown taping.
According to Reddit.com user falconarrow, a verified WWE insider, Mark Henry will be Rusev's replacement in the contest.
The other participants in the Intercontinental Championship Elimination Chamber Match are Dolph Ziggler, King Barrett, R-Truth, Ryback and Sheamus. According to falconarrow, Ryback is scripted to win the match and the Intercontinental Championship.

Backstage News On Plans For Intercontinental Title Feud
---
Intercontinental Champion Ryback faced Big Show at Money in the Bank in a match that ended with Big Show winning by disqualification because The Miz entered the ring to attack Big Show and then Ryback. The reason this was done is because the plan is to do a triple threat feud for the Intercontinental Championship. This is according to Dave Meltzer on the post-Money in the Bank edition of Wrestling Observer Radio.
The original plan was for Ryback vs. Big Show vs. The Miz to actually happen at Money in the Bank, but creative changed it to just Ryback vs. Show and now they can move on to the triple threat feud at Battleground on July 19 as well as possibly SummerSlam in August.
The reason for The Miz interfering in the match is because Big Show walked out to the ring on Raw two weeks ago when Miz was going to have a match with Ryback and Show knocked out Miz with one punch to prevent him from getting his match. There was also a point in the Money in the Bank match where Ryback attacked Miz when he was unprovoked and tossed him over the announce table.

WWE Feuds Heading Into Night of Champions
---
August 24, 2015 – At SummerSlam, Intercontinental Champion Ryback held onto his title by pinning The Miz, who was left vulnerable after a brutal KO Punch from Big Show.
Following the show, Dave Meltzer mentioned on Wrestling Observer Radio on F4WOnline.com that Ryback's feud with Big Show will continue through Night of Champions on September 20, 2015 at Toyota Center in Houston, Texas. The Miz is being removed from the storyline.