Sasha Banks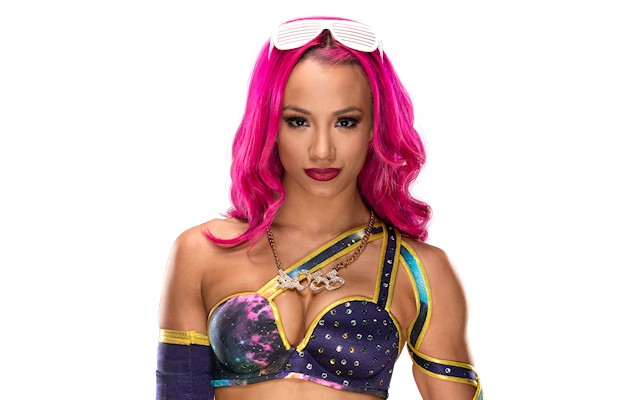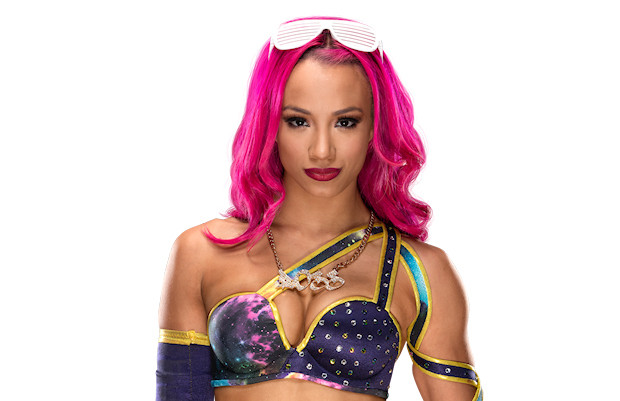 Sasha Banks was a founding member of the Beautiful Fierce Females, or BFFs, and though the group has disbanded, Banks is still one fierce, beautiful female.
Latest Sasha Banks News, Photos and Videos ▸
Sasha Banks on PWPIX.net, your go-to source for the latest news, rumors, photos and videos . . .
Sasha Banks Photos
---
SASHA BANKS' SEXY BIKINI POOL PARTY PHOTO SHOOT WITH OTHER WWE NXT DIVAS
PAIGE TAKES ON SASHA BANKS (WITH SUMMER RAE) (WWE NXT – DECEMBER 18, 2013)
BAYLEY AND CHARLOTTE TAKE ON SASHA BANKS AND SUMMER RAE (WWE NXT – NOV. 13, 2013)
EMMA AND PAIGE VS. SASHA BANKS AND SUMMER RAE (WWE NXT – OCTOBER 16, 2013)
BAYLEY AND EMMA VS. SASHA BANKS AND SUMMER RAE (WWE NXT – SEPTEMBER 25, 2013)
SASHA BANKS VS. ALICIA FOX (WWE NXT – JANUARY 23, 2013)
10 Things You Didn't Know About Sasha Banks
---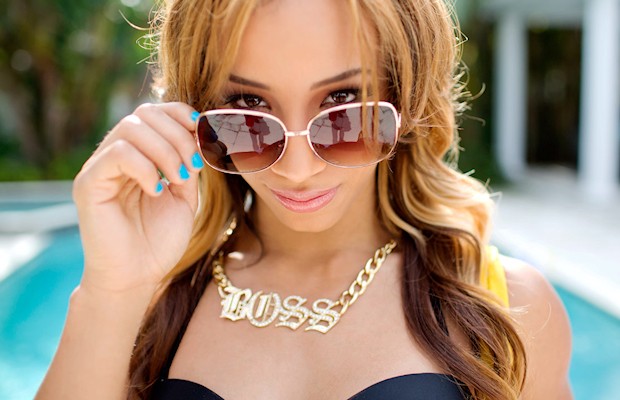 10. Eddie Guerrero Was Her Favourite Wrestler
Given that Sasha Banks is 23 years old, it makes sense that some of her favourite memories happened when Eddie Guerrero was on top of his game. In 2004, Guerrero was WWE Champion, and Banks would have been a sprightly young teenager when the Latino star vanquished Brock Lesnar at the No Way Out Pay-Per-View in February of that year to bag the title.
During an interview with WWE.com in early-2014, Banks revealed that Guerrero was her favourite performer of all time, mainly because he truly seemed to believe in himself. Citing the fact that he may not have been the biggest, Sasha said she was "captivated" by Eddie's overwhelming belief in his own ability, and found him the most inspiring wrestler in the entire company.
Going further, Banks even remarked that whilst CM Punk may have routinely referred to himself as "The Best In The World", Eddie Guerrero proved he was just that and more each and every time he stepped foot inside the ring. At the time the article was published, Punk was still under contract to WWE, so it's somewhat surprising to read these words on the promotion's official site, but just shows how fond of Guerrero the Diva was growing up.
9. Her Ring Outfits Are Inspired By Beyonce
Pretty much every pro wrestling fan knows that image matters in World Wrestling Entertainment, because this is something many performers have talked about during interviews. Even the legendary Jim Ross has encouraged fledgling WWE stars to really spend time thinking about their overall look, because it matters in the eyes of those in charge.
Sasha Banks was only too aware of this fact, and upon her signing to WWE, she sought out advice on what would help her stand out. Looking for inspiration for her in-ring wardrobe and overall style when appearing on television, Banks was impressed by pop-star Beyonce, admiring how she always turned heads with her outfits upon entering the room.
Going heavy on the bling, studs and diamonds, Sasha Banks also started wearing shades to help complete her look, and adopted the swaggering confidence that Beyonce displays when appearing in front of crowds. Using the nickname, 'The Boss' to reflect this new attitude, Banks took inspiration from one of the biggest names in pop music, and it has paid off.
8. She Already Tours With The Main Roster
Even though she only made her 'official' debut on the main WWE roster recently on Monday Night Raw, Sasha Banks has been working as part of the main touring crew for a good while now, as far back as during the 2014 Christmas run of live events the company promoted in North America.
Normally, Banks has been posted opposite another woman management had high hopes for, Charlotte. The daughter of Ric Flair and Sasha have shown they work extremely well alongside one another on NXT television, and those performances must have sufficiently impressed WWE higher-ups, who insisted that the females have matches against one another routinely in front of more casual crowds.
It seems that management have been more than delighted with how Banks and Charlotte have progressed, because the house show circuit was almost like a test run for what it would be like should both make it on to the main roster. Now that they're there, expect both women to appear more regularly on live events, but WWE have been trying to bed Sasha Banks into the usual main crew schedule for the past 7/8 months.
7. She's A Pop-Culture Nerd
A huge fan of anime, cartoons and Japanese pop music, Sasha Banks isn't shy of letting the world know that she has many interests outside of professional wrestling. One of her favourite shows is 'Sailor Moon', a Japanese anime series that has inspired Banks heavily over the years.
Her favourite character from the show is called Serena, and the cartoon figure is one Sasha sees a lot of her real-life self in. Basically, the character is clumsy and rarely on time, something Banks says she definitely is away from the ring. Of course, the actual persona she plays on WWE TV sees herself as flawless and the best, but that's simply fantasy, at least according to the woman herself.
On Instagram and Twitter, it isn't uncommon to see Sasha Banks posting pictures of herself dressed as various characters from movies, video games and TV shows, including the likes of The Joker and even the Teenage Mutant Ninja Turtles! Of course, she also dresses up as Sailor Moon characters whenever she gets the chance.
6. Banks Is Coming Close To 300 Match Milestone
Before signing for WWE, Sasha Banks was known as both Mercedes KV and Miss. Mercedes on the independent circuit. It was in the promotion Chaotic Wrestling – based in Tewksbury, Massachusetts, close to where Banks was living at the time of her training – that she first cut her teeth in the pro wrestling industry, working primarily as a clean-cut babyface.
Also competing in New England Championship Wrestling and the National Wrestling Alliance, the future NXT Women's Champion made great strides just a few short years after her 2010 debut. Signing for WWE in 2012 reportedly reduced the woman to tears, because it was a dream she had to sign for the biggest company in the world when she was still a teenager.
A lot of older wrestlers have stated that one of the problems with today's industry is that young performers don't have the ability to work for years before making it to WWE, and are thus under-prepared. This wasn't a problem for Sasha Banks, who had wrestled over 150 matches across the indies before WWE came calling. As it stands, she's only 30 matches or so away from hitting the 300 mark.
5. She Didn't Feel Like She Belonged In WWE
Looking at pictures of the starlet, it's hard to imagine that Sasha Banks could have any problems with her confidence, but looks can often be deceiving. Remarkably, during several media appearances throughout 2014, Banks claimed she struggled with the pressure of being part of the WWE system, and it's taken her a few years to get used to the intense working environment the company demands.
During interviews, especially last year, she was incredibly candid about her troubles, stating that she broke down in tears more than once. It's startling to think that the ultra-confident Diva wrestling fans see on NXT – and now Monday Night Raw – could be under-confident, but it's taken Banks a good while to become comfortable.
One thing Sasha really set her sights on early on was proving that women could be as effective a part of the WWE roster as the guys, and that's something a lot of industry critics will agree NXT has achieved for female wrestling. It's likely due to her part in that resurgence for the Divas in WWE that Banks has witnessed her confidence grow.
4. Only Became Comfortable As A Heel Upon Joining WWE
As aforementioned, before she signed on to work in WWE, Sasha Banks – as either Mercedes KV or Miss. Mercedes – was often found on the independent scene working as a smiling, happy-go-lucky babyface. There were very few opportunities for her to learn how to be an effective heel, at least not until she started in NXT.
It was there that the now-deceased 'American Dream' Dusty Rhodes could see something burning just underneath the surface in the young woman, encouraging her to let that come out during promos. Amazingly, Banks was unsure about becoming a villain, because she didn't want to offed people with her words, which is ironic to think now, because she seems so comfortable in the character.
It's been said that WWE's creative team are instructed to make characters and gimmicks for the Divas as simple as possible for people to grasp, which is probably why the only heel character the writers seem to have in mind for women is being bitchy egotists. That's a perfect summary of Sasha Banks on NXT programming, but she does it so well that it's crazy to think she'd never really been heel prior to WWE.
3. Her Mum Made Her Stop Watching Wrestling
As a fresh-faced young teenage girl, the future Sasha Banks was flicking through channels on television, looking for something to cure her boredom. Stumbling across a WWE show, she was transfixed by what she was seeing on-screen, but shockingly her mother wasn't so keen to let her daughter watch professional wrestling.
Asking her to turn it off, Sasha's mother would have likely been furious had she caught Banks promptly agreeing, before heading on through to her younger brother's room and switching on his TV instead to continue staring slack-jawed at the bright, colourful action she was seeing before her. It seems unlikely that such a negative reaction from her parent would have continued over the years, but things could have been different if her sibling didn't have a television in his room.
According to banks now, her mum is far more tolerant of wrestling, because she can see the passion her child has for the industry. In fact, her mother even phones Banks after matches, getting especially irate if she has lost, because she wants to know why!
2. Snoop Dogg Is Her Cousin
Sasha Banks real name is Mercedes Kaestner-Varnado, which is certainly quite the tongue twister. It's not uncommon for WWE to change someone's name to a fictional one after signing them, because this means the promotion owns the copyright on that fresh moniker, useful for merchandise purposes.
Her birth name explains her indie name, 'Mercedes KV', but Banks once caught up with someone who wasn't a victim of the name-changing game, John Cena, for a quick photo op before signing with the company. The whole thing came about because Banks real-life cousin is rapper Snoop Dogg, someone who has appeared on WWE TV a few times himself.
During interviews, Sasha Banks has said she repeatedly tries to get Snoop to record her a song she can use for her entrance music, but the rap star is understandably busy. Maybe now she's on the main roster, WWE officials can work something out with the musician, because it'd certainly be a nice touch if his little cousin had a recognisable voice to sing her tune before and after matches.
1. Is A Self-Admitted 'Mark'
The word 'mark' is sometimes viewed as a dirty word in today's pro wrestling scene, but not quite as much as it arguably used to be. Traditionally, fans in general were called marks by wrestlers, almost a derogatory term for those who believed what they were seeing was 100% real, and followed without question.
As more and more has become public knowledge regarding the real lives of pro wrestlers, this kind of thing has cooled off somewhat, although the phrase 'mark out' is still common, used mainly when something cool happens on television that causes even hardcore fans to lose their inhibitions and get excited.
That's exactly what Sasha Banks would describe herself as, a mark, because she has said as much during various interviews. Saying she was heavily intimidated by the likes of Vince McMahon and Triple H upon first meeting them, Banks was more impressed due to being a fan, rather than their size or personality. There's something altogether quite endearing about that, because a WWE talent flat out calling themselves a mark is not something fans have the chance to hear very often.
Sasha Banks News Archive
---
Sasha Banks Responds To Report That She's Injured
May 28, 2015 – WWE NXT Women's Champion Sasha Banks responded to a report published on May 28, 2015-attributed to Dave Meltzer of the Wrestling Observer Newsletter—alleging that she did not appear at the previous week's WWE NXT events due to an injury to either her shoulder or arm.
She acknowledged the report on her Tumblr account, stating, "No I didn't stupid news."
After retaining the WWE NXT Women's Championship on May 20, 2015 at WWE NXT TakeOver: Unstoppable in a match against Becky Lynch, "The Boss" did not appear at the following night's WWE NXT tapings, nor did she work that weekend's live event tour. Meltzer was told she suffered an injury to either her shoulder or arm, but is not sure whether she suffered the injury during her title defense against Lynch or if she entered the match hurt. Banks was slated to compete at the WWE NXT tapings, but left Full Sail University for a nearby hospital when her fiancé, Sarath Ton, was knocked unconscious during a tag team match where he partnered with Jason Jordan against The Vaudevillians. Ton was recently hired by the sports-entertainment organization to tailor wardrobe for the roster.
For Your Information
---
Has Sasha Banks Appeared Nude?: As is common whenever a female wrestling star gains a following, fans will flock to the web to see if there are nude images floating around. This is the case with Sasha Banks, a top WWE Diva prospect, as online searches for nude photos of her have gradually increased. None, however, exist. Her bikini photo shoot is the closest thing fans will get to seeing Sasha in a state of undress.
Find Sasha Banks Online: Sasha Banks has made her presence known on social media with accounts on Twitter and Instagram. Her Twitter handle is located @SashaBanksWWE. Fans can also find Sasha on Instagram at sashabankswwe. She does not have an account on Facebook.
About Sasha Banks
---
Sasha Banks was a founding member of the Beautiful Fierce Females, or BFFs, and though the group has disbanded, Banks is still one fierce, beautiful female.
It all began when Banks was told she was not strong or tough enough to make it in WWE NXT. This was a big mistake as Banks made it her personal mission to prove all doubters wrong, even if it meant unleashing a sinister side of her personality.
The Boston-based Diva branded herself "The Boss of NXT" and took out her aggression in feuds with Bayley, Emma and Paige, among others. She and Summer Rae even lured Charlotte, a second-generation Diva, to their side. Wrestling as a trio, the Beautiful Fierce Females bullied WWE's NXT Divas division until Charlotte left Banks to fend for herself in a hard fought contest.
Competing on her own, Banks plans to use her high-flying arsenal and furious style to prove that she never needed help all along. All skeptics better beware.
WWE NXT (2012-2015)
---
After competing on the independent wrestling circuit for two years, Mercedes Kaestner-Varnado tried out for WWE in June 2012. The tryout was a success as Chaotic Wrestling, a New England-based organization she competed for, announced on its Facebook page on August 17, 2012 that the aspiring wrestler had signed a contract with the sports-entertainment organization. She was assigned to NXT, WWE's Florida-based developmental branch, where she adopted the name Sasha Banks.
Billed from Boston, Massachusetts, Banks made her television debut on the December 12, 2012 episode of WWE NXT, losing to Paige. She garnered her first televised victory on the January 23, 2013 episode of NXT by beating Alicia Fox. Banks then entered a angle where she received letters from a secret admirer, who was ultimately revealed to be the villainous Audrey Marie. The one-time FCW Divas Champion, who was jealous of Banks' success, attacked the Boston native on the February 20, 2013 episode of NXT. To add insult to injury, Marie beat Banks in a one-on-one encounter later in the show. The feud ended on the April 3, 2013 edition of NXT when Banks partnered with Paige to beat Marie and Summer Rae. Banks competed in the NXT Women's Championship Tournament to determine the inaugural champion, but lost to Summer Rae in the first round on the June 19, 2013 episode of NXT.
After being heavily influenced by Summer Rae in an effort to make herself relevant, Banks was defeated by NXT Women's Champion Paige on the September 11, 2013 edition of NXT. "The Anti-Diva" attempted to console Banks following the match, which resulted in the "Boston Strong" starlet attacking Paige to cement herself as a villain. With Rae by her side, Banks beat Bayley on NXT on September 25, 2013. Following the contest, Banks cut a promo where she proclaimed herself as "The Boss of NXT." The duo branded themselves as the BFFs (Beautiful, Fierce Females) and on the October 16, 2013 edition of NXT, squared off against Emma and Paige in a tag team match where they emerged victorious—Rae scored a pinfall over Paige. In a tag team match on the November 13, 2013 edition of NXT, The BFFs beat Charlotte and Charlotte after the daughter of the legendary Ric Flair joined forces with Banks and Rae by attacking Bayley. The Beautiful, Fierce Females began a feud with Bayley in January 2014, who had formed an alliance with Natalya. The BFFs came up short to the babyfaces in both singles and tag team contests.
"The Boss" got her first taste of the big time at WrestleMania 30 on April 6, 2014 as she stood by Triple H's side during his elaborate entrance for his match against Daniel Bryan—as did Charlotte and Alexa Bliss. In May, Banks competed in a tournament for the NXT Women's Championship, which was vacated after NXT General Manager JBL stripped Paige of the title since she had been promoted to the main roster upon defeating AJ Lee for the Divas Championship on the April 7, 2014 episode of Raw. "The Boss" defeated Bayley in the first round of the tournament before losing to Natalya in the semi-finals—the tournament was won by Charlotte. On the July 3, 2014 edition of NXT, Banks and Charlotte beat Bayley and Becky Lynch. The BFFs disbanded following the contest, with Charlotte notifying Banks they won't be teaming up anymore, but could stay friends.
On the August 14, 2014 edition of NXT, Banks lost to Bayley in a contest to determine the number one contender to the NXT Women's Championship held by Charlotte. At NXT TakeOver: Fatal 4-Way on September 11, 2014, Banks attacked Bayley after the enthusiastic NXT Diva had lost to Charlotte. Charlotte, however, stopped Banks from furthering the assault. After Banks beat Bayley in a singles encounter on the October 24, 2014 episode of NXT, Lynch turned on the master of the Hug-Plex and joined forces with "The Boss." The Boston-based Diva then began feuding with Charlotte, leading to a bout between both Divas at NXT TakeOver: R Evolution on December 11, 2014 with the NXT Women's Championship at stake; Banks lost the match. She faced Charlotte in a rematch on the December 25, 2014 episode of NXT, but was once again unsuccessful. Banks challenged Charlotte for the title again on the January 21, 2015 edition of NXT, but lost after Lynch attacked "The Nature Girl," thus causing a disqualification. Lynch's actions would lead to dissension between herself and Banks. At NXT TakeOver: Rival on February 11, 2015, Banks finally captured the NXT Women's Championship by securing a pinfall victory over Charlotte in a Fatal 4-Way Match that also involved Bayley and Lynch.
"The Boss" successfully retained her title against Charlotte in a rematch on the March 4, 2015 edition of NXT and on March 25, 2015 against Alexa Bliss. On May 20, 2015 at NXT TakeOver: Unstoppable, Banks successfully defended the title against Lynch in what has been labeled as one of the best women's matches in WWE history. On the July 8, 2015 edition of NXT, Banks partnered with Charlotte again and beat Dana Brooke and Emma in a tag team contest. Following the contest, "Daddy's Little (Nature) Girl" challenged Banks to an NXT Women's Championship Match, which she accepted. The title match took place on the following week's episode of NXT, which saw Banks retain the gold. The former friends shared a hug following the match and Banks raised Charlotte's hand as a sign of respect.