Sasha Banks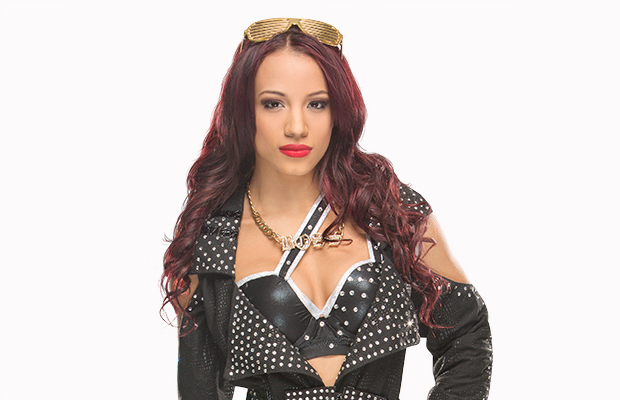 Sasha Banks was a founding member of the Beautiful Fierce Females, or BFFs, and though the group has disbanded, Banks is still one fierce, beautiful female. (Continue Reading ▸)

Sasha Banks Photos
---
SASHA BANKS' SEXY BIKINI POOL PARTY PHOTO SHOOT WITH OTHER WWE NXT DIVAS
PAIGE TAKES ON SASHA BANKS (WITH SUMMER RAE) (WWE NXT – DECEMBER 18, 2013)
BAYLEY AND CHARLOTTE TAKE ON SASHA BANKS AND SUMMER RAE (WWE NXT – NOV. 13, 2013)
EMMA AND PAIGE VS. SASHA BANKS AND SUMMER RAE (WWE NXT – OCTOBER 16, 2013)
BAYLEY AND EMMA VS. SASHA BANKS AND SUMMER RAE (WWE NXT – SEPTEMBER 25, 2013)
SASHA BANKS VS. ALICIA FOX (WWE NXT – JANUARY 23, 2013)

Going Strong With Sasha Banks
---
It all began when Sasha Banks was told she was not strong or tough enough to make it in WWE NXT. This was a big mistake as Banks made it her personal mission to prove all doubters wrong, even if it meant unleashing a sinister side of her personality.
The Boston-based Diva branded herself "The Boss of NXT" and took out her aggression in feuds with Bayley, Emma and Paige, among others. She and Summer Rae even lured Charlotte, a second-generation Diva, to their side. Wrestling as a trio, the Beautiful Fierce Females bullied WWE's NXT Divas division until Charlotte left Banks to fend for herself in a hard fought contest.
Competing on her own, Banks plans to use her high-flying arsenal and furious style to prove that she never needed help all along. All skeptics better beware.

For Your Information
---
Has Sasha Banks Appeared Nude?: As is common whenever a female wrestling star gains a following, fans will flock to the web to see if there are nude images floating around. This is the case with Sasha Banks, a top WWE Diva prospect, as online searches for nude photos of her have gradually increased. None, however, exist. Her bikini photo shoot is the closest thing fans will get to seeing Sasha in a state of undress.
Find Sasha Banks Online: Sasha Banks has made her presence known on social media with accounts on Twitter and Instagram. Her Twitter handle is located @SashaBanksWWE. Fans can also find Sasha on Instagram at sashabankswwe. She does not have an account on Facebook.

Sasha Banks Responds To Report That She's Injured
---
WWE NXT Women's Champion Sasha Banks responded to a report published Thursday-attributed to the Wrestling Observer Newsletter from Dave Meltzer—claiming that she missed last week's WWE NXT events due to an injury to either her arm or shoulder.
She quoted the report on her account on Tumblr and wrote, "No I didn't stupid news."
After successfully defending the WWE NXT Women's Championship against Becky Lynch at WWE NXT TakeOver: Unstoppable, Banks didn't appear at the following night's WWE NXT tapings, nor did she work that weekend's non-televised events. Meltzer says he was told she suffered either an arm or shoulder injury, but is not sure whether she suffered the injury during her match against Lynch or if she entered the contest hurt. Banks was scheduled to wrestle during the fourth WWE NXT episode taping but left Full Sail University to go to the hospital when her fiancé, Sarath Ton, was legitimately knocked unconscious during a tag match teaming with Jason Jordan against The Vaudevillians. Ton was recently hired by WWE to go on the road with the main roster and work as a seamster.