Why Shane McMahon Probably Has Triple H and Stephanie McMahon Worried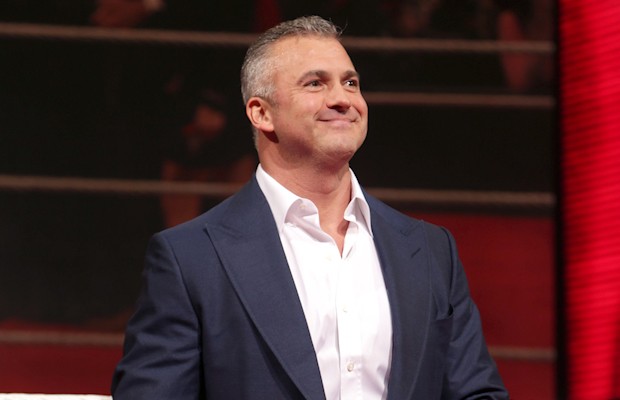 Triple H and Stephanie McMahon were less than thrilled when Shane McMahon returned to WWE earlier this year for an on-air only role since they felt it would be more than that. Their belief was correct as Shane now has a lot of creative input behind-the-scenes.
This probably has Triple H and Stephanie worried since they have long felt that WWE only belongs to them and Vince McMahon.
Earlier this month, a great article was published on Vice.com about WWE business, the inner workings of the company, working for Vince McMahon and more — the article itself has since been deleted. Shane's departure from WWE was also addressed.
It was noted that Shane parted ways with WWE in 2009 due to a real-life power struggle with Vince and Stephanie, with a senior-level executive saying that there "was always tension between Shane and Stephanie."
It was revealed in the piece that Shane met with Vince at the WWE production office in Stamford, Connecticut, which is separate from WWE headquarters, in March 2012. At the time, Triple H — who has yet to appear with Shane on WWE television since his return last February — was working on launching NXT and Vince was stressed because ratings were down.
"When Stephanie found out Shane was going to be there, she went white in the face," a source said. "And Paul [Triple H] freaked out."
Shane was at the meeting with his friend James Frey, who was the CEO of Full Fathom Five. Shane said that he wanted to take over creative and the writer's room, while Frey and his Full Fathom Five team would serve as consultants. The meeting was set up by Kevin Dunn, WWE's Executive Vice President, Television Production.
"Kevin Dunn is very close to Shane," the source said. "And there's tremendous tension between Kevin, and Paul and Stephanie. They feel like the company is theirs, but they don't have the power to control Kevin."
It was noted that Dunn would have had even more influence with Vince if Shane was back with the company in a top position, and Shane would also be back in control of a piece of the family's legacy. Vince ultimately turned down Shane's offer.
This behind-the-scenes issue probably isn't going away anytime soon since Vince takes pleasure in pitting his family against one another.