Stephanie McMahon Explains Why She Got A Boob Job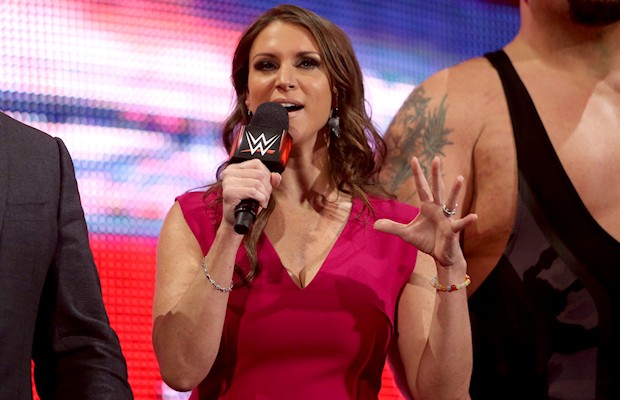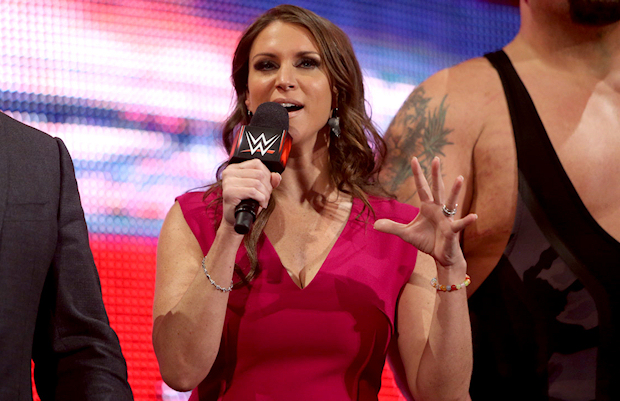 Has there ever been a woman in the history of WWE that had fans talking about her boobs as much as Stephanie McMahon?
On the July 9, 2001 episode of Raw, Stephanie reemerged in WWE — then known as the WWF, or World Wrestling Federation — with her breasts appearing to have been surgically enhanced, whether by design or otherwise, put the Divas' plastic in the shade. Amidst speculation that she had her breasts enlarged, Stephanie revealed the following month that she did indeed get a boob job.
During an appearance on the New York-based radio show The Opie & Anthony Show on August 14, 2001, Stephanie said she underwent surgery the prior month, shortly before she became the on-screen owner of Extreme Championship Wrestling (ECW). Her implants had become swollen and she was massaging them on a regular basis for medical purposes. She revealed she'd never been hurt by a sign in the audience until she saw one that said her breasts sagged. Now, she said then, they weren't saggy anymore. She said that she could finally look in the mirror and be happy with her appearance.
Linda McMahon addressed her daughter's breast enlargement months later during an interview with WWF.com.
"My first concerns are always with health issues," Linda said when asked about her procedure in fall 2001. "Stephanie had thoroughly investigated the procedure, and she had answers to all the questions that I asked, and so I felt comfortable that if that was something that she wanted to do, then she should proceed, and she had my full support."
On April 30, 2015, Chris Jericho brought his uncensored podcast to the WWE Network with Stephanie in the hot seat. While reminiscing on some memorable moments the two shared in WWE, Stephanie took the opportunity to explain her decision to get breast implants.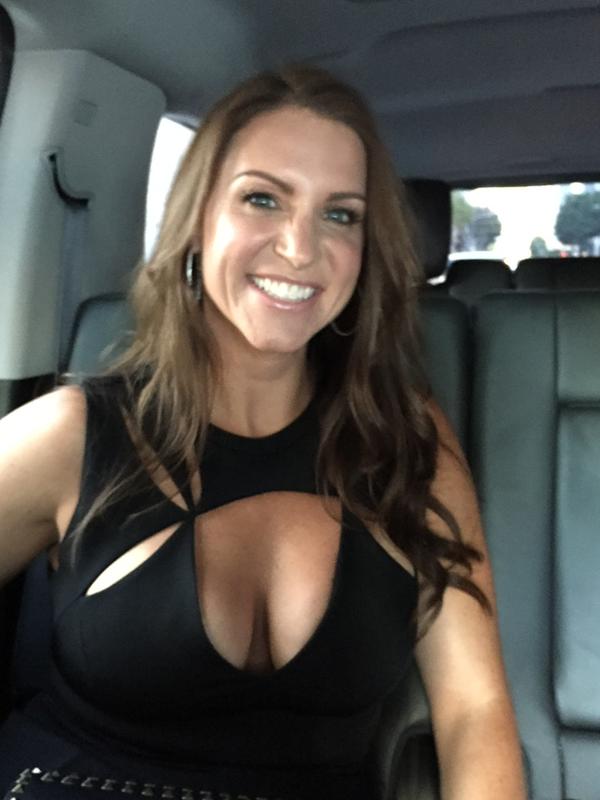 "Well there was a lot of people actually, 'cause I was reading all the Twitter comments about ten questions you should ask me and all that kind of stuff and there were a lot of naysayers in terms of my breast enhancement surgery, or augmentation, whatever you want to say," said Stephanie. "But what had happened was, at one point in time I was heavier and then I had lost some weight and I didn't like the way I looked and I wasn't confident in how I looked. And so it was my own personal decision to have that done and I was proud of what I did."
During the "Attitude Era," Stephanie's boob job was frequently targeted by both Jericho and "The Most Electrifying Man in Sports Entertainment," The Rock. Her augmentation was first acknowledged on the August 13, 2001 edition of Raw Is War with Jericho mocking the noticeable growth of her chest. On the TitanTron, "Y2J" had a video still of a less-endowed Stephanie shown alongside a busty shot of her from the week before to reveal the difference.
"It seems like our little billionaire princess sure has grown over the last year! Well, in two specific places at least! Talk about foreign objects — you wanna say let the bodies hit the floor? I would say let the boobies hit the floor!" Jericho shouted to the raucous crowd.
Stephanie, now concealing her chest with her arms, exclaimed, "I don't know what you're talking about Jericho! You must have some kind of an imagination!" Jericho recommended the two go out to dinner to discuss the subject since there was a Hooters restaurant a few blocks away. Rhyno, who was by Stephanie's side, grabbed the microphone and demanded Jericho to come to the ring so he could knock some respect into him.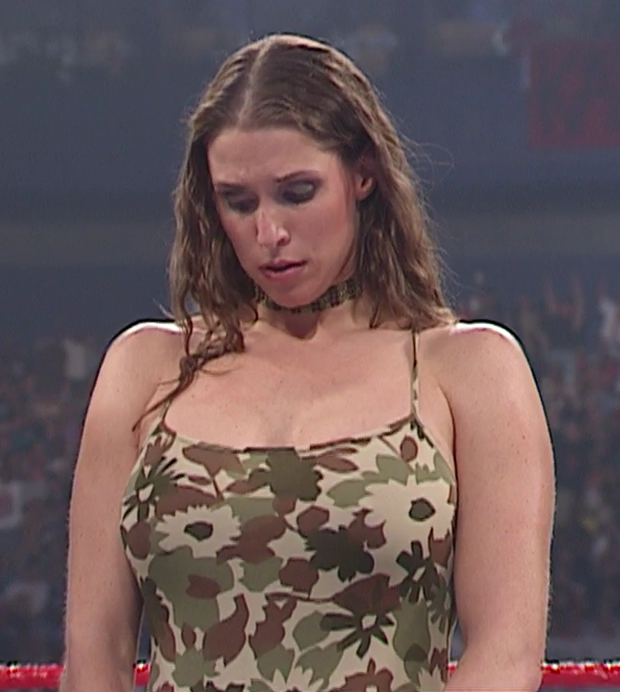 Later in the segment, Stephanie challenged Jericho and The Rock (who joined "Y2J" on stage) to put their money where their mouths are by facing Rhyno and Booker T that evening in a tag team contest. "Y2J" accepted the challenge and thanked Stephanie by saying she's the breast … er … best. The Rock then said he'll teach Booker T a little lesson in geography. They'd go everywhere and use Stephanie's breasts as a flotation device.
It was reported at the time in the Pro Wrestling Torch that when the topic of Stephanie's boob job was mentioned in a semi-joking manner during a creative team meeting, Stephanie said that she would be happy to go along with the segment if the other writers believed it would elevate Jericho.
The boob jokes continued on an episode of SmackDown that aired on October 18, 2001. Stephanie said that Jericho was jealous of The Rock, and that "The Great One" shouldn't trust "Y2J" because he would screw him the first chance he got. Rock said he appreciated her concern, and that if anyone knew anything about screwing, it was her. Jericho said it surprised him that Stephanie wasn't cheering for him because you can't spell his name without using the letters "H" and "O." Rock said he wanted Stephanie's support, and if he had as much support as her push-up bra gave to her "big phony funbags," then he would be unstoppable. Jericho said that speaking of Stephanie's funbags . . . but Stephanie quickly cut him off. She then screamed that she hated both Rock and Jericho before stomping to the locker room in tears. Jericho said, "Thanks for the mammaries!"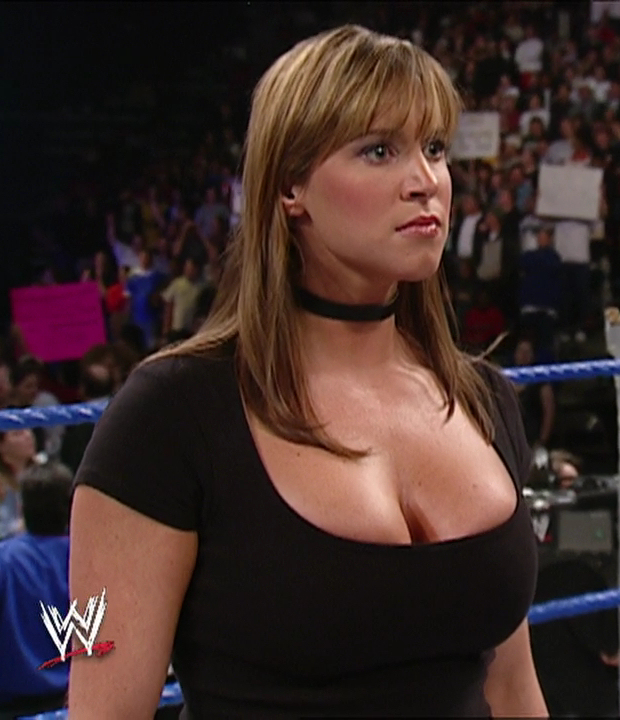 Although WWE is committed to presenting family-friendly, TV-PG broadcast programming these days, boob jokes at Stephanie's expense aren't entirely off limits. While offering a scathing evaluation of her performance as a principal owner of WWE on the June 2, 2014 edition of Raw, John Cena took the opportunity to poke fun at Stephanie's boob job.
"I've had four surgeries that have taken me out of action. Your husband, (Triple H), the showcase of what a WWE Superstar should be, has had surgeries that have taken him out of action. You (panning his eyes down at Stephanie's chest), have had surgeries," Cena said to Stephanie during an in-ring confrontation.
Stephanie immediately responded, "They put me in action, but that's another story."
Appearing on The Howard Stern Show on October 17, 2002, Stephanie said she underwent the procedure because she felt her boobs looked like "melted packets of butter."
"Well, I lost a lot of weight. I had boobs when I was heavier and I lost a lot of weight and they were like melted packets of butter," she said. "I just didn't like the way they looked."
Stephanie had also contemplated undergoing a second augmentation due to a recent weight loss that made her breasts smaller.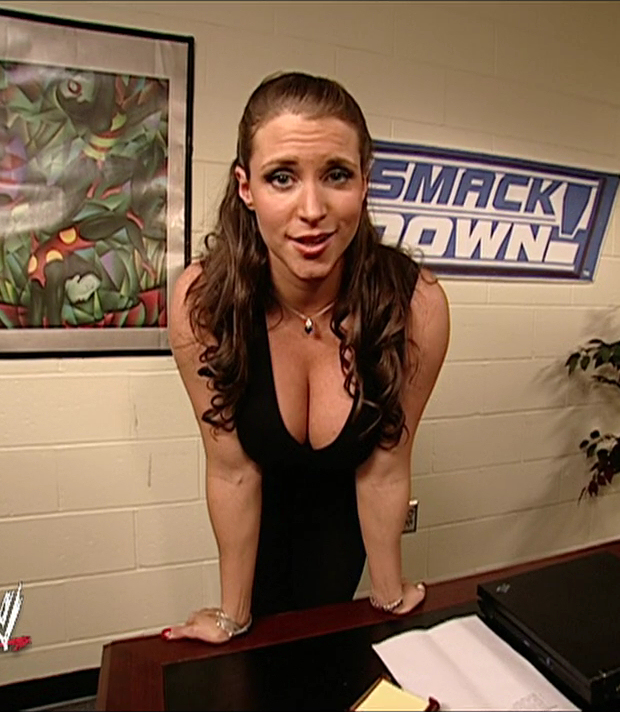 50 Amazing Photos Of Stephanie McMahon Showing Off Her Huge Boobs →
Stephanie McMahon is definitely not shy about showing off her large assets, and by assets we mean boobs. Check out these 50 amazing photos of the WWE exec showing them off…