Stephanie McMahon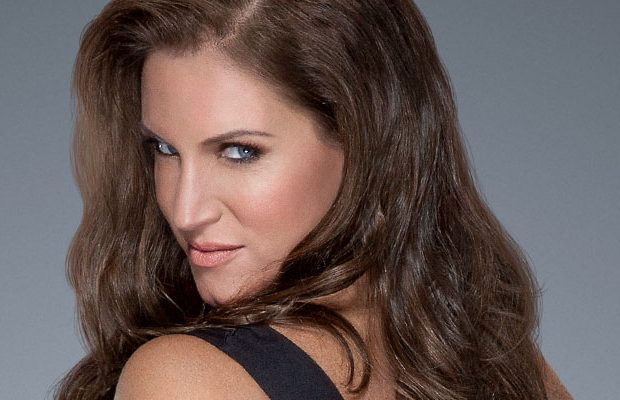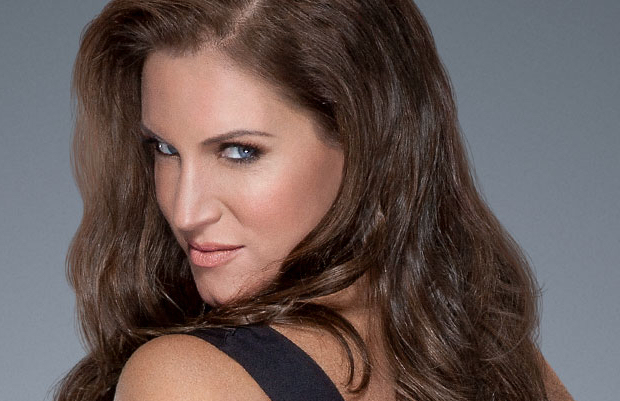 Proving that the apple doesn't fall far from the tree, Stephanie McMahon has transformed herself into one of the most powerful personalities in professional wrestling.
60 Amazing Photos Of Stephanie McMahon Showing Off Her Huge Boobs →
Stephanie McMahon is definitely not shy about showing off her large assets, and by assets we mean boobs. See these 60 amazing photos of Stephanie McMahon showing them off…
There Are Nude Photos Of Stephanie McMahon →
While Stephanie McMahon has yet to do a photo shoot involving nudity, that doesn't mean there aren't any real nude photos floating around. That's right! Click here for details…
20 Photos Of Stephanie McMahon's Ass You Need To See →
If there's one thing that many WWE fans can agree on, it's that Stephanie McMahon has an amazing ass! While we often see Stephanie wear outfits which show off her nicely toned legs, you can see that the WWE executive is packing some junk in the trunk…
Stephanie McMahon's Embarrassing Nip Slips →
Over the course of her career in WWE, Stephanie McMahon has suffered a few humiliating wardrobe malfunctions resulting in the accidental exposure of intimate areas. She experienced not one, but two embarrassing nipple slips in the weeks leading up to WrestleMania X8…
Candid Photos Of Stephanie McMahon Showing Off Her Huge Boobs →
Stephanie McMahon lets the puppies loose! Check out these hot braless photos of the Chief Brand Officer of WWE putting her big tits on display at an award show in California…
Stephanie McMahon Bikini Photos →
Stephanie McMahon usually keeps her figure hidden beneath a trademark business suit — but we've obtained these photos finally revealing "The Billion Dollar Princess" in a bikini…
See All Stephanie McMahon Photos →
Stephanie on PWPIX.net, your go-to source for the best photos of the sexy WWE executive…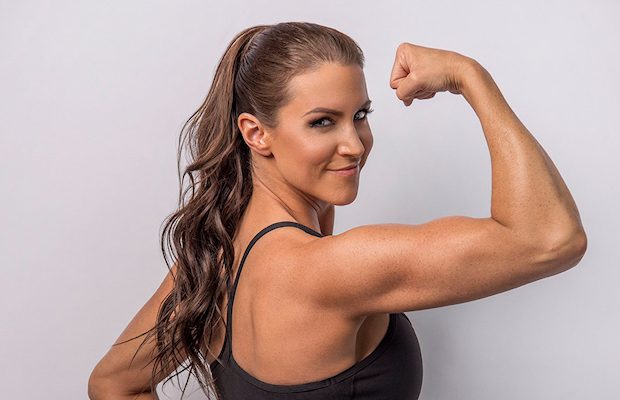 Stephanie McMahon Accidentally Flashes Her Panties →
Stephanie McMahon is very careful when entering the ring since some of her outfit choices can potentially expose her underwear … and it has. Check out these hot photos…
Stephanie McMahon Explains Why She Got A Boob Job →
Amidst speculation in 2001 that she had her breasts enlarged, Stephanie McMahon revealed that she had indeed gotten a boob job. During a radio show appearance, Stephanie said…
Stephanie McMahon's Top Gets Ripped Off By "Stone Cold" Steve Austin →
In 2001, Stephanie demanded that Steve Austin get a beer tray off her and "The Texas Rattlesnake" ripped off not only the beer tray but also her top! As a topless Stephanie ran to the back, struggling to cover herself up, Austin celebrated in the ring! Check out the hot video…
20 Sexy Must-See Photos Of Stephanie McMahon →
Stephanie McMahon proves why she is the hottest woman in WWE in these photos that shows the sexy executive wearing very little, and leaving even less to the imagination…
20 Photos Of Stephanie McMahon Showing Off Her Massive Cleavage →
Wrestling fans have seen a lot of Stephanie McMahon's cleavage over the years. Whether she's showing it off at a red carpet event or in the middle of the ring, Stephanie doesn't seem to mind. Here are some of the times you couldn't look away…
Does A Stephanie McMahon Sex Tape Exist? →
The prospect of seeing Stephanie McMahon with her clothes off is enough to send your average WWE fan into a head spin. Naturally, this had led fans to search online for a sex tape…
Stephanie McMahon's Hottest Moments →
Stephanie McMahon is definitely not shy about showing off her amazing body! See the most revealing moments of Stephanie over the years, including a few wardrobe malfunctions…
Would Stephanie McMahon Pose For Playboy? →
Stephanie McMahon was once asked during a chat session whether she would follow in the footsteps of other WWE women by posing nude for Playboy. Check out her response here…
What Is Stephanie McMahon's Bra Size? →
In 2001, Stephanie revealed in a radio interview that she got implants after noticing a fan's sign at a WWE show suggesting that her breasts sagged. She also revealed that her bra size was a…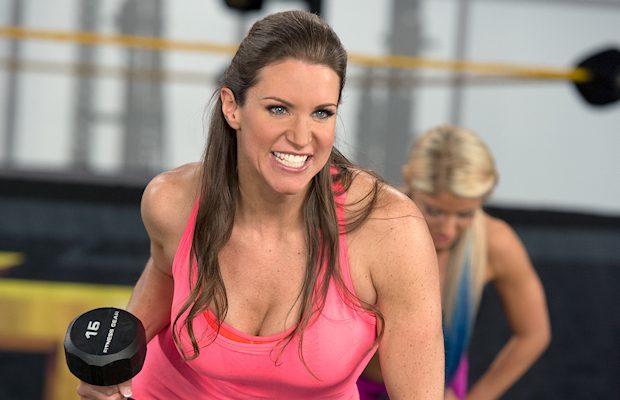 Latest Stephanie McMahon Photos, Videos and News →
Stephanie McMahon on PWPIX.net, your go-to source for the latest news, photos & videos…
Did Stephanie McMahon Have A Relationship With Randy Savage? →
Although Randy Savage's inexplicable banishment from WWE has not been explained, there is a subtle implication that Stephanie McMahon was somehow involved. The rumor is that Savage…
Stephanie McMahon Freaked Out Over Triple H Suffering A Quad Tear →
In 2007, Stephanie had a nervous breakdown over Triple H suffering a devastating injury at a WWE pay-per-view. Watching the show backstage on a television monitor when the injury occurred, a horrified Stephanie fell to her knees, burst into tears and began screaming…
A Look At Stephanie McMahon's Marriage To Triple H →
Professional wrestling insiders viewed the marriage of Stephanie McMahon and Triple H as a real power union. Triple H was already influential in production meetings and creative…
Would Stephanie McMahon Pose Nude?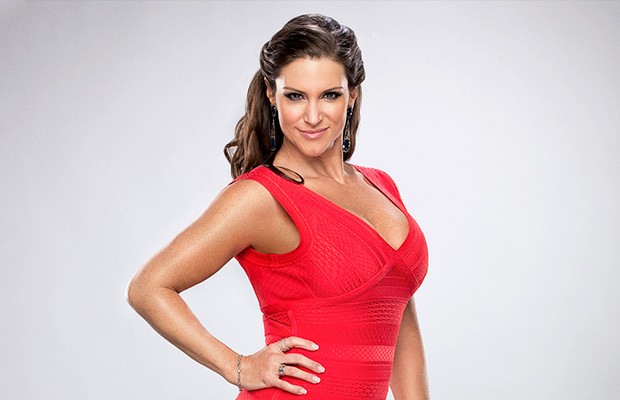 The thought of actually seeing someone as attractive as Stephanie McMahon without any clothes on is enough to send your average WWE fan into a head spin. Naturally, many have wondered if she would ever follow Sable, Chyna, Christy Hemme, Candice Michelle, Maria Kanellis and others by posing nude for Playboy.
In 2002, Stephanie gave her thoughts on this fantasy during a chat session with fans.
"I don't know, at this point in my life, probably not. But who knows in the future," Stephanie said to a fan who asked if she would ever pose for Playboy.
Though Stephanie never posed for Playboy, she once teased fans with the possibility while announcing an executive decision she had reached with the publication as SmackDown! General Manager.
"The following announcement is for mature audiences only," Stephanie said to fans on SmackDown! on February 27, 2003. "I'm referring of course to Hugh Hefner's proposal that a SmackDown! Diva be featured in a cover and full nude pictorial in Playboy magazine."
Stephanie continued, "That is of course if you really want to see one of us … in the buff. You really want to see what's beneath our clothes and under our lingerie? You really want to see our bare breasts … and well, everything else … naked? Well then, congratulations … to me!
"Oh, no wait, I'm sorry. I didn't mean congratulations to me like I was going to be in Playboy. I meant congratulations to me for closing the deal. Because ladies and gentleman, the hottest, sexiest, finest Diva that will be featured in next month's Playboy magazine will be … Torrie Wilson!"
Following Stephanie's announcement, Wilson received more airtime on television and began feuding with the returning Sable, who posed nude in the April 1999 issue of Playboy. That issue was the best-selling Playboy in over five years. The November 2000 issue, featuring Chyna, sold more copies. Both Chyna and Sable did follow-up spreads under their real names and sales were brisk, but not as high as before.
"Anytime we can expand our reach outside of our audience in a place our audience is not normally found is a good thing for the WWE brand," Stephanie said in WWE 50. "It brings new eyeballs onto our programming; it gets people interested. Sable and Chyna doing Playboy was one of those times because suddenly we were mainstream. We were competing in a space that we had never been in before."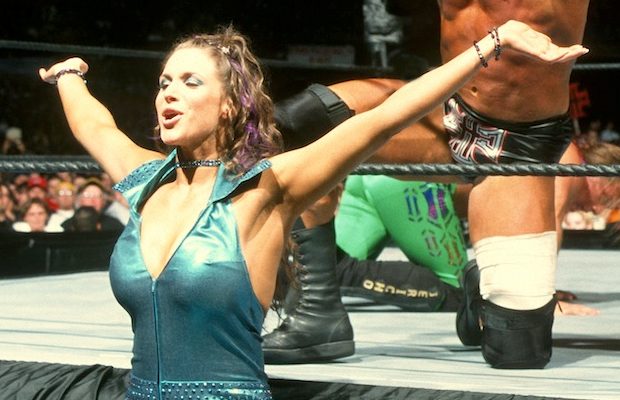 While Stephanie has never posed naked, she has fallen victim to a few wardrobe-related mishaps at WWE shows. Within the span of only a few weeks in early 2002, Stephanie experienced three embarrassing wardrobe malfunctions.
Desperate to put her relationship with Triple H back on the right track, Stephanie faked a pregnancy and convinced him to renew their wedding vows. However, moments before the ceremony was due to take place (in the middle of the ring on Raw on February 11, 2002), Triple H got a phone call from Linda McMahon telling him that Stephanie lied about being pregnant.
Triple H waited until just the right moment in the ceremony to explode.
"As I look into your eyes tonight, I see you for what you truly are … a no-good lying bitch!"
Stephanie reeled back in disbelief as Triple H went off on her. Hunter yelled at her, asking how she could do this to him. He asked why she had lied, accusing her of hiring an actor to play a doctor, and then showing him a fake photo of their unborn child.
Triple H continued, "Steph, I have done some pretty bad things in my life. I admit it — I'm an asshole. But even I would not go this low. You disgust me! You care about nothing but yourself! You never gave a crap about us! It was always about you! You don't have to worry about 'us' any longer, because as of this moment, Stephanie, our marriage … it's over! We are through!"
Vince McMahon, who walked his daughter down the aisle to a chorus of boos, got in Triple H's face, pushing him away. Hunter reacted by knocking Vince to the ground. He then destroyed the altar and gave his father-in-law the Pedigree.
Stephanie's tears turned to fury as she began screaming at Triple H. In response, he shoved her down to the canvas, causing her to have a nip slip.
Stephanie's right nipple was slightly exposed during this humiliating wardrobe malfunction. Since she wasn't wearing a bra underneath her revealing wedding dress, her nipple became exposed.
Following the ceremony, the married couple became worst enemies. In response to being ditched at the altar, Stephanie joined forces with Chris Jericho, who was defending the Undisputed Championship against Triple H at WrestleMania X8.
On March 12, 2002, Stephanie had an even more embarrassing wardrobe malfunction at a SmackDown! taping in Cleveland, Ohio. After she kicked Triple H in his injured leg while he was brawling with Jericho, Hunter tossed her on the announce table. "The Game" was about to Pedigree her through the table when Jericho hit him in the leg with the Undisputed Championship.
When Stephanie bent over for the Pedigree, her breasts popped out of her low-cut leather top. She wasn't wearing a bra, which led to the nip slip.
With SmackDown! taped in advance, her nip slip was not shown on the television. However, uncensored satellite video of her tits out managed to leak online, as well as a nude candid photo that a fan snapped at ringside.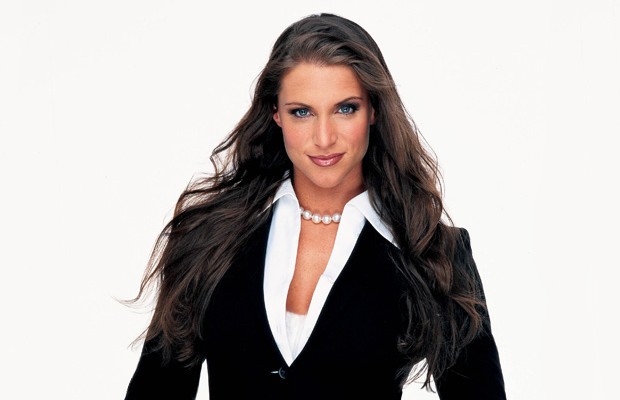 During an appearance on The Howard Stern Show on October 17, 2002, Stephanie addressed her pair of embarrassing wardrobe malfunctions.
"It was really an accident. I was horrified," Stephanie said to Howard Stern in response to him asking whether she had planned it. "If I had planned to do something like that, that's one thing, but when it sorta happens and you're not planning on it, it's a little unnerving."
In May 2016, Stephanie addressed the subject while speaking to world-renowned strength and conditioning coach Joe DeFranco on the Industrial Strength Show. When asked to name her most embarrassing in-ring moment, she said, "That would be when I had a wardrobe malfunction."
"We were on top of the announce table I think and [Triple H] went to put me in the Pedigree and I was wearing something that was apparently too low-cut — even though I was taped in," Stephanie recalled. "So in the Pedigree, you're bent over and both arms are tied behind your back, and I am now looking at my own breasts that are exposed. And my arms are pinned behind my back, so there's absolutely nothing I can do except stare at myself and think about how mortified I was in that given moment. Thank God that social media didn't exist back then!"
She continued, "Although Howard Stern did somehow have a picture of it. So when I did his interview on [The Howard Stern Show] he brought that up. It lives somewhere. Now people [will] probably go look for it. Awesome."
Stephanie addressed the subject again in July 2016 while answering fan questions on Facebook Live. When asked to name her most embarrassing moment on TV, she said, "Absolutely when I had a wardrobe malfunction."
Stephanie again recalled, "So Hunter and I were at odds in the storyline and as a result, he was going to give me a Pedigree. So I was bent over, and I don't know that I should be demonstrating. So he pins one arm behind my back and one malfunction happened. Then he pinned the other arm behind my back, the other malfunction happened, and I'm now looking down at myself in full view. I'm bent over, so it's not like everyone saw or anything. There was one fan that somehow got a picture — sure it's going to surface — actually, I've seen it surface so I know that it lives."
She continued, "And Howard Stern was nice enough to point it out when I did his show. And the other guest on that show at the time was Dave Chappelle, so that was like a really awesome, fun experience. But yeah, of course, Howard threw to the image and yeah, that had to have been my most embarrassing moment on TV, for sure."
As if that wasn't enough, Stephanie's bare butt also became exposed the night before her second nip slip. And once again, the reason for her wardrobe malfunction came at the hands of Triple H.
On Raw on March 11, 2002, an irate Triple H ran after Stephanie, chasing her up the ramp and catching her by the hair. He then tossed his soon-to-be ex-wife into the ring. As she tried to escape the ring, Hunter gripped the back of her pants and inadvertently, her thong as well. Then when he pulled Stephanie back into the ring, her butt became exposed to millions watching at home.
On the 2001 New Year's Day edition of Raw, Stephanie suffered a scripted wardrobe malfunction as "Stone Cold" Steve Austin pulled a vendor tray off "The Billion Dollar Princess" to rip her blouse off. Then, as Stephanie bounced backstage, Austin cracked, "There's more foam in that bra than one of my beers!"
In response to Stephanie's refusal to bare all in a pictorial, some fans have taken the measure of creating nude fakes — bogus photographs depicting the WWE executive in an exposed state.
Stephanie Explains Why She Had Her Breasts Enlarged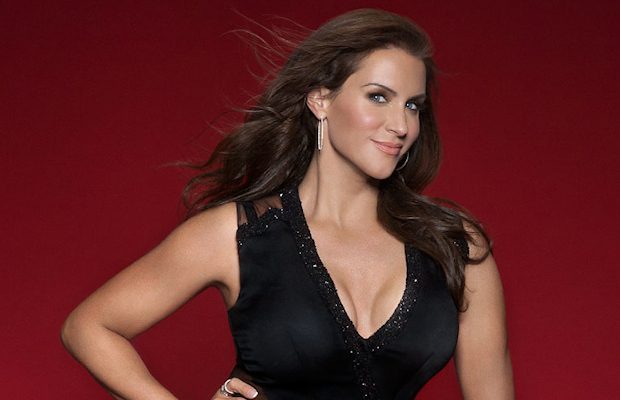 Has there ever been a woman in the history of WWE that had fans talking about her breasts as much as Stephanie McMahon?
On Raw on July 9, 2001, Stephanie reemerged on television with a new pair of gigantic, silicone-enhanced breasts, whether by design or otherwise, put the WWE Divas' plastic in the shade. Amidst speculation that she went under the knife, Stephanie eventually confirmed that she had indeed gotten a boob job.
While appearing on the New York-based radio show The Opie & Anthony Show on August 14, 2001, Stephanie said she underwent breast enhancement surgery a month before, shortly before she became the fictional owner of Extreme Championship Wrestling (ECW). She noted that her implants had become swollen and was massaging them regularly for medical purposes. She claimed she'd never been upset by a sign in the crowd until she saw one that mentioned her boobs sagged. Now, she said, they didn't sag anymore. Stephanie said she could look in the mirror and finally be happy with her body.
During the same interview, Stephanie revealed that her bra size was a D.
Linda McMahon addressed her daughter's breast endowment months later during an interview with the official WWF website.
"My first concerns are always with health issues. Stephanie had thoroughly investigated the procedure, and she had answers to all the questions that I asked, and so I felt comfortable that if that was something that she wanted to do, then she should proceed, and she had my full support," Linda said after being asked about the subject.
On April 30, 2015, Chris Jericho brought his uncensored podcast to the WWE Network with Stephanie as his special guest. While reminiscing on some memorable segments the two had on Raw, Stephanie addressed the naysayers commenting on her breast augmentation on Twitter.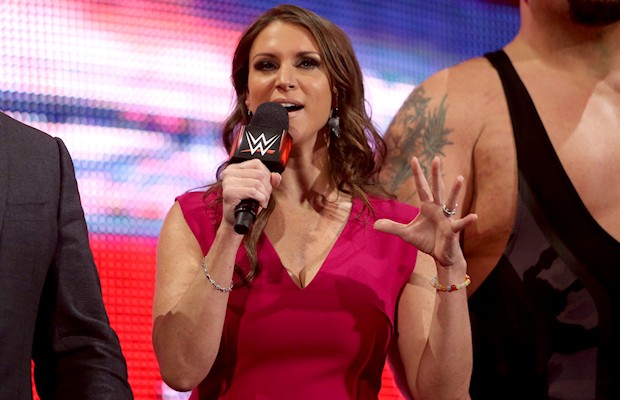 "Well there was a lot of people actually, 'cause I was reading all the Twitter comments about 10 questions you should ask me and all that kind of stuff and there were a lot of naysayers in terms of my breast enhancement surgery, or augmentation, whatever you want to say," Stephanie said. "But what had happened was, at one point in time I was heavier and then I had lost some weight and I didn't like the way I looked and I wasn't confident in how I looked. And so it was my own personal decision to have that done and I was proud of what I did."
Stephanie's augmentation got pointed out on Raw Is War on August 13, 2001, as Jericho mocked the sudden growth of her tits. On the TitanTron, Jericho had a video still of a less-endowed Stephanie from the prior year shown along with a more buxom shot taken the previous week to compare.
Adding insult to injury, Jericho said, "It seems like our little billionaire princess sure has grown over the last year! Well, in two specific places at least! Talk about foreign objects — you wanna say let the bodies hit the floor? I would say let the boobies hit the floor!"
Stephanie, who is now concealing her chest with her arms, shrieked, "I don't know what you're talking about Jericho! You must have some kind of an imagination!"
When the topic got brought up in a semi-joking way during a creative meeting, Stephanie said that she would be happy to go along with the angle if the other writers felt it would elevate Jericho.
"She's a great sport," one of her co-workers remarked to the Pro Wrestling Torch.
Stephanie said during an appearance on The Howard Stern Show in October 2002 that she underwent the procedure due to a feeling that her boobs looked like "melted packets of butter."
"Well, I lost a lot of weight. I had boobs when I was heavier and I lost a lot of weight and they were like melted packets of butter," Stephanie said. "I just didn't like the way they looked."
Stephanie had also contemplated a second augmentation due to recent weight loss making her breasts smaller.
Stephanie McMahon Shows Off Her Ass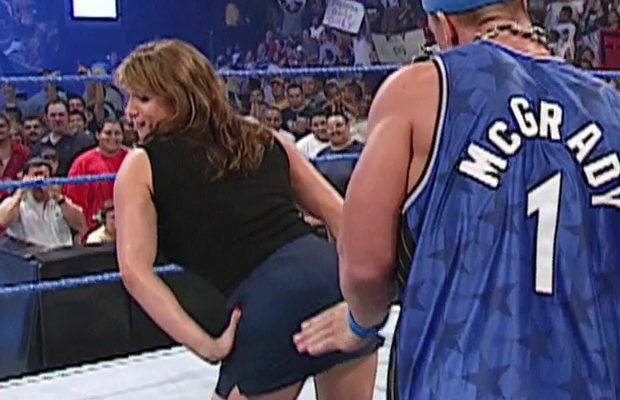 A guy slapping a woman in the ass is not something you will see today in WWE due to the sports-entertainment organization's commitment to presenting family-friendly, TV-PG broadcast programming. It was something John Cena did over a decade ago to Stephanie McMahon.
In the summer of 2003, Stephanie McMahon was reigning supreme as the General Manager of SmackDown while John Cena was moving up the ranks of WWE as his rap-based persona was picking up steam with fans. On the July 24, 2003 edition of SmackDown, Stephanie was in the ring talking about her upcoming match against Sable at Vengeance whens she was confronted by "The Doctor of Thuganomics."
"You had me standing at attention, I can't wait to see you catfight," Cena rapped to Stephanie.
After staring at her large breasts, Stephanie tilted his head up.
"Sorry! I lost my concentration. I was looking at your … targets? At Vengeance, hopefully I find out if the curtains matches the carpet," Cena rhymed. "No, I mean it. I'll be glued to the boob tube. You gonna squash Sable completely. You made all five of my girlfriends jealous, each of them wants to beat me. You and Sable fighting, that's good for my health. There's something about you makes me keep in touch with myself. Here's twenty bucks, please rip Sable's top off. You see, I got this little fetish with nipples, I definitely got my rocks off."
He continued, "Sable's just a ho, you're a diva with class. Nobody's watching us Steph, why don't you let me smack dat … ass!"
Stephanie then dared Cena to "put his money where his mouth is." He then smacked her ass.
This was not the only time where Stephanie put her ass on display. Following a commercial break on the April 24, 2003 episode of SmackDown, a close-up was shown of Stephanie's ample backside as she leaned over a desk in her office. She then turned around and asked, "Have I got your attention?" She smiled and said she realizes she's no Torrie Wilson, but that's part of what makes America great — different body types. She then said she is proud to be an American and therefore excited to announce the signing of the newest SmackDown Superstar, Mr. America.
Stephanie McMahon Poses In A Bikini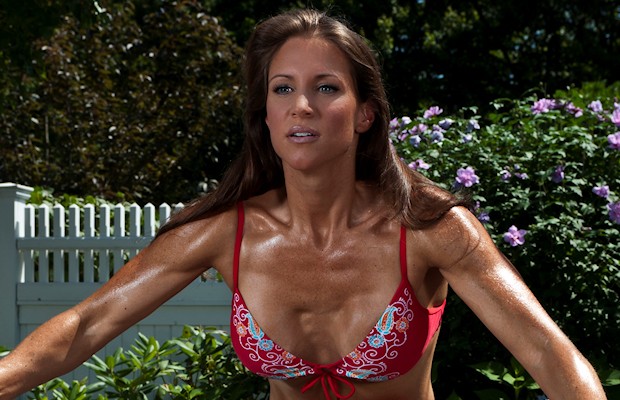 Although Stephanie McMahon often keeps her physique hidden beneath a business outfit, there are thankfully at least a few photos of "The Billion Dollar Princess" in a bikini.
Stephanie has definitely come a long way from playing the role of "daddy's little girl" during the height of the "Attitude Era." The daughter of Vince McMahon, who now reigns as Chief Brand Officer for the sports-entertainment organization, is a business woman, mother, philanthropist, and monster in the gym.
While Stephanie has never been shy about showing some skin, in 2012, she finally gave fans a more revealing look of her astounding figure. Pictures of Stephanie demolishing a tractor tire with a sledgehammer while sporting a bikini is a definitely not a bad thing.
After giving birth to three daughters (Vaughn Evelyn Levesque on August 24, 2010, Murphy Claire Levesque, on July 28, 2008, and Aurora Rose Levesque on July 24, 2006), Stephanie was anxious to herself back in shape. This led her to renowned nutrition specialist, Dave Palumbo.
Stephanie enlisted the help of Palumbo after observing multiple nutritional meetings between he and her husband, Triple H. After some convincing, Stephanie was completely onboard with his customized diet plan and bought into everything he advised.
"Dave is a really knowledgeable guy and the things he was telling Paul (Triple H) to do with his diet just made sense and seemed easy to understand, so it didn't take too long for me to want to work with Dave as well," she told RxMuscle.com after the photo shoot. "Literally the day I came home from the hospital after having my second daughter I started on his nutrition program. I gained 80 pounds with my first pregnancy and that was such a struggle to get the weight off. I gained another 60 pounds during the next pregnancy. I knew I had to work my butt off to get back in shape."
With Palumbo's assistance, Stephanie got in prime shape and finally took part in a photo shoot of herself wearing a bikini.
"After having three kids, I'm in the best shape of my life," Stephanie said. "And the best part is that I keep getting stronger."
For Your Information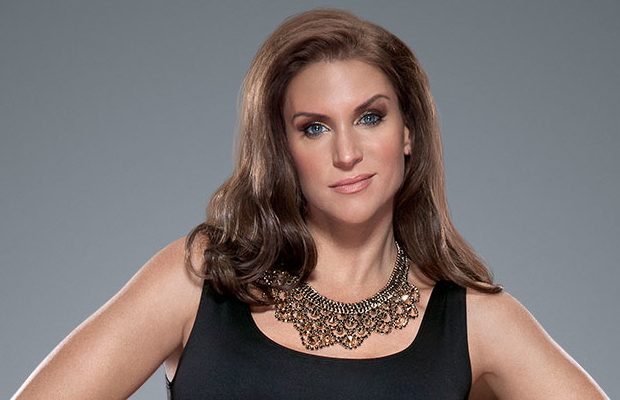 The McMahon-Helmsley Era truly began on October 25, 2003 when Paul Levesque, famously known as Triple H, married Stephanie McMahon at St. Teresa of Avila Catholic Church in Sleepy Hollow, New York. Triple H's father was the best man, and the ceremony was described as understated, yet classy.
Professional wrestling insiders viewed the marriage of Triple H and Stephanie as a real power union. Triple H was already influential in production meetings and creative discussions. His status as the son-in-law of Vince McMahon would make his role even more significant. Although most acquaintances believed it was a marriage based on love and commitment, the political dimensions were undeniable as Triple H was poised to remain a WWE powerbroker long after his days as an active wrestler are over.
Triple H and Stephanie become well-acquainted during the storyline leading to the formation of the McMahon-Helmsley Era in 1999. That angle brought the two closer together, and their relationship has been blossoming ever since.
Among those in attendance at the wedding were Ric Flair, Arn Anderson, "Stone Cold" Steve Austin, Shawn Michaels, Kevin Nash, Undertaker, Kurt Angle, William Regal, Fabulous Moolah, Mae Young, Mick Foley, Sgt Slaughter, Arnold Skaaland and Killer Kowalski.
Nearly 100 onlookers gathered near the church to see all the professional wrestling celebrities. State troopers and other police officers ensured the crowd remained at a safe distance and didn't get out of control.
During a very candid interview on The Howard Stern Show on October 17, 2002, Stephanie disclosed intimate details of her sex life with Triple H. More specifically, she revealed that she would love to try anal sex.
"I love anal, can't get enough," Stephanie joked in response to a caller's accusation that Triple H loves anal sex. "I'm open to trying anything. Triple H would like it, too. I probably will at some point. Triple H is actually the first Paul I've ever dated. It was unsuccessful the first time I did bondage, I didn't like it. Maybe some other time."
The called then asked Howard Stern, "Howard, what's the chance she'd give me anal if I came down?" Stephanie responded, "I'd have to give him anal with the strap-on I used on ["Stone Cold" Steve Austin]."
The couple currently resides in Weston, Connecticut, near WWE's headquarters in Stamford.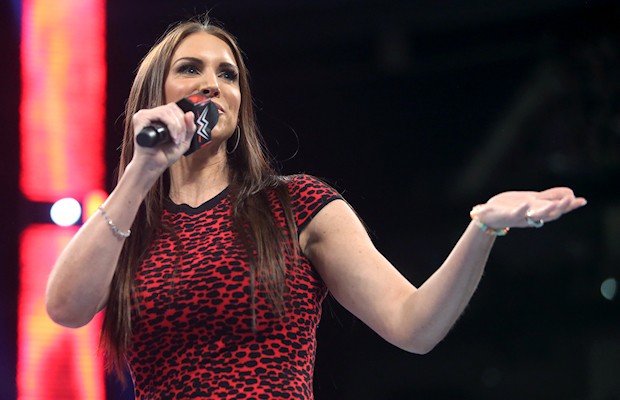 There have been numerous instances where a WWE female star has shed her clothes and allowed a photographer to fulfill the dreams of many wrestling fans. So the prospect of seeing Stephanie McMahon naked is enough to send your average WWE Universe member into a head spin. Naturally, this had led fans to search online for a sex tape of the hot WWE executive.
So is there a Stephanie McMahon sex tape?
While some pornographic websites advertise a sex tape featuring Stephanie, one does not exist.
Stephanie McMahon and her husband, Triple H, are the proud parents of three daughters.
WWE announced through its official website on January 8, 2006, that Stephanie and her husband were expecting their first child. As an executive for WWE, she continued to work and travel throughout the duration of her pregnancy, and on July 27, 2006, gave birth to an eight-pound, seven-ounce baby girl, Aurora Rose Levesque. Stephanie gave birth to her second daughter, Murphy Claire Levesque, on July 28, 2008. Two years later, on August 24, 2010, Stephanie welcomed her third daughter, Vaughn Evelyn Levesque.
During an insightful interview with RXMuscle.com in 2011 discussing her fitness regime after pregnancy, Stephanie revealed that she gained a tremendous amount of weight while expecting Aurora.
"I gained 80 pounds with my first daughter, Aurora. 80 POUNDS!" Stephanie recalled. "It took me a year to take it off; I went to a nutritionist and the diet really only got me so far … it was okay. but I can only eat so many raw vegetables! After Murphy and Vaughn were born I discovered Dave Palumbo who helped me with my diet and strength and conditioning coach, Joe DeFranco, who helped me transform my body in the gym. I would never have known a keto diet and steady state cardio on top of strength and conditioning training would be the keys to my success."
The exact net worth of Stephanie McMahon is publicly unknown, but according to TheRichest.com, it is $25 million.
It's safe to say that she is a millionaire because in 2013, Stephanie cashed in 833,000 shares of WWE stock for approximately $8,300,000, through 43 separate transactions. While Wall Street analysts were left wondering why she was selling her shares so aggressively, The New York Post reported it was done in part to finance the building of a new home.
"Stephanie McMahon is selling a portion of her Class B shares for personal financial purposes that include building a house," a WWE spokesperson said in a statement in regards to the transactions.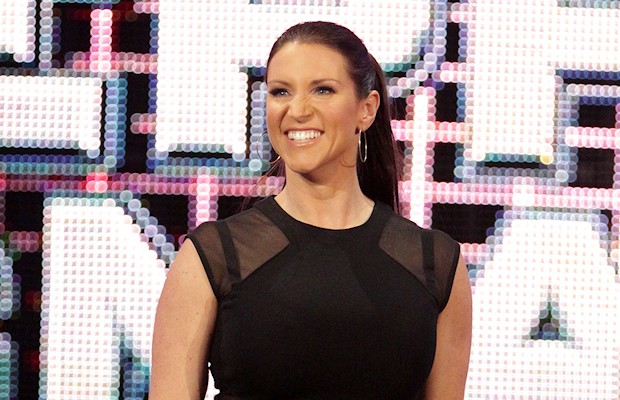 Stephanie McMahon has made her presence known in WWE through music as she has utilized numerous songs since her debut in 1999.
She appeared to the DX Band's Break it Down and My Time from 1999 through 2002. During "The Invasion" in 2001, Stephanie briefly came out to Bodies by Drowning Pool — the tragic terrorist acts of 9/11 caused her to stop using it. Upon being announced as the General Manager of SmackDown on July 18, 2002, Stephanie appeared to All Grown Up by Jacki-O (through July 23, 2012). A new song by Jacki-O song was created for Stephanie in 2013 as she began appearing to Welcome to the Queendom at that year's WWE Hall of Fame Induction Ceremony. As a member of The Authority alongside Triple H, Stephanie began coming out to King of Kings by Motörhead on the October 7, 2013, episode of Raw.
An ecstatic Eric Bischoff brought two lesbians to the ring at Unforgiven in 2002 — Kitana Baker and Tanya Ballinger — to engage in some HLA (Hot Lesbian Action) with Stephanie McMahon, as per a match stipulation. The women were about to indulge when Bischoff called them off and produced a gigantic lesbian in order to further humiliate Stephanie. The tables were turned, however, when the massive woman turned out to be Rikishi in drag, who superkicked Bischoff into the corner and administered a massive Stink Face to the outwitted Raw General Manager.
Besides her husband, Triple H, Stephanie McMahon has locked lips with a select few WWE Superstars throughout her career, including Chris Jericho, Kurt Angle, Randy Orton and even Eric Bischoff in 2002.
Despite her feud with Bischoff at the time, the enemies inexplicably shared a kiss at a Halloween party where Stephanie was dressed as a witch and Bischoff was disguised as her father Vince McMahon underneath a mask. Seth Mates, who was working as a member of WWE's creative department at the time, revealed years later that the shocking moment was not included in the script for the show.
"In no version of any script/rundown from that day will you find the kiss," Mates wrote in 2008 in a column for Newsday.com. "It was never supposed to be part of the show."
Mates noted that the writers wanted to follow up on the kiss.
"We threw together a number of ideas to try and follow up on it — A secret affair? A drunken mistake? — but we were told to forget it ever happened," Mates said. "I brought up the point that the reason why it's so easy for fans to stop watching our show is because of dropped storylines like that, but I was told let's forget it ever happened."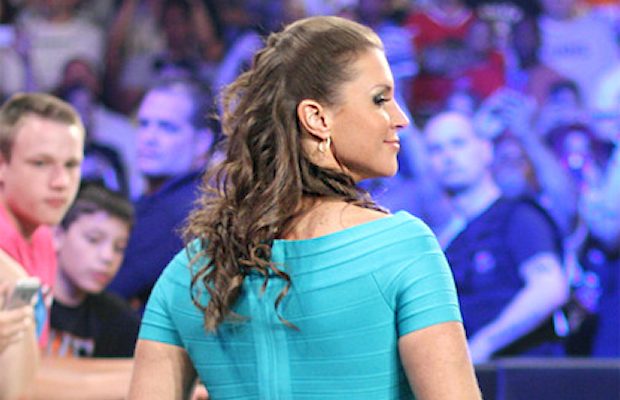 Fans will be happy to know that Stephanie McMahon does indeed wear thongs.
During a candid interview on The Howard Stern Show on October 17, 2002, Stephanie was asked about what kind of underwear she wears. She replied, "A thong."
Stephanie was asked about her panties again the following month during a chat session on MSN.com. After being queried by a fan in regards to whether she sports thongs on a daily basis, she responded, "Yes I do (laughs)."
In response to the personal nature of the question, the chat session moderator then said to Stephanie, "I hope you don't mind this kind of question." Stephanie replied, "After Stern everything's easy (laughs)."
With Stephanie McMahon often towering over Daniel Bryan in their confrontations on WWE television, some fans are curious to know her real height.
WWE bills Stephanie at 5'9″, while Bryan has said in interviews that he is legitimately 5'8″. Stephanie generally wears high heel shoes and therefore often appears taller than Bryan.
Love Life Put To The Test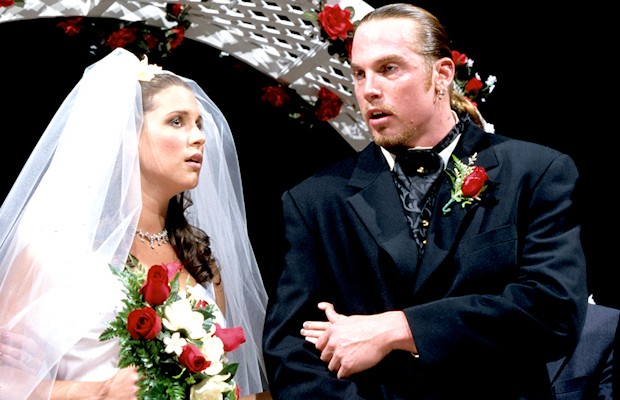 Proving that the apple doesn't fall far from the tree, Stephanie McMahon has transformed herself into one of the most powerful personalities in sports-entertainment. With an intoxicating combination of beauty and brains, she demands nothing short of excellence. If she doesn't get it from others, Stephanie isn't afraid to step in the ring and beat it out of somebody.
Now 40-years-old, Stephanie Marie McMahon entered the world with the proverbial silver spoon lodged firmly in mouth on September 20, 1976. The second child of Vince and Linda McMahon, Stephanie was born into one of the most powerful wrestling families in the world in Hartford, Connecticut.
Before Stephanie celebrated her tenth birthday, her father was officially the czar of professional wrestling in the United States. No longer a regional organization, the World Wrestling Federation had gone national, leaving every other group, with the exception of Jim Crockett Promotions, fighting for survival.
Stephanie completed her studies in 1998 when she graduated from Boston University, where she earned a degree in Communications. Then, ignoring her peers' advice that she pursue a career outside of sports-entertainment, Stephanie began working for the family business. Starting off as a member of the advertising sales team, "The Billion Dollar Princess" had to pay her dues, like many others in the World Wrestling Federation.
Seeing her brother Shane as an on-screen character, Stephanie wanted to get in on the act. Her first television appearance was on the November 30, 1998 episode of Raw: filmed backstage, she was approached by "Stone Cold" Steve Austin, who was on the lookout for The Undertaker.
Stephanie's first proper appearance took place on the post-WrestleMania XV edition of Raw on March 29, 1999 at the age of 22. Occurring at the height of the hideous Ministry angle, The Undertaker, who was then feuding with Mr. McMahon, set his sights on "Daddy's Little Girl." On the program, 'Taker supposedly kidnapped Stephanie and held her hostage, until Ken Shamrock discovered the distraught belle in a boiler room.
A few more weeks of Scream-inspired nonsense followed before Stephanie was abducted by the fiendish "Phenom" at Backlash on April 25, 1999. With the innocent Stephanie firmly in his possession, "The Deadman" arranged for a ceremony the following night on Raw that would forever lock the two in unholy matrimony. Luckily for Stephanie, an unlikely hero made the save when McMahon nemesis "Stone Cold" Steve Austin ran to the ring and attacked Undertaker to reunite her with father.
"I loved every part of that storyline, from the burning teddy bear to the ransacking of my supposed bedroom to being found in the gutter under the building, although maybe that part wasn't so great," said McMahon recalling the storyline in WWE 50. "When I was actually strapped down to the Undertaker's symbol, being carried to the ring, I was almost decapitated by the APA, little-known fact. They were shoving the symbol under the bottom rope and thank God for John "Bradshaw" Layfield because he actually stopped it."
Following the horrifying incident with The Undertaker, Stephanie discovered love in the form of WWE Superstar Test. The relationship helped put a smile back on her face, but also managed to infuriate her protective brother, Shane McMahon. Looking out for what he believed were his sister's best interests, Shane attempted to put an end to the fiery love affair when he battled Test in a Love Her or Leave Her Match at the 1999 SummerSlam. In the end, Test won the match and the right to continue his romance with Stephanie. He celebrated his victory by proposing to Vince's daughter the following night on Raw. Taken aback, Stephanie needed "time to think about it" — 24 hours to be precise. Answering in the affirmative on the next following episode of SmackDown!, Stephanie and Test's impending nuptials sent the props department off on a search for the old "Macho Man" Randy Savage and Miss Elizabeth wedding set.
The tale was going so well that WWE's creative department decided to delay the ceremony for a few more weeks by having Stephanie contract amnesia after British Bulldog hurled a trash can at her head during the Rebellion pay-per-view event. The only drawback to this was that it required Stephanie to reign memory loss. Nicole Kidman, she wasn't. Indeed, her acting in some of these skits was staggeringly bad.
Once Miss McMahon remembered who everyone was, the wedding was back on; November 29, 1999, live on Raw at the STAPLES Center in Los Angeles, California, would be the big day. By this point, all the McMahons were getting along, so Vince, Linda, and Shane were all present for the ceremony. But, just before they could exchange vows, one WWF Superstar made a very revealing objection. Armed with video evidence, Triple H exposed the shocking truth that Stephanie was already a married woman. "The Game" informed the wedding party that he had married and drugged Stephanie the previous evening in Las Vegas, Nevada. Ridiculous as it was, this twist thrust Vince's daughter into the top-line mix.
In an attempt salvage his daughter's good name, an irate Mr. McMahon battled Triple H at Armageddon on December 11, 1999. Unfortunately for the WWF Chairman, however, "The Game" wasn't his only opponent that night, as his daughter shocked the sports-entertainment world when she helped Triple H defeat her father. After the match, Stephanie jumped in the arms of her husband, proving the two had been in cahoots all along.
The McMahon-Helmsley Era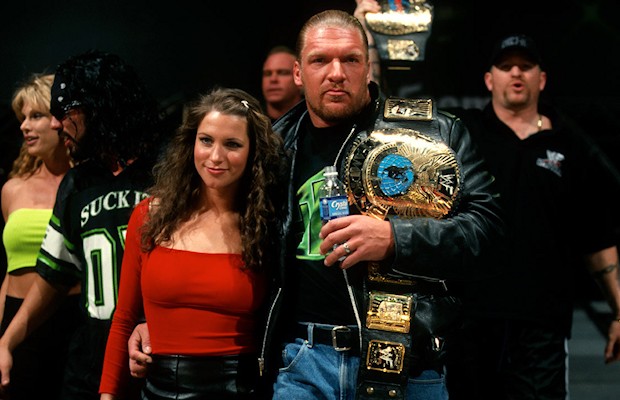 The on-screen persona of Stephanie McMahon was originally portrayed as "Daddy's Little Girl," the virgin image differentiating her from the other female performers in the sports-entertainment organization. With this powerful, yet unflattering role in the ring, she subjected herself to chants of "bitch" and "slut." Stephanie, however, maintained a positive outlook toward the fans' vulgarity.
"I think that fan participation is one of the greatest things about our show. Our fans are proud and vocal, and they're not afraid to let you know what they think," Stephanie remarked in a 2000 interview with Raw Magazine. "As far as how I feel personally about being called a "slut?" To be able to elicit a reaction from all those people is pretty cool, no matter what they're calling me."
Stephanie's new look included tighter clothes (often leather), shorter skirts and in 2001, large breast implants. Vince McMahon's response to Stephanie's promiscuous appearance on the March 16, 2000 episode of SmackDown! was to compare her to the prostitutes accompanying The Godfather to the ring. He stated, "Hey, Stephanie! Who knows? You might even get lucky tonight — I mean, let's face it — tonight, here on SmackDown! — Stephanie just may take a ride on … THE HOOOOOOOO TRRRRRRAIIIIIN!!!" To add to the drama, Shane later called Stephanie a "slut," after which she slapped his face. He threatened to retaliate but stopped short of slapping her back. Vince noted, "Watching you two is like watching a bad soap opera … book yourself on The Jerry Springer Show." Vince proudly touted the McMahons as "the most dysfunctional family in America."
Together, Stephanie and Triple H went on to become one of the most power-hungry couples ever. The husband-and-wife team began a ruthless dictatorship that controlled all of the World Wrestling Federation. Abusing their power as much as possible, they both were conveniently placed in situations that would benefit them most. As a result, it wasn't long before Triple H regained the WWF Championship, and Stephanie claimed the WWF Women's Championship. A few days prior to WrestleMania 2000, Stephanie defeated Jacqueline on SmackDown! to capture the title. She defended the title infrequently, until the summer when she squared off against Lita, who at that point was booming in popularity as the kamikaze accomplice of Jeff and Matt Hardy. The future WWE Hall of Famer relieved Stephanie of the championship on the August 21, 2000 episode of Raw after The Rock, who was serving as the special guest referee for the match, knocked out the novice grappler off her feet with a spinebuster. She never got the title back.
For months, Stephanie had been subtly flirting with newcomer Kurt Angle — and vice versa. In June 2000, the storyline really took off: interviews between McMahon, Angle and Triple H would draw tremendous reactions from the live crowds, and were great ratings-pullers, to boot. Furthermore, this love triangle made for some darn entertaining television.
When Trish Stratus entered the story, it only added more intrigue to the tangled web of lies and deceit. With that in mind, the ending was most dissatisfying: Triple H pinned Angle at Unforgiven on September 24, 2000 and then he and Stephanie moved onto a program with "Stone Cold" Steve Austin, while Angle snatched the WWF Championship from The Rock. Like that, the months of drama and double-dealing had been rendered meaningless. It was at this point that many observers noticed a significant decline in the quality of the World Wrestling Federation product. Not-so-coincidentally, Stephanie had become heavily involved in the booking process, and, following daddy's example, kept the McMahon family in the thick of the action.
The internal disputes between the McMahon family resulted in Linda McMahon appearing in a comatose and wheel-chair bound state due to the stress of being asked for a divorce by Vince, who took the opportunity to have a public affair with Stratus. The McMahon family chose this occasion to show Stratus and every other female, exactly who the organization's top woman was, as Trish was subjected to several humiliating acts including having sewage dumped on her and being forced to strip down to her bra and panties in the ring and bark like a dog.
In the ring, meanwhile, Stephanie and Trish pulled off of a minor miracle at No Way Out when they had a really good match by non-worker standards. Of course, Stephanie won. But, behind the scenes, trouble loomed.
Stephanie was accused of having initiated the departure of Chyna from the World Wrestling Federation in 2001. Chyna, who was romantically involved with Paul "Triple H" Levesque from 1997 through 2000, alleged her departure was not due to pay, but because McMahon wanted her gone from the sports-entertainment organization. Chyna said that during her relationship with Triple H, McMahon had an affair with him and stole him away from her. In a radio interview on The Opie & Anthony Show in 2004, Triple H claimed that he began dating Stephanie after being separated from Chyna for some time.
The Invasion and Divorce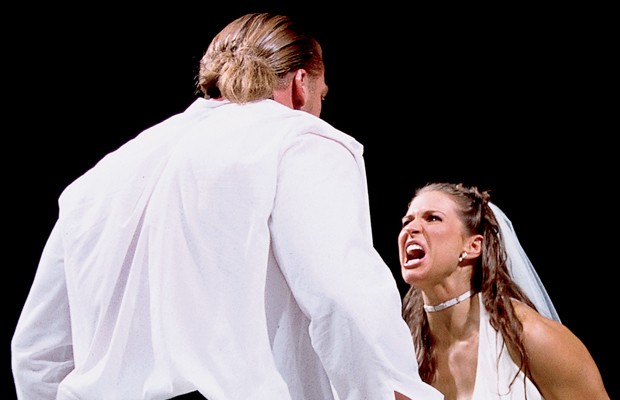 Stephanie McMahon made herself scarce when Triple H was sidelined by a devastating injury to his quadriceps. But not for long. Dashing hopes that she would stick to booking or take a low profile, McMahon made her return to television on the July 9, 2001 episode of Raw, where she elevated the rivalry with her father to new heights. After already breaking his heart two years earlier, Stephanie revealed herself as the new owner of Extreme Championship Wrestling, which she merged with her brother's World Championship Wrestling promotion to form The Alliance. Stephanie and Shane's goal was simple: Put their father and the World Wrestling Federation out of business forever.
The Alliance began as a very serious threat to Mr. McMahon's empire, as many of his major Superstars jumped ship to Stephanie's camp, including "Stone Cold" Steve Austin and William Regal. In the end, however, The Alliance was forced to disband by Team WWF at Survivor Series on November 18, 2001. With the loss, Stephanie was finally forced out of sports-entertainment, or so it seemed. Stephanie couldn't stay away from the spotlight for long; she had by now acquired a taste for the spotlight. On the Christmas Eve edition of Raw — just five weeks after she was banished from the World Wrestling Federation forever — she returned, looking to make amends with her father.
In reality, Stephanie returned to promote the comeback of her on-screen hubby, Triple H. Following his memorable return on Raw on January 7, 2002, the couple sowed the seeds for WrestleMania X8 with their frequent and progressively hostile squabbles.
On February 4, 2002, Stephanie she was pregnant and requested that she and Hunter renew their marriage vows. This set up the following week's Raw, on which it was revealed the pregnancy was a sham. Following the emotional rollercoaster, Triple H demanded a divorce from his conniving wife.
The former couple marched down the divorce storyline path. It was used to promote the Undisputed WWF Championship Match between Triple H and Chris Jericho at WrestleMania X8 on March 17, 2002. Promoted more as Triple H vs. Stephanie than "The Game vs. "Y2J," poor Jericho had to play stooge for Stephanie, as the former lovers took center stage.
Seeking revenge, Stephanie appointed herself the special guest referee in a match pitting Triple H against Kurt Angle at No Way Out with Triple H's WWF Undisputed Championship shot at WrestleMania X8 on the line. Though "The Olympic Gold Medalist" won due to McMahon's biased officiating, Triple H beat him the following night on Raw to regain his championship opportunity. Despite interference by Stephanie, Jericho lost to Triple H at "The Grandaddy of Them All." On Raw on March 25, 2002, Stephanie lost to Triple H in a Triple Threat Match for the Undisputed WWF Championship, with the stipulation that, if she was pinned, she would be forced to leave the World Wrestling Federation. In the match, Triple H pinned Stephanie.
Back In Power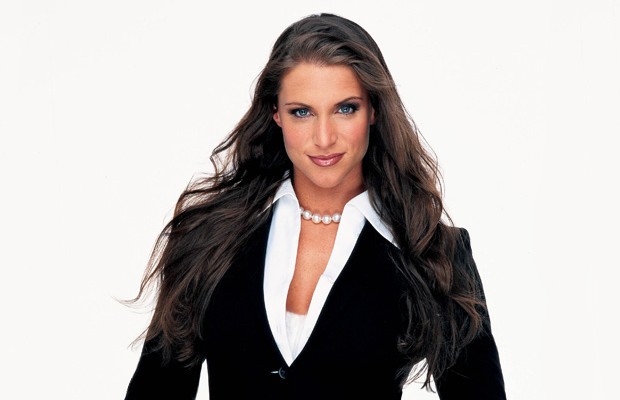 On July 18, 2002, Stephanie McMahon returned to prominence when she took over the reigns of SmackDown. In contrast to her McMahon-Helmsley era villain character, Stephanie became a fan favorite who favored babyface talent. She feuded with Raw General Manager Eric Bischoff throughout 2002, though the dueling enemies inexplicably shared a kiss at a Halloween party where McMahon was dressed as a cleavage-baring witch and Bischoff was disguised as her father underneath a mask. As the brand's General Manager, she acquired some of sports-entertainment's biggest names, including Hulk Hogan, Brock Lesnar and Undertaker. She is also credited with creating the WWE Tag Team Championship and resurrecting the prestigious United States Championship.
Meanwhile, Vince McMahon resented her daughter's attempts to stop him from pursuing an affair with Sable: in a memorable moment, Stephanie left Sable in a topless state following a backstage brawl. Her time in office came to a painful end when she lost an "I Quit" Match to her father at No Mercy on October 19, 2003. While she refused to submit to her father, the match ultimately ended when Stephanie's mother, Linda, couldn't bare to watch the brutality any longer. As a result, she threw in the towel, signifying the end of Stephanie's time on the blue brand. Following the loss, Stephanie limited her public appearances in favor of assuming several executive roles behind the scenes. On occasion, however, she reappears when the situation calls for a strong leader. One of her more memorable returns to WWE programming took place during Triple H's war with Randy Orton and Legacy.
Today, Stephanie is responsible for all the creative development of WWE as it pertains to television and pay-per-view programming, print, digital and social media content. In 2009, 2011 and 2012, she was recognized as one of the "Most Powerful Women in Cable" by CableFAX magazine. She is also a proud member of the Board of Directors for both the USO Metropolitan Washington and the social media company, Tout, Inc.