Sting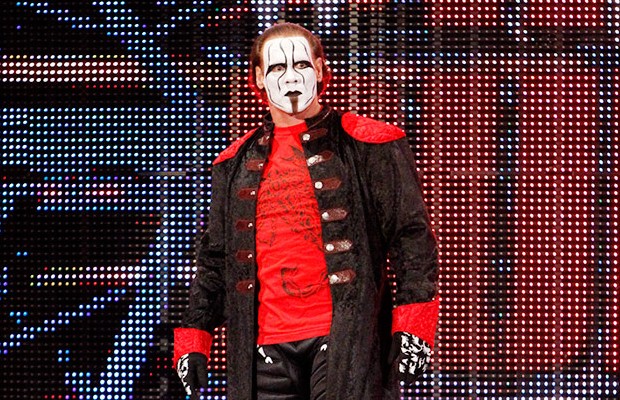 Dubbed "The Franchise of WCW," the man known as Sting lies among the most recognizable faces in the illustrious history of professional wrestling. With that distinction, he was the backbone of the Atlanta-based wrestling company all through the late 1980s until the bitter end in 2001. Photo Gallery | Sting Joins WWE | People Also Search For: Undertaker | Triple H | Hulk Hogan | Ric Flair | Brock Lesnar
Starting with his debut for the National Wrestling Association (NWA) in 1987, Sting brought an immense measure of flash to the squared circle with his bleach-blond hair, colorful face paint, neon ring gear and impressive physique. At the inaugural Clash of the Champions on March 27, 1988 in Greensboro, North Carolina, The Stinger proved he was on his way to becoming one of professional wrestling's elite after engaged in a 45-minute time limit draw against NWA World Champion Ric Flair. Sting ultimately beat Flair to capture the NWA World Heavyweight Championship, and would later add six WCW World Heavyweight Championships, three WCW Tag Team Championships, two WCW International World Heavyweight Championships and two United States Championships to his resume throughout his storied career in sports-entertainment.
Although the colorful grappler was tremendously popular among fans of World Championship Wrestling, it was his transformation in 1996 that makes him memorable to this day. With the nWo running roughshod over World Championship Wrestling, Sting embraced a darker, brooding identity with Crow-inspired white and black face paint and attire. He became a silent hero who slinked in the rafters of arenas all across the United States, ready to strike the New World Order at a moment's notice. For over a year, Sting never spoke or wrestled, captivating fans until finally he squared off and defeated WCW World Heavyweight Champion and leader of the nWo, Hollywood Hogan.
Sting enhanced his efforts against the New World Order by joining forces with longtime friend Lex Luger, Kevin Nash, Konnan and "Macho Man" Randy Savage, changing his white visage to red. However, when the faction dissolved good, Sting retained his dark look, but adopted a persona similar to his colorful "surfer" days.
Sting remained loyal to World Championship Wrestling in spite of its collapse, engaging in memorable affairs with Bret "Hit Man" Hart, Lex Luger and Vampiro. With their long and storied rivalry, it is only fitting that the final match in the history of the promotion pitted Sting against Ric Flair.
With his unbridled charisma and war against the New World Order, Sting has become synonymous with World Championship Wrestling. Although he has never wrestled inside a WWE ring, more than a decade since the demise of with the Atlanta-based organization, he remains one of the most esteemed performers of all-time.

Sting Joins WWE
---
For decades, as he set records in other organizations, Sting earned a reputation as the greatest professional wrestler to never set foot in a WWE ring. The notion that Sting might one day lace his boots and face off against the WWE roster went from probability to possibility to pipe dream. But the dream came vividly to life at Survivor Series when Sting appeared in the ring, executing a Scorpion Death Drop on Triple H, costing Team Authority their match with Team Cena. No matter how many times they rubbed their wide-open eyes, members of the WWE Universe still couldn't believe it. Sting, the last holdout to never appear in WWE, had finally arrived—and he was targeting one of the biggest names in the business.
Amid speculation online of "The Franchise of WCW" being offered a contract by WWE, Sting appeared in a WWE Network production on April 15, 2014 to share a story on Ultimate Warrior—his tag team partner when he began wrestling in 1985—who had recently died. This marked Sting's first non-archive appearance on a WWE-produced program. He appeared as a prominent voice in the WWE Network documentary Warrior: The Ultimate Legend, which aired on April 17, 2014. The following day, online retailer Zavvi announced that a WWE Home Video DVD and Blu-ray highlighting the legendary wrestler's career, The Best of Sting, would be produced. The video title, which was released on September 23, 2014, chronicles his entire wrestling career from his time in the Universal Wrestling Federation days as part of The Blade Runners (with Ultimate Warrior) through his last WCW match against Ric Flair on the final episode of WCW Monday Nitro. The DVD and Blu-ray features more than two dozen matches in total, many never before released on DVD.
On July 14, 2014, Sting appeared in a commercial on Raw to promote the video game WWE 2K15, in which his 'Crow' and 'Surfer' incarnations are featured as pre-order bonus character. Soon after the commercial aired on the USA Network, the official Twitter account of 2K announced that in addition to appearing in the video game, he was now "in WWE."

Vince McMahon Says WWE Took Sting From Obscurity
---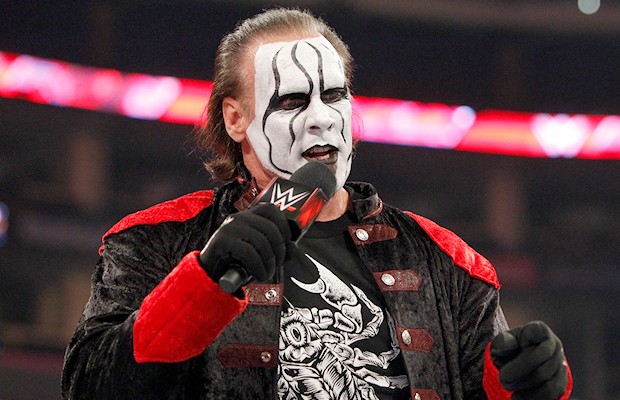 Vince McMahon has taken credit for taking Sting from obscurity to being an attraction. The controversial comment was made during the WWE Chairman's conference call in which he touted WrestleMania as a success.
A caller asked McMahon if WWE used video on demand (VOD) figures from the Network to make the business decision to finally bring the WCW legend onboard. McMahon said that there were a number of factors behind that decision. In putting over his company's marketing machine, he made a claim that the internet is already buzzing about—that WWE took Sting from "obscurity" and made him a major attraction.
Multiple reports say that it was impossible to tell if McMahon was referring to TNA, Sting himself, the amount of time that's passed since he was on top in WCW or some combination of all three. Given McMahon's reputation, and especially in the wake of how last night's Triple H match ended up, it's hard to not take it as at least a subtle dig.