Summer Rae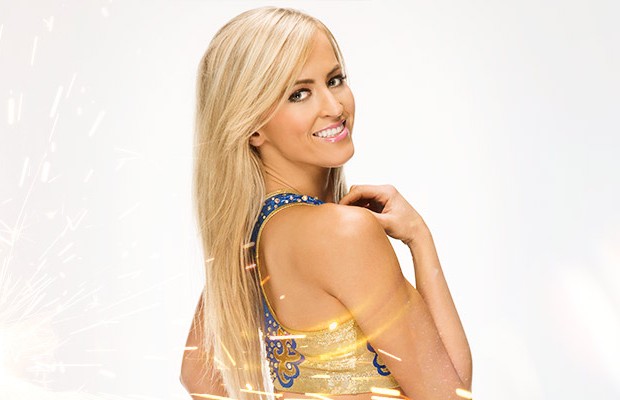 Summer Rae's Most Revealing Photos | Summer Rae Pays Tribute To WWE Hall of Famer In This Photoshoot | Summer Rae In An Aqua Dress | Photos Of Summer Rae In NXT | More Summer Rae Photos
They say behind every great man is a great woman. Given all this, Fandango's immediate impact in the ring and on pop culture at large should have been no surprise with Summer Rae in his corner.
A devil in a blue dress on the arm of the dancing king, Summer proved herself to be far more devious than the average Diva. Tangoing at Fandango's side, this fleet-footed femme fatale mixed her cutthroat instincts from her days in WWE NXT with her traffic-stopping good looks to become one of the premiere wild cards in the Divas division.
Using her unique blend of beauty and brains, Summer swung more than one contest in the favor of her boogieing boy toy. She has lured opponents into sneak attacks from Fandango, and even when she's not actively interfering in the action, her sultry moves at ringside always provided a ready-made distraction for Fandango's opponents.
For Your Information
---
Summer Rae's Background: Summer Rae, real name Danielle Moinet, was born on November 28, 1983 in Manhasset, New York. She is of English and French descent and was raised in Raleigh, North Carolina. After graduating from East Carolina University with a degree in business marketing, Moinet played for the Chicago Bliss of the Lingerie Football League from 2008 to 2011. She played her final game for the LFL on June 30, 2011 and signed a developmental contract with WWE later that year.
Has Summer Rae Appeared Nude?: With Summer Rae gaining popularity due to her WWE fame, this has led many fans to search for nude photographs of the leggy blonde bombshell. None, however, exist. The most exposure she has given was during her tenure with the Lingerie Football League.
Find Summer Rae Online: Summer Rae has made her presence known on social media with accounts on Twitter and Instagram. Her Twitter handle is RealSummerWWE. Fans can also find Summer on Instagram at summerraewwe. She does not have a personal account on Facebook.