Taryn Terrell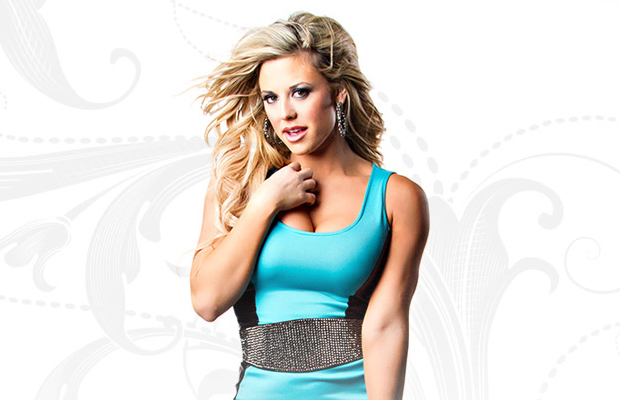 In 2008, the beautiful and dynamic Taryn Terrell became the personal assistant to ECW General Manager Theodore Long under the name Tiffany. When Long left the Land of the Extreme in 2009, Terrell filled the role as Interim General Manager, and eventually proved herself to become full-time General Manager. (Continue Reading ▸)
Taryn Terrell Photos
---
TARYN TERRELL VS. JACKIE MOORE (ONE NIGHT ONLY – KNOCKOUTS KNOCKDOWN)
Going Strong With Taryn Terrell
---
Taryn Terrell's experience in business and marketing definitely gave her the know-how to thrive in the Land of the Extreme. Her New Orleans upbringing also gave her a capability to maintain relationships with a variety of different personalities, a skill which proved effective as she worked side-by-side with the Extreme Superstars of ECW.
Before joining the Land of the Extreme, Terrell was heavily involved in scholastic athletics. She was a competitive power lifter and cheerleader. She started her high school's first female power lifting team, which placed third in the state finals during its inaugural year.
After ECW made way for WWE NXT, the WWE Diva became part of SmackDown. She was released from her contract on November 19, 2010.
For Your Information
---
Has Taryn Terrell Posed Nude?: Taryn Terrell has appeared nude in numerous Playboy magazines including Playboy's Lingerie (Feb/Mar 2010), Playboy 2008 Sexy 100 Collector's Edition, Playboy 2007 Sexy 100 Collector's Edition, Playboy's Lingerie (Apr/May 2007), and Playboy College Girls (Jan/Feb 2007). Nude photos of Terrell were also featured in the Playboy Cyber Club in February 2007. All nude photographs of Terrell were shot prior to her involvement with World Wrestling Entertainment.
Prior to joining WWE, Terrell was featured as Playboy's "Coed of the Week;" as the March 2007 "Coed of the Month;" and on the cover of the January/Feburary 2007 issue of Playboy's College Girls. She also appeared in the April/May 2007 edition of Playboy Lingerie as well as Playboy's Sexy 100 Collector's Edition 2007.