Triple H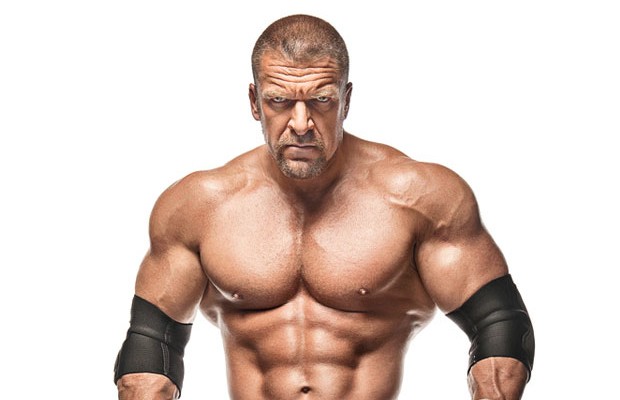 Triple H has captured every major championship, headlined multiple WrestleMania events, won the Royal Rumble, become King of the Ring and even spearheaded two of WWE's most influential factions. However, these achievements didn't happen by chance. They are the result of an unparalleled commitment to excellence that propelled Triple H past controversy and career-threatening injuries to become one of the greatest of all time.
Stephanie McMahon Freaked Out Over Triple H Suffering A Quad Tear In 2007 ▸,
Stephanie McMahon had a nervous breakdown over Triple H suffering a devastating injury at a WWE pay-per-view event. Watching the show backstage on a television monitor when the injury occurred, a horrified Stephanie fell to her knees, burst into tears and began screaming . . .
Latest Triple H News | Does Triple H Really Love Stephanie? | Triple H's Marriage To Stephanie | "At Least I Haven't Got To Be Around Triple H No More" | Billy Gunn Thinks Triple H Is Evil | Bret Hart Calls Triple H A "Wannabe Great Wrestler" | Ultimate Warrior Lashes Out At Triple H | Triple H In WCW | Triple H Photo Gallery
Triple H was a lanky 135 pounds at the age of 14 when he received a gym membership that would change his life forever. Over the next several years, Triple H committed himself to becoming bigger and stronger. His dedication eventually led to numerous bodybuilding crowns. Looking for advice on breaking into wrestling, Triple turned to former WWE Superstar Ted Arcidi. The two men developed a friendship while working out together at the same gym in New Hampshire. Arcidi pointed Triple H to the direction of Killer Kowalski, who agreed to train him.
After one year of working with Kowalski, Triple H competed on an independent wrestling card that happened to have a legend quietly sitting in the stands. As a favor to Big John Studd, Pat Patterson went to the event to scout out one of Studd's protégés. While he was there, however, Patterson couldn't help but be amazed by the skill of Triple H.
WWE Comes Calling
---
Triple H was thrilled by Patterson's compliments, but knew he still had some seasoning to do. However, it didn't take long for word of his outstanding matches, which included a stint in World Championship Wrestling (WCW), to reach Vince McMahon, who signed the young star.
Outside the ring, Helmsley began to form close bonds with several of his fellow WWE Superstars, most notably Shawn Michaels, Kevin Nash (then known as Diesel) and Scott Hall (then known as Razor Ramon), the group became known as "The Kliq." On their final night together in Madison Square Garden (Hall and Nash were on their way to join WCW), all four members of "The Kliq" shared a heartfelt embrace in the center of the ring. The controversial stung infuriated McMahon. As a result, McMahon punished Helmsley, relegating him to near-meaningless matches.
Lesser WWE Superstars would have never rebounded from McMahon's wrath, but Helmsley refused to stay down, using his in-ring talent to force his way back to the top. Five months after the incident at MSG, Helmsley defeated Marc Mero for the first of many single titles in WWE.
By 1997, the successful Helmsley became the target of many WWE Superstars. To combat their attacks, he employed the services of a muscle-bound bodyguard. Her name was Chyna. With his new enforcer watching his back, Helmsley continued to post impressive wins.
Forming D-Generation X
---
As 1997 continued to roll on, Helmsley began to shed his American blue blood persona and WWE fans were shocked at what they saw. The one-time snob transformed into one of the most rebellious WWE Superstars in history. By the end of September, Triple H moved his backstage friendship with Shawn Michaels in front of the television cameras. Together, they pushed the envelope and formed one of the most notorious factions of all time in D-Generation X.
The Game a.k.a. The Cerebral Assassin
---
Less than five months after turning his back on DX at WrestleMania XV, Triple H reached the summit of the sports-entertainment world when he defeated Mankind to capture the WWE Championship. By the end of the year, the cerebral Triple H managed to advance his career and personal life in one fell swoop when he married Mr. McMahon's daughter, Stephanie. The announcement of their union sickened the WWE Chairman, especially after learning "The Game" apparently drugged his little girl to get her to go through with the ceremony.
Mr. McMahon had one opportunity to make everything right for his daughter when he battled Triple H at Armageddon. Just when it appeared as though The Chairman was going to clear his daughter's good name, however, Stephanie shocked the world by attacking her own father and running into the arms of her new husband. What followed was the infamous McMahon-Helmsley Era, one of the most blatant abuses of power in the history of sports-entertainment. With Stephanie by his side, Triple H was able to piece together an impressive string of victories, including a win at WrestleMania 2000 over Big Show, The Rock and Mick Foley in a Fatal Four Way Elimination WWE Championship Main Event.
Proving anything can happen in WWE, Triple H teamed with the unlikeliest of Superstars when he joined forces with longtime rival "Stone Cold" Steve Austin in 2001. Collectively known as "The Two-Man Power Trip," Triple H and Austin controlled the championship scene at the time, as Triple H once again wore the Intercontinental Championship, while Austin was WWE Champion. They also defeated Kane and Undertaker for the World Tag Team Championship in April 2001.
The End of "The Game"?
---
The golden duo seemed almost unstoppable, until Triple H suffered a career-threatening injury when his left quadriceps tore completely off the bone during a tag team match. The severity of the injury caused noted orthopedic surgeon Dr. James Andrews to predict the end of "The Game"'s career. Triple H refused to believe Andrews' prognosis and began an exhausting eight months of rehabilitation.
"The Game" made his highly anticipated return at Madison Square Garden in January 2002. The WWE crowd in attendance welcomed him back with a sustained standing ovation. Three weeks later, Triple H put an exclamation point on his return when he won the Royal Rumble. He followed that up by defeating Chris Jericho at WrestleMania XII to reclaim the WWE Championship.
Later that year, Shawn Michaels made a surprising return to WWE. With HBK back in the picture, everybody, including Michaels, assumed a DX reunion was in the works. "The Game," however, saw things differently. The former friends met in a series of memorable battles, including a bloody Three Stages of Hell Match at Armageddon that saw Triple H defeat HBK to reclaim the World Heavyweight Championship.
The Evolution of Sports-Entertainment
---
Triple H accomplished a lifelong dream when he joined forces with childhood hero, Ric Flair, to form Evolution in early 2003. With Batista and Randy Orton, the well-dressed stable had the feel of a present-day Four Horsemen. At Armageddon in 2003, they proved their greatness when all four members walked away with a title.
The following year, the original D-Generation X (Triple H and Shawn Michaels) made their triumphant return to WWE. In typical DX fashion, the duo targeted authority, most notably Mr. McMahon.
Unfortunately, Triple H suffered another debilitating setback when he tore his right quadriceps in January 2007. With nothing left to prove, Triple H could have easily walked away from sports-entertainment following the injury. Instead, after willing himself through eight grueling months of rehabilitation, he returned to the ring and defeated King Booker and didn't stop there. By the end of 2009, Triple H added to his already impressive résumé with two more WWE Championships, setting a then-record eight total WWE Championship reigns.
New Enemies and Old Friends
---
During an intense rivalry with Randy Orton and Legacy, Triple H realized he couldn't face them alone and set out to enlist his best friend, Shawn Michaels, to reform D-Generation X. The duo faced Legacy in heated contests and then defeated Chris Jericho and Big Show in a title match at TLC: Tables, Ladders and Chairs in 2009, resulting in the first WWE Tag Team Championship for the longtime friends.
In early 2010, Triple H found himself battling Sheamus, a relative newcomer to WWE who had already captured the WWE Championship. The two met at WrestleMania XXVI after Triple H cost Sheamus his championship in an Elimination Chamber Match and Sheamus retaliated. A win by Triple H did not settle matters as the two were scheduled to meet again at Extreme Rules. Sheamus viciously attacked Triple H before their match and knocked "The Game" out of action until 2011. When Triple H returned, he gained a measure of revenge by putting Sheamus through a table with a Pedigree. After settling things with the "Celtic Warrior," Triple H turned his attention to Undertaker, the WWE Superstar who sent Shawn Michaels into retirement.
At WrestleMania XXVII, "The Game" met Undertaker in a No Holds Barred Match. Though Undertaker's streak remained intact, "The Deadman" had to be carted from the ring. The next night at Raw, Triple H promised that when Undertaker returns, "He'll be waiting." He then went unseen for months but reappeared on a July episode of Raw on behalf of the WWE Board of Directors. After he relieved Vince McMahon of his duties, it was announced "The King of Kings" was entering the corporate world as WWE's new Chief Operating Officer. His new role had its share of memorable moments, including multiple confrontations with his old friend, Kevin Nash.
Triple H's early 2012 appearance on Monday Night Raw was interrupted by Undertaker, who goaded "The Game" into a rematch at WrestleMania XXVIII. In a contest befitting the end of an era, Triple H and Undertaker battered each other for thirty minutes before Triple H lost to "The Deadman." In a show of mutual respect, the two men supported each other as they departed the ring.
Does Triple H Really Love Stephanie?
---
The widespread belief that Paul Levesque is unscrupulous and power hungry has provoked much skepticism over the sincerity of his feelings towards World Wrestling Entertainment creative chief Stephanie McMahon, who ultimately became his wife and mother of his children. Even Kevin Nash, a close friend of Levesque's, hinted at what is largely assumed.
When asked in a 2007 interview if he was surprised by his former protege's rise to power, he chuckled. "Nah, why would I [be]? You can't determine who you fall in love with," Nash said with a sly smile.
Former WWE writer Dan Madigan recalled sharing a limo with the McMahon family and Triple H in which he witnessed Vince snuggling Stephanie to sleep in his arms, then falling asleep himself, and catching Levesque looking at them nuzzling each other with a mixture of utter contempt and spectacular triumph.
"The one thing I wonder about Triple H is: how could you love Steph?" says Madigan. "It's a work man. Lemme tell you a story.
"I was riding in the McMahon family limo. Stephanie was sleeping in Vince's arms in that creepy way that starts all those rumors about them. I caught Triple H watching Stephanie nuzzled into her father like a baby, and, lemme tell you, the look I saw wasn't a look of love. It was this contemptuous, objectifying look, like: yeah, I got it, I got the world in my hands, I got the prize ham at the fair. It was an ugly look. Our eyes met for a second, and he laughed and shrugged, like he dropped the act for a second and he didn't give a shit that I noticed."
"At Least I Haven't Got To Be Around Triple H No More"
---
During an August 2008 media tour of the U.K., the ever-candid Randy Orton revealed that Umaga's initial response to being transferred to the SmackDown brand in the 2008 WWE Draft was, "Man, you know what? At least I haven't got to be around Triple H no more." When "HUNTOR" was also transferred to SmackDown from Raw later in the draft, the Raw roster survivor hilariously recalled his response as:
"Yes! Oh, my God, yes, yes, yes!" while punching the air. "I went right up to Umaga," Orton continued, "and I was, like, 'You've got to deal with him now!" It was my favorite draft pick, to be honest with you."
Orton stated earlier in the interview that he kept track of his friends' matches during his hiatus from a broken collarbone (naming Umaga and Carlito), but not those featuring Trips.
"…I'll watch the matches whenever I get a chance. I'll watch some of the guys, like Umaga and Carlito, who are good friends of mine," Orton said. "Triple H not so much."
Billy Gunn Thinks Triple H Is Evil
---
Triple H's former stablemate and friend Billy Gunn really let loose on "The King of Kings" during an interview with RF Video, describing the son-in-law of Vince McMahon as, "A cocksucking, piece of fucking shit…a bad person; he stabs people in the back."
He retirated his disgust for "The Game" during a subsequent interview with the Voice of Wrestling.
"People are scared to talk about him. They won't talk about him because he's got all the power there," Gunn said. "It was never a vendetta; it's just he's a piece of shit."
The multi-time tag team champion noted that some people think he's jealous of Triple H and his lofty position in WWE. Gunn, however, adamantly denies such accusations.
"Nobody's got the spot he's got because he's an asskisser, and I was never that," he said.
Gunn believes he's telling like it is as far as Triple H and the WWE office is concerned.
"It's evil up there," he explained, "and he's (Triple H) an evil person. When you're up there…everybody knows that he runs the show and if he doesn't like it, or he doesn't like you, he'll say one thing in front of you, but he'll turn right around and stab you right in the back".
Gunn goes as far to suggest that Triple H married Stephanie McMahon for power and not out of love.
"I don't talk about people behind their back–unless of course it's to my girlfriend–but I never cut anybody down and I always helped people because the better other people get, the better everybody else is, the better the company goes…but he's just a one-guy person and whatever's best for him is what works. And that doesn't work like that because you burn every bridge known to man. But now he's married the boss's daughter and if there's love there, shoot me in the head please!"
Wannabe Great Wrestler
---
The WrestleMania XXV main event pitting Triple H against Randy Orton was largely regarded by critics as a disappointing ending to the show. Gordon Holmes of Comcast.net believes that the match "never seemed to click" while Baltimore Sun sports columnist Kevin Eck stated that he was "disappointed that it didn't feel more special after some great angles on TV." SLAM! Wrestling writer Nick Tywalk felt that it was "solid and had its share of drama, but the lack of outside interference or plot twists of any kind failed to spark the same feeling of energy Reliant Stadium had in it a few hours before. It was almost a "That's it?" reaction that first came to mind." Pro Wrestling Torch editor Wade Keller called the match "good, both well-plotted and well-executed, appropriate to the storyline and feud," but added that "it just wasn't able to follow the classic two matches earlier." Orton later attributed the dismal reaction to the match to the stipulation that if Triple H was disqualified, he would lose the championship, stating that the storyline called for Triple H to get retribution, but he wasn't able to get it because "We weren't able to go to the extreme. If anything hurt us, it was that."
WWE Hall of Famer Bret Hart, a staunch wrestling critic, weighed in on the lackluster match months later during an interview with Fighting Spirit. He attributes their mediocre showing to Triple H lacking the psychology to deliver a standout performance.
So, did you watch WrestleMania 25?
I really enjoyed it. The only match I didn't like was the last one [Triple H versus Randy Orton]. It didn't work. You could hear a pin drop.
You're a man who has been in the main event of WrestleMania on more than one occasion. What do you think Hunter and Orton did wrong?
I think they just miscalculated… they didn't think it out right. It's hard to come up with the right psychology sometimes. I remember when I wrestled my brother Owen Hart, we hadn't wrestled each other before. We had the Madison Square Garden WrestleMania X coming up and in the build up, we had tag matches where we were experimenting with moves that we were going to get into our WrestleMania match. We had a lot of wrestling holds and reversals — it was Dean Malenko kind of stuff, all cute and handsome.
Anyway, I was at my house the day before we left for WrestleMania and I called Owen and told him to meet me in the dungeon. He walked in and said, "What's up?" and I said, "Everything. The whole match that we've planned out for the last few weeks — forget it. We're ditching all of it. We're going to stink the place out, it'll be a babyface match. You've got all these drop kicks and all these nice moves, but you're a bad guy… it's going to be a disaster."
And so we switched it around. I made Owen way more vicious, I came up all sorts of nasty little things for him to do in the match. We recalculated what was needed to keep the story going.
I think with Randy and Hunter, they didn't think through what they were doing. They tried to kill each other in the last thing I saw before the event and when they got to the big match, they gave everybody an opening match instead. It lacked all the intensity of two guys trying to kill each other. They misread what they were selling.
It's the same situation as when [Shawn Michaels] wrestled [Kevin Nash] at WrestleMania; the strategy and psychology of the match wasn't thought out. When the bell rang and it was over, Shawn was the hero. It should have been Kevin Nash's defining moment, but his career was over. They dropped the ball on him, they told the wrong story.
The thing with Triple H and Randy Orton is they've had better matches than that before. Do you think Triple H doesn't have it anymore?
Triple H is an imitator, not a creator. He's not a guy that innovates and comes up with stuff — he's a wannabe great wrestler, not a great wrestler. He's a cheap imitation of Bret Hart and a lot of other guys mixed together. It works, he gets through. He's a decent enough wrestler that he's worth having on the roster. If I had a company, I'd him him… but I wouldn't make him the star of the show.
I'm sure he had a lot to do with the WrestleMania match — he practically runs the show — but he doesn't have the brains to create a match to follow up the pre-story. He could have started out like me and [Steve Austin] did at WrestleMania 13 and whipping ass. It should have been Hunter in some way battling all odds and getting sympathy. But I don't think he has the psychology to deliver.
Ultimate Warrior Lashes Out At Triple H
---
On September 27, 2005, World Wrestling Entertainment released a video retrospective focusing on the wrestling career of Ultimate Warrior, entitled The Self-Destruction of the Ultimate Warrior. The DVD featured clips of his more notable feuds and matches along with commentary from WWE talent past and present, most of which are unflattering. Having been decisively squashed by the face painted grappler at WrestleMania XII, Triple H notably said that Ultimate Warrior was the most unprofessional wrestler he ever worked with.
Warrior posted a scathing message on his official website regarding WWE's burial piece, blasting those who criticized him, including Triple H. Warrior calls the future head of WWE "the biggest unprofessional asshole the business has ever seen" and accuses him of using human growth hormone — undetectable during WWE drug testing — to bloat his exterior.
"I'm the most unprofessional person you've ever stepped into the ring with? Well, now, ain't that pretty. Because what I remember, Mr. Stephanie McMahon, is that you were only in the ring with me one time — and for less than 5 minutes. Here all these years since leaving the ring and becoming interested in mentoring young people, I often wonder what kind of impact I am having because I take it seriously and it is important to me do it effectively. Well, it sure sounds like I taught you very well in the 5 minutes you had in the ring with me. Because from what I hear you are the biggest unprofessional asshole the business has ever seen. You are welcome.
"And sure, in the ring that day it was a work, but in the locker room before the match, it wasn't. Don't leave the good parts out, puffy, little jealous man. Let's be sure and recall all the details and tell the audience how you tried to pull some rookie, punk bs with me, using that loser Gerald Brisco to steel your weak backbone, and I got in your face and told you to store it and that if you had something you wanted to discuss with me, you go find the man-balls to confront me yourself, don't bring a never-did-I-succeed-in-the business agent as a bodyguard and mouthpiece. It's funny that you have so much to say now from afar, because I remember giving you the chance to respond then, but your lips quivered you mouth shut.
"What I did that day was nothing personal, it was wholly professional. Ultimate Warrior was in a whole other league than all you B-players at the time — yes, Bret Hart and Shawn Michaels included — and it was my professional business responsibility to protect His worth. Whether you liked it or not, I didn't really much give a fuck. Yet, here you are today taking every cheap-shot opportunity you can to mock the Ultimate Warrior persona and deride me, personally, about how I handled my business as if you don't get it. But you do. In fact, you got it real well. Well enough that you followed my lead and have, as a professional asshole watching out for his professional self, done quite well for yourself.
"Hell, Paul, own up little, puffy man. You tried to replicate everything about me. So what you used a few more wrestling moves. Nobody cares and even fewer will remember. It was the Ultimate Warrior intensity and look you strove for. You knew this was the ticket. It became your mission. You even took up a serious interest in bodybuilding and began rubbing your very narrow shoulders with famous bodybuilders, like doing this would make you more of a real bodybuilder like I once was and, you prayed, more like an Ultimate Warrior. Difference is, Paul, it didn't work. Ironically, your bodybuilder friends are some of the same guys who used to ask for me for training advice when WWF came through town and we'd train at The Mecca, THE Gold's Gym in Venice, CA. Yet we can be sure — they don't ask you. It's a good thing Vince backed off the drug testing as he did because without them you wouldn't have made muscle grade enough for the real freaks to even let you be one of their friends. BTW, to get rid of the puffy look, get off the GH and train hard. Yeah, that's right — train hard. Your body tells us all that you train like a twat and rely most on your "sports supplements."
"Yes, Paul, sorrily, your whole career has been a mission to outdo Ultimate Warrior. But guess what little, puffy man? You failed. Oh, how you failed. I set an iconic standard none of you could reach. And you are bitter about it. So bitter. You all are. Indeed, it is this bitterness that you most have in common with your father-in-law. In fact, he recognized the depth of it in you and knew if something ever happened to him you would continue the mission to fulfill HIS vendetta. To secure it, he gave you his daughter. But he must be a little concerned, because it seems the only masculinity you can drum up is while you are hanging onto her booking skirt. You know, think about it. If I hadn't been smitten with my own honey at the time and Vince would have been more sensible, he might have hired me to become his son-in-law. You know, the Original Ultimate Warrior, not a dismal imitation. On second thought, I had strong self confidence and Vince never felt sorry for me as he evidently does for you."
Triple H To Win The Royal Rumble Match for the WWE World Heavyweight Championship?
---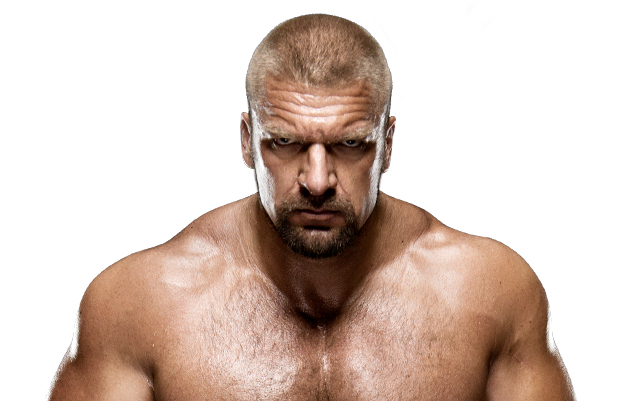 January 5, 2016 – It appears as though Triple H is in line to win the 2016 Royal Rumble Match for the WWE World Heavyweight Championship
"It makes it real interesting. We know that Roman Reigns and Triple H is going to happen. But now, there's the idea that Reigns beats 28 guys, then Triple H beats him to win the Rumble," Dave Meltzer said after Raw on Wrestling Observer Radio.
Co-host Bryan Alvarez added, "Well, Vince did say Hunter was going to get his revenge and you weren't going to see it coming."
There's always the possibility that Reigns and Hunter clash at Fastlane on Feb. 21, but the magnitude of WrestleMania 32 would factor into how this feud plays out.
The other idea for Reigns, would be that he wins the Rumble and retains his title. That would be a way to really put him over, although there has to be the fear that he could be rejected in the same way as last year.
He's been on a superb run since November, getting over and really establishing himself as WWE World Heavyweight Champion. The creative has been very good, as have his match performances. WWE must be careful in their Rumble booking, they must ensure Reigns' progress isn't now squandered.
A match against Triple H at WrestleMania 32 feud would certainly be a good option. Reigns would likely be cheered against "The Game" and it would be a very good match.