Vickie Guerrero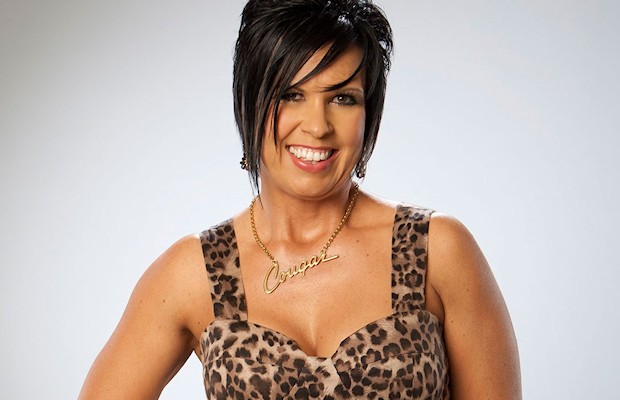 Vickie Guerrero Bikini Photos | Posed Vickie Guerrero Photos | Vickie Guerrero Photo Gallery One | Vickie Guerrero Photo Gallery Two
When the ear-piercing pitch of her squared circle proclamations weren't catching the attention of WWE fans, a simple "Excuse me!" would suit. After all, it was one ironhanded fist enclosing well-manicured nails that presided over WWE's most distinguished television programs: That of the hot and sexy Vickie Guerrero.
After acting as both the SmackDown General Manager and interim captain of Raw between 2007 and 2009, the WWE Board of Directors informed the widow of the late Eddie Guerrero that she would have to decide on one show to orchestrate. The night after WrestleMania XXV, Guerrero announced that she had chosen to be the General Manager of Raw – a role she presided over until quitting a mere two months later in distress. In reality, Guerrero had requested to part ways with WWE so that she could spend more time with her family.
Just as she gained the role of General Manager on WWE's two top shows, Guerrero proved to have no problem grasping what she wanted. Enduring scandal after scandal, Guerrero was known for romantically fraternizing with the pool of WWE Superstars on the brand she governed. This has included the likes of Edge, who routinely capitalized on his wife's position to empower himself and secure a slew of World Championship reigns.
Often aided by her obedient nephew, Chavo Guerrero, she shook things up and shaped her brands to her own personal liking, no matter what anyone had to say about it. She even utilized her authority to steal the esteemed title of Miss WrestleMania from Santina Marella.
Following a brief hiatus from WWE in 2009, Vickie returned as the Official Consultant of SmackDown.
For Your Information
---
Has Vickie Guerrero ever posed nude for Playboy or appeared naked?
Vickie Guerrero appeared in a censored nude pictorial for WWE.com in January 2009. Click here to see the photos. She has not otherwise appeared naked.
Who is Vickie Guerrero's daughter?
Vickie Guerrero has two daughters, Shaul Marie Guerrero and Sherilyn Amber Guerrero. Shaul currently performs for WWE in NXT under the name Raquel Diaz.
Does Vickie Guerrero have an account on Facebook?
Vickie Guerrero can be reached on Facebook at www.facebook.com/profile.php?id=100004286433452.
Does Vickie Guerrero have an account on Twitter?
Vickie Guerrero can be reached on Twitter at twitter.com/ExcuseMeWWE.