WWE Already Has Big Plans For WrestleMania 34 and They Include Roman Reigns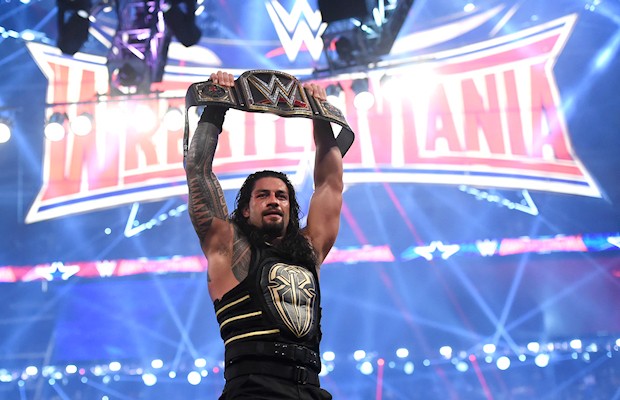 We're only a few weeks away from WrestleMania 33 in Orlando, Florida but WWE already has big plans for WrestleMania 34 in New Orleans, Louisiana.
According to Dave Meltzer in this week's issue of the Wrestling Observer Newsletter, WWE plans on having face Roman Reigns face Brock Lesnar for the Universal Championship at next year's show.
While Reigns is slated to face The Undertaker at WrestleMania 33 and Lesnar will be challenging Goldberg for the Universal Championship, according to Meltzer, that doesn't necessarily mean that Reigns is beating Undertaker or that Lesnar will have a one-year run as Universal Champion.
WWE has tried to make Reigns the premiere babyface for the last few years and that goal has not changed. WWE plans on building Reigns up over the next year for a big coronation at WrestleMania 34. This time, however, Reigns will completely replace Cena as the top face of WWE during the build-up to the match.
"The plan is to once again build for a year and have the big coronation at WrestleMania," Meltzer said. "The idea between now and then is for Reigns to be the face, not just when he wins the title, but to fully replace John Cena as the lead babyface of the company."
Meltzer adds, "How they'll make that work is uncertain. They may just go with the idea that the fans that attend TVs and PPVs that boo Reigns are a minority of their worldwide audience and ignore the obvious crowd reaction."
WWE plans on having Lesnar appear on more shows going forward in what will be the final year of his three-year contract with the organization, especially since UFC is now clearly part of his past.
Lesnar has been on television almost every week and done some house shows of late. The impression given is he will never work a full schedule, but he will work more dates over the next year, as has been shown by his doing more house shows than ever before and working all but one Raw in the last two months before WrestleMania.