More WWE Stars Could Be Added To The Raw Women's Championship At WrestleMania 33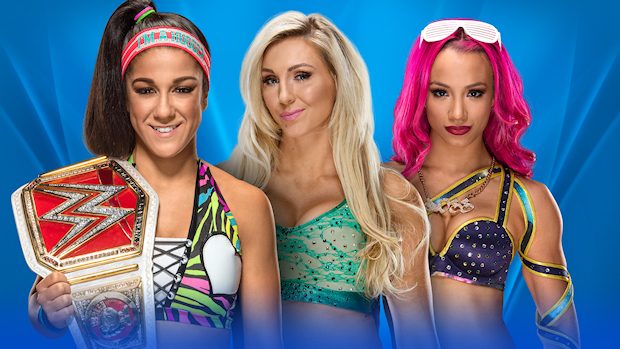 After it was rumored that a Fatal 4-Way Match for the Raw Women's Championship would take place at Wrestlemania 33, a Triple Threat Match was announced last week for "The Ultimate Thrill Ride," with Raw Women's Champion Bayley, Charlotte Flair, and Sasha Banks as the participants.
The source of the rumor is Wrestling Observer Newsletter editor Dave Meltzer, who reported in January that WWE was building towards a Fatal 4-Way Match that would also include Nia Jax.
Stephanie McMahon made a match last week on Raw where if "The Boss" could defeat Bayley in a non-title bout, the Raw Women's Champion Match at WrestleMania would become a Triple Threat Match.
"The Boss" managed to beat Bayley to secure a spot in the Raw Women's Championship Match at WrestleMania.
Then this week on Raw, Jax requested an opportunity to face the Raw Women's Champion at WrestleMania, which led McMahon to put her in a match against Bayley.
Though Bayley won the match via disqualification, Jax left no stone unturned to impress the authorities of the red brand by assaulting and humiliating "The Huggable One."
Jax then tweeted the following regarding her assault on Bayley.
You're exactly where you'll stay @itsBayleyWWE . Broken, alone, and soon you won't have your title to hug at night.

— Nia Jax (@NiaJaxWWE) March 14, 2017
On the post-Raw edition of Wrestling Observer Radio, Meltzer said he believes this angle was done to put Jax in the title picture and build the path to a Fatal 4-Way Match at WrestleMania. However, there is also the possibility that the Raw Women's Championship Match includes five competitors.
According to Meltzer in this week's edition of the Wrestling Observer Newsletter, WWE officials have given thought to add Jax or Dana Brooke to the Raw Women's Championship Match at WrestleMania, or perhaps even both.
The Raw women's title match at this point is Bayley vs. Charlotte vs. Sasha Banks. In recent weeks, both Dana Brooke and Nia Jax at different time were talked about or slated to be in the match as a four-way, but a three-way at certain points was the idea as well. It's changed many times. Angles were shot on Raw that could have added one or the other or both.
After Banks beat Brooke with a rollup on Raw, Flair took to the ring and brutally relieved Brooke of her duties … a firing that Brooke repaid by pouncing on "The Queen."
Moments after attacking Flair, Dana Brooke went off on her former mentor.