AJ Lee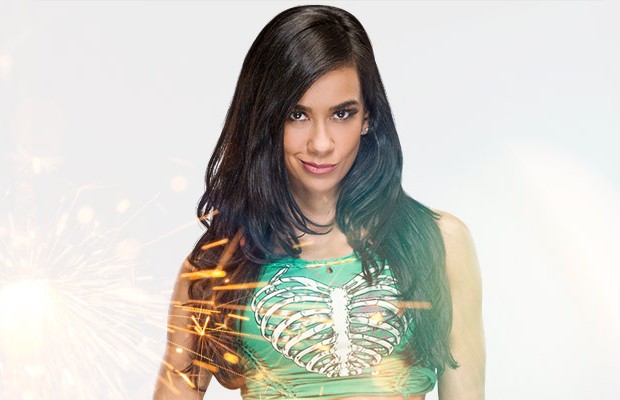 Hailing from the mean streets of Union City, New Jersey, AJ Lee went from being a boy-crazy (and arguably just plain crazy) valet to being the cornerstone of WWE's Divas division and having numerous fansites devoted in her honor.
Photos Of AJ Lee Showing Off Her Booty | AJ Lee Bikini Photos | AJ Lee Suffers A Wardrobe Malfunction | Who Has AJ Lee Dated? | Photo From AJ Lee and CM Punk's Wedding Leaks Online | Do CM Punk and Lita Have Heat Due To AJ Lee? | Would AJ Lee Pose Nude? | What Is AJ Lee's Net Worth? | What Is AJ Lee's Ethnicity? | Find AJ Lee Online | What Is AJ Lee's Height and Weight? | AJ Lee's Early Life | Check Out More AJ Lee Photos | Latest AJ Lee News
People Also Search For: Paige | Stephanie McMahon | Lana | Rosa Mendes | Kelly Kelly

AJ Lee Photos
---
---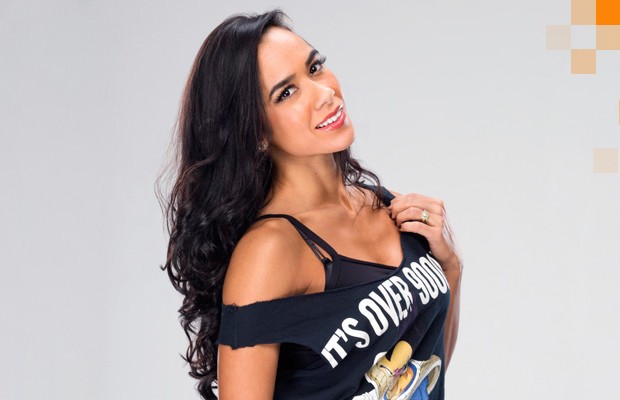 Who Has AJ Lee Dated? – AJ Lee is married to fellow WWE Superstar CM Punk. Their relationship became public after the two were filmed together in the front row at a Chicago Cubs vs. Pittsburgh Pirates baseball game from Wrigley Field in Chicago, Illinois. Punk was acknowledged on television by a WGN announcer.
Lee was previously involved in relationships with Jay Lethal, who trained her for a professional wrestling career, and former WWE Superstar Trent Barreta. (Photos Of AJ Lee On Vacation With Jay Lethal ▸)
Would AJ Lee Pose Nude For Playboy? – Although she would not be labeled a classic sex symbol, AJ Lee is perhaps the most provocative Diva on the WWE roster—albeit unintentionally. The former WWE Divas Champion always leaves jaws hanging with her tight jean shorts and seems to enjoy posing in a manner that accentuates her big ass. This has naturally led grappling aficionados to wonder whether the New Jersey native would reveal her tits by posing nude for Playboy.
While wrestling fans were accustomed for years to seeing a WWE Diva grace the cover of the famed publication as part of the annual WrestleMania synergy, with WWE's present-day commitment to presenting a family-friendly, TV-PG product, don't hold your breath on Lee participating in any form of pornography. Now even if the barriers were lowered, Lee appearing naked is highly unlikely since she has gone on record as saying that she would "never" pose for Playboy because she considers herself "prude."
"Oh my God. Never, ever, ever!" Lee said in response to the possibility of posing for Playboy during an August 2012 radio interview promoting SummerSlam. "I can barely wear a low-cut shirt. I'm prude and I think that's what works for me is kind of being very innocent and prudish. It's gotten me pretty far and there are certain things that should be left to the imagination." She added, "Nothing wrong with it, but it's not for me."
In perhaps her sexiest match, Lee caused a stir online with the Twitter tease of a wardrobe malfunction on the January 11, 2013 episode of SmackDown: "If you need two words that aren't 'The Rock' to convince you to watch Smackdown this week, here they are: wardrobe malfunction." Alongside Dolph Ziggler in a Couples vs. Couples Mixed Tag Team Match against The Great Khali and Natalya, her top accidently escalated to reveal her black bra and pushed up boobs. Lee sexed up the sequence even more by sticking her tongue out and licking herself like a cat. Lee appeared to be purposefully teasing her male fans, but then realized her breasts were out and pulled her top back down.
What Is AJ Lee Ethnicity? – To squash online speculation that AJ Lee is part-Asian or black due to her facial features, her race is completely Hispanic. More specifically, the ambiguous WWE Diva's nationality is Puerto Rican, according to an article published on NJ.com in 2013. The article noted that Lee's family would be unable to attend her New Jersey homecoming at WrestleMania 29 since they had moved back to their native Puerto Rico. Furthermore, the official WWE website had noted Lee's nationality Puerto Rican in their profile on her for WWE NXT.
Find AJ Lee Online – AJ Lee's sole online presence is located on Twitter at WWEAJLee. As the WWE Diva has declared on the microblogging website, she does not have personal accounts on Facebook nor Instagram. Additionally, Lee does not have an official website.
"I don't have an Instagram and my only current Facebook is WWE run and linked on my profile here," Lee stated in September 2012. Mocking Instagram later that month, she tweeted, "Every time a chick takes a kissy-faced sepia toned Instagram picture of herself, an angel loses its wings."
Her Tattoo – Commemorating the date on which she won her first WWE Divas Championship (from Kaitlyn on June 16, 2013 at WWE Payback), Lee sought a tattoo in tally marks on the back of her neck, which read as "6-16-13." During a September 2013 interview with the official WWE website, the Union City native explained the meaning behind her unique mark. (AJ Lee Shows Off Her Tattoo ▸)
"When I was really young, my entire family was covered in tattoos, so it was okay to get one. But I knew, when I did get one, that I wanted it to be something important and special. So, at a very young age, I decided that I would get it when I won the title," Lee stated.
"I'm not a girly girl. And I didn't want fancy script or a butterfly or anything like that on me. I wanted something surreal; something that showed time served. That's why it's in the style that it's in. [The Divas Championship is] something that I worked for and spent a great deal of my time trying to get. It's 14 years in the making. So, it's supposed to be really cold. Just a mark of an accomplishment and now I move on."
What Is AJ Lee's Height and Weight? – The official WWE website has AJ Lee billed at 5'2″. As far as her weight is concerned, Lee revealed in a May 2013 interview with the website that she is 115 pounds.
While discussing her finishing maneuver, the Black Widow, Lee remarked, "I'm not the strongest person, so anything that lets me trap myself on an opponent, like a spider in a web, is effective. The abdomen gets stretched, the neck is in an uncomfortable position and my opponent's arms are extended where they shouldn't be. So it's everything all at once, using all 115 pounds of my pure muscle and 'badassery' to the fullest extent."
Where Does AJ Lee Live? – AJ Lee currently resides with her husband, CM Punk, in Chicago, Illinois. The 27-year-old relocated from Tampa, Florida to Punk's plush two million dollar apartment in spring 2014, shortly after the couple became engaged to be married. Growing up, Lee lived in Union City, New Jersey with her family, where she experienced hard times.
"We never had anybody. We lived in motels, other people's houses," said Lee to NorthJersey.com. "It's so surreal…I could not be more proud, especially to go back there [for WWE's No Way Out pay-per-view event on June 17, 2012 in nearby East Rutherford]."
Theme Songs – Upon joining the WWE main roster in May 2011, AJ Lee used "Right Now" by Tyler van den Berg as her entrance theme. She transferred to her current entrance theme, "Let's Light It Up," by Jim Johnston and performed by Kari Kimmel, in October 2011.
Favorite Wrestling Talent – AJ Lee has cited Bret Hart, Lita, Melina, Miss Elizabeth and "Macho Man" Randy Savage as her first favorite wrestling talent growing up.

The Geek Goddess
---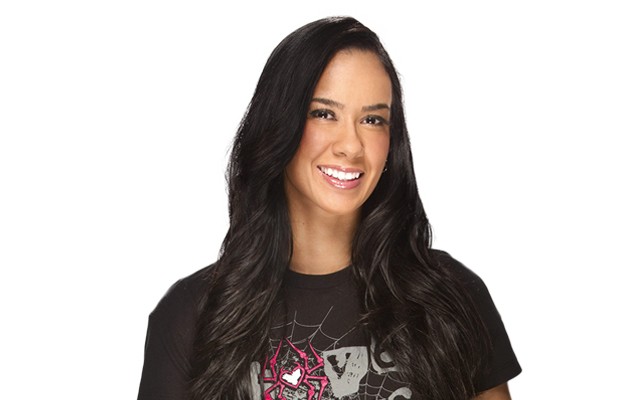 Hailing from the mean streets of Union City, New Jersey, AJ Lee went from being a boy-crazy (and arguably just plain crazy) valet to being the cornerstone of WWE's Divas division and having numerous fansites devoted in her honor.
At the inaugural WWE Payback pay-per-view event on June 16, 2013, AJ Lee fulfilled her life-long dream by capturing the WWE Divas Championship–she knocked former friend and tag team partner Kaitlyn off her feet to do it. Lee continues to reign as champion through November, with victories over Kaitlyn, Natalya, Brie Bella, Nikki Bella, Naomi, Cameron and even WWE NXT competitor Bayley. During this time frame, Lee also competed at SummerSlam, where she and Big E Langston unfortunately lost to Kaitlyn and Dolph Ziggler.
On the August 26, 2013 episode of Raw, Lee instigated a feud with the cast of the E! reality show Total Divas by cutting a scathing tirade infamously known as "#PipeBombshell." Calling out The Bella Twins, The Funkadactyls, Natalya, Eva Marie and JoJo, Lee labeled the sexy reality show cast members as "a bunch of cheap, interchangeable, expendable, useless women."
They did not pose a challenge to her, as Lee successfully defended the "Butterfly" belt against Brie Bella, Naomi and Natalya in a Fatal 4-Way Match the following month at Night of Champions. The following week on SmackDown, Lee aligned herself with Tamina Snuka.
This petite New Jersey native is quick on her feet and relies on her guile and a spectacular Black Widow octopus submission lock to dominate her opponents in the WWE Divas division. She also possesses a dangerous Shining Wizard knee smash, which is made more effective by the full rotation of her right hip. Lee learned a great deal from observing her previous charges, Daniel Bryan and Ziggler, and has developed into a formidable mat wrestler and technician.
Prior to joining WWE's main roster on the May 27, 2011 edition of WWE SmackDown!, Lee held the FCW Divas Championship and the Queen of FCW crown while competing in the organization's developmental league, Florida Championship Wrestling. She also held the WSU Tag Team Championship with Brooke Carter while competing on the independent circuit.

Early Life
---
AJ Lee, who was born April Jeanette Mendez on March 19, 1987 (as of 2015, she is 28-years-old), experienced a hard-knock childhood growing up in Union City, New Jersey that included eating at food banks and living in cars and motel rooms.
"We never had anybody. We lived in motels, other people's houses," Lee said to NorthJersey.com in a 2012 interview promoting WWE's No Way Out pay-per-view event at the IZOD Center in East Rutherford, New Jersey. "It's so surreal…I could not be more proud, especially to go back there."
Lee says her brother's WWE fandom when they were children influenced her to eventually break into the world of professional wrestling. At the age of 12-years-old, Lee told her family that she would pursue a career in the squared circle.
Lee found inspiration in watching the WWE Divas at the time, including Molly Holly, Stephanie McMahon, Trish Stratus and especially Lita, whom Lee met at an autograph signing when she was 13-years-old. Footage of the encounter, which shows Lee being brought to tears by meeting her idol, would surface years later on YouTube – it originally aired on the July 18, 2001 edition of WWF SmackDown!.
After graduating from Memorial High School in 2005, Lee worked multiple jobs in order to save up the money she needed to support her family and enroll in professional wrestling school.
"I had a bunch of part-time jobs. I was a janitor at day care. I was a cashier. And I just did that to support my family, but I wanted a little bit more money because I had to support wrestling school," Lee told NorthJersey.com. She later became a full-time secretary to pay for her professional wrestling training.
Lee briefly attended New York University's Tisch School of the Arts in New York City, where she majored in film and television production and writing. Family and financial issues led to her dropping out six months into her college experience.

AJ Lee's Relationship With CM Punk
---
AJ Lee is married to former WWE Superstar CM Punk. Their relationship became public after the two were filmed together in the front row at a Chicago Cubs vs. Pittsburgh Pirates baseball game from Wrigley Field in Chicago, Illinois. Punk was acknowledged on television by a WGN announcer.
During filming of WWE's Tribute to the Troops event on December 11, 2013 in Fort Lewis, Washington, Lee's relationship with Punk became a story when the WWE Diva confronted NBC Sports personality Michelle Beadle after the 38-year-old had spoken to Punk. Beadle and Punk had been acquainted long before Lee's relationship with Punk began.
As Beadle wrote on Twitter on December 15, 2013, "I've known CM Punk for years. Considered him a friend. When I saw him at the arena, I said 'hey f&$?face'. The exact same way I talk to everyone. His girlfriend was no where near this. And I kept walking along with my assistant and two members of WWE PR. Next thing I know, I'm being yelled at."
The person yelling at Beadle was Lee. The NBC presenter continued, "I honestly thought it was a joke. Period. The event went on and it was amazing. So I hope we can move on from this ridiculously lame 'story.' As for the crazies, BLOCKED! And Happy freaking Holidays!!!"
Fortunately for Lee, as Punk's girlfriend, she was not punished for her childish outburst at WWE's celebrity guest. A well-connected or powerful WWE performer can behave as she or he pleases, within reason.
The couple got married on June 13, 2014, according to a claim that originated that day on Reddit.com and was described by PWInsider.com as a small, private affair.
Rumors of their nuptials originated on social media three days prior when a Twitter user going by the name Courtney Santos said she had processed Punk and AJ's marriage license. Reddit user MetsFan4Ever, a verified WWE insider who has leaked multiple WWE scripts and broke news of JTG's release from the company, broke news of the marriage.
"CM Punk who was engaged to AJ Lee were officially married this afternoon," he wrote. "Punk and AJ loved the idea of having their wedding on Friday the 13th."
The newly weds spent their honeymoon in Hawaii and were photographed jogging together by paparazzi on June 23, 2014.
The couple currently resides in Punk's hometown of Chicago, Illinois. And no, the couple has not released a sex tape.

AJ Lee's Best Bikini Moments
---
AJ Lee's hard work at the gym has paid off—big time!
Although the New Jersey native does not consider herself a typical WWE Diva — often blond with surgically enhanced breasts and mirroring a comic book character—she is not above flaunting her toned body like one. Check out the former WWE Divas Champion in her finest swimwear in the following photo galleries.
AJ's First And Thus Far Only WWE Bikini Photo Shoot | AJ Does The Limbo In A Bikini | AJ & Kaitlyn In Bikinis Backstage At Event | AJ Wins The Divas Summertime Beach Battle Royal Photos | Animations | Video