Alicia Fox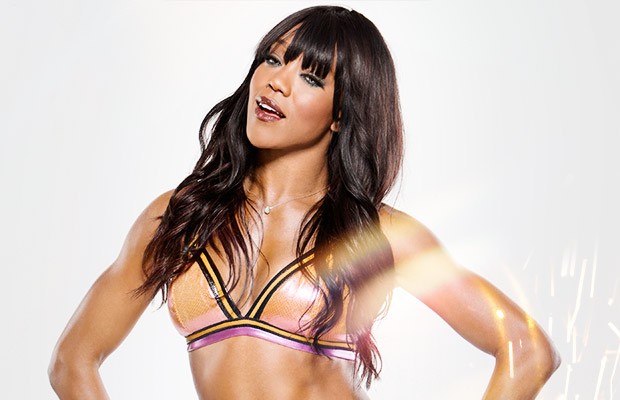 Since her WWE debut in 2008 as the wedding planner for Edge and Vickie Guerrero, Alicia Fox has turned heads and opened eyes. (Continue Reading ▸)
Alicia Fox Photos
---
ALICIA FOX AND BAD NEWS BARRETT DATED? – CHECK OUT THESE PHOTOS
PHOTO OF ALICIA FOX WITH A CIGARETTE IN HER MOUTH
Kelly Kelly and Alicia Fox vs. The Bella Twins
Alicia Fox vs. Tamina (with Rosa Mendes, Aksana and Natalya)
Going Strong With Alicia Fox
---
Since her WWE debut in 2008 as the wedding planner for Edge and Vickie Guerrero, Alicia Fox has turned heads and opened eyes. She's honed her in-ring style and utilizes textbook versions of the Bridged Northern Lights Suplex and Tilt-A-Whirl Backbreaker. However, those are mere table setters for a Scissors Kick that puts opponents down for the count.
While she's been aligned with different Divas and Superstars from Michelle McCool to Zack Ryder, A-Fox has displayed time after time she's much more than a walking pin-up. This was evident in the summer of 2010, when she bested three of the top Divas of Raw–Eve, Maryse and Gail Kim–to claim her first Divas Championship. Though she lost the championship two months later, she has her sights set on regaining the butterfly-studded championship belt.
Jumping Brands
---
Under the name Alicia Fox, Victoria Crawford was introduced to the WWE Universe on the June 13, 2008 episode of SmackDown as the planner for Edge and Vickie Guerrero's upcoming nuptials. However, the following month at the wedding reception, Triple H shocked the world when he revealed a video of the Rated-R Superstar and Fox locking lips. Two days later at The Great American Bash, Fox interfered in the WWE Championship Match on Edge's behalf by handing him the title so he could utilize it as a weapon. Guerrero then began brawling with Fox, which culminated with Edge accidentally spearing his wife in a failed attempt to strike the official in order to delay the match. The chaos gave Triple H to the opportunity to hit Edge with a Pedigree to retain the WWE Championship. With the storyline over, briefly disappeared from WWE airwaves and returned to Florida Championship Wrestling.
Following a three-month hiatus from WWE programming, Fox re-emerged as a bona fide Diva on the November 18, 2008 episode of ECW on Syfy as the manager of dancing babyface DJ Gabriel. Their association was revealed on the following week's show as Fox claimed to have transferred her wedding planning business overseas during her hiatus from WWE airwaves, where she hit it off with the English grappler. The dancing duo began feuding with siblings Paul and Katie Lea Burchill in December 2008. Fox made grappling debut on the January 6, 2009 episode of ECW, losing to Katie Lea Burchill. On the following week's show, Fox scored her first victory on the third-tier WWE brand as the couple conquered the Burchill siblings in a Mixed Tag Team Match. In March, Fox and Gabriel quarreled with Natalya and Tyson Kidd – "The Queen of Hearts" beat Fox in a singles bout on the March 3, 2009 edition of ECW. Fox competed at WrestleMania XXV in the 25-Diva Battle Royal to crown Miss WrestleMania, which was won by Santina Marella.
With Fox floundering on the ECW brand, the Florida native was transferred back to SmackDown in the 2009 Supplemental Draft on April 15. Now a villain, she made her grappling debut as a SmackDown Diva on the April 30 episode of WWE Superstars in a tag team affair pitting herself and Michelle McCool against Gail Kim and Maria. Following the triumph, Fox aligned herself with McCool as the duo competed together in tag team affairs as well as accompanying each other to the squared circle for singles encounters. She was in the corner of McCool when the future Mrs. Calaway captured the WWE Women's Championship from Melina at The Bash.
Fox shifted brands again on June 29, 2009 as she was transferred to Raw along with Kim, Evan Bourne, Jack Swagger and Mark Henry. She made her wrestling debut on the following week's program as the Florida native and Maryse lost to Kim and Mickie James in a tag team bout – Kim scored a pinfall victory over Maryse. Fox achieved her first Raw victory on July 13, 2009 in a Six-Diva Summer Swimsuit Spectacular Tag Team Match pitting herself, Divas Champion Maryse and Rosa Mendes against Kelly Kelly, Kim and James when the belt holder pinned James. Fox scored her first first pinfall victory by pinning Kelly Kelly during a tag team bout on the July 20, 2009 episode of Raw. On the August 10, 2009 edition of Raw, Fox participated in a ferocious Fatal 4-Way Match to determine the No. 1 Contender to James' Divas Championship, but came up short to Kim. Fox would, however, reign supreme the following month as she bested Kim to become the No. 1 Contender. She received a shot at the title on October 4, 2009 at Hell in a Cell, but was unable to unseat James. "The Foxy One" became the No. 1 Contender again on the November 2, 2009 episode of Raw Raw, by triumphing over Brie Bella, Eve, Gail Kim, Kelly Kelly and Nikki Bella in a Battle Royal. Fox challenged Melina for the WWE Divas Championship at Madison Square Garden on November 16, 2009, but was again unsuccessful in her bid to capture the butterfly-emblazoned title. Melina vacated the WWE Divas Championship on January 4, 2010 after sustaining a torn anterior cruciate ligament the previous week at a live event and a tournament was conceived to determine a new champion. Fox beat Kelly Kelly in the first round of the tournament on January 11, 2010, but lost to Kim two weeks later in the semi-finals. Fox competed at The Show of Shows for the second consecutive year as she was on the winning team in the 10-Diva Tag Team match at WrestleMania XXVI. On the April 5, 2010 edition of Raw, Fox participated in a Divas Red Carpet "Dress to Impress" Battle Royal to determine the No. 1 Contender to the Divas Championship, but was defeated – Eve won.
Fox began a storyline with Zack Ryder in May 2010 after WWE's "Long Island Iced Z" requested that she and Gail Kim be ringside to watch his matches, so he could impress them in hopes of becoming his valet. While competing against Evan Bourne on the May 10, 2010 episode of Raw, Fox interfered on behalf of Ryder, but was halted by Kim. The following week on Raw, Bourne and Kim beat Ryder and Fox in a Mixed Tag Team Match. "The Foxy One" ultimately turned on Ryder in order to collect a "bounty" May 31, 2010 Raw guest host, Ashton Kutcher had laid out on "Long Island Iced Z."
For Your Information
---
Has Alicia Fox Appeared Nude?
While Alicia Fox has posed naked—she appeared topless prior to joining WWE—photos of the WWE Diva completely naked have yet to surface. Additionally, with WWE presenting a PG-rated product, don't expect Fox to ever pose for Playboy.
What Is Alicia Fox's Real Name?
Alicia Fox's real name is Victoria Elizabeth Crawford.