Batista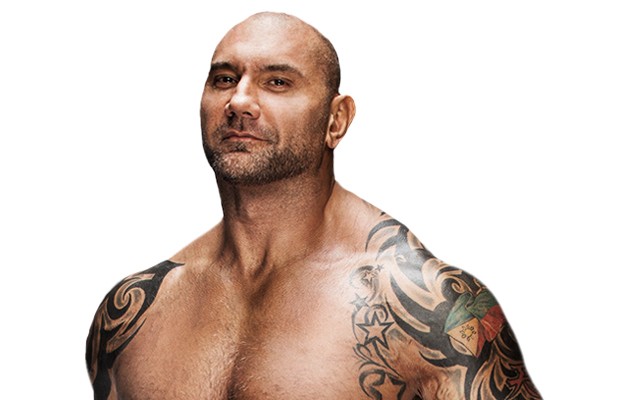 When WCW officials told him he'd never make it in the professional wrestling industry, Dave Batista pushed himself to achieve his dream of being a star. In May 2002, he made his debut on SmackDown, but it wasn't until a move to Raw and two victories over Kane that "The Animal" began to make noise in the WWE Universe. The victories impressed Triple H and Ric Flair, who were looking to align themselves with the brightest new stars in the profession. After a lengthy search, they identified Batista and Randy Orton. Collectively the four WWE Superstars became known as Evolution.
Batista earned his first championship alongside Flair when the duo captured the World Tag Team Championship in December 2003 at Armageddon. As Evolution dominated WWE, Batista began to emerge from the shadows of Triple H and Ric Flair. By the time Batista won the 2005 Royal Rumble Match, World Heavyweight Champion Triple H saw him as a serious threat to his title.
After a triceps injury at the hands of Mark Henry forced Batista to relinquish the title in January 2006, he vowed to return. Batista successfully regained the World Heavyweight Championship at Survivor Series in 2006. Four months into his second reign, Batista faced the Undertaker at WrestleMania 23. "The Animal" took Undertaker to the limit, but was unable to stop the streak of "The Deadman" at WrestleMania. Though disappointed, Batista stayed hungry and always managed to keep himself in the championship hunt for the rest of his career.
At Bragging Rights in October 2009, Batista shocked the world when he blamed Rey Mysterio for a loss to Undertaker, then attacked his former tag team partner. "The Animal" then became locked in a tense rivalry with another former friend, John Cena, over the WWE Championship. The grueling match at Over the Limit led to a wheelchair-bound Batista declaring "I quit!" the following night on Raw before fading from WWE.