5 Things You Need To Know About Brock Lesnar's Wife Sable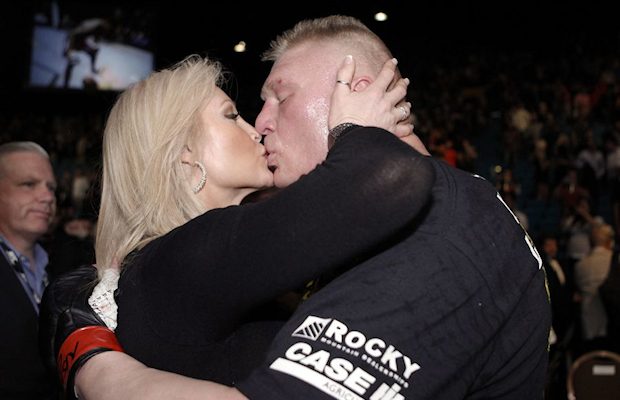 Wrestling can bring couples together and that is the case with Brock Lesnar and his wife Sable.
After a four-year hiatus, Sable returned to WWE in 2003 to feud with Torrie Wilson. At the time, Lesnar reigned supreme as WWE Champion, where the two met. They became a couple in short order and were engaged one year later. The engagement was called off in early 2005, but they became engaged again in January 2006. The couple tied the knot on May 6, 2006.
The famed couple have two sons together, Turk (born June 2009) and Duke (born July 2010). Sable also has a stepdaughter, Mya, who is the daughter of Lesnar's one-time fiancée.
Here are five things you need to know about their relationship over the years.
1. Sable's Return To WWE Sparked Their Relationship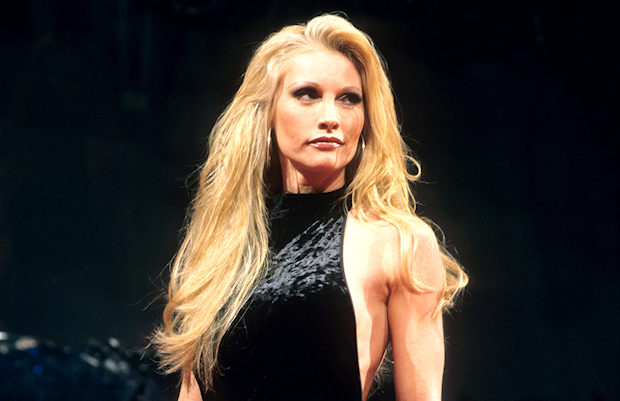 Would Sable participate in a lesbian storyline? Was she really back in the good graces of Vince McMahon? Did her then-husband Marc Mero approve of all this? Would she "accidentally" lose her top on television? Had she abandoned her religious values?
Fans were asking all of those questions when Sable unexpectedly returned to WWE on the April 3, 2003 episode of SmackDown. The answer to the final question seemed to be "yes" when she gave Torrie Wilson, who had just posed for Playboy, a quick kiss in her very first appearance and engaged in suggestive touching over the next few weeks. But Sable's bizarre flirtations hid her real agenda: to dispose of Torrie and reclaim her spot as WWE's premiere female star.
Was McMahon happy to see Sable again? Well, the WWE Chairman seemed glad to have her back while she was steaming up the cameras with their televised make out sessions. He also supported Sable as the assistant to his daughter, SmackDown General Manager Stephanie McMahon.
Was Marc Mero pleased by Sable's antics? Probably not. But, as it turned out, they had separated before Sable returned to WWE — the two officially divorced the following year. Shortly after her return, Sable began dating Brock Lesnar. Rumors that the two were an item began circulating in May 2003 as they were spotted arriving together to shows.
And her values? They remained up for debate. Of course, the buxom blonde bombshell would assert that she hadn't betrayed her values. Sable had testified against WWE in ex-talent Nicole Bass' lawsuit against the organization for sexual harassment in 2002. That followed her own $110 million lawsuit against the company in 1999, citing allegations of sexual harassment and unsafe working conditions. During the course of the lawsuit, McMahon counter-sued over control of the stage name "Sable." The lawsuit was settled out of court in August 1999 on the condition she release no details.
In 2003, it seemed as if Sable would be the one paying. However, had Sable and WWE not chosen to forgive and forget, it is highly unlikely that she would have ever hooked up with Lesnar.
2. Sable Is Over 9 Years Older Than Brock Lesnar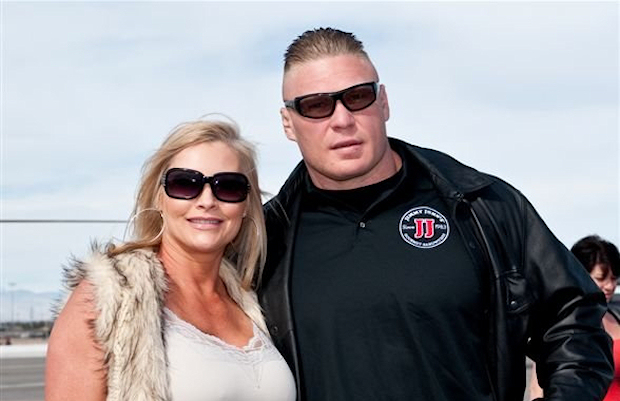 "The heart wants what the heart wants" is a cliché that couldn't be more accurate. We truly can't help with whom we fall in love. Love doesn't care if someone is older or younger, so it can only be assumed that both Brock Lesnar and Sable agree with that notion.
There is nearly a 10-year age difference between Brock Lesnar and Sable. Lesnar is currently 39-years-old (born on July 12, 1977) whereas Sable is 49 (born on August 8, 1967). Lesnar was 26-years-old and the WWE Champion when he began seeing Sable in 2003 — she was 35 at the time.
Not only is Sable over 9 years older than Lesnar, but she's also a grandmother! While the couple's oldest child is 7-years-old (Turk Lesnar, born on June 3, 2009), Sable's eldest daughter Mariah is in her 20s and has a child of her own — she gave birth in 2012.
It goes without saying that all relationships face challenges. But while studies show that people are better off dating within their age group, experts say it's more important to be with someone you mesh well with.
"When you're living the life you love, you want someone who can contribute to the relationship in a way that encourages support and growth," said Barbie Adler, the founder and president of matchmaking service Selective Search. "This stems from maturity, not age."
3. Their Relationship Is Never Mentioned By WWE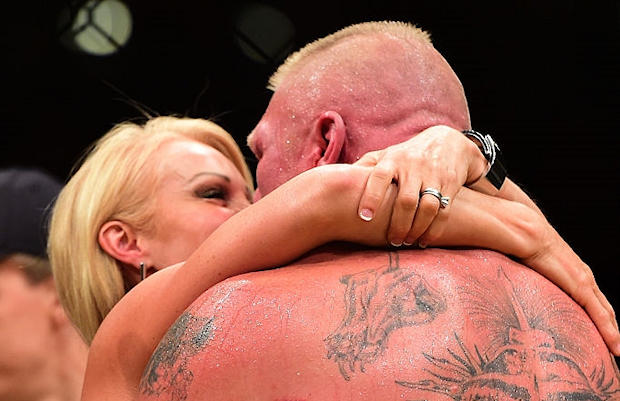 Though Brock Lesnar's marriage to Sable is well-known, WWE never mentions it.
When Lesnar competes in the UFC, it is not unusual for Sable to appear on-camera. She has been seen congratulating him in The Octagon after victories, with announcer Mike Goldberg referring to the former WWE starlet by her famous name. In WWE, however, their relationship is never mentioned.
The main reason for this is because Lesnar is a private individual. Whether wrestling for WWE or fighting in the UFC, Lesnar separates the public from his personal life as much as possible.
"It's very basic for me. When I go home, I don't buy into any of the BS. Like I said, it's pretty basic: Train, sleep, family, fight. It's my life. I like it," he said about his desire for privacy in his personal life during an interview in 2010.
"I was a star at the University of Minnesota. I went on to World Wrestling Entertainment. Wannabe NFL player. And here I am, the UFC Heavyweight Champion. I just don't put myself out there to the fans and prostitute my private life to everybody. In today's day and age, with the internet and cameras and cell phones, I just like being old school and living in the woods and living my life. I came from nothing, and at any moment, you can go back to having nothing."
Likewise, Sable has similar feelings on the subject.
"I maintain a focus on keeping my personal life private because any time you're in the public spotlight, people see your profile and think they know you as a person," she said in 2003 during an interview with the Edmonton Sun. "You have a responsibility to the fans whether you see yourself as a role model or not, but I try not to talk about my personal life. The things I do when I'm on my time off I like to leave unknown."
Under the right circumstances, Sable returning to WWE could add an intriguing layer to Lesnar's character. Just don't count on it happening. The former WWE Superstar and Playboy cover girl left the public eye when she married Lesnar and very rarely makes appearances these days. In fact, she hasn't done anything wrestling-related since parting ways with WWE in 2004.
4. Sable Quit WWE To Spend More Time With Brock Lesnar
Citing her desire to spend more time with her daughter and then-fiancé Brock Lesnar, Sable was released from her contract with WWE on August 10, 2004.
"WWE and Rena Mero, p.k.a. Sable, have parted ways. More to follow," WWE announced in a brief statement on the company website. Details regarding her departure from the organization, however, were never publicly disclosed.
Sable had been dissatisfied with her role in WWE as she had hoped to be part of compelling storylines instead of participating in meaningless swimsuit competitions. After organization officials told the SmackDown Diva that they could not adjust her schedule and had no creative plans for her in the works, she requested to be released from her contract.
"She wanted to be with Brock more, she wanted more time to be with her 16-year-old daughter (Mariah, from a previous marriage), she wasn't enjoying life on the road, and she wasn't happy with her role on TV," a source within WWE told Keller.
Prior to her release, Sable criticized WWE for its treatment of female performers and spoke out against the double standard that exists between men and women in the industry.
"The men in this business are able to have families because they have wives who stay home," Sable told the Fort Wayne Journal Gazette. "The women have to choose. There are more difficulties as a woman. There are more sacrifices we make."
She added that women who leave their families to tour with WWE are judged more harshly than men who do the same.
Her fiance's departure from WWE for pro football and a more stable home life was no doubt a major factor in Sable's decision to ask for a release. Rumors of Sable's departure began circulating as early as August 1, 2004 when Lesnar appeared on a sports talk show in Minnesota. A clip aired of Lesnar and Sable walking together at Minnesota Vikings training camp, where Lesnar was asked whether his fiancé was a pro wrestler. He replied, "Yes, she was."
After separating from her then-husband, Marc Mero, Sable returned to WWE in April 2003. It was a shocking comeback, considering that Sable had filed a $110-million dollar sexual harassment lawsuit against the company in 1999. She was said to have been back in the good graces of Vince McMahon soon after her return, however.
5. Brock Lesnar Tricked His Wife Into Digging Through Dirty Diapers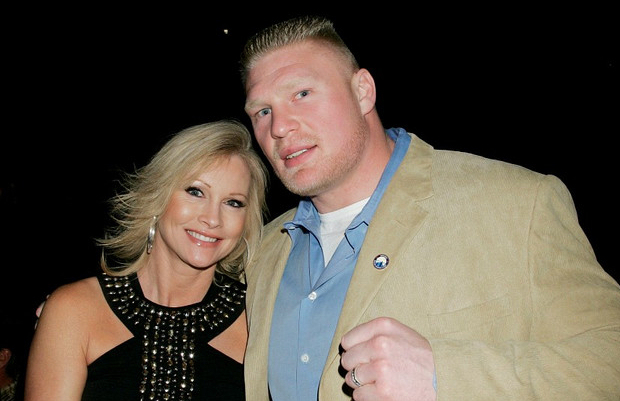 Brock Lesnar is not a romantic man in the traditional sense. "The Beast Incarnate" loves his wife Sable very much, but he has an unusual way of showing it.
After reigniting his professional wrestling career with WWE, Brock Lesnar's days in the UFC appeared to be a distant memory. Though Lesnar said he was "closing the door on MMA" in March 2015, he announced on June 6, 2016 that he would be returning to The Octagon at UFC 200 on July 9 against veteran mixed martial artist and former professional kickboxer Mark Hunt.
Though under contract to WWE, Lesnar was "granted a one-off opportunity" to compete at UFC 200, according to a statement from the organization. Representing Canada, Lesnar made a successful return to mixed martial arts, defeating Hunt by unanimous decision. Despite an extended absence from the sport, Lesnar showed no signs of rust as he pressured Hunt with multiple takedowns, dominating strength and destructive punches.
While promoting the bout on the ESPN sports talk show Highly Questionable, Lesnar was asked, "What's the most romantic thing you have ever done for your wife?"
Lesnar recalled taking his wife on a tropical vacation when their son turned one (Turk, who was born on June 3, 2009) and asked her to leave her wedding ring at home so that it wouldn't get stolen. When they returned home, per Lesnar's request, the people who were watching their son claimed to her that he swallowed it. They even had a fake X-ray as evidence.
"I don't know if this is romantic or not, but it is funny," Lesnar said. "So when my son turned one-years-old, I took my wife on a tropical vacation. And the people that were watching my son; I told my wife, "We're going away, leave your wedding band at home because I don't want it to get stolen. So while we're gone, I had the people that were watching my kids take her wedding band and say that my son swallowed it. In the meantime, they found a picture of a wedding ring inside a kid's stomach on X-ray from the internet."
He continued, "When we got home, the story was all laid out. It was our five-year wedding anniversary and I wanted to get my wife a new wedding band. And my poor wife took it upon herself — I shouldn't be telling this story — to search for the wedding ring in dirty diapers. It's so not romantic, but it's funny, isn't it? For two days, my wife searched high and low for her wedding ring. And then we had our wedding vows renewed, two days later, and I issued her a new wedding band for our five-year wedding anniversary. Now that's romantic!"
Sable Celebrates With Brock Lesnar After Big Win At UFC 200 ▸
Sable very rarely makes public appearances these days, but after Brock Lesnar's victory at UFC 200 on Saturday night, she celebrated inside of The Octagon with her husband. The former . . .
Latest Brock Lesnar News, Photos & Videos ▸
Brock Lesnar on PWPIX.net, your go-to source for the latest news, rumors, photos and videos on the amateur wrestler turned UFC Heavyweight Champion and four-time WWE Champion . . .
Photos Of Brock Lesnar and Sable Together | Check Out More Photos Of Sable