Brock Lesnar Backstage News, Photos & Videos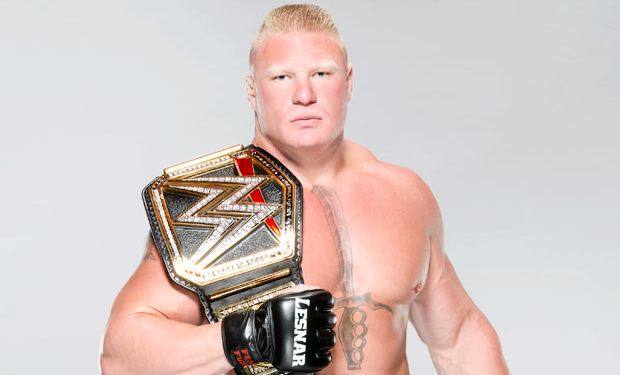 When Brock Lesnar entered WWE, he brought with him a championship amateur career and an overwhelming physique. The impressive combination caused many to believe they were looking for "The Next Big Thing." Over the course of his WWE career, Lesnar proved those predictions to be correct. (Brock Lesnar With Wife Sable »)
Under the tutelage of Paul Heyman, Lesnar made an immediate impact upon his 2002 debut. A mere three months into his career, he defeated Rob Van Dam to win the prestigious King of the Ring tournament. Two months after that, he beat The Rock for the WWE Championship. In short, Lesnar accomplished more in half a year than most Superstars do during an entire career.
Over the next two years, Lesnar continues to shine, especially against Undertaker. At No Mercy in 2002, he defeated the "Deadman" inside the demonic Hell in a Cell. At the following year's event, Lesnar beat Undertaker in a Biker Chain Match. He even last eliminated the "Deadman" to win the 2003 Royal Rumble. With his victory in the Rumble, Lesnar earned the opportunity to challenge Kurt Angle for the WWE Championship at WrestleMania XIX.
With visions of making it big in the NFL, Lesnar left WWE in 2004. While fans never saw him on the gridiron, he soon announced he was starting a career in mixed martial arts. Before illness derailed his career, fans were treated to a taste of his past in October 2010, when Brock engaged in a chilling staredown with the Undertaker after a bout.
On April 2, 2012, Brock made a shocking return the night after WrestleMania XXVIII and attacked John Cena.

Return To WWE
---
Following an eight-year hiatus, Brock Lesnar made a shocking return to WWE the day after WrestleMania XXVIII and obliterated John Cena with the F-5. On the following week's episode of Raw SuperShow, Executive Vice President of Talent Relations and brand General Manager John Laurinaitis proclaimed Lesnar as the new face of WWE and announced that he would face Cena at Extreme Rules on April 29, 2012. Facing off in an Extreme Rules Match at the sold-out Allstate Arena in Rosemont, Illinois, the former UFC Heavyweight Champion dominated the contest until Cena struck Lesnar in the face with a steel chain wrapped around his fist. The Cenation Commander-in-Chief then hoists his bloodied opponent up for the Attitude Adjustment, slamming Lesnar on the steel steps to win the match.
The following night on Raw Supershow, WWE Chief Operating Officer Triple H decreed that Lesnar's deal with Laurinaitis the previous week will not be upheld—contract demands he "bullied" out of Laurinaitis—as it had not been approved by himself. According to Triple H, if Lesnar wanted to continue to compete in WWE, he would have to do so under the original terms of his contract—not under the terms he negotiated with the General Manager. This caused the always unpredictable Lesnar to fly into a rage and break the WWE Chief Operating Officer's arm with a devastating Kimura Lock. While members of the WWE Universe awaited Lesnar's legal representation, they got someone else instead the following week on Raw SuperShow: Paul Heyman, the father of ECW and Lesnar's former manager in WWE. The wrestling innovator said Lesnar asked him to personally appear and read a statement. In the written address, Lesnar took shots at Triple H, saying the WWE Chief Operating Officer is jealous of him, and expressed anger at how he has been treated in the sports-entertainment organization. The statement concluded with a stunning revelation: Brock has quit WWE and he's "never coming back." Heyman later announced that Lesnar was filing a lawsuit against WWE for breach of contract.

For Your Information
---
Who Is Brock Lesnar's Wife?: The world of sports-entertainment can bring man and woman together and that is the case with Brock Lesnar and Sable.

In 2003, Sable made a shocking return to WWE, where she was featured in another Playboy spread—this time with Torrie Wilson. During this time, Lesnar stood atop the blue brand as WWE Champion, and the two met. They became a couple in short order and were engaged in 2004. The two went their separate ways in early 2005, but reconciled later that year and tied the knot on May 6, 2006.

The famous couple have two sons together, Turk, who was born in June 2009, and Duke, who was born July 2010. Lesnar is the stepfather of Mero's daughter with her late husband Wayne Richardson, Mariah. (Brock Lesnar With Wife Sable »)

Brock Lesnar Re-signs With WWE
---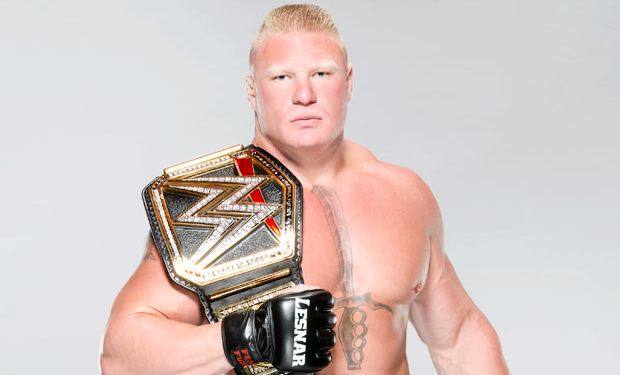 With WrestleMania 31 less than a week away, various WWE Superstars and Divas have been making a variety of media appearances, as the spotlight is on WWE. WWE World Heavyweight Champion Brock Lesnar, who will main event WrestleMania against Roman Reigns, even did media rounds for WWE.
On Tuesday, March 24, at 6:45 p.m. EST, "The Beast Incarnate" joined Michelle Beadle on ESPN's SportsCenter for an exclusive interview. The live interview was aired from ESPN's studios in Los Angeles, the city WWE and Lesnar were in for the previous day's showing of Raw.
Within the interview, Brock Lesnar made a major announcement regarding his future. Right off the bat, Lesnar revealed that he will not be returning to UFC or mixed martial arts, despite a desire to return to "The Octagon." Instead, Lesnar announced that he will be sticking around with WWE. Lesnar noted that he re-signed with the company on March 23, prior to Raw going on the air.
In regards to his career in UFC, Lesnar did note that he had unfinished business, as he went out on a losing streak due to a case of diverticulitis. However, Lesnar made it known that his career as a fighter is finished.
Triple H, WWE's Executive Vice President, Talent, Live Events & Creative, took to Twitter to comment on the subject, noting Lesnar signed a "multi-year" deal:
.@BrockLesnar is a global attraction. Happy to have him re-sign a multi-year contract with @WWE. @espn @MichelleDBeadle

— Triple H (@TripleH) March 24, 2015