CM Punk and AJ Lee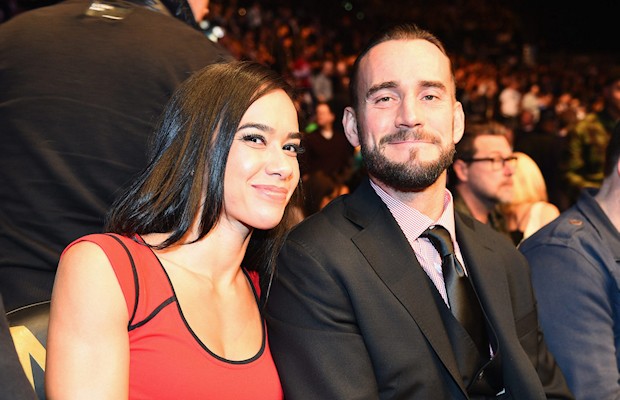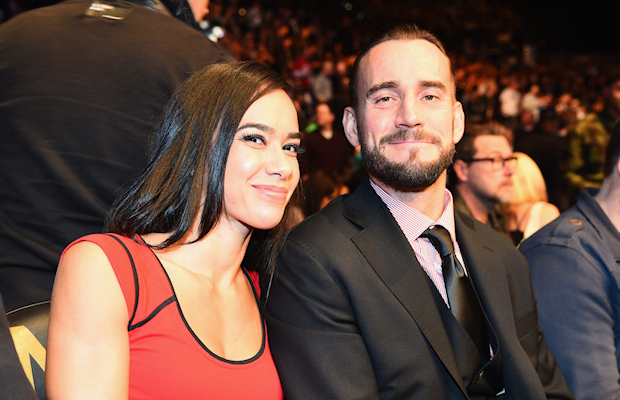 As we all know by now, in June 2014, former WWE Superstars CM Punk and AJ Lee tied the knot in a ceremony that was about as private as can be. Well for the first time, a picture has surfaced from the day of the affair, and you can see it here.
CM Punk and AJ Lee Photo | Latest CM Punk News | Latest AJ Lee News
Punk, however, isn't happy about it.
Shortly after the photo hit social media, the former WWE Superstar angrily went on his Twitter account to let fans know that he would block anyone who re-tweeted a certain picture (the tweet was quickly deleted).
"Tweet that pic and I block you. Simple. And I block you because I can't punch you in your disrespectful fucking face. Pigs," wrote Punk.
The couple got married on June 13, 2014, according to a claim that originated that day on Reddit.com and was described by PWInsider.com as a small, private affair.
Rumors of their nuptials originated on social media three days prior when a Twitter user going by the name Courtney Santos said she had processed Punk and Lee's marriage license. Reddit user MetsFan4Ever, a verified WWE insider who has leaked multiple WWE scripts and broke news of JTG's release from the company, broke news of the marriage.
"CM Punk who was engaged to AJ Lee were officially married this afternoon," he wrote. "Punk and AJ loved the idea of having their wedding on Friday the 13th."
The newly weds spent their honeymoon in Hawaii and were photographed jogging together by paparazzi on June 23, 2014.
The couple currently resides in Punk's hometown of Chicago, Illinois.
Do CM Punk and Lita Have Heat Due To AJ Lee?
---
It is one of the most surreal moments in the history of a wrestler meeting somebody they were a fan of considering the personal lives of WWE Hall of Famer Amy "Lita" Dumas and former WWE Diva AJ Lee. The fact that there is footage of their encounter (courtesy of WWE) makes it all the more surreal.
In the summer of 2001, Lita was riding high in what was then called the World Wrestling Federation while AJ, who was 13-years-old at the time, was in tears as she met her hero in person. She got Lita to sign her copy of the sports-entertainment organization's recently-released bio cassette tape on her, Lita – It Just Feels Right, and even received a hug during the encounter. A cameraman then focused on AJ, who was sporting a Lita t-shirt, and had tears of joy on her face. My how times have changed, huh?
As members of the WWE Universe know by now, AJ married CM Punk in June 2014. What's noteworthy about that is that The Straight Edge Superstar had previously dated Lita. In fact, Lita was Punk's girlfriend from 2012 to 2013 and even his date to the 2013 WWE Hall of Fame Induction Ceremony. They split up a few months after the event, Punk began dating AJ, and now they're husband and wife.
All three grappling superstars are private people, so none of them have publicly said anything concerning this odd triangle. A former backstage worker for WWE, however, shed some light on it.
News of AJ's marriage to Punk was immediately broken on Reddit.com by this former backstage worker, MetsFan4Ever, a verified WWE insider who has produced evidence of his past ties to the Stamford, Connecticut-based wrestling organization. After breaking news of their wedding, he revealed that Punk courted AJ while he was dating Lita.
"Lita would be off somewhere else in the building and Punk would be talking to AJ," MetsFan4Ever said, while also noting that Lita attended most WWE events when she was in a relationship with Punk. "I thought it was kind of odd at the time."
MetsFan4Ever continued, "I think a lot went on when Lita would be sitting by herself and he was chatting with AJ. A lot went down at the arena."
On April 5, 2014, Lita took her rightful place in the WWE Hall of Fame (alongside fellow inductees Ultimate Warrior, Razor Ramon, Jake "The Snake" Roberts, Carlos Colon and Mr. T). However, the WWE insider says that Lita's enshrinement would not have happened had Punk not bolted from WWE weeks earlier.
"If Punk was there it would not have happened. That's all I know. Their breakup and dating AJ would not have sat well with all 3 parties. It would have been even more uncomfortable for Lita," MetsFan4Ever said – WWE's official announcement was made exactly two weeks after Punk informed Vince McMahon he was "going home."
This romance triangle has also been a source of comedy within the sports-entertainment organization.
In November 2013, a crass cartoon drawing based on the infamous footage of a young AJ breaking down while meeting Lita surfaced online. Noting AJ's desire to be like her Diva hero when she grows up, the cartoon pokes fun at her romantic relationship with Lita's ex-boyfriend.
Widely attainable on social media, the cartoon of AJ in bed with Punk, according to F4WOnline.com, became a big hit in the WWE locker room.
AJ Lee Was Almost Fired By WWE
---
In light of news of Alberto Del Rio being released by WWE on Thursday "due to unprofessional conduct and an altercation with an employee," it has been disclosed that Divas Champion AJ Lee was almost fired last year for similar behavior.
During filming of WWE's Tribute to the Troops event on December 11, 2013 at Joint Base Lewis-McChord in Pierce County, Washington., Lee's relationship with CM Punk became a story when the WWE Diva confronted NBC Sports personality Michelle Beadle after Beadle had spoken to him. Beadle and Punk had been acquainted long before Lee's relationship with Punk began.
As Beadle wrote on Twitter on December 15, 2013, "I've known CM Punk for years. Considered him a friend. When I saw him at the arena, I said 'hey f&$?face'. The exact same way I talk to everyone. His girlfriend was no where near this. And I kept walking along with my assistant and two members of WWE PR. Next thing I know, I'm being yelled at."
The person yelling at Beadle was Lee. The NBC presenter continued, "I honestly thought it was a joke. Period. The event went on and it was amazing. So I hope we can move on from this ridiculously lame 'story.' As for the crazies, BLOCKED! And Happy freaking Holidays!!!"
Shortly after WWE announced that Del Rio was let go "due to unprofessional conduct and an altercation with an employee," Ring of Honor founder and RF Video owner Rob Feinstein claimed that Del Rio slapped a member of WWE's social media team at a television taping this week. This claim was backed up by both F4WOnline.com and PWInsider.com. Then, as members of the F4WOnline.com message board were discussing Del Rio's termination and speculating which WWE employee was on the receiving end of his slap, Wrestling Observer editor Dave Meltzer remarked "Cody Barbierri."
On LinkedIn and Twitter, Barbierri identifies himself as WWE's manager of social media live events. Though not identified by name, F4WOnline.com's updated story on Del Rio's termination says the altercation involved the company's social media manager. According to the website, WWE's social media manager was supposedly asked to wipe his plate clean following a meal in catering. He allegedly joked that it was Del Rio's job to clean the plate, which could be perceived as racist by Hispanic people. Del Rio was informed of the comment, and confronted him. The individual did not apologize for his remark and then smiled at him. Fuming, Del Rio slapped him.
Meltzer addressed the matter again on the F4WOnline.com message board in response to a user comparing it to Lee's outburst at Beadle. He revealed that WWE officials had decided to terminate her contract over her unprofessional conduct, but were overruled by Vince McMahon.
"A.J. wasn't safe at all," Meltzer wrote. "There was a reason she wasn't fired and it had nothing to do with Punk being her boyfriend nor how good a performer she was, although her star power did play into it."
He continued, "The decision was made to fire her but Vince overruled it because he saw the big picture. It's very complicated, but in that issue, Vince was savvy way beyond those underneath him and saw what would happen long-term and made the big picture smart call. If that happened now, the situation would be the same and she wouldn't be fired for the same reason. Her being fired for that specific incident would have caused a chain of events to happen next that Vince thought would do the company more harm than good. There is no guarantee he was right in how he thought it would play out but it was far more foresight than is usually exhibited in these situations."
One month later, in his final interview before leaving WWE, Punk offered his take on the situation to MMA reporter Ariel Helwani: "A bunch of horseshit. I don't know what a lie was. I thought me and Beadle were pals. She had this group of women and they walked past me and she said some disrespectful shit and I was just like 'whoa'. My girlfriend pulled her aside in front of this same group of people and was like, and she introduced herself, and she was like 'Don't be disrespectful to my boyfriend' and Beadle just went 'okay', and walked away and that was it. … She walked by and said 'what's up fuck-face' and high-fived one of the girls."
In May, Beadle appeared as a guest on The Ross Report podcast with WWE Hall of Famer Jim Ross and she went into great detail on what happened that night, the fallout, and how she feels about it: "Usually when things like this happen I try to ignore them. I just think, 'okay, crap happens, the world will never know, blah, blah, blah'. But then, you know, I went to Tribute to the Troops and was honored to be asked to be a part of it by WWE and got to do a thing in the ring with John Cena and a couple things there. The back story… the thing about it is is social media is so whacked. All that stuff came out and it was 'oh, you were flirting'. Look: First of all, when I'm flirting people will know I'm flirting. I've also known Phil for a few years at this point and I had, at that time, considered him a friend. We texted on a regular basis, we've had dinner numerous times; it's just one of those things where he's not my friend, whatever. It was what it was. I thought it was a friendship, I guess I was wrong.
"But I show up at Tribute to the Troops, I see him in the hallway, I say 'what up, f-face', which is my very loving way of referring to my friends. Like, I don't call my friends… I just… I'm an idiot. I call them all kinds of names, that's how you know I like you. He was alone in a hallway, he didn't really say anything. I was with P.R. from WWE and my assistant and we walked by. The next thing I know, she's in my face yelling at me and I honestly, I swear to you, thought it was a joke. I thought I was being set up for like a 'ha ha ha'. And I looked up at him and he wouldn't look at me and he kept his back to us and she kept going and I just was blown away. So that was kind of it. I thought, 'all right, no big deal'. WWE was apologetic to me on site and I just said 'it's not your problem, people are who they are' and that was it. I thought it had died but when I got home like that following week it hit all the blogs and all the wrestling peeps had all this information and that's when I finally… I issued like a three part tweet just to say my side of the story because it was getting really old (hearing) that I was trying to take someone's man or whatever high school crap people want to say.
"So, that's all. And, you know, Phil and I stopped being friends that day and I wish him the best of luck and that's it. It's a bummer because I always respected him. I thought he was one of those cool guys that kind of didn't fall into a certain role and kind of did what he wanted but to watch all that happen and to have somebody tattle on me and have their girlfriend get in my face is a little pathetic. But it's okay, I've moved on."
AJ Lee's Former Boyfriend Takes Shot At Her Marriage To CM Punk
---
An ex-boyfriend of AJ Lee knocked her marriage to CM Punk during Ring of Honor's 13th Anniversary show on March 1, 2015 at the Orleans Hotel & Casino in Las Vegas, Nevada.
Dedicated fans of Lee would know that she dated Jay Lethal, her first wrestling trainer, prior to breaking out in WWE. Prior to defending the ROH World Television Championship in a match against former WWE Superstar Alberto Del Rio, the New Jersey native took a shot at her relationship with the longest-reigning WWE Champion of the "modern era."
The former TNA star claimed he would not take hand-me-downs from Samoa Joe, Danielson (Daniel Bryan), or CM Punk, but that Punk would take his hand-me-downs.
Up until then, Lethal had not been publicly negative toward Lee. Rather, he said he was happy for her great success in WWE.
"In the class, she had the most dedication out of everyone. She was the smallest person, and also there were no other girls in the class, so she had no choice but to train with the other guys. When it comes down to it, I'm very happy for her success, and I'm glad that her storyline has taken off so well," Lethal said in an interview in 2013.
WWE Talent Not Allowed To Mention AJ Lee's Name?
---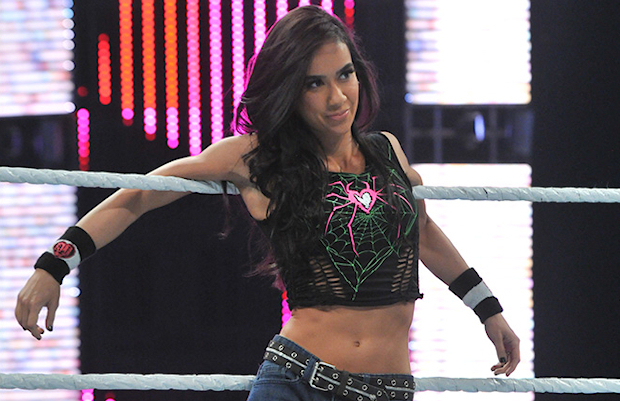 January 4, 2016 – On Twitter last week, Kevin Owens joked that he was going to replace Big E in New Day. Big E responded by saying he can't return to Dolph Ziggler and "the woman whose name it not to be uttered."
YES!!!!! I HAVE OFFICIALLY REPLACED @WWEBigE AS NEW DAY'S RESIDENT GYRATING HOSS!!! https://t.co/ZHsY1wTTVT

— Kevin Owens (@FightOwensFight) December 28, 2015
What the hell am I supposed to do now!?! Can't go back to @HEELZiggler & the woman who's name is not to be uttered. https://t.co/5CUoCVSJ8I

— ShinigamE (@WWEBigE) December 28, 2015
Big E is of course referring to AJ Lee. While he made a joke about not mentioning the name of his former colleague, it's highly possible that some people in WWE don't want her referenced by talent on television or social media. However, this isn't necessarily due to bad blood.
Past history has shown that whenever a Superstar or Diva parts ways with WWE, references to that individual are usually kept to a minimum for a few years (unless he or she is on good terms with WWE). Since WWE can no longer make money off that person and don't want them overshadowing its current talent, there's no point in bringing them up.