CM Punk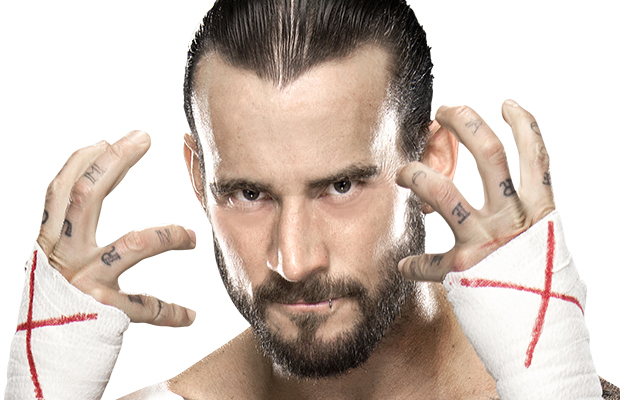 Since debuting in the summer of 2006, CM Punk has formed a cult-like following never before seen in WWE. And along the way, whether he's admired or abhorred, there has always been one constant surrounding the Second City Savior: Controversy. Continue Reading ▸ | Photo Gallery ▸
CM Punk Photos
---
SEE PHOTOS OF CM PUNK BUYING AN IPHONE
PHOTO FROM CM PUNK AND AJ LEE'S WEDDING LEAKS ONLINE
OVER 20 PHOTOS OF CM PUNK HANGING OUT WITH GIRLFRIEND AJ LEE
CHECK OUT PHOTOS OF CM PUNK'S $2 MILLION HOME
CHECK OUT THESE PHOTOS OF CM PUNK IN TNA WRESTLING
SEE PHOTO OF CM PUNK AND MICHELLE BEADLE TOGETHER
CM PUNK APPEARS AT WWE SHOW WITH THE URN – PHOTOS
PHOTOS OF CM PUNK AND LITA TOGETHER
PHOTO OF ANGELINA LOVE WITH CM PUNK
PHOTOS OF CM PUNK WITH FORMER WWE DIVA MARIA KANELLIS
PHOTOS OF CM PUNK WITH BETH PHOENIX
Photos of CM Punk with his beard shaved off
Going Strong With CM Punk
---
Punk's controversial demeanor turned scandalous in the summer of 2011 when the Superstar threatened to leave the company with the WWE Championship following his title opportunity against John Cena at Money in the Bank. Prior to the match, Punk let a few verbal "pipe bombs" explode in the direction of WWE management, particularly Mr. McMahon. According to Punk's now-famous tirade, McMahon only makes money in spite of himself and surrounds himself with glad-handing, nonsensical yes-men like John Laurinaitis. Punk also took shots at McMahon's family, referring to Stephanie McMahon and Triple H as his "idiotic daughter and doofus son-in-law" respectively. This bold move did not earn him Employee of the Month status but certainly raised his profile to astonishing new heights.
As promised, Punk won the WWE Championship at Money in the Bank and immediately left the company, marking one of the most uncertain periods in WWE history. Punk later re-signed with WWE, stating he wanted to be a beacon of change within the sports-entertainment industry. And he equally yearned for the return of WWE ice cream bars.
Prior to the controversial summer of 2011, Punk used his power of persuasion and superior intellect to become one of the most in. uential leaders of his time. First as the prophetic head of the Straight Edge Society and later as the leader of the New Nexus, Punk had Superstars and fans alike . ocking to him, hanging on his every word.
Punk has also proven to be equally successful in the ring. In addition to being a multiple-time WWE Champion, the Voice of the Voiceless has also captured two Money in the Bank briefcases. Both times, he used his guaranteed title opportunity to claim the World Heavyweight Championship, first from Edge in June 2008 and later from Jeff Hardy in June 2009. Punk is also a former ECW, Intercontinental and World Tag Team Champion.
Total Nonstop Action Wrestling
---
When fans think of CM Punk's career in the professional wrestling career, they think WWE or Ring of Honor (ROH). Few fans recall "The Straight Edge Superstar"'s stop in Total Nonstop Action (TNA) Wrestling when its shows were exclusively presented on pay-per-view. Punk made a few appearances for the Nashville, Tennessee-based promotion in 2003 and 2004, which was then known as NWA: TNA (National Wrestling Alliance: Total Nonstop Action).
In late 2003, journeyman wrestler Raven forged a new version of The Flock—a stable of misfits he led in World Championship Wrestling (WCW)—which he dubbed The Gathering. This original members of this faction were Julio Dinero and Alexis Laree, with Punk joining the group shortly after its inception. To put the group's focus on Raven, Punk and Dinero portrayed 'adoring fanboys' of the journeyman wrestler. Punk was popular in TNA as a stablemate of Raven, but his fortunes changed after he and Dinero turned on their leader and joined a faction led by James Mitchell.
Shortly before a TNA pay-per-view event on February 25, 2004, Punk engaged in a brawl with Teddy Hart outside of a restaurant in Nashville that was broken up by Sabu. The fight was rumored to have stemmed from an ROH event where Hart performed three unplanned spots that put his fellow wrestlers in danger of injury. Shortly thereafter, Punk and Dinero stopped appearing for TNA, which led to speculation that he was fired due to the fight. The common perception was that Punk was being disciplined for his altercation with Hart, but he later revealed in an interview that he left TNA because organization officials felt he failed to connect with fans as a villain, having turned against the popular Raven to join forces with Mitchell. TNA decision-makers put the storyline on hold indefinitely, and thus had no work for Punk. Punk quit the promotion in March 2004 during the Rob Feinstein controversy, after butting heads with management over his ability to appear for ROH following a decree that contracted TNA talent no longer compete for the rival organization.
CM Punk Rants On Former Diva In "WWE 50"
---
Over the years, many WWE story arcs and events have been dropped or altered due to injuries, disputes with and between the wrestlers, executive meddling and various other reasons. WWE's recently released WWE 50 hardcover book chronicling the sports-entertainment organization's history reveals another angle that almost came to fruition – a wedding between CM Punk and Serena.
Fans may recall the Punk-led Straight Edge Society, a villainous alliance in WWE that appeared on SmackDown in 2010. The concept behind the group was based around the straight edge lifestyle, which promotes and abides to discipline – primarily no smoking, drinking, or drugs. The group acted as a militant organization, denouncing all people who don't live the straight edge lifestyle, even those who also abstain from substance abuse. New members were required to shave their heads, which signified a "new beginning." When SmackDown moved to its current home on Syfy in October 2010, the debut episode was supposed to have featured a wedding with Punk and Serena. However, before the angle could take place, Serena was released from her contract for not "living out" the Straight Edge Society gimmick in public. Punk, a real-life straight edge follower, condemns Serena's off-camera behavior in the book.
"The debut of SmackDown on Syfy was supposed to be a huge wedding, me and Serena. God knows Vince loves weddings, back to Uncle Elmer," recalls Punk. "But she tanked the whole thing: I can't say it enough. I don't want to sit here and boo boo face and bash Serena, but what she did can't be undone. I've gotten apologies and all that, but you can't believe somebody who'd lie to your face. I'd ask her if she'd been drinking. She'd say 'no.'
"'Okay, I'm not your dad. I'm not your counselor. I can't control you. But you told me you were going to do one thing, and you did the opposite,' I said. It lead to her getting fired. Wake up! But I wish her the best."
In the time since her release, Serena struggled with a serious concussion suffered in late 2011 that put her out of action. Fortunately, she has since recovered and is regularly competing again on the independent circuit.