Daniel Bryan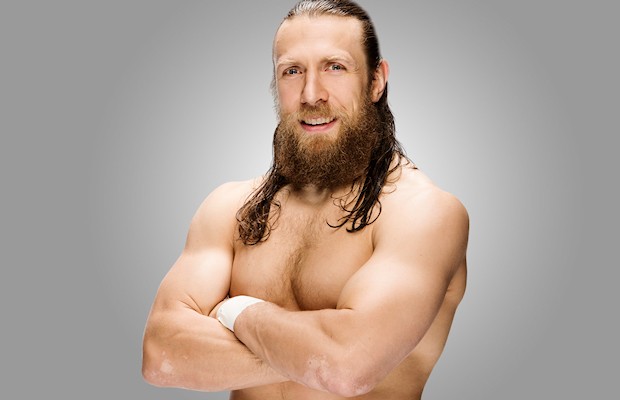 After witnessing Daniel Bryan's sound offensive style in the in ring, it should come as no surprise that he was trained by two all-time greats: Shawn Michaels and William Regal.
How Tall Is Daniel Bryan? | Daniel Bryan Arrives To WWE
Armed with invaluable education, Bryan took his game to multiple continents, including Asia and Australia, before finally debuting for WWE in 2010. As a Rookie in the first-ever NXT, he was able to show a worldwide audience what Internet fans have been raving about for years.
Following NXT, Bryan was elevated to WWE's main stage as a member of Nexus. But before the renegade faction could catch steam, Bryan was gone from the group, as well as WWE, for several months. When he returned, Bryan was determined to make a name for himself as a singles star, and that's exactly what he did.
Upon returning, Bryan quickly captured the United States Championship from his former NXT, The Miz. He later solidified his status as a singles star when he used his Money in the Bank briefcase to defeat Big Show for the World Heavyweight Championship. His time as champion came to a painfully quick conclusion at WrestleMania XXVIII where Sheamus took advantage of Bryan's uncharacteristic loss of focus and took the title after a record-breaking Championship match which lasted only 18 seconds.
For Your Information
---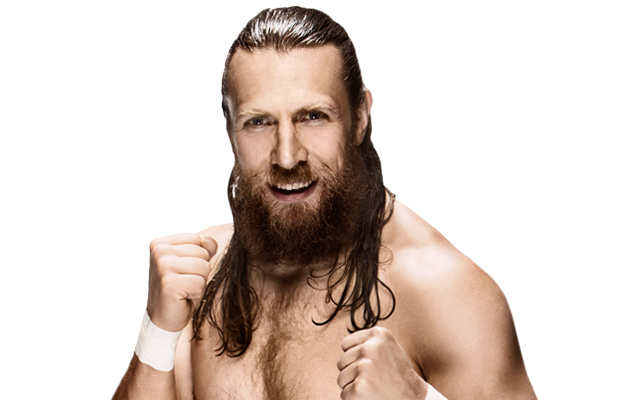 How Tall Is Daniel Bryan? – In a business so famous for twisting the truth and exaggerating reality, it can difficult for fans to determine the true size of a professional wrestler. That is the case with Daniel Bryan, who despite being billed at 5'10" by WWE, is often towered by Stephanie McMahon in their face-to-face confrontations.
The former WWE World Heavyweight Champion revealed in an August 2013 interview with DirecTV that he is actually 5'8″.
"I always wanted to be a wrestler, but I didn't think I could be because I'm relatively small," Bryan said in regards to his start in the professional wrestling industry. "I'm 5'8″ and weigh 195 pounds. When I started I was a lot smaller. But when I was probably 15 or 16 years old, WCW started bringing in these cruiserweights like Rey Mysterio who was 5'3″ and 150 pounds. That gave me no reason not to at least try and follow my dream."
Daniel Bryan Arrives To WWE
---
After competing all over the globe in cramped high school gyms and armories out of love for the professional wrestling industry, Bryan Danielson agreed in principle to a contract with World Wrestling Entertainment (WWE) in August 2009. He made his first WWE appearance while under contract to the organization on January 4, 2010 in Dayton, Ohio, in a dark match prior to Raw. He beat Chavo Guerrero in a singles match. After feeling "rusty" in the bout, Danielson requested that he train at Florida Championship Wrestling, WWE's developmental branch at the time, to accustom himself to the organization's style of wrestling. Competing under his real name, the former ROH World Champion made his Florida Championship Wrestling debut on January 14, 2010—he lost to Kaval. On February 11, 2010, Danielson was introduced as Daniel Bryan. Luckily for Danielson, he was not branded Buddy Peacock or Lloyd Bonaire—Lloyd is his middle name. He was given a list of ten ring names to choose from, and those names, as well as Daniel Bryan, were among his options. With that being said, was there any discussion of the Aberdeen, Washington native competing under his real name.
"WWE never gave me this option. They gave me a list of ten names and it's William Regal who came up with [Daniel Bryan]," Danielson explained to SLAM! Wrestling in a March 2012 interview.
On February 23, 2010, WWE launched NXT on Syfy, a seasonal program which was presented as a hybrid between reality television and the sports-entertainment organization's scripted live events. Select talent contracted to WWE's developmental branch, Florida Championship Wrestling, participated in a competition to become the company's next "breakout star" with assistance from the Superstars of Raw and SmackDown. With The Miz portraying his mentor, Bryan competed on the show's inaugural episode against WWE World Heavyweight Championship Chris Jericho. After losing the contest, Bryan was attacked by The Miz for disrespecting him earlier in the episode. As the weeks ensued, Bryan failed to win a single contest, but despite a possessing win-loss record of 0–5, he was ranked first in the inaugural WWE Pros' Poll on the March 30, 2010 episode of WWE NXT. After losing five additional matches on WWE NXT, Bryan scored his first victory in WWE on the May 10, 2010 episode of Raw in a 4-on-8 Raw Superstars vs. NXT Rookies Tag Match, pinning Santino Marella. The following evening on WWE NXT, Bryan was eliminated from the show, as was Michael Tarver. According to host Matt Striker, the reason given for their respective eliminations is because "WWE Management" felt neither wrestler had confidence in themselves to win the competition. Despite being eliminated from the contest, Bryan appeared on subsequent episodes of WWE NXT. He was interviewed by Matt Striker on May 18, 2010 and attacked both The Miz and play-by-by commentator Michael Cole.
On the May 31, 2010 episode of Raw, Bryan was granted a match against The Miz by actor and producer Ashton Kutcher, who was appearing as the guest host. Bryan defeated his former mentor and shoved him into Cole after the contest. On June 11, 2010, WWE announced that it had come to terms on the release of Bryan. On the previous episode of Raw, Wade Barrett led Bryan and the other Rookies of the first season of WWE NXT in an attack on John Cena, CM Punk, Luke Gallows, Jerry "The King" Lawler, Matt Striker, Justin Roberts and other WWE personnel stationed around the ring. WWE officials, however, felt appeared too violent in the segment by spitting in Cena's face and choking Roberts with the ring announcer's own necktie, which led to his termination.
During the assault, Bryan strangled Roberts with the ring announcer's necktie and also spat on Cena's face, which WWE officials felt was too violent for their brand of TV-PG programming.
"WWE is very serious about adhering to their PG guidelines, and apparently my actions during the NXT attack on John Cena, namely choking announcer Justin Roberts with his tie and spitting in Cena's face, crossed the boundaries of what is considered 'PG,'" Bryan stated in an online post on June 30, 2010. "Perhaps the choking was too violent or perhaps the spit was too demeaning. I apologized for both immediately following the incident; but I would be a hypocrite if I apologized for putting everything I have into the attack. I would much rather have gone too far than to come up too short."
Bryan reiterated his explanation during an interview with SLAM! Wrestling in August 2013.
"One of the reasons that I got fired in 2010 was for spitting in John's face; it was two things that got me fired—it was choking Justin Roberts with a tie and spitting in Cena's face right before I kicked him in the head," Bryan said. "It was those two things."
Days after Bryan's termination from WWE, Cena addressed the subject during an interview with Busted Open.
"It stands where it is," said Cena. "I believe Bryan was given his release, and this is just my belief, it's complete speculation so basically you're going off my secondhand knowledge, it's something to do with violating our PG content agreement which is very serious… It was tough for us to get that [TV-PG] logo in the beginning. For us to violate that content agreement, we get in trouble with our TV providers, we get in trouble with our sponsors, it pretty much is not good business. I think that is the reason upon the Bryan Danielson release but on the same token, for a young man such as him to make an impact on the WWE Universe in that short a time, it says something about who he is as a person and where he belongs amongst our group."
Bryan revealed to The Baltimore Sun in an April 2012 interview that WWE apologized to him for his release with the explanation that they "had sponsors they had to deal with." To explain his departure from The Nexus, Barrett stated on the June 14, 2010 episode of Raw that Bryan was kicked out of the group for feeling remorse for his actions.
Daniel Bryan News Archive
---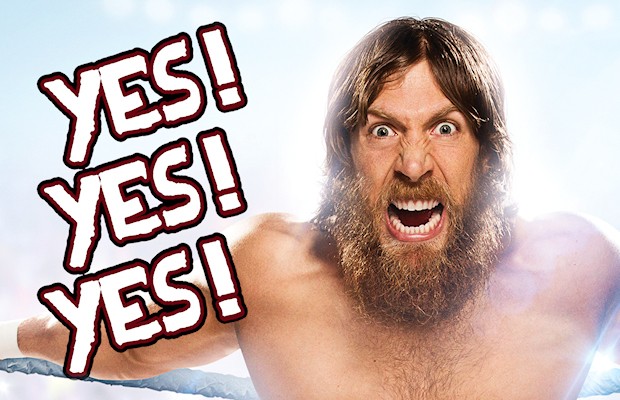 Daniel Bryan Talks About Getting Into A Heated Argument With Triple H
July 27, 2015 – In a recent interview to promote his new book, former WWE World Heavyweight Champion Daniel Bryan talked about having a heated argument with Triple H in 2013. Bryan had suffered a "stinger" during a match with Randy Orton at a time when Bryan's popularity was soaring, heading into SummerSlam 2013.
In the middle of the match, which took place on the June 17, 2013 episode of Raw, Bryan suffered the "stinger," leaving his arms useless. Knowing how big the win was going to look on television, as the match was happening live on "Monday Night Raw" in the height of the original "Yes Movement," Bryan kept wanting to finish the match, even without feeling in his arms.
Triple H then stopped the match from the back, causing Bryan to get furious. However, as he says in the following interview, he quickly realized he was wrong, and Triple H was just looking out for the long-term health of both Bryan and Orton.
"I had gotten a stinger in a match and lost feelings in both of my arms. I have a mentality of never stopping a match. Whether it's really good or really bad, that's my mentality.

I had never had a stinger before. Triple H tells the medical doctor at ringside to stop the match. I sprinted into the ring and tried to keep the match going with Randy Orton, because this was going to be the biggest win of my career to that point.

I did a top rope dropkick, and I couldn't get up, I couldn't move my arms. Randy, he's on the ground going 'Dan, Dan, what the F are you doing?'

When I came back[stage], I was hot. I don't want to say we got nose-to-nose, because he's 6'3. We came pretty close. They're more conscious of protecting us from ourselves."
You can listen to the interview here.
Daniel Bryan Reported To Have Suffered A Concussion Before WWE's European Tour
April 16, 2015 – WWE announced on April 15, 2015 that Intercontinental Champion Daniel Bryan has been pulled from the remainder of the organization's tour of the United Kingdom that started on April 10, 2015 and will conclude on April 20, 2015
"Daniel Bryan has been pulled from the remainder of the UK tour as a precautionary measure," WWE announced in a statement.
Bryan wrestled at the April 14, 2015 SmackDown taping in London, England as he teamed up with United States Champion John Cena to face WWE Tag Team Champions Cesaro and Tyson Kidd. Bryan, however, was subsequently removed from all of WWE's remaining live events overseas.
On Wrestling Observer Radio on April 16, 2015, Bryan Alvarez claimed Bryan suffered a concussion due to the brunt of a move from Sheamus. The maneuver also caused him to bleed.
Wrestling Observer editor Dave Meltzer has said that Bryan's health is questionable and WWE officials are worried about the repercussions of having him wrestle more than necessary. While company brass wants Bryan to have a long career, as well as a lengthy reign as Intercontinental Champion, they also do not want him to become permanently injured while wrestling in their ring.
Bryan is scheduled to defend the Intercontinental Championship against Bad News Barrett at Extreme Rules on April 26, 2015.