Eva Marie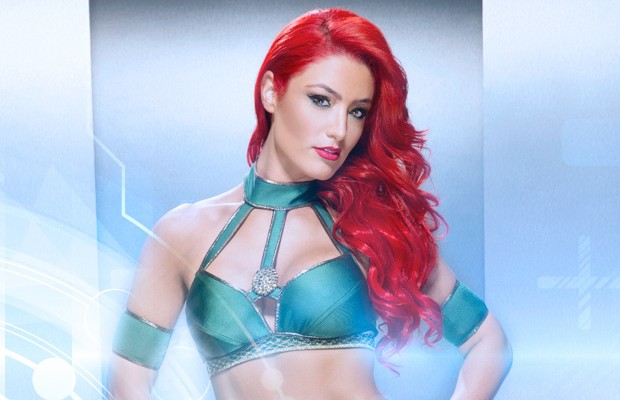 It may have been Eva Marie's bright red hair that first drew the attention of members of the WWE Universe, but this former model's penchant for controversy is what has grappling aficionados talking.
The Bella Twins Feel Eva Marie's Breast Implants | Eva Marie Doesn't Wear Underwear? | Has Eva Marie Posed Nude? | Revealing Eva Marie Photos | Who Is Eva Marie's Husband? | Latest Eva Marie News
A Look At Eva Marie's Scandalous Past
---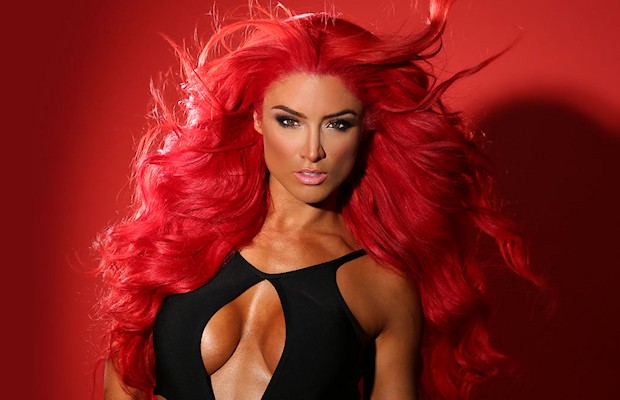 As seen on Total Divas on E!, Eva Marie's scandalous past came back to haunt her in a big way.
During a Season 2 episode, Cameron saw fit to punish Eva Marie for an imagined slight by passing her racy, pre-WWE modeling images throughout the men's locker room (the offense in question was a mere case of swelling ego on the part of the redheaded beauty). The photographs, of course, immediately went viral and Summer Rae is the only WWE Diva to discover the source.
"If they're the photos that I think they are, they're disgusting," Eva Marie remarked to Summer Rae upon being informed of Cameron's act. She continued, "First of all, say it to my face. Don't be a little rat and run around to everyone that I work with. If she has a problem, that's fine, like come and address me. I just can't believe it, that I don't know, that she stooped to like that level."
The crimson-haired grappler then adds in her on-camera confession, "I'm completely shocked and so caught off-guard because I don't really know how many people she showed, but she definitely has no idea by just bringing them and showing these photos that I did when I was like twenty, how hurtful it is to me. She's always saying that she tells it how it is, she comes up to your face. You know, she doesn't need to talk behind your back, give me a break."
Upon being confronted, Cameron remains remarkably contemptuous in the face of Eva Marie's anger. Although Naomi convinces Cameron to say sorry for her malicious actions, Eva Marie refuses the half-baked apology and tosses it back in the Funkadactyl's face.
Some members of the WWE Universe are under the impression that Eva Marie has appeared naked for Playboy or a similar publication, but that is not the case. In regards to the scandalous photos in question, Eva Marie with her natural black hair, appeared nude before an independent photographer several years ago. In some photos, she is shown putting her bare ass on display as she pulls her string bikini down below her crotch. In other images from the very same photo shoot, Eva Marie appears in a nude but strategically covered manner; her bare breasts are slightly visible through a yellow mesh top and in another shot, she appears topless with her hands placed over her breasts. This is believed to be Eva's sole pornographic photo shoot.
With Eva Marie appearing highly remorseful about her past, don't expect the curvaceous bombshell to ever appear naked for public consumption again.
For Your Information
---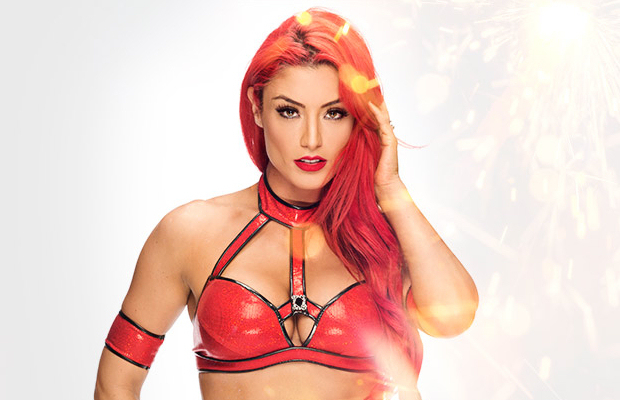 Eva Marie Doesn't Wear Underwear? – Eva Marie doesn't wear underwear? A quick Google search would indicate that.
In 2013, an image surfaced online of the WWE Diva purportedly not wearing any underwear during the episode of Total Divas highlighted by Natalya's wedding to Tyson Kidd. Based on the picture, it would appear to be the case.
The episode ran on the WWE Network and upon closer inspection, it is quite clear that she is in fact wearing underwear! (See Photo ▸)
Eva Marie's Background – Natalie "Eva" Marie Coyle, professionally known as Eva Marie, was born on September 19, 1984 in Beverly Hills, California and raised in Concord, California. Her father, Barry, is Italian, and her mother, Josie, is Mexican. She played soccer for California State University, Fullerton until she began modeling, acting and participating in promotional affairs. The California native graduated with a Bachelor of Arts in Business Management and a minor in Human Resource. She received her associate's degree in Art from Diablo Valley College.
Find Eva Marie Online – Eva Marie has made her presence known on social media with accounts on Twitter and Instagram. She is on Intagram at natalieevamarie and her Twitter handle is natalieevamarie. She is no longer on Facebook since she deleted her page.
All Red Everything
---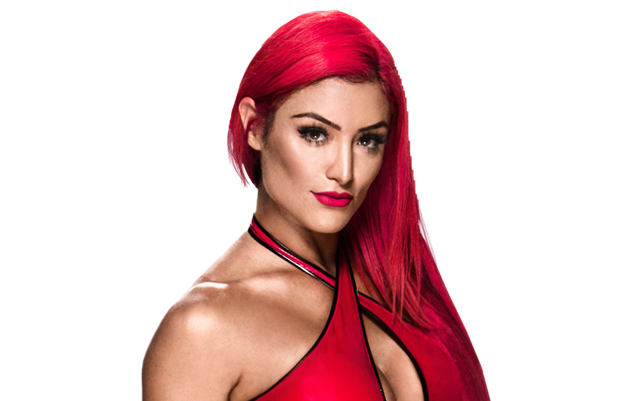 After trading in the runway for the squared circle, Eva Marie's adventure through WWE was initially chronicled on the E! reality shows, Total Divas. There, she navigated professional and personal hardships in a bid to become the face of the Divas division in the sports-entertainment organization. When she did finally make it to WWE's premiere show, Eva Marie immediately made her presence felt by slapping Hall of Famer Jerry "The King" Lawler across the face in her first appearance on Raw, and aligning herself with Nikki and Brie Bella to irritate fellow Diva, Natalya.
In the ensuing weeks, the crimson locked bombshell continued to mock Natalya during Raw, until she was recruited to team with Brie Bella against "Queen of Harts" and Extra! host Maria Menounos in a tag match at SummerSlam Axxess. Then at SummerSlam, the flame-haired femme fatale accompanied Brie to the squared circle for her match against the third-generation competitor, which ended in similar fashion as the "Queen of Harts" triumphed once again. Although Eva Marie's initial wrestling ventures ended in unpleasant fashion, her premiere Raw contest resulted in victory when she teamed with Natalya and JoJo to defeat the trio of Aksana, Alicia Fox and Rosa Mendes in a Six-Diva Tag Team Match that saw the trio. On the Nov. 4 episode of Raw, she achieved her first pinfall victory by pinning Tamina Snuka in a Six-Diva Team Match.
At WrestleMania 30, Eva Marie wrestled in the Vickie Guerrero Divas Invitational for the Divas Championship, but failed to dethrone AJ Lee for the butterfly-emblazoned belt.
With a great future ahead of her and her cunning, Eva Marie will have the Divas division seeing red for a long, long time.