Kimberly Page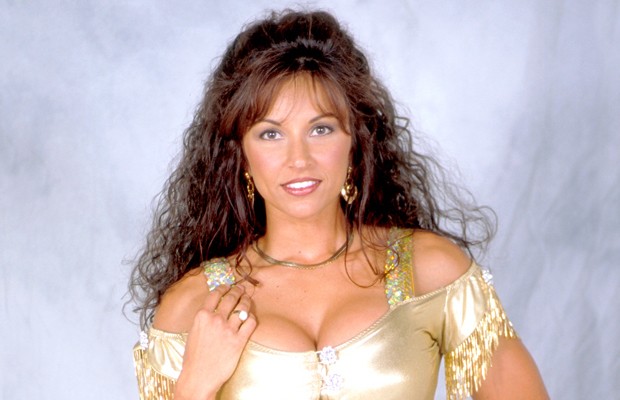 Kimberly Page is a national sex symbol, who has posed for Playboy and founded the world-famous Nitro Girls. In the ring, she was the savvy siren behind the exploits of her real-life husband Diamond Dallas Page. Beyond her beauty and talent, this brunette bombshell is much more than meets the eye.
HOW DOES KIMBERLY LOOK LIKE NOW? – SEE PHOTO OF HER AT THE 2014 WWE HALL OF FAME INDUCTION CEREMONY | Kimberly Page Photo Gallery One | Kimberly Page Photo Gallery Two | Kimberly Page Photo Gallery Three | Kimberly Page Photo Gallery Four | Kimberly Page Photo Gallery Five | Kimberly Page Photo Gallery Six
What Happened To Kimberly Page?
---
Fans of WCW will remember Kimberly, the beautiful lead Nitro Girl and ex-wife of Diamond Dallas Page. After parting ways with the professional wrestling industry in 2000 while WCW was going down the tubes, Kimberly focused on acting for a few years. This included a stunt role in 2003's Sea Biscuit and a memorable wardrobe malfunction in 2005's The 40 Year Old Virgin (during a speed dating scene with the film's lead character, her ample breast fell out of her shirt while she was talking).
Fed up with only being offered roles that required her to show skin, Kimberly removed her large breast implants shortly after filming the memorable scene to be taken more seriously. Kimberly, however, stopped receiving work after informing her agent that she would no longer do T&A-based entertainment. Kimberly then decided she'd had enough of the Hollywood circus. She wanted out. She moved to Utah. Her new job? Marketing in Utah.
"Yeah, I kind of came full circle," Kimberly said in her most recent public interview, "I'd been living in L.A. since 2002 and I was just kind of over L.A. and needed a change to improve the quality of my life."
Now 46-years-old, Kimberly still resides in Utah and holds down a job as a marketing executive. According to her profile on LinkedIn.com, she attended New York's Cornell University in 2012 to earn a Professional Certificate in Hospitality Marketing.
Kimberly has completely dropped out of the spotlight in recent years. She did, however, come out of hiding in April 2014 to watch ex-husband Diamond Dallas Page induct Jake "The Snake" Roberts into the WWE Hall of Fame and celebrate DDP's 58th birthday.
Kimberly Page Poses For Playboy
---
Sex sells and the world of professional wrestling is no exception. Before Playboy featured a slew of women from WWE in the nude, Diamond Dallas Page's ex-wife Kimberly graced the pages of the world renowned publication. While performing for World Championship Wrestling, Kimberly appeared naked in multiple Playboy newsstand pictorials over the course of the Nineties. The Chicago native feels it was a good career move.
"I tried out for the 40th Anniversary Playmate search and started working with Playboy's Southeast producer, Cynthia Kaye," said Kimberly in a 2007 interview explaining how she formed a relationship with Playboy. "Together we shot about eight times over a ten-year period. Playboy always was very good to me and at the time, it was a decent career move."
Her affiliation with Playboy was eventually acknowledged on WCW's family-friendly programming. "Macho Man" Randy Savage, accompanied by his ex-wife, the lovely Elizabeth, both of whom sporting the black and white of the New World Order, brought out a spray-painted copy of Playboy's "Nude Celebrities" issue featuring nude photographs of Kimberly. That, mind you, wasn't it for Savage.
Seconds after revealed the first public revelation of Kimberly and Page being a married couple, and abused – and spray-painted – Kimberly inched toward Page with tears in her eyes. Suddenly Page The Person had overtaken Page The Wrestler. He immediately rushed to Kimberly's side – but only to be blind-sided by Savage. Page was out cold, as lifeless as a cadaver. What did Savage do then? He spray-painted Page, naturally. And even Elizabeth offered her two-cents worth of artwork.
Playboy was not Kimberly's only forum for displaying her fleshy unmentionables. At the age of 35, Kimberly appeared in a nude scene for the 2005 movie The 40-Year-Old Virgin. Appearing as Carol in a speed-dating scene, Kimberly's breast fell out of her top as she was talking to main star Steve Carell's character.
About Kimberly Page
---
Debuted as the valet "Diamond Doll" for husband Diamond Dallas Page… Established the original Nitro Girls, leading the group to worldwide notoriety… Rejoined DDP as his manager… Stalked by a crazed David Flair, son of "Nature Boy" Ric Flair… Ignited a heated feud between DDP and Marcus "Buff" Bagwell…. Ditched DDP, claiming their marriage was all about him, to join the New Blood so she can focus on herself.
Wrestling Style
Flowing chestnut tresses, chocolate eyes, miniscule waist and long, sculptured legs… Hot sassy vixen that is confident, deceptive and alluring… Wears tight fitting, distracting outfits… Takes care of business and stirs-up trouble.
Did You Know?
Native of Fort Myers, Florida… Past national fitness competitor… Graduated magna cum laude as a Public Relations undergraduate from Auburn University… Garnered a Master's degree in advertising from Northwestern University in Chicago… Born on New Year's Day… Worked as a public relations coordinator, waitress, aerobics instructor and dancer… Enjoys Web surfing, interior design, horseback riding, motorcycles and snow skiing… Loves a good cup of coffee and frozen yogurt… Personal motto from her role model Mae West states: "Brains are an asset, if you hide them!"… Music choices are hip-hop, jazz, R&B and rock 'n roll… Appeared on Live with Regis & Kathie Lee and Win Ben Stein's Money… Really gets into physics, astronomy and the history of ancient Greece and Rome… Left handed… Resides in Salt Lake City, Utah.