Lita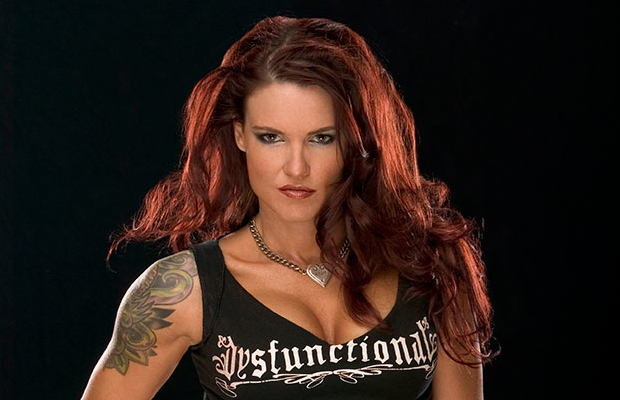 Upon making her WWF debut, Amy Dumas was given the ring name Lita and she was paired with Essa Rios. Tension would arise between the two and she moved on to become the manager of the Hardy Boyz. The trio formed a stable known as Team Xtreme. As a collective unit, Team Xtreme's starpower would explode and they quickly became one of the most popular acts in the WWF. Lita's most notable achievement during her tenure in Team Xtreme was defeating Stephanie McMahon-Helmsley for the WWF Women's Championship. Lita would hold the title until November 2000 when Ivory defeated her. Lita's booming career would come to a halt as an unfortunate Twist of Fate occurred in April 2002. While filming a fight scene for Dark Angel, Lita suffered three cracks in her C5 and C6 vertebrae. Lita was forced to undergo neck surgery and she was out of action for one year and a half. While she was out of action, Lita became a color commentator for Sunday Night Heat.
Lita eventually made her in-ring return in September 2003. Lita competed in the women's division until mid-2004 when it was revealed that she was pregnant. In September 2004, Lita miscarried after Gene Snitsky struck Kane with a chair, resulting in him falling on Lita. The miscarriage led to Lita and Kane joining forces in order to take revenge upon Snitsky. After the angle came to a conclusion, Lita finally defeated Trish Stratus for the Women's Championship in December 2004. Lita would lose the title back to Stratus one month later. During the match, Lita tore her left anterior cruciate ligament. Lita underwent surgery and she was out of action once again. Even though she wasn't allowed to participate in in-ring competition, Lita returned to television two months later. Lita became a mentor for Christy Hemme in her feud with Trish Stratus.
Soon after mentoring Hemme, Lita renewed her relationship with Kane. However, she turned on him for Edge within due time. Lita's alignment with Edge was based on an off-screen series of events in which Lita cheated on her boyfriend of five years, Matt Hardy. After being fired in the spring, Hardy had revenge on his mind when he was rehired by WWE. Lita and Edge soundly defeated him in the feud and he was vanquished to SmackDown a few months later. Lita and Edge would gain a lot of momentum from the feud and sooner rather later, Edge would capture the WWE Championship. Lita would lead Edge to another title reign in July 2006. The pairing of Lita and Edge is currently one of the top acts in the company.