Madusa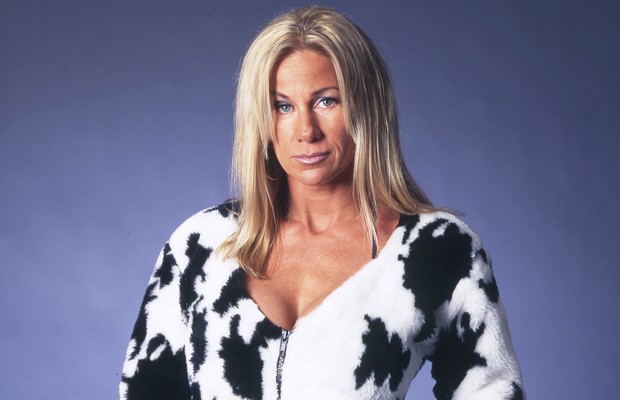 Women in sports entertainment can basically be divided into two categories — those who can wrestle and those who are "eye candy." And then there is Madusa.
Recent Photo Of Madusa In A Bikini | Madusa Photo Gallery One | Madusa Photo Gallery Two | Madusa Photo Gallery Three | Madusa Photo Gallery Four
Madusa is a femme fatale whose killer body is matched only by her killer instinct in the squared circle. An international superstar and a multiple-time world champion in both WWE and World Championship Wrestling, Madusa is one of the most accomplished women's competitors of all time.
Born Debra Ann Miceli in Milan, Italy, and a native of Minneapolis, Minnesota, Madusa began her wrestling career in 1984. With a background in gymnastics and track, the athletically gifted Madusa seized an opportunity to get into the wrestling business when she was introduced to Minneapolis independent promoter Eddie Sharkey. She trained with Sharkey and quickly quit her nursing job to wrestle on the independent circuit.
The independent wrestling scene was far from glamorous. Miceli wrestled about four nights a week, earning approximately $5 a match. She was on the road constantly, sometimes traveling with up to 10 people in a van and sharing a hotel room with five people. With low wages and a depleted savings account, Miceli lost her house and her car and almost had to file for bankruptcy.
Miceli got her first big break in 1986 when she was signed by the American Wrestling Association, which was the third-largest promotion in the United States at the time. She made her AWA debut as Madusa Miceli before eventually dropping her last name. Miceli gained national exposure in the AWA, which had a television contract with ESPN, and began to establish herself as one of the top women wrestlers in the business. She won the AWA wowmen's title, and in 1988, she became the first woman to be named Rookie of the Year by Pro Wrestling Illustrated.
Miceli posed nude for Playboy in 1987 but never signed the release for the pictures to be published. The reason the release was never signed was because she was offered an invitation by the All-Japan women's promotion to work a six-week tour of Japan. Since Japanese wrestling promotions had very strict governing conduct for female wrestlers at the time, she opted not to have the pictures published. She subsequently worked several tours there and eventually signed a three-year contract with All-Japan. She was the first non-Japanese wrestler to get a long-term contract from the promotion.
Miceli's popularity in Japan transcended wrestling. She took Japanese popular culture by storm. All-Japan issued Madusa posters, action figures and even a CD-titled "Who's Madusa?" -and music videos. She then began adding to her repertoire in contact sports. Miceli studied several forms of martial arts, including Mauy Thai, and competed in kickboxing and boxing matches.
Upon returning to the United States, Miceli reestablished her name by wrestling on the independent scene for a year. From there, she signed with World Championship Wrestling, working mostly as a valet for wrestlers such as "Ravishing" Rick Rude. After a couple years there, Miceli jumped to the World Wrestling Federation, where she wrestled under the name of Alundra Blayze. Miceli won the WWF women's title, feuding with legendary competitors such as Bull Nakano and Monster Ripper (a/k/a Bertha Faye). In one of her most controversial moments, Miceli left the WWF in 1996 and returned to WCW. In her first appearance back with WCW, she threw the WWF Women's Champion in a trash can on live television.
Miceli moved forward, competing against familiar opponents like Nakano and Sherri Martel. Before 1996 was over, a tournament to crown the first ever WCW Women's Champion was held. Miceli made it to the finals before losing to Akira Hokuto at Starrcade. Whether it was interference from Hokuto's manager Sonny Onoo or Luna Vachon, Miceli never got a chance to wear the gold. She lost a career match with Hokuto at the 1997 Great American Bash.
She emerged again two years later in WCW by the side of the "Macho Man" Randy Savage's Team Madness faction, with Gorgeous George and Miss Madness. Miceli returned to the ring and eventually won the WCW Cruiserweight Championship against Evan Karagias during the Vince Russo era. The veteran split her time on the road making appearances and training upstarts at the WCW Power Plant.
Miceli's final run in WCW was also noteworthy for her noticeably larger, more prominent set of breast implants. During a July 1999 interview with WCW Magazine, Miceli candidly revealed her reasoning behind her aggrandized breasts, stating they gave her more confidence. "I got those for me," Miceli said. "I wanted to embellish my own beauty, to give myself more confidence. When I got them, I was 5-10, 150 pounds and really, I had nothing. I looked silly. So I got them and I think they look good."
Miceli's initial passion for the business was waning, as her interests in driving monster trucks and pursuing other business ventures grew stronger. Her last appearance on television for WCW was at Fall Brawl in 2000. Miceli came up on the losing end of a mixed scaffold tag match with Billy Kidman against Torrie Wilson and Shane Douglas.
In 2001, WCW was purchased by her former employer, now known as World Wrestling Entertainment. Miceli took this as a sign telling her it was time to leave pro wrestling behind. Her final match came against Nikita Fink at an independent show in Arizona.
In 2010, almost a decade after her last match, WWE's website approached her about doing a feature. The two-part story allowed Miceli the opportunity to give her side of the women's title controversy and catch fans up on her life today.
Since Miceli never officially lost the women's championship, she leaves the door open for one last match to really close the book on a historic career.