Nicole Bass Passes Away After Being Taken Off Life Support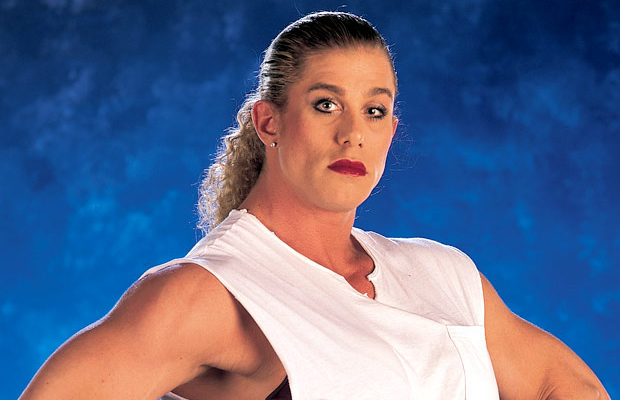 Nicole Bass, who parlayed her unique look and cult celebrity status from The Howard Stern Show into a brief career in professional wrestling, passed away on Friday night after being taken off life support. She was 52-years-old.
Bass was reported as having died on Thursday, but Pro Wrestling Sheet reported the next day that she had not actually passed away. She was, however, considered brain dead (which is considered death) and set to be taken off life support on Friday night.
Sources close to the situation tell Pro Wrestling Sheet that her official death came at 8:40 p.m. at a hospital in New York. Her girlfriend, Kristen Marrone, was also in the room when it happened.
The report says Bass was rushed to a hospital over the weekend and put on life support "for undisclosed reasons." She then suffered a heart attack that caused her to become brain dead, and friends and family made the decision to take her off life support.
Marrone told everyone Bass had already passed because she was brain dead.
"A few days ago Nicole got very sick," Marrone wrote on Thursday night. "She was brought into the hospital and they did everything they could to help her. I have been sitting here with her in the room 24/7 since she got here making sure she was being given the best possible care. Today we learned that there is nothing else that can be done."
Here is her post in its entirety.
A bodybuilder in the 1980s and 1990s, her massive size and deep voice made her part of a long-standing routine on The Howard Stern Show in which Howard Stern questioned whether she was a woman.
After a brief stint in ECW, Bass debuted in WWE in March 1999 by helping Sable successfully defend the Women's Championship against Tori at WrestleMania XV. From there, she became Sable's bodyguard and went on to manhandle a number of females on the roster, including Ivory, Debra, and Jacqueline.
Bass never got wrestling down and her stay in WWE was short; she was released in the summer of 1999.
After her release, she sued WWE for $120 million, alleging that she was wrongly terminated, that she had been sexually assaulted by Steve Lombardi (a/k/a Brooklyn Brawler) while traveling to a pay-per-view event in England and that the company discriminated against women by paying them less than men. The company and the Lombardi denied the allegations. After a three-week trial in 2002, a New York City jury ruled in favor of WWE.
Bass had been dealing with health and financial issues in the last several years along with the death of her husband.