Sarita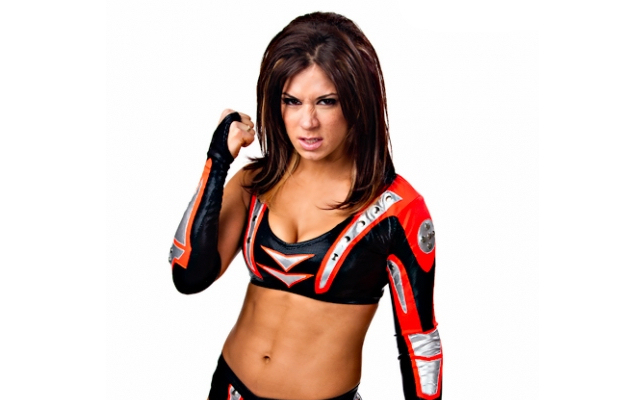 She may have been born in Winnipeg, Manitoba, Canada, but Sarita brings the "Latina Heat" whether it's in her homeland, Mexico, United States or Japan. (Continue Reading ▸)
Sarita Photos
---
Sarita and Rosita's striptease on IMPACT WRESTLING
Hot photos of Sarita posing for TNA
Photos of Sarita in the ring for TNA
SEXY NEW HOLIDAY PHOTOS OF SARITA
SARITA WINS BIKINI FITNESS COMPETITION
PHOTOS OF SARITA'S SEE-THROUGH WRESTLING OUTFIT
Sarita wrestles Velvet Sky on TNA Xplosion
Going Strong With Sarita
---
The internationally acclaimed grappler had a quiet 2012 in TNA Wrestling, particularly after the dissolution of the Mexican America stable. The summer prior she was briefly setback when she was afflicted with a case of facial paralysis; she began wearing a protective mask to hide the debilitating condition. During this time, she and partner Rosita feuded with Miss Tessmacher and Tara over the TNA Knockouts Tag Team Championship, but were unsuccessful in snatching the gold.
At Turning Point, Sarita, Anarquia and Hernandez faced Jesse Neal, Shannon Moore and Toxxin in a Six-Person Tag Team match for the TNA World Tag Team Championship; the raven-haired beauty secured the straps for her men by pinning Toxxin. On the March 22, 2012 episode of IMPACT Wrestling, Sarita and Rosita again failed to recapture the TNA Knockouts Tag Team Championship as they were defeated by Eric Young and ODB. They were given another title opportunity the following month at Lockdown, but were bested again, this time in a steel cage.
Sarita, whose real name is Sarah Stock, caught the attention of fans during an impressive series of bouts against Alissa Flash in the summer of 2009 … Teamed with Taylor Wilde to win a tournament to crown the first Knockouts Tag Team Champions, beating Flash and Daffney, Awesome Kong and Raisha Saeed, and "The Beautiful People" … Held the tag belts for three months until dropping them to Awesome Kong and Hamada in January … Team split after Wilde said she didn't need Sarita's interference to win matches … The two have been in a bitter feud, with Sarita gaining the early upper hand, including beating Wilde in a streetfight on iMPACT!.
Winnipeg native started her career on the Canadian independent circuit before finding fame in Mexico as Dark Angel … Returned to SHIMMER in April 2010, unsuccessfully challenging MsChif for the championship.
Petite firebrand has a unique lucha libre-inspired offense, consisting of quick attacks, rolling takedowns, and rapid cradles … Signature moves include a float-over DDT, a double-chickenwing with neckscissors, and a spinning backbreaker … High-octane, unorthodox attacks frequently confuse North American opponents … Also has experience in kickboxing and Muay Thai boxing.
For Your Information
---
Has Sarita Appeared Nude?
Sarita has actually posed partially naked as her buttocks was partially exposed during a modeling shoot in Mexico.
Does Sarita have an account on Facebook?
Sarita's Facebook page is located at www.facebook.com/pages/Sarah-Stock/196313450384801.