Renee Paquette is an on-air personality for WWE conducting interviews under the name Renee Young. Prior to joining WWE in October 2012, she offered analysis and insight into the sports-entertainment promotion on The Score's Aftermath. (Photo Gallery »)

RENEE YOUNG FEATURES
| | | |
| --- | --- | --- |
| | Renee Young | |
Is Dean Ambrose dating WWE on-air personality Renee Young? Based on numerous photos that have surfaced online of the two together outside of arenas, that certainly appears to be the case.
Here is a shot of the two leaving the Tampa Bay Times Forum together following WWE Battleground.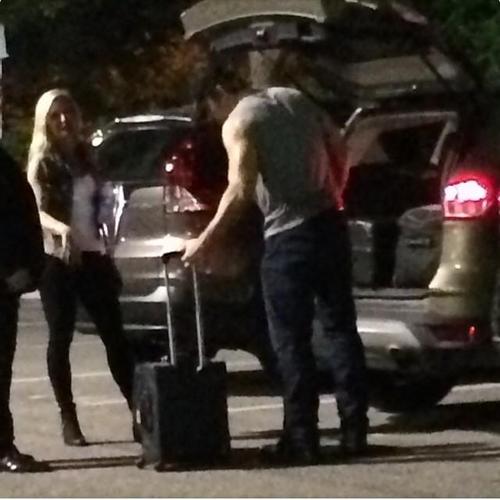 Also, here are photos of the two arriving together at last Monday's Raw in Richmond, Virginia.
The Shield star, who is 28-years-old, is among the top stars of WWE. Therefore, he is naturally among the most yearned for wrestlers among female fans. A Google search of Ambrose will yield numerous suggestions concerning his dating life.
In the photos, Ambrose and Young are spotted traveling together to WWE events and enjoying the company of each other at restaurants. Granted, this does not necessarily confirm that the two are dating since WWE Superstars ride together all the time, but the two have been out together in public settings quite frequently to say the least.

Latest Updates
| | | |
| --- | --- | --- |
| | Doesn't like to wear shoes | |
Some people in WWE apparently have something against Renee Young preferring not to wear shoes.
According to this week's issue of the Wrestling Observer Newsletter, the blonde announcer is known within the sports-entertainment organization for not wearing shoes at times while conducting interviews backstage, which is okay since her feet don't appear on camera. She prefers not to wear them in her daily life, and has admitted that she sometimes drives barefoot. Now after being ribbed for her personal preference last month live on-air by Triple H, she was lightly teased again for it on this week's episode of WWE Main Event in a scripted comment from Roman Reigns.
After Renee asked Reigns in the ring about someone grabbing history this Sunday in the WWE World Heavyweight Championship Ladder Match at Money in the Bank, Reigns said that he is a wanted man and The Authority has a bulls-eye on him, so he would feel more comfortable if she took off her shoes so she can run away if needed.
Following the May 26 edition of Raw in Knoxville, Tennessee, Renee was lightly ribbed on Backstage Pass on the WWE Network for not wearing any shoes during an interview with members of Evolution.
Triple H asked Renee, "The big question is why don't you wear shoes when you do these?"
"I ... don't have an answer for that," she responded.
Renee tried to play it cool despite appearing a little flustered and caught off guard by Triple H actually calling attention to her unsual preference.

Latest Headlines
»

Backstage News on WWE Possibly Doing Two Hell In a Cell Matches
»

Backstage News on Possible Plans for Rusev, WWE Working on Lawsuits, Rey
»

WWE Cuts Back on Pay for Indie Talents Used as Extras, WWE Attendance
»

More Details on Vince McMahon Not Wanting Total Divas Stars to Have Gold
»

Possible Announcement on RAW, Team Angle Reuniting on Indie Show, More
»

Update on Jeff Jarrett's First GFW PPV, Jericho Talks to WWE Superstar
»

Photo of Dean Ambrose Traveling With The Money in the Bank Briefcase
»

Paige To Appear On Total Divas?
»

Nikki Bella's Sexy Photo Sitting On A Box Backstage At SmackDown Taping
»

John Cena Talks About Going After Seth Rollins and More
»

Stephanie McMahon Talks About Playing "The Bad Guy" On Television
»

Backstage News on WWE's Plans for The Wyatt Family
»

Update on WWE Fitness DVDs from Stephanie and Triple H, SmackDown, More
»

Jim Ross on Missing Pro Wrestling and His Time with WWE, Interest In NJPW
»

Intro to WWE's Upcoming John Cena DVD, Mick Foley on CM Punk, Breeze
Background: Renee Young was born on September 19, 1984 in Ajax, Ontario, Canada. Her real name is Renee Paquette and she was raised in cities in Ajax and later in Whitby, Ontario. Growing up in Canada, she was a child model. After graduating from high school, Paquette moved to Chicago, Illinois and began training at The Second City, an improvisational comedy enterprise. When she was 19-years-old, Paquette moved to Los Angeles, California and subsequently Hollywood in hopes of becoming a comedic actress. Her dream, however, did not materialize, and she moved back to Toronto and auditioned for films, music videos and commercial advertisements.
Has Renee Young appeared nude?: With Renee Young booming in popularity due to her WWE fame, this has led many fans to search for nude photographs of the quirky blonde Canadian. None, however, exist. Her recent "Diva Day Off" photo shoot is the closest thing fans will get to seeing Young pose in a bedroom.
Social Media: Renee Young has made her presence known on social media with accounts on Twitter and Instagram. Her Twitter handle is ReneeYoungWWE. Fans can also find Young on Instagram at reneeyoungwwe. She does not have an account on Facebook.