Dean Ambrose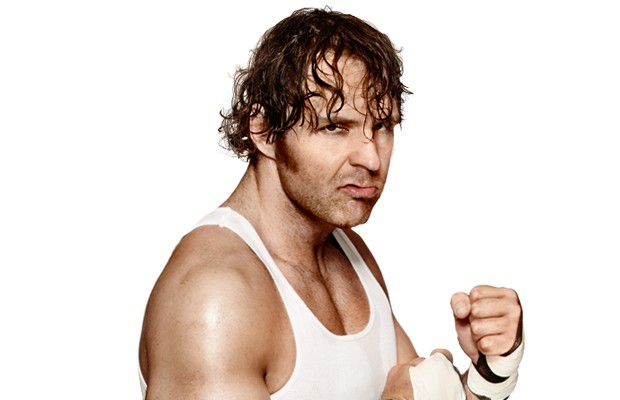 Dean Ambrose is living up to the potential that so many fans and fellow wrestlers saw in him for years on the independent wrestling scene.
Dean Ambrose and Renee Young Photos | Dean Ambrose Recalls His Crazy Ex-Girlfriend | Dean Ambrose Writes "Titty Master" On His Wrist Tape | Dean Ambrose Gets Stitched Up | Dean Ambrose Wrestling As A Jobber For WWE In 2006 | Pre-Shield Dean Ambrose Takes On Daniel Bryan At A WWE House Show In 2011 | About Dean Ambrose | Latest Dean Ambrose News

Is Dean Ambrose Dating Renee Young?
---
Is Dean Ambrose dating WWE on-air personality Renee Young? Based on numerous photos that have surfaced online of the two together outside of arenas, that certainly appears to be the case.
Photos Of Dean Ambrose And Renee Young Out Together ▸
The Shield star, who is now 29-years-old, is among the top stars of WWE. Therefore, he is naturally among the most yearned for wrestlers among female fans. A Google search of Ambrose will yield numerous suggestions concerning his dating life.
In the photos, Ambrose and Young are spotted traveling together to WWE events and enjoying the company of each other at restaurants. Granted, this does not necessarily confirm that the two are dating since WWE Superstars ride together all the time, but the two have been out together in public settings quite frequently to say the least.

Dean Ambrose Recalls His Crazy Ex-Girlfriend
---
While climbing up the ranks of professional wrestling, Dean Ambrose dated Hellena Heavenly, a Nevada-based redheaded wrestler several years his senior. The relationship, however, was not pleasant from the future WWE Superstar's point of view.
Sharing his thoughts on his crazy ex-girlfriend on the Stories From The Streets: The Jon Moxley Story shoot interview, Ambrose whose real name is Jonathan Good, states, "She was like…pretty much like a rat and she banged like a bunch of the WWE guys and became like a wrestler, or whatever. She's like at that rat mentality, but she's like a wrestler and she's been around for a long time at this point, and I'm like 19. I think she was dating BJ Whitmer and had just broken up with him, and got herself all hot, got in good shape, and she had new t**s, and was looking good. It was like an older chick, y'know? And I'd only been banging like 18-year-old sluts. So it was an older, sexy looking chick, and I'm 19 and f*****g stupid. She starts like hitting on me and s**t and we ended up like going out, or whatever. We went to the strip club and she bought me like, I'm just to stupid to realize it–that you don't get mixed up with these types of women; cause like I'm just young and don't know, and she buys me like fifty f*****g beers, and is buying me lap dances.
Photos Of Dean Ambrose's Crazy Ex-Girlfriend ▸
Good continues, "She starts showing up at my house, and like doing my laundry for me, and just like pretty much starts making herself my f*****g like…my like enabler groupie rat. I, I'm not realizing how bad it's getting until it got like really…until she got nuts like in love crazy. Then at that point I was like, I didn't wanna like do anything to set her off. So it went on like much longer than it should've. I mean, I can't even get into that one now, like–it's uh, pretty irritating but she's nuts. Tried to like–oh man…can't even get into it. I'd have to give a back story and it'd like this big–there is not enough room on this f*****g DVD."

For Your Information
---
Did You Know? – Contrary to the belief of some wrestling fans, Dean Ambrose is not married. He is involved in a relationship with WWE on-air personality Renee Young. She is not his wife, only his girlfriend . . . Dean Ambrose's sole online presence is located on Twitter. His handle is TheDeanAmbrose. The Ohio native, however, does not post messages on the account at this time. He also does not have accounts on Facebook or Instagram.

About Dean Ambrose
---
Dean Ambrose made a big impact upon his WWE debut, teaming with Seth Rollins and Roman Reigns to take out Ryback by powerbombing him through an announcers' table during the main event of the 2012 Survivor Series. Months later at WrestleMania 29 the trio, now known as The Shield, defeated Big Show, Randy Orton and Sheamus in a Six-Man Tag Team Match. Shortly thereafter, Ambrose defeated Kofi Kingston at Extreme Rules to capture the WWE United States Championship.
Prior to joining WWE, Ambrose, as Jon Moxley, had some high-profile matches with Dragon Gate USA and EVOLVE, where he lost his farewell match to Austin Aries in New York City on April 19, 2011. He is legend in Combat Zone Wrestling, where he's held several championships.
Adept to many styles, but made his bones as a wild brawler, reminiscent of a young Terry Funk. And althought not acknowledged as such, has emerged as the leader of The Shield and is the neferarious group's premiere speaker.

Fan Runs Up To Dean Ambrose At SmackDown Taping
---
August 29, 2015 – At the conclusion of Tuesday's SmackDown taping in Providence, Rhode Island, a male fan dressed in a Hawaiian shirt jumped the guardrail and ran towards Dean Ambrose while he was mingling by the entrance ramp.
Before the fan could accomplish what he was setting out to do, a security guard intervened and tackled him to the ground.
Here is footage and a photo from the incident.
#DeanAmbrose almost got stabbed by a fan.. Luckily the security was there to stop it in time. https://t.co/vPTjfK2pap pic.twitter.com/G2k9EPjUm7

— Carmellathan Good (@peyvitt) August 29, 2015