Dean Ambrose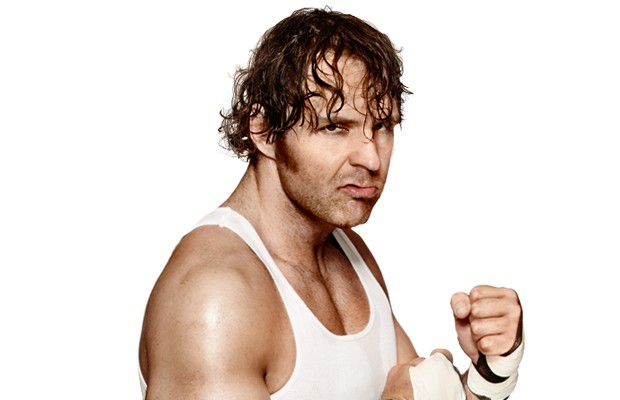 Dean Ambrose is living up to the potential that so many fans and fellow wrestlers saw in him for years on the independent wrestling scene.
A Look At Dean Ambrose's Relationship With Renee Young ▸
Rumors have been floating for what seems like forever that Dean Ambrose is dating WWE television personality Renee Young. It's true! We take a look at their interesting relationship . . .
Dean Ambrose Talks About His Crazy Ex-Girlfriend ▸
While climbing up the ranks of the professional wrestling industry, Dean Ambrose dated Hellena Heavenly, a female wrestler several years his senior. The relationship, however, was not pleasant from the future WWE Superstar's point of view. Dean shares his thoughts on his ex-girlfriend . . .
Dean Ambrose Writes "Titty Master" On His Wrist Tape ▸
In November 2013, images surfaced on social media of Dean Ambrose wrestling at a WWE show in the UK with "Titty" and "Master" written on his wrist tape. See those photos here . . .
Dean Ambrose Gets Stitched Up ▸
See "The Lunatic Fringe" Dean Ambrose get patched up after a wild brawl with The Wyatt Family on Raw in June 2014 earned him a laceration on the chin. Warning: Graphic photos ahead . . .
Dean Ambrose Wrestling As A Jobber For WWE In 2006 ▸
Long before he was "The Lunatic Fringe," Dean Ambrose competed on WWE television as a jobber. Check out this rare video of Ambrose wrestling under the name Jon Moxley in a tag team match against MNM (Joey Mercury and Johnny Nitro) on WWE Velocity in January 2006 . . .
Pre-Shield Dean Ambrose Takes On Daniel Bryan At A WWE House Show In 2011 ▸
Months before Dean Ambrose broke out in WWE as a terrorizing member of The Shield alongside Roman Reigns and Seth Rollins, the Cincinnati, Ohio native was working non-televised matches before fans. Check out this rare video of Ambrose as a developmental talent wrestling Daniel Bryan at a WWE house show in Fort Myers, Florida on December 16 2011 . . .
Is Dean Ambrose Dating Renee Young?
---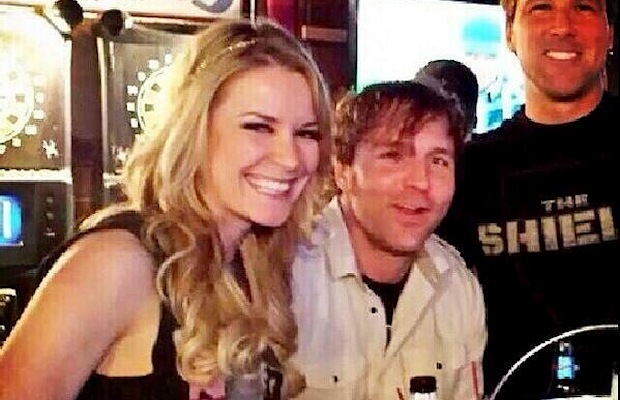 Is Dean Ambrose dating WWE on-air personality Renee Young? Based on numerous photos that have surfaced online of the two together outside of arenas, that certainly appears to be the case.
Photos Of Dean Ambrose And Renee Young Out Together ▸
The Shield star, who is now 29-years-old, is among the top stars of WWE. Therefore, he is naturally among the most yearned for wrestlers among female fans. A Google search of Ambrose will yield numerous suggestions concerning his dating life.
In the photos, Ambrose and Young are spotted traveling together to WWE events and enjoying the company of each other at restaurants. Granted, this does not necessarily confirm that the two are dating since WWE Superstars ride together all the time, but the two have been out together in public settings quite frequently to say the least.
Dean Ambrose Recalls His Crazy Ex-Girlfriend
---
While climbing up the ranks of professional wrestling, Dean Ambrose dated Hellena Heavenly, a Nevada-based redheaded wrestler several years his senior. The relationship, however, was not pleasant from the future WWE Superstar's point of view.
Sharing his thoughts on his crazy ex-girlfriend on the Stories From The Streets: The Jon Moxley Story shoot interview, Ambrose whose real name is Jonathan Good, states, "She was like…pretty much like a rat and she banged like a bunch of the WWE guys and became like a wrestler, or whatever. She's like at that rat mentality, but she's like a wrestler and she's been around for a long time at this point, and I'm like 19. I think she was dating BJ Whitmer and had just broken up with him, and got herself all hot, got in good shape, and she had new t**s, and was looking good. It was like an older chick, y'know? And I'd only been banging like 18-year-old sluts. So it was an older, sexy looking chick, and I'm 19 and f*****g stupid. She starts like hitting on me and s**t and we ended up like going out, or whatever. We went to the strip club and she bought me like, I'm just to stupid to realize it–that you don't get mixed up with these types of women; cause like I'm just young and don't know, and she buys me like fifty f*****g beers, and is buying me lap dances.
Photos Of Dean Ambrose's Crazy Ex-Girlfriend ▸
Good continues, "She starts showing up at my house, and like doing my laundry for me, and just like pretty much starts making herself my f*****g like…my like enabler groupie rat. I, I'm not realizing how bad it's getting until it got like really…until she got nuts like in love crazy. Then at that point I was like, I didn't wanna like do anything to set her off. So it went on like much longer than it should've. I mean, I can't even get into that one now, like–it's uh, pretty irritating but she's nuts. Tried to like–oh man…can't even get into it. I'd have to give a back story and it'd like this big–there is not enough room on this f*****g DVD."
For Your Information
---
Did You Know? – Contrary to the belief of some wrestling fans, Dean Ambrose is not married. He is involved in a relationship with WWE on-air personality Renee Young. She is not his wife, only his girlfriend . . . Dean Ambrose's sole online presence is located on Twitter. His handle is TheDeanAmbrose. The Ohio native, however, does not post messages on the account at this time. He also does not have accounts on Facebook or Instagram.
About Dean Ambrose
---
Dean Ambrose made a big impact upon his WWE debut, teaming with Seth Rollins and Roman Reigns to take out Ryback by powerbombing him through an announcers' table during the main event of the 2012 Survivor Series. Months later at WrestleMania 29 the trio, now known as The Shield, defeated Big Show, Randy Orton and Sheamus in a Six-Man Tag Team Match. Shortly thereafter, Ambrose defeated Kofi Kingston at Extreme Rules to capture the WWE United States Championship.
Prior to joining WWE, Ambrose, as Jon Moxley, had some high-profile matches with Dragon Gate USA and EVOLVE, where he lost his farewell match to Austin Aries in New York City on April 19, 2011. He is legend in Combat Zone Wrestling, where he's held several championships.
Adept to many styles, but made his bones as a wild brawler, reminiscent of a young Terry Funk. And althought not acknowledged as such, has emerged as the leader of The Shield and is the nefarious group's premiere speaker.
Daring To Dean
---
As Dean Ambrose's off-the-wall charisma garners some of the best reactions from WWE fans, we examine his past, and ponder whether he will be allowed to out-shine Roman Reigns.
It was on April 7, 2013 that Dean Ambrose was tasked with kicking off WrestleMania 29 in the shadows of New York City, flanked by three former WWE Champions (Big Show, Randy Orton and Sheamus), a young branch on the revered Anoa'i family tree (Roman Reigns), and a respected former ROH World Champion (Seth Rollins).
Somewhat of an oddity amongst the group, Ambrose received two notable accolades in the course of the 10-minute opener: he scored the pinfall on Orton, and he received the match's loudest reaction, simply by tagging into it.
That's right: of the 80,000 fans jam-packed into the MetLife Stadium, a sizable wave of them roared when this eccentric received a simple, no-frills tag. Energized to his gills with the boiling blood of a true showman, Ambrose fed off of the knowing cheer, and then dutifully pulled his share of the weight.
This Six-Man Tag Team Match was more than just a jump-start to what ended up a by-the-numbers WrestleMania, which lacked bite or dare. This innocuous match-up designed to put The Shield over as an impenetrable cell, cast their freshness side by side with the decaying personalities of the opposition. It was Ambrose that reigned indisputably as the star, for reasons that make too much sense.
Compared to Orton, Sheamus and Big Show, Ambrose has a character: the self-assured hellraiser whose twitching glare provides a framework for his raspy threats. Nobody hates a villain that makes a promise and delivers without trepidation, least of all the charismatic Ambrose, whose vocals outshine the comparative woodenness of Rollins, and the suave soft-spokenness of the more heavily-spotlighted Reigns. It was night-and-day next to Orton (who has since recovered his own style), Sheamus, and Big Show, whose cue-card cadence saw them relegated to the mid-card at this stage of the game.
Recently, Ambrose has ascended to heights seen only by the cutting CM Punk, the sincere and genuine Daniel Bryan, the brainwashing Bray Wyatt, and the fiery salesman Paul Heyman; it's no coincidence that all but Wyatt were fixtures of Philadelphia-area cult independent wrestling promotions Dean Ambrose's manner of speaking is the first thing that starkly sets him apart from the rest of the pack.
"He performs with actual passion, and doesn't come across as a guy reading scripted lines, like everyone else on the roster does," said wrestling author and reviewer Scott Keith. "This is probably a function of being far enough down the card that [creative] don't pay as much attention to him as they do to Reigns, but there's definitely something to be said for being under the radar."
Indeed, Reigns always seemed to be WWE's choice for The Shield's breakout player. From the ring-royal bloodline to his ruggedly handsome features, the son of Wild Samona Sika embodies both the superhero physique and the sex appeal that makes him a must-market commodity.
While Reigns may have been predestined for wrestling glory, Ambrose's rise has been grassroots, without ever waiting in a womb of privilege.
That's not to say Reigns was handed the world without justification, but Ambrose's journey to wrestling stardom was far less assured.
The Real World
---
Born Jonathan Good on December 7, 1985, Ambrose found himself in a setting fit for any rags-to-riches tale. The eventual "Lunatic Fringe" was stuck in Cincinnati, Ohio's poor section, surrounded by shambled housing and rampant crime — a feng shui configuration to a negative outlook.
"It was easy to get the feeling like all the garbage from the city ran down and washed up there," Ambrose told SLAM! Wrestling in 2010. "So that gave me a chip on my shoulder early on.
"Every day was a struggle. For instance, there were times that I would have to cave in and do something like sell somebody's drugs, just so I wouldn't get beaten half to death. But then there were other times where dudes would catch me walking by and try to push me around, and I had to draw a line, even if I was gonna get pulverized. I ended up earning respect that way — not that I cared, I just wanted out."
At the time of these public revelations, Ambrose was renowned as Jon Moxley, several months into his reign as CZW World Heavyweight Champion. One year earlier, Moxley had arrived on the jagged edge of Combat Zone Wrestling, participating in the 2009 Tournament of Death. It was in that battle than an enduring image was cultivated: a rail-thing Moxley having his forehead carved like Thanksgiving dinner by the late Marvin "Brain Damage" Lambart, armed with a sputtering skilsaw.
Although much of Ambrose's time with CZW could be defined by acts of as-worked-as-can-be sadism, it was as much as his intuitive approach to wrestling fundamentals that made him stand out as the unhinged, paranoia-dripping promos that have became the stuff of legend.
"It was definitely apparent that Mox had something," said Niles "Sozio" Young, a presence in the CZW locker room since 2003. "He didn't move through the ring like anyone else, and everything he did looked good. When watching him, you would completely forget that what you were seeing was staged, and you believed he was actually crazy."
"I remember his run of death matches in CZW very well," said long-time company valet Chrissy Rivera. "I enjoyed his work and his dedication, but I was always a bit concerned, kind of like a big sister. I remember, after a number of his more violent matches, often shaking my head, all the while pulling glass out of his back."
Indeed, Mox (he'll never "Dean" or Ambrose" to his indy peers) is fondly remembered by the Combat Zone commune as its most famous alumnus to have not had a background in neighboring Ring of Honor. Behind the Heath Ledge-esque soliloquies and cotton-mouthed jaw-scrunching, his contemporaries remember a sweet individual with no pretense of ego. This is a man who came from nothing, and apparently never forgot it.
"To me, he was always an interesting person," Rivera affirmed as she recalled all of the mayhem. "It was always great talking to him, listening to stories or just hanging out with no mention of wrestling. I remember going out to a bar on his last night in town (in 2011) and giving him a hug, thinking to myself, 'I probably won't see him for awhile because he's gonna make it.' I was right."
"I learnt a lot working with Mox, remembered Nilas Young. "In just a few sessions at the CZW Academy, he put a few small things into perspective so that everyone could understand. He explained how little things, like the way you hit the ropes, make all the difference in the world, and it truly does.
"Watching him perform, sharing a locker room with him, and the occasional post-show partying are all things I'll never forget, and am thoroughly grateful for."
Still Crazy
---
With Good's résumé dotted with CZW, Full Impact Pro, Les Thatcher's Heartland Wrestling Association and Dragon Gate USA bookings, World Wrestling Entertainment came calling in 2011, signing Moxley the day after WrestleMania XXVII and assigning him to Florida Championship Wrestling. Less than eight weeks later, the demented Dean Ambrose would be unleashed upon the world.
Ambrose rocked into a championship feud immediately, engaging in bouts with FCW 15 Champion Seth Rollins. Long before the two comprised a majority of a riot-seeking Shield, they were putting on the best matches in WWE's developmental system, as two cult icons rising to the head of the class at a time where CM Punk and Daniel Bryan began shining brightest on the main stage. For all the hard-boiled chatter over certain "indy darlings" not making it in WWE due to their size, or for political reasons, Ambrose was wisely, protected.
"I worked [with him in] a few dark matches before I got injured," recalled Ezekiel Jackson. "The way it was said to me was, 'Hey Zeke, this is one of our guys that we really like. We want you to go in there [and] make him look good.' They viewed him as money.
"I didn't know much of him before, but just having worked with him, and watching him now, the dude is money. He's got a crazy style: he reminds me a lot of William Regal, in a sense. He's got that aggression that's believable, like he's really about to fight."
If the biter consensus is that WWE homogenizes its talent through the developmental program, stripping away what makes a performer unique, then Ambrose beat the system.
Moxley and Ambrose were one and the same, almost the lone difference being that the latter would one day done a Kevlar vest.
Generations Of Crazy
---
In early 2012, Ambrose was groomed to feud with one of wrestling's most heralded names in the iconic Mick Foley. Nothing would ever come of their social media squabbling, save for a cleverly worked confrontation during WrestleMania XXVIII weekend. In promoting his documentary, I Am Santa Claus, Foley gave high praise to his would-be nemesis.
"I've seen quite a few names thrown around in trying to compare Dean Ambrose with one of the iconic stars of wrestling's past," Foley said. "I get the Roddy Piper and Brian Pillman comparisons when it comes to character, but in the ring, he reminds me of Terry Funk — not in the sense that any of his moves resemble Terry's, but in the sense that he seems to be completely committed to everything he does, and there is something almost poetic in the fluidity of his movements.
"Like Terry, you never get the feeling that Ambrose is giving you anything but his best effort in the ring. He's really impressive."
Foley watches Ambrose intently, Jackson worked with him during a trial basis. Young trained with him independently, three wrestlers from different walks came to the same conclusion: there is something absolutely engrossing about Ambrose's presentation and his interpretation of a wrestler's behavior. An observer notices that Ambrose is suspended from a limb, out on a wire as his own irregular entity, while lesser men on the world class circuit blend together like leaves in a pile.
Going back to the Six-Man Tag Team Match at WrestleMania XXIX, making the moment more impressive was that, at the time, Ambrose was a third of a concept, used as a rhythm player rather than a lead soloist. Fourteen months later, The Shield, following a well-received face turn, would disintegrate in a heart-crushing moment, as Rollins laid out Ambrose and Reigns, aligning with Triple H and Randy Orton in an act that went against everything that fans had hoped the faction now stood for.
Though Shield fans may not have realized it then, the sacrifice was the prelude to what is now the most exciting part of WWE today: a Dean Ambrose that takes to the ring in his street gear, stalking Rollins with Captain Ahab-like infatuation, his sole desire being to wipe his ex-comrade off the face of the earth.
Such character consistency is welcomed by a fanbase that craves an anti-hero — someone who can take the mantle of Austin and Punk and rebel his way to the top without forcing a salesman's smile.
Making His Own Rules
---
The booking of Ambrose's summer is a throwback to the not-a-damn-was-given characters of yore. First, instead of wrestling Rollins straight up at Battleground, Ambrose attacked him three times throughout the night, and ended up ejected from the building on several occasions. While the image of Ambrose hiding in Rollins' car trunk was a tad hokey, there was a wink to Steve Austin's infamous November 1996 attack of Brian Pillman.
Given a chance to choose the stipulation for a SummerSlam showdown, Ambrose elected not to challenge for Rollins' Money in the Bank briefcase. Like the maniacal Cactus Jack facing Sting at Beach Blast in 1992 under Falls Count Anywhere rules, without Sting's WCW World Heavyweight Championship at stake, it appeared a broken body meant more than material reward.
In that Lumberjack match, Ambrose didn't disappoint, delivering the most captivating performance of the evening. On several occasions, he flung himself from the top rope to the outside to get at Rollins, wiping out the lumberjacks as if he didn't even see them. Steely tunnel vision is a staple of the madman consumed by rage, and if Sin Cara and Fandango ended up as collateral damage, so be it.
Though it capped the drama with an impressive thud, disappointment was evident when Rollins waffled Ambrose with the briefcase before scoring the pin. But nothing could undo the image of a frenzied Ambrose throwing lumberjacks aside like driftwood. It was clear that the pinfall told only three seconds of this story.
The day will come when Ambrose becomes entrenched in the world championship scene, and even though he first needs to put Rollins in his place, presenting Brock Lesnar with a challenge would only enhance his reputation, as Austin's bout with The Undertaker did in May 1997 at A Cold Day in Hell.
Likewise, Ambrose is too reliable a character to not have a crack at the main event. As far as credible champions go, WWE may find a believable frontman in a scrapper who, four years ago, was sitting among meth users in the street, cutting promos about attacking Little League teammates with a baseball bat. Anyone that can deliver a speech with such chilling matter-of-factness has the authenticity to be a leading man.
"I think that Daniel Bryan has proven that anyone can be taken seriously as a champion if they connect with the crowd enough," said Scott Keith. "If Ambrose can maintain that rapport and avoid the treatment that Cesaro is getting, the sky is the limit."
Star Shining Bright
---
Yes, there are pratfalls to WWE booking: blazing hot tonight, colder than liquid hydrogen tomorrow. Cesaro is but one recent casualty of indecision and ignorance, but WWE may not be a position to be so careless with Ambrose given the absences of CM Punk and Daniel Bryan, and the always-shaky relationship between John Cena and a section of the audience. Creating new babyface headliners is more of a priority now than in many years.
WWE is giving it a serious go with Ambrose's former brother-in-arms Reigns, but there's a palpable difference between the two. Reigns represents the modern WWE method of myth-making: find a muscular athlete, make him a hero, give some dry, action-movie dialogue and hope that's enough to catapult him into wrestling's pantheon. It's the method that elevated the likes of Bobby Lashley and Batista, but has been less than impressive with those such as Sheamus and Ryback.
Reigns' SummerSlam victory over Randy Orton was designed to be an elevator, casting him at the level of WWE's top tier, while offering the fans the opportunity to fantasy book with regard to WWE World Heavyweight Champion Brock Lesnar.
In truth, the semi-main event was all about two big moments, with fans cheering loudly when Reigns kicked out of an impressive counter-RKO, and subsequently hit the spear for the win.
Ambrose, on the other hand, delivered excitement and unpredictability with a skill that Reigns has yet to display.
"Ambrose is delivering right now," Ezekiel Jackson says. "In The Shield, he delivered on the mic, and he delivered in the ring. On his own, he's delivering, getting the reaction of a superstar. He's got money all over him, and they're seeing it."
For a man who once lived on the brink and hoped for better days ahead, Ambrose has brush-stroked his present and future with more colors than most individuals could see with the strongest of hallucinogens.
In WWE, at least, no-one else can pain in quite the same way.