Lana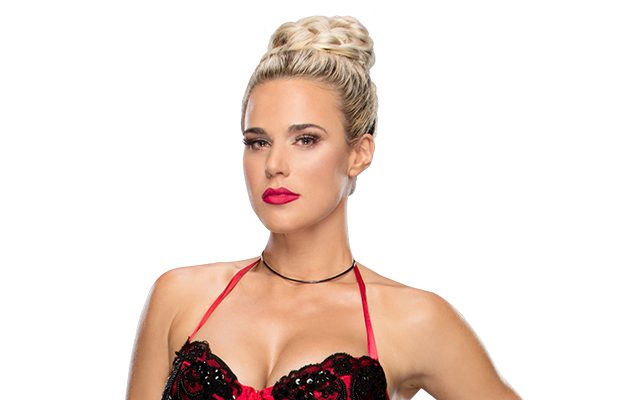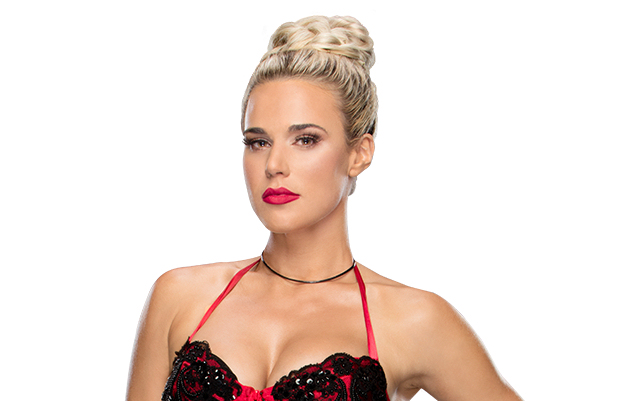 With a background in modeling, acting, dancing and singing, Catherine Joy "C.J." Perry is now showcasing her talents before members of the WWE Universe. She is Lana.
20 Hot Photos Of Lana's Ass You Need To See →
Hot and blonde, Lana is perhaps the most alluring female star in all of WWE. Though she is known for wearing miniskirts which show her nicely toned legs, you can see in these photos that "The Ravishing Russian" is definitely packing some junk in the trunk…
20 Revealing Photos Of Lana Before She Was In WWE →
A model before joining WWE, Lana did many photo shoots in which she appeared either nude or semi-nude. She has posed for various publications in little to no clothing and worked as a promotional model. Most women aren't built for these types of things, but "The Ravishing Russian" screams sex appeal in every shot. Check out these 20 revealing photos of Lana…
Upskirt Photos Of Lana →
Lana caught on fire after breaking up with Rusev in 2015 with one upskirt after another during impromptu catfights with Summer Rae. Check out these photos of "The Ravishing Russian" accidentally exposing her sexy panties…
Lana's Hottest Instagram Photos →
Lana knows how to bring the heat in the ring … and on Instagram. We've gathered 20 of the hottest social media shots of "The Ravishing Russian" that make her a clean finish for your Woman Crush Wednesday. Don't tap out until you've seen them all…
20 Hot Photos Of Lana In A Bikini →
"The Ravishing Russian" pours on the heat in this amazing gallery of bikini pics that's sure to make you break a sweat. Check out 20 of the hottest bikini photos of Lana…
Photos Of Lana In A Bikini At A Pool Party →
It's all fun in the sun down in Florida, and Lana is getting in on the action. See what happens when "The Ravishing Russian" puts her grudges aside to catch some poolside R&R…
Lana Is Bootyful →
Lana often wears short skirts which show off her killer legs, but this particular clip shows her revealing way more than she intended. On Raw on August 31, 2015, Lana's skirt accidentally hiked up during an impromptu brawl with Summer Rae, revealing her booty…
Lana Has Another Upskirt Moment →
As seen on Monday Night Raw on August 10, 2015, a shocking brawl between Lana and Summer Rae caused the referee to call off the match between Rusev and Mark Henry before either big man could really get going. That didn't stop Summer Rae from making an example of Lana, torquing her into a wicked-looking Accolade at Rusev's command. During this wild scene, Lana's underwear was once again put on display for the millions of WWE fans…
Sexy Ringside Photos Of Lana →
Lana's real-life experiences growing up in the Latvian Soviet Socialist Republic in the Soviet Union serve as the inspiration for "The Ravishing Russian" persona she plays in WWE. Check out these eye-popping photos of Lana from ringside showing off her killer legs and booty…
Lana Photos You Need To See
If there's one thing that can be unanimously agreed upon among wrestling fans, it's that Lana has an amazing ass!
Beautiful and blonde, Lana is perhaps the most alluring Diva in all of WWE. Though she is known for wearing miniskirts which accentuate her nicely toned legs, you can see in these photos that "The Ravishing Russian" is packing some serious junk in the trunk!
As you would imagine, Lana's ass is a hit with wrestling fans. Searches for "Lana ass" is among the most searched for topics of "The Ravishing Russian" online, not to mention that there are accounts on Twitter which pay tribute to her beautiful booty. Even Lana recognizes the love for her ass.
Following a WWE show in June, Lana's stylist remarked to her on Twitter, "I love that your booty is a twitter topic!! Lol @LanaWWE." "The Ravishing Russian" responded, "Obviously. I am not surprised. Ladies & Gentleman meet my fabulous stylist @cheriekilchrist."
For Your Information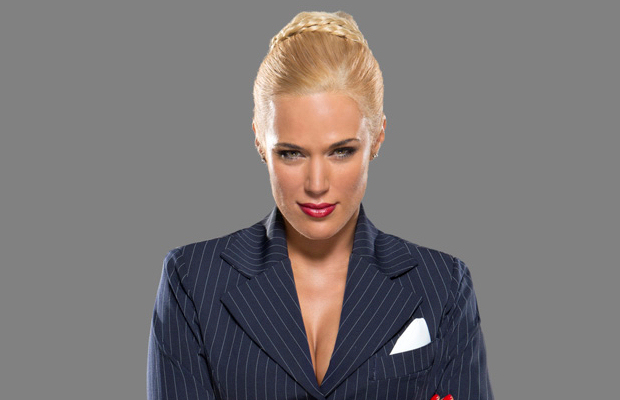 As is common whenever a WWE Diva gains a following, fans will flock online to see if there are nude images floating around. This is the case with Lana as online searches for nude images of the blonde starlet have gradually increased. And yes indeed, there are pornographic images and video of "The Mistress of Destruction" circulating online.
Prior to appearing on WWE television broadcasts as the commanding Social Ambassador of Rusev, Lana bared her flesh while working as a model in Florida and California. She appeared naked in still images on multiple occasions, with her breasts and posterior completely visible. She also appeared in a topless scene for the Cinemax action drama series Banshee in a 2013 episode.
The phrase "life imitates art" frequently pertains exactly to the professional wrestling industry.
Indeed, there have been a few times where the creative writers have scripted storylines between two performers, only for a real romance to blossom off-screen. This has been the case with Daniel Bryan and Brie Bella, Triple H and Stephanie McMahon, Charlie Haas and Jackie Gayda, and even "The Super Athlete" Rusev and his social ambassador, Lana. The two began dating shortly after being paired together. The couple travels everywhere together.
"The Ravishing Russian" has made her presence known on social media with accounts on Twitter and Instagram. Her Twitter handle is LanaWWE, and her Instagram account is located at TheLanaWWE. She does not have a personal account on Facebook.
The Inspiration Behind Rusev and Lana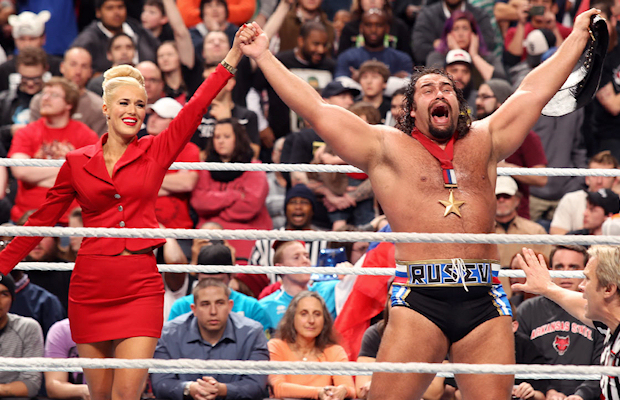 As is common in WWE, Rusev, who signed on with the Stamford, Connecticut-based organization in 2010, experienced a variety of makeovers in the developmental system. If not for his extraordinary build, he would be nearly unrecognizable in his former characters, as he went from a sumo wrestler to a French legionnaire while trying a number of haircuts. It wasn't until late 2013 that "The Super Athlete" was created, with actress, dancer, singer and model Catherine Joy "C.J" Perry appearing as Lana, his social ambassador, Lana.
For fanatics of 1980s pop culture, it simply takes a couple seconds to see what picture WWE is striving for with Rusev and Lana: it's Ivan Drago and his wife Ludmilla from the 1985 film Rocky IV.
Drago, portrayed by Dolph Lundgren, was the athlete engineered by the Soviet government, and his wife, portrayed by Brigitte Nielsen, was his English-speaking mouthpiece to the media, occasionally offering pleasantries with just a hint of threat. Lana resembles Nielsen's character far more than Rusev looks like Lundgren, but his persona is built on the same premise.
The Drago character was essentially lifted from the professional wrestling's template of the Russian heel. And the industry's biggest Russian heel at the time, "The Russian Nightmare" Nikita Koloff, actually auditioned for the part.
About Lana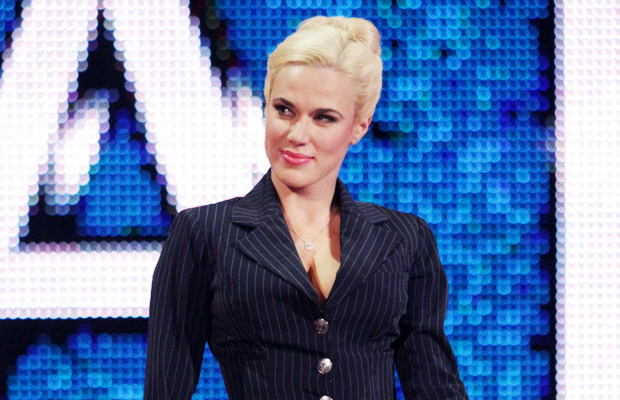 With a background in modeling, acting, dancing and singing, Catherine Joy "C.J." Perry is now showcasing her talents before members of the WWE Universe. She is Lana.
Now 30-years-old, Catherine Joy "C.J." Perry was born on March 24, 1985 in Gainesville, Florida to parents of Venezuelan and Portuguese descent. The future star studied abroad for much of her adolescence as she was raised in the Latvian Soviet Socialist Republic in the Soviet Union, where her father worked as a Christian missionary. She and her family remained in the country after it declared its independence from the Soviet Union on May 4, 1990. As a child, Perry aspired to become a professional dancer like her mother. At the age of fourteen, Perry enrolled in the Riga Choreography School – the graceful dance school of the Latvian National Opera – and began performing with the Latvian National Ballet.
Upon turning 17-years-old, Perry returned to the United States to pursue her goals in New York City. While residing in "The Big Apple," Perry enrolled in a number of dance programs including Alvin Ailey American Dance Theater, Ballet Hispanico, Broadway Dance Center and the Martha Graham Center of Contemporary Dance. The developing entertainer then enrolled in Florida State University, where she majored in acting and dance. While attending the home of the Seminoles in 2005, Perry captured a small amount of fame via football. During a September game against the Miami Hurricanes, ABC Sports cameras panned over to Perry and her friends (including Allison Torres, Jessica Fuqua and future Brett Favre media target and Playboy model Jenn Sterger) dressed as cowgirls. Announcer Brent Musberger acknowledged the group over the air as he remarked, "fifteen hundred red-blooded Americans just decided to apply to Florida State."
Perry took advantage of this brief fling of public consciousness to begin modeling in her home state of Florida, where she appeared in provocative photo shoots and as a spokesmodel for the energy drinks Red Bull and Matrix. Upon graduating from Florida State University, Perry relocated to Los Angeles, California to continue chasing her dreams of being a star in the entertainment industry.
As a developing entertainer, Perry discovered a little songbird inside her scrambling to be released. So in 2009 she joined "No Means Yes," a girl group signed to singer and record producer Ne-Yo's record label featuring herself and three other songstresses. The troop released one single, "Would You Like That" – and recorded two others (titled "Burn Rubber" and "7 Years Bad Luck") before disbanding a year later. On joining the group, Perry remarked, "A girlfriend of mine in college referred me to the man that was putting the group together. I honestly was so scared to sing and I didn't even know a song to sing at the audition so I sang "Jesus Loves Me." I remember them saying we can work with her tone because she has the right look and she is a model that break dances. I am so thankful to this day for that experience because I do not think I would have ever gotten the role in Pitch Perfect if I hadn't overcome my fear to open my mouth and sing." Following this endeavor, Perry went back to her roots as she appeared as a backup dancer for recording artists such as Usher, Pink, Nelly and Keri Hilson. In 2013, she starred alongside Kelley Jakle in the music video for the actress' cover of the Paramore song "Ain't it Fun."
An aspiring actress as well, Perry enrolled at Groundlings, an improvisational and sketch comedy troupe and school, and then under acting coaches Larry Moss and Lesly Kahn. The endeavor was fruitful as she landed acting spots on the BET comedy series The Game in 2011, the musical romantic comedy film Pitch Perfect in 2012, and an even in a topless scene in an episode of the Cinamax drama series Banshee in 2013.
With her chances of success in the entertainment industry diminishing, Perry sought refuge in the form of professional wrestling. In February 2013, WWE held auditions for potential Divas in Los Angeles, California featuring ladies the sports-entertainment organization had recruited from modeling agencies. The women ranged from models, aspiring actresses and dancers, one of whom was Perry. The accomplished entertainer impressed talent scouts as she was signed to a developmental contract in June 2013 – Eva Marie, JoJo Offerman, Brittany Fetkin (known on WWE NXT as Devin Taylor) and Erika Hammond (known on WWE NXT as Veronica Lane) were also signed to contracts.
It did not take long for Perry to make it to television as she debuted on the October 23, 2013 edition of WWE NXT. Appearing under the name Lana, was seen scouting Alexander Rusev during his bout against CJ Parker. Two weeks later, Lana became Rusev's "social ambassador," with her character's background described as being born into a wealthy Russian family and having neighbors who were ex-presidents, diplomats and other powerful political figures. Her background at Florida State University was also acknowledged, but revised to fit her character. The official WWE website says she not only learned English while attending FSU, but majored in Foreign Affairs, Business and Social Media Marketing. Additionally, the duo was compared to Ivan and Ludmilla Drago, the antagonists of Rocky IV, a film released in 1985.
While Rusev made his WWE debut at the twenty-seventh Royal Rumble on January 26, 2014, Lana made her premiere appearance on the following episode of SmackDown in a pre-taped vignette delivering their message of superiority to the WWE Universe. On the Raw after WrestleMania XXX, the Rusev squashed Zack Ryder in his televised singles match debut with "The Ravishing Russian" by his side. The following month at Extreme Rules, "The Mistress of Destruction" caused a stir by dedicated his Handicap Match against R-Truth and Xavier Woods to her idol, President of Russia Vladimir Putin. Her acclaim of Russia's scorned ruler has just escalated contempt for this compelling duo.