Paige Wasn't Wearing Any Clothes During Towel Scene On Raw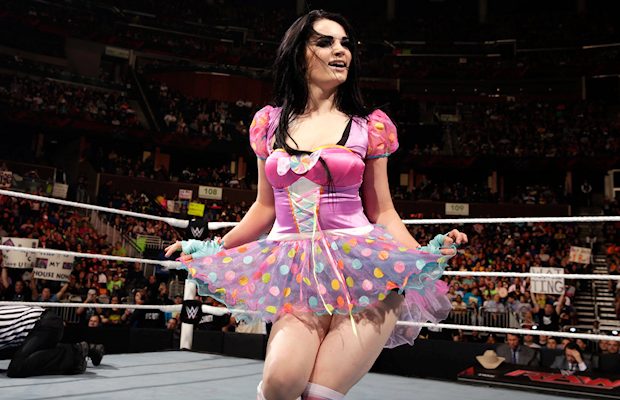 Whenever a female talent grows a fan following in the professional wrestling industry, fans will flock to the internet to see if there are nude photos floating around. That is the case with Paige, as "The Diva of Tomorrow" is turning heads on WWE television. Internet searches for naked images of the beautiful British wrestler have gradually been on the rise since her arrival to the WWE main roster the night after WrestleMania 30.
Sorry to disappoint you wrestling fans, but Paige has never posed without clothes before, so it is a fruitless search. She did, however, appear near nude during an episode of Raw.
In an attempt to embarrass the controversial Diva, Nikki and Brie stole her clothes on the February 16, 2015 edition of Raw and hid them. The twin duo then stormed out of the Divas locker room with her wardrobe in tow as Paige ran after them in nothing but a towel. Cameron was standing nearby, and Paige asked her if she could borrow some clothes since her bout was coming up next — Cameron taunted her before refusing her request. Paige then spotted the Rosebuds and hauled off a female wearing a Lollipop Guild outfit. To the disappointment of WWE fans watching at home, Paige showed up for her match against Summer Rae wearing the Rosebud's costume after announcer John "Bradshaw" Layfield teased the possibility of her coming out naked.
"Naked Paige" was trending worldwide on Twitter immediately after the match, which she acknowledged on the micro-blogging service: "Naked Paige trended huh? @WWE #RAWOrlando."
"Like I said in the ring, I don't need an outfit to make me look good — I just need to win," Paige remarked during a post-match interview with Eden. "That's exactly what I'm going to do at Fast Lane, too. They're not getting to me."
In September, Paige participated in a Q&A session at Wizard World Comic Con in San Jose, California and responded to a question on whether she was wearing any clothes during the segment.
"That was legit live, guys. I had to run through the hallways in just a towel. I never thought I would be on Raw in just a towel." Paige continued, "It had to go live, so Vince [McMahon] was like, 'If she drops the towel everyone on the set is fired.' And I was like, 'Oh, it's so much pressure.'"