"Macho Man" Randy Savage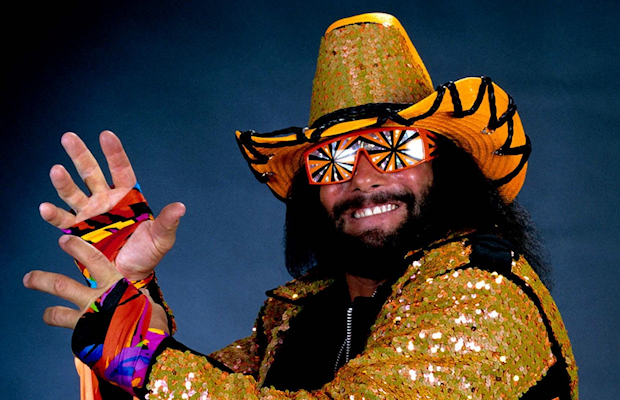 This unmistakable second-generation competitor known as Randy Savage began his full-time professional wrestling career in 1979 after spending years as a Major League Baseball catching prospect.
A Look At The Randy Savage and Stephanie McMahon Rumors | Miss Elizabeth Photos | SEE PHOTOS FROM RANDY SAVAGE'S FINAL DAYS | RANDY SAVAGE CUTS A PROMO FOR WWE VIDEO GAME IN 2011 | RARE PHOTOS OF RANDY SAVAGE BEFORE HE BECAME A WRESTLER | RANDY SAVAGE WEDDING PHOTOS | RANDY SAVAGE IN TNA
Bill as Randy "Macho Man" Savage, he debuted in the World Wrestling Federation in 1985 with "Classy" Freddie Blassie, Bobby "The Brain" Heenan, "Mouth of the South" Jimmy Hart, and Mr. Fuji vying to be his manager. He shocked the world when he signed with the unknown Miss Elizabeth. Savage came to the ring to the song Pomp and Circumstance, dressed in extravagant sequined robes, headbands, and wrap-around sunglasses.
The "Macho Man" served notice to all that he was an elite talent when he reached the finals of the company's first pay-per-view, The Wrestling Classic. On February 8, 1986, he used a foreign object to defeat Tito Santana for the Intercontinental Championship. The "Macho Man" did everything imaginable to keep his championship, even if meant putting Elizabeth in front of him. Savage's next opponent was more interested in his gorgeous manager than defeating him in the ring. George "The Animal" Steele entered into a string of violent matches that resulted in Savage leaving WrestleMania 2 victorious. In November 1986, "Macho Madness" took a dangerous turn when he crushed the larynx of Ricky "The Dragon" Steamboat with the timekeeper's bell and put him out of commission for months. Upon Steamboat's return, a championship rematch was signed for WrestleMania III. Despite the fact that Savage lost, this contest is regarded as one of the greatest matches in sports entertainment history.
Months after this epic battle, Savage was the victim of an attack by the Honky Tonk Man and the Hart Foundation. When this included an assault on Miss Elizabeth, one of the most thrilling moments in WWF history followed as "Macho Madness" and Hulkamania joined forces. As Randy moved through the WWF Championship tournament at WrestleMania IV, the Hulkster came to ringside for the tournament to watch Savage's back. With a capacity crowd on its feet, "Macho Man" dropped his famous elbow on "Million Dollar Man" Ted DiBiase and became the WWF Champion. Sadly, miscommunication and misunderstandings led to Savage attacking Hulk Hogan in the locker room after their match against the Twin Towers on The Main Event. This resulted in the Mega Powers exploding at WrestleMania V. In one of the more hotly anticipated matches in WrestleMania history, Hogan defeated Savage for the title.
Savage began the new decade with a new valet, Sensational Sherri. The two became royalty when he beat "King" Jim Duggan and became the "Macho King." After a series of matches against Dusty Rhodes, Savage turned his attention to Ultimate Warrior. The two met in a Retirement Match at WrestleMania VII, which Savage lost. Sherri attacked her fallen client, but was chased off by a returning Miss Elizabeth. The two reunited in a wash of emotion and a "Match Made in Heaven" was set for SummerSlam on August 26, 1991. A heartfelt ceremony turned frightful when Jake Roberts presented them a wrapped gift that contained a deadly king cobra which bit Savage. After being reinstated by Jack Tunney, Savage defeated Roberts on Saturday Night's Main Event.
Savage was once again tested as Ric Flair made scandalous remarks about a one-time relationship with Miss Elizabeth. At WrestleMania VII, "Macho Man" not only cleared the name of his wife, but defeated Flair to become WWF Champion for the second time. Randy then made the move to the broadcast booth for WWF programs, including the first episode of Monday Night Raw and WrestleMania IX. At WrestleMania X, he defeated former pupil Crush in a "Falls Count Anywhere" Match.
In 1994, he traveled to World Championship Wrestling where he became a four-time WCW World Heavyweight Champion before leaving the organization in 1999. Randy later invaded the mainstream when he made his Hollywood debut as "Bonesaw McGraw" in the 2002 blockbuster film Spiderman. In 2003, he released his rap album Be a Man. In 2010, "Macho Man" was included as a part of Mattel's WWE Legends Series, his first WWE action figure in over fifteen years.
"Macho Man" Randy Savage is revered as one of the greatest figures in all of sports-entertainment and a true legend in the ring. Sadly, on May 20, 2011, Randy Savage suffered a heart attack while driving his car and passed away. Randy "Macho Man" Savage remains one of the greatest figures in all of sports-entertainment and a true legend in the ring. Savage combined unparalleled athleticism, charisma, determination, and skill to dominate opponents and amaze fans worldwide.