"Macho Man" Randy Savage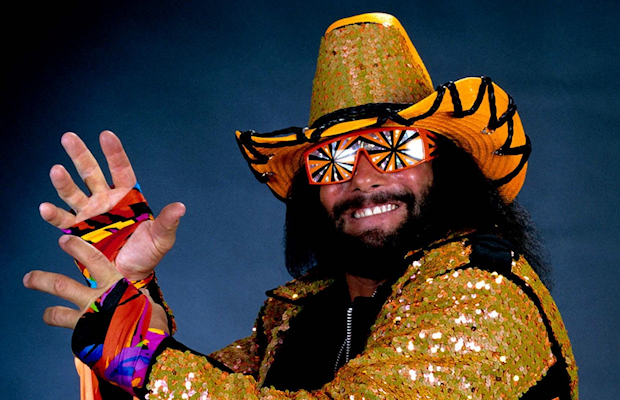 The man known as Randy Savage perfectly embodied the raging 1980s in the Vince McMahon-owned World Wrestling Federation (or WWF, if you will). With his outrageous interviews, frequently-imitated cadence and extravagant wardrobe, the "Macho Man"'s style was only surpassed by his extraordinary performance inside the squared circle.
Did Randy Savage Have A Relationship With Stephanie McMahon? ▸
In The Randy Savage Story, WWE's 2014 video release on the life of the legendary wrestler, the company finally looks at where things went wrong between the "Macho Man" and McMahon. WWE also appears to acknowledge the rumor of Savage having a relationship with Stephanie . . .
SEE PHOTOS FROM RANDY SAVAGE'S FINAL DAYS | RANDY SAVAGE CUTS A PROMO FOR WWE VIDEO GAME IN 2011 | RARE PHOTOS OF RANDY SAVAGE BEFORE HE BECAME A WRESTLER | RANDY SAVAGE WEDDING PHOTOS | RANDY SAVAGE IN TNA
Did Randy Savage and Stephanie McMahon Have A Relationship?
---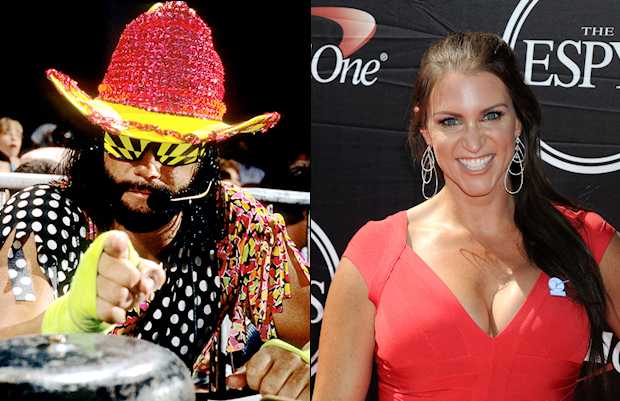 The Randy Savage Story, WWE's video release focusing on the life and career of "Macho Man" Randy Savage, is a must watch for wrestling fans. This DVD and Blu-Ray, which was released on November 18, 2014, comprises a full documentary and various classic matches over a three-disc set. The documentary, which is now available for viewing on the WWE Network ($9.99~!!!), is particularly interesting since WWE doesn't shy away from controversy.
For the first time, WWE looks at where things went wrong between Savage and Vince McMahon. Savage's behind-the-scenes treatment of Miss Elizabeth and subsequent divorce is discussed. WWE also appears to acknowledge the long-standing rumor of Savage having a relationship with Stephanie McMahon.
There is a strange segment in the documentary where it is specifically mentioned how unusual it is that Savage was ignored by WWE in the post-2001 era. This shows that WWE knows that its treatment of Savage over the years is perceived by fans as odd.
This is not acknowledged on the documentary, but Vince always had strange reactions to people bringing up the idea of a Savage return in the 2000s, even by his standards. The most well-known one saw him get very somber and calmly say that "I do not wish to do business with that man." He was more staunchly against using Savage than he had been about anyone he was ever engaged in any kind of war with.
Although Savage's inexplicable banishment from the company is not explained, there is a subtle implication that Stephanie McMahon was somehow involved.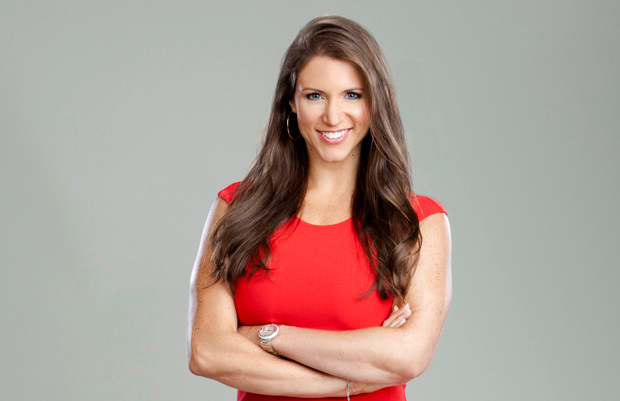 For those unaware, the rumor is that Savage being involved in a sexual relationship with Stephanie during his final year in WWE (1994), and Vince didn't find out about it until years later. While this allegation has never been verified, Wrestling Observer Newsletter editor Dave Meltzer has said that even top WWE officials believed the rumor to be fact, and it's also his theory on why Vince hated Savage.
In March of 2010, Meltzer was asked outright about the rumor on Wrestling Observer Radio. He responded, "I think that the reason is the same reason that everyone says. It's the reason everyone in (WWE) says. It's the reason that is the only one that makes any sense. So I think that's the reason. I can't come up with any other reason. I don't know. I mean, I've heard that reason from so many people that are not internet rumormongers, I mean people who . . . all I know is that within the company as far as the top people, they all believe it, and nobody knows for sure, because it's never brought up.
"When I first heard the story I didn't believe it because I thought it was just some story, but then, and I mean even when people who are very high up in that company, after they left the company, would tell me that story I still didn't believe it, but, you know, after a certain number of years when it's just, you know, ideas are brought up for Randy Savage and the reaction — there's something real, real bad because, let's face it, I mean, I couldn't count the number of times Vince said he would never do business with Hulk Hogan, and he always does. So, I don't know . . . actually, as time goes by, more people talk about it trying to say that it didn't happen."
The segment on the documentary begins with brother Lanny Poffo mentioning that Savage was unhappy with Triple H calling him a dinosaur in an interview. Savage then posted a video on his official website, MachoMan.com, calling out "The Game." A snippet of the video, which remains alive through YouTube, plays on the documentary, with Savage saying, "Triple H, I'll bitch slap you and then take your girl."
Poffo is then shown saying, "All that does is throw gasoline on the fire."
It appears as though WWE wanted to touch on the Stephanie rumor, but could only do so in this roundabout way.
"Obviously we don't know the full story and as they say in heaven, we never will," WWE Hall of Famer Dusty Rhodes said.
The segment ends with a photo of Randy and Vince. The camera lingers on the image and then fades.
"An inexplicable banishment from the WWE was probably disconcerting for Randy," the narrator says.
About "Macho Man" Randy Savage
---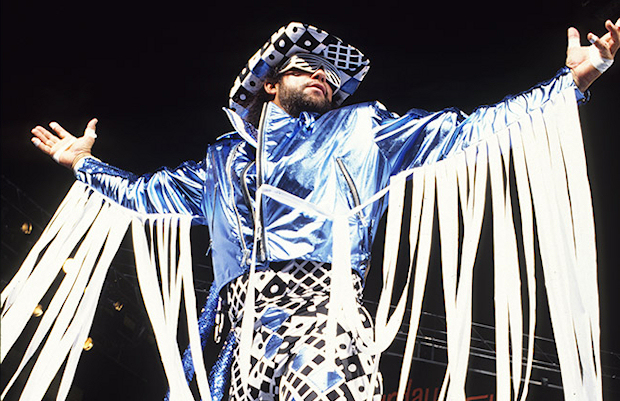 This unmistakable second-generation competitor known as Randy Savage began his full-time professional wrestling career in 1979 after spending years as a Major League Baseball catching prospect.
Billed as Randy "Macho Man" Savage, he debuted in 1985 in WWE — then known as the World Wrestling Federation — with "Classy" Freddie Blassie, Bobby "The Brain" Heenan, "Mouth of the South" Jimmy Hart and Mr. Fuji vying to be his manager. He shocked the world when he signed with the unknown Miss Elizabeth. Savage came to the ring to the song Pomp and Circumstance, dressed in extravagant sequined robes, headbands, and wrap-around sunglasses.
The "Macho Man" served notice to all that he was an elite talent when he reached the finals of the company's first pay-per-view, The Wrestling Classic. On February 8, 1986, he used a foreign object to defeat Tito Santana for the Intercontinental Championship. The "Macho Man" did everything imaginable to keep his championship, even if meant putting Elizabeth in front of him. Savage's next opponent was more interested in his gorgeous manager than defeating him in the ring. George "The Animal" Steele entered into a string of violent matches that resulted in Savage leaving WrestleMania 2 victorious. In November 1986, "Macho Madness" took a dangerous turn when he crushed the larynx of Ricky "The Dragon" Steamboat with the timekeeper's bell and put him out of commission for months. Upon Steamboat's return, a championship rematch was signed for WrestleMania III. Despite the fact that Savage lost, this contest is regarded as one of the greatest matches in professional wrestling history.
Months after this epic battle, Savage was the victim of an attack by The Honky Tonk Man and The Hart Foundation (Bret "The Hit Man" Hart and Jim "The Anvil" Neidhart). When this included an assault on Miss Elizabeth, one of the most thrilling moments in WWF history followed as "Macho Madness" and Hulkamania joined forces. As Randy moved through the WWF Championship tournament at WrestleMania IV, Hulk Hogan came to ringside for the tournament to watch Savage's back. With a capacity crowd on its feet, "Macho Man" dropped his famous elbow on "The Million Dollar Man" Ted DiBiase and became the WWF Champion. Sadly, miscommunication and misunderstandings led to Savage attacking "The Hulkster" in the locker room after their match against The Twin Towers (Big Boss Man and Akeem) on The Main Event. This resulted in The Mega Powers exploding at WrestleMania V. In one of the more hotly anticipated matches in WrestleMania history, Hogan defeated Savage for the WWF Championship.
Savage began the new decade with a new valet, Sensational Sherri. The two became royalty when he beat "King" Jim Duggan and became "The Macho King." After a series of matches against Dusty Rhodes, Savage turned his attention to Ultimate Warrior. The two met in a Retirement Match at WrestleMania VII, which Savage lost. Sherri attacked her fallen client, but was chased off by a returning Miss Elizabeth. The two reunited in a wash of emotion and a "Match Made in Heaven" was set for SummerSlam on August 26, 1991. A heartfelt ceremony turned frightful when Jake "The Snake" Roberts presented them a wrapped gift that contained a deadly king cobra which bit Savage. After being reinstated by Jack Tunney, Savage defeated Roberts on Saturday Night's Main Event.
Savage was once again tested as Ric Flair made scandalous remarks about a one-time relationship with Miss Elizabeth. At WrestleMania VII, "Macho Man" not only cleared the name of his wife, but defeated Flair to become WWF Champion for the second time. Randy then made the move to the broadcast booth for WWF programs, including WrestleMania IX and the first episode of Monday Night Raw. At WrestleMania X, he defeated former pupil Crush in a Falls Count Anywhere Match.
In 1994, he traveled to World Championship Wrestling where he became a four-time WCW World Heavyweight Champion before leaving the organization in 1999. Savage later invaded the mainstream when he made his Hollywood debut as "Bonesaw McGraw" in the 2002 blockbuster film Spiderman. In 2003, he released his rap album Be a Man. In 2010, "Macho Man" was included as a part of Mattel's WWE Legends Series, his first WWE action figure in over fifteen years.
Sadly, on May 20, 2011, Randy Savage suffered a heart attack while driving his car and passed away. He remains one of the greatest figures in all of professional wrestling and a true legend in the ring. Savage combined unparalleled athleticism, charisma, determination, and skill to dominate opponents and amaze fans worldwide.