Rollins, real name Colby Lopez, made his professional wrestling debut at the age of 17 in 2003 for Scott County Wrestling (SCW) - he competed under the name Gixx. As Tyler Black, he went on to run the ropes for All-American Wrestling in Chicago, Illinois, Independent Wrestling Association (IWA) Mid-South, Total Nonstop Action Wrestling (alongside Jeff Luxon, Black fell to Hernandez and Homicide at the September 25, 2006 iMPACT! taping) and even MTV's bizarre Wrestling Society X experiment. (Continue Reading) | (Seth Rollins Was Close To Being Released By WWE)

SETH ROLLINS FEATURES
On September 15, 2007, Black made his Ring of Honor debut as a member of heel faction The Age of the Fall. He recieved a credibility boost on March 16, 2008 when, aged just 21, he a stunning super-competitive match with ROH World Champion Nigel McGuinness. More stature-enhancers with Bryan Danielson (now Daniel Bryan) and the Briscoes combined with his advancement as a worker convinced ROH bigwigs that he was heavyweight title material. The decision was made. On February 13, 2010, Black beat Austin Aries for the ROH World Championship at the organization's eighth anniversary show in New York City.
Some ROH supporters disagreed with management's selection of Black as Aries' successor and booed the 23-year-old in matches against Roderick Strong and Davey Richards. When it was confirmed in August of that year that Black had signed a developmental contract with WWE, while still recognized as champion, he was officially named public enemy number one in Ring of Honor. He reported to WWE's developmental program in Tampa, Florida after dropping the ROH World Championship in a No Disqualification match to Strong.
For Black, Ring of Honor was just a stepping stone to a larger league, as it is for many professional wrestlers. Incidentally, Black was offered a contract by Total Nonstop Action Wrestling in 2010, but declined because he aspired to work for the premiere wrestling organization in the United States. He didn't take the jeers personally. Even at such a young age, he was cognizant of the big picture many fans and even some wrestlers either cannot or do not wish to see.
Speaking to a wrestling publication on March 31, 2010, less than two months into his reign as ROH World Champion, Black remarked, "Some fans don't understand [the financial] part of wrestling: they think wrestlers sell out when they go to work for a bigger company. But we don't get retirement plans. We've got to make our money when we can."
On February 23, 2012, Rollins defeated Leo Kruger to become the Florida Heavyweight Champion. Months later, he was promoted to the main WWE roster.
After biding his time in Florida Championship Wrestling for a little over two years, Rollins, alongside Dean Ambrose and Roman Reigns, debuted for WWE in the closing moments of the main event of Survivor Series on November 18, 2012. Attacking one third of the Triple Threat Match for the WWE Championship, Ryback, their motivations were initially unclear. Declaring themselves as The Shield, they explained themselves as as not being associates of WWE Champion CM Punk, but as some sort of balancing act that went about righting wrongs.
Positioned as villains, The Shield immediately felt more significant than the average newcomers in WWE. Eventually, it was revealed that they had been paid to do Paul Heyman's dirty work, but crucially, had no allegiance to him. Their goal was self-service, and their pay-off to simply make their mark.
Entering through the crowd, from high up in the bleachers, was a fine way to distinguish the act, adding an element of danger and rebellious edge. The apparently self-filmed backstage vignettes, during which the camera would often be left on the ground following a well-spoken onslaught of threats, also felt contemporary. Their black protective vests and militant garments made The Shield feel like a splinter group who could rock the establishment.
In the ensuing months, The Shield has maintained this aura by keeping up the organized chaos. The group has appeared different to previous heel factions in WWE, and has remained novel despite dozens of matches on television and pay-per-view.
Those familiar with Rollins' work as Tyler Black, particularly as he was en route to the ROH World Championship. will be all too aware of his potential as a top-tier babyface in WWE. Dynamic, innovative and unpredictable, he has always been capable of playing an underdog, too. Of late, WWE has really allowed him to flourish in the ring: on the March 24 edition of Raw, for example, Rollins was the star of a fearsome Shield contest with Jack Swagger and Cesaro. Mixing up his usual high-spots, he delivered his dives seamlessly, raising the crowd to its feet. It was apparent that while Reigns is being groomed as the star attraction, and Ambrose has something unique and intangible, right now Rollins is the one exploding out of the gate.
"Seth has all the tools to be the WWE World Heavyweight Champion," enthused "Sugarfoot" Alex Payne, who first met Rollins around the age of 17, when both grapplers were working independent shows in the Midwestern United States. "I think a build for him, one day as the Intercontinental and/or United States Champion would be good. He's a creative guy in terms of the moves he can perform, and the knowledge he has inside of the ring. I can see him doing a few more daredevil matches, like TLC or Ladder matches, that would steal the show. He's got youth and time on his side. I'd love to see him have a WrestleMania moment of capturing gold there."
| | | |
| --- | --- | --- |
| | Mr. Money in the Bank | |
Seth Rollins doesn't just carry the Money in the Bank briefcase around within the confines of the WWE Universe, but outside of it as well.
Here is a shot of Mr. Money in the Bank holding the valuable briefcase while waiting in line for his flight.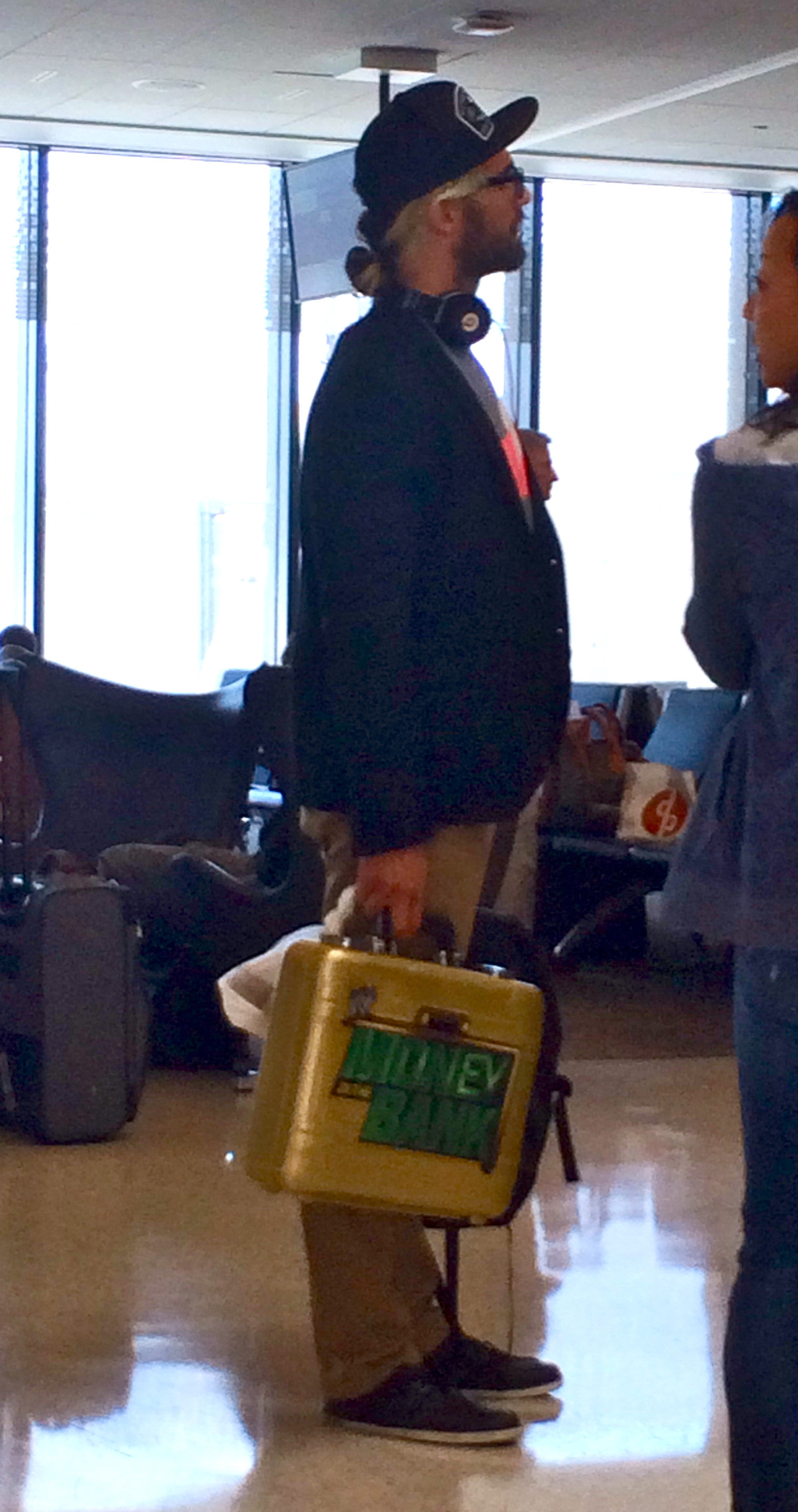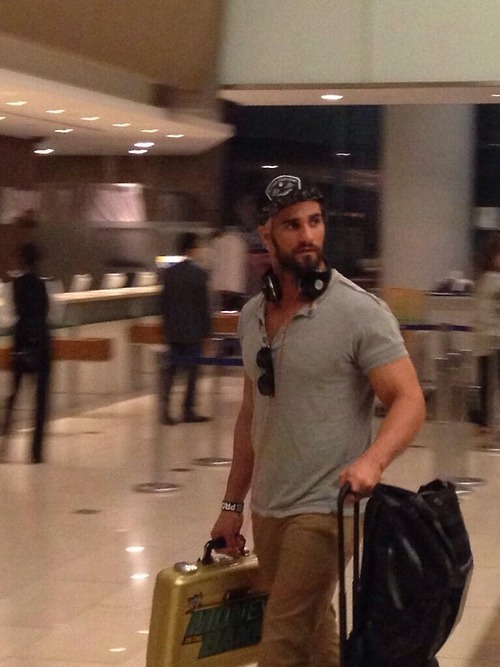 It is mandatory for WWE Superstars to travel with their title belts, and in the case of Rollins, the Money in the Bank briefcase. Although it can be a nuisance to travel with a large prop 24/7, it's a problem most wrestlers would prefer to have.

Latest Headlines
»

Eva Marie Accepts Ice Bucket Challenge, Possible Push for WWE NXT Star
»

Kurt Angle on Possibly Returning to WWE, If His Body Can Handle It, Spike
»

Bret Hart Talks About Feuding with Owen & Lawler, Austin at WM 13, More
»

Backstage News on Hulk Hogan Looking to Wrestle, Who He Wants to Face
»

Hulk Hogan Takes ALS Ice Bucket Challenge, Former WWE Diva on Motherhood
»

Which RAW Segment Was Added Last Minute?, John Cena Appears After SD, NXT
»

The Undertaker and Mark Henry Teaming Up for Champions 4 Children, More
»

Why AAA Used Del Rio's WWE Theme Song, Thea Trinidad Takes ALS Challenge
»

Beyond The Ring Update, WWE Hall of Famer Wraps Action Movie, Eva
»

Kurt Angle and Other TNA Stars Take Ice Bucket Challenge, Update on Bully
With a change in attitude comes a new look as at Tuesday's SmackDown taping in Columbus, Ohio, Seth Rollins rid himself of his last link to The Shield by debuting all-new attire.
While Rollins appears in this apparently blockbuster movie-based ensamble, the latex and/or leather vest is only for his ring entrance. He wrestled without it against Kofi Kingston.
The online reaction to Rollins' new gear has been mixed thus far, but at least it can be said that he put more thought into his transformation than Deuce did a few years ago for Sim Snuka.
It's Indyriffic!
Social Media: Seth Rollins has made his presence known on social media with accounts on Twitter and Instagram. Fans can keep up with the Iowa native on the microblogging at WWERollins. Fans can also find Rollins on Instagram at wwerollins. He does not have a personal account on Facebook.

As surprising as it may be today, one of the members of The Shield was at one point close to being wished well in his future endeavors by WWE.

Last year, rumors circulated that all three members of the group - Dean Ambrose, Roman Reigns and Seth Rollins - had developed a degree of backstage heat that could hinder their progress in WWE. Like so many young wrestlers before them who were fast-tracked to WWE stardom, the trio was accused of developing egos and forgetting proper professional wrestling locker room etiquette.

Former WWE creative writer Court Bauer claimed on Live Audio Wrestling in July that various employees in the sports-entertainment organization had complained to him about the group "taking themselves and their gimmick too seriously." The group, which debuted eight months prior at the Survivor Series, was actually close to not coming into existence at all due to a similar mindset. Rob Naylor, who worked as a creative assistant for WWE's NXT division from 2011 through 2013, recently revealed that a member of the group was on the bubble to be wished well in his future endeavors a few months prior to the angle coming to fruition due to management's negative perception of the individual's real-life character.

Outside of the ring, Rollins is considered an independent thinker who challenges the status quo, Ambrose can be taken the wrong way and Reigns has a history of personal issues (he was arrested in Florida on June 20, 2010 and charged with disorderly conduct and public intoxication). Naylor, however, does not believe there's anything for Shield supporters to worry about.

"I can see why they were perceived that way. I saw Ambrose act kinda foolishly politically on occasion, but he had a 'live by his own rules' kind of mindset. He's a rare renegade in a business that has become very saccharine and milquetoast, in my opinion. He's a cavalier," Naylor said in an interview.

"Rollins' issues were simply that he didn't always listen precisely to his coaches. He'd be told not to do a move... and then do it. He later would tell the younger talent to just bide your time and listen to what you are told, as once you get the spot you deserve, you'll then have the opportunity for more in-ring latitude, so to speak.

"I know that while Rollins was in FCW and NXT, people felt at times he had 'behavioral issues'. That was never the case in my estimation. Every coach on the staff was just as hungry at one time, so that was overblown. But he was on the bubble to be let go months prior to the Shield angle, based on the perception of some from the office."

Thankfully, for all concerned, such drastic measures were avoided, and certainly the proof that this was the correct decision has been borne out in The Shield being a top-level attraction for WWE. The fact that they have also been endorsed by John Cena at recent live events indicates that the roster is equally grateful to have The Shield ready and willing to carry some of the load.
| | | |
| --- | --- | --- |
| | Now engaged | |
Seth Rollins recently became engaged to his longtime girlfriend, a woman by the name of Leighla Schultz. This was revealed on her Instagram account.
"My best friend, my rock, and my soulmate," she says of Rollins.
Not much is known about Leighla, but she describes herself on Twitter with "Cosmetologist, makeup junkie, coffee addict, big hair, music, & tattoos."

Latest Headlines
»

Eva Marie Accepts Ice Bucket Challenge, Possible Push for WWE NXT Star
»

Kurt Angle on Possibly Returning to WWE, If His Body Can Handle It, Spike
»

Bret Hart Talks About Feuding with Owen & Lawler, Austin at WM 13, More
»

Backstage News on Hulk Hogan Looking to Wrestle, Who He Wants to Face
»

Hulk Hogan Takes ALS Ice Bucket Challenge, Former WWE Diva on Motherhood
»

Which RAW Segment Was Added Last Minute?, John Cena Appears After SD, NXT
»

The Undertaker and Mark Henry Teaming Up for Champions 4 Children, More
»

Why AAA Used Del Rio's WWE Theme Song, Thea Trinidad Takes ALS Challenge
»

Beyond The Ring Update, WWE Hall of Famer Wraps Action Movie, Eva
»

Kurt Angle and Other TNA Stars Take Ice Bucket Challenge, Update on Bully