Ultimate Warrior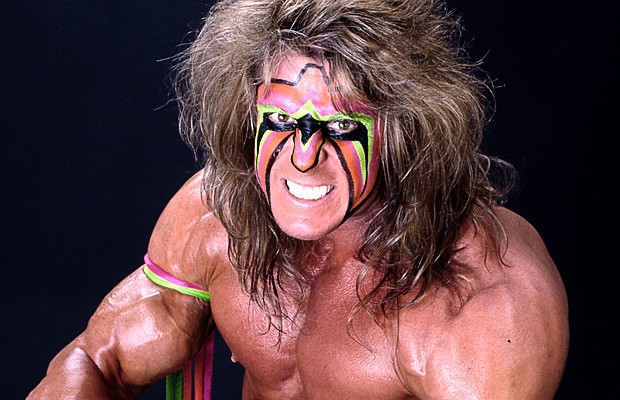 With unmatched energy, Ultimate Warrior exploded on the WWF scene in 1987. In record time, the face-painted Superstar became a household name and sports entertainment icon. Ultimate Warrior had a natural charisma that was undeniable. His high-energy entrances and chiseled frame made him an instant hit with fans, while his high threshold for pain and unparalleled power struck instant fear into opponents. Within months of his debut, he had turned back many of WWF's top names on his way to becoming one of the company's top draws.
Rare Ultimate Warrior Photos | Did Ultimate Warrior Know He Was Dying? | Vince McMahon Wanted Ultimate Warrior To Join WWE During The Attitude Era | Is WrestleMania VII Cursed?
At SummerSlam 1988, Ultimate Warrior ended Honky Tonk Man's record 15-month Intercontinental Championship reign when he toppled the titleholder in a mere 30 seconds. The dominant victory proved that nobody was safe from the Ultimate Warrior's intensity. With the Intercontinental Championship around his waist, the Ultimate Warrior became one of the World Wrestling Federation's most marketable Superstars. It wasn't long before arenas were filled with Ultimate Warrior T-shirts; fans even began to paint their faces like the eccentric hero.
Ultimate Warrior's superhuman strength carried him to a nearly eight-month Intercontinental Championship reign. It eventually took outside interference from Bobby Heenan for "Ravishing" Rick Rude to wrest the title from Ultimate Warrior at WrestleMania V. He later reclaimed the gold from Rude at SummerSlam 1989.
Ultimate Warrior's second stint with the Intercontinental Championship proved to be even more popular with the fans, setting the stage for an inevitable showdown with WWF Champion Hulk Hogan. WWF's most popular Superstars finally met at WrestleMania in an historic encounter dubbed "The Ultimate Challenge." With both titles on the line, Ultimate Warrior defeated Hogan in front of more than 67,000 screaming fans in Toronto's Skydome. The victory was capped off by an amazing fireworks display, a precursor to the pyrotechnics seen on a weekly basis on today's WWE television.
Following the WrestleMania win, Ultimate Warrior spent the next nine months proudly defending the WWF Championship. His whirlwind reign was eventually silenced when Sgt. Slaughter, with some help from Randy Savage, defeated him at the 1991 Royal Rumble. Rather than set his sights on reclaiming the prize, Ultimate Warrior focused his attention on gaining revenge from Savage. He finally accomplished the ultimate retribution when he defeated Savage in a Retirement Match at WrestleMania XII.
Did Ultimate Warrior Know He Was Dying?
---
Nearly eighteen years after last appearing on WWE television, Ultimate Warrior returned to Raw one year ago this week on April 7, 2014. The next day he was dead. He collapsed while walking to his car in Arizona on a 90-plus degree day. He was taken to the hospital and pronounced dead.
Warrior was walking down a hallway at the Gainey Suites Hotel in Scottsdale and headed toward his car with his wife—when he stopped, clutched his chest and collapsed. He never recovered. All signs pointed to massive heart attack. Law enforcement officials believed Warrior suffered a "catastrophic medical event."
An autopsy revealed that Warrior died a natural death caused by atherosclerotic cardiovascular disease, and more immediately, a heart attack.
Warrior had just been through a stressful weekend of travel and public appearances for WWE including the Hall of Fame Induction Ceremony and his live appearance on Raw. He didn't appear particularly healthy or steady. He sweat profusely, not just on camera, but behind the scenes according to those who saw him. He staggered a bit on his way to the ring and was short of breath during his Hall of Fame speech and especially on Raw. During his Hall of Fame speech, he made light of how much he sweat. He also made fun of how he had "blown up" during his speech. Those who were around him behind the scenes say there were warning signs that he didn't appear right, but since they weren't around him otherwise, they believed it was just nerves getting to him.
According to sources who were backstage at the WWE Hall of Fame Induction Ceremony, Warrior was very friendly when approached, but also quiet and somewhat reserved. Otherwise, he kept mostly to himself. He was given special accommodations by WWE, including a rental house for himself and his family over the weekend. He didn't stay at the Roosevelt New Orleans hotel with WWE talent and employees. He didn't make scheduled appearances other than at the Hall of Fame Induction Ceremony and Raw.
During his promo on Raw, Warrior made eerie allusions to fate and death.
"Every man's heart one day beats its final beat. His lungs breathe their final breath. And if what that man did in his life makes the blood pulse through the bodies of others, and makes them believe deeper in something larger than life, then his essence, his spirit will be immortalized—by the storytellers, by the loyalty, by the memory, by those who honor him and make the running the man did live forever. You, you, you, you, you are the legend-makers of Ultimate Warrior… I am Ultimate Warrior, you are the Ultimate Warrior fans, and the spirit of the Ultimate Warrior will run forever!"
Sources say Warrior and his family were made aware of his greatly failing health—it was the precursor for him to make amends with WWE as a way to both say good-bye and also to provide his family income.
Warrior had admitted to fearing an early death in the past. In a 1999 deposition, he addressed this in the context of his father's passing at 57-years-old three years earlier.
"I'm thinking about, you know—I just had my 37th birthday. I got 20 years left in my life maybe. I mean, you know, I'm doing these calculations in my head. My grandfathers die at 52."
Warrior was 54-years-old and is survived by his wife Dana, his two daughters, his mother, his two sisters and his two brothers.
Ultimate Warrior Arrives To The WWF
---
James Hellwig arrived to the World Wrestling Federation (WWF) in June 1987, competing under the Dingo Warrior moniker. He initially competed at non-televised events, where he continuously defeated a group of enhancement wrestlers including "Iron" Mike Sharpe, Barry Horowitz and Steve Lombardi. He debuted on television as Ultimate Warrior, making quick work of journeyman wrestler Terry Gibbs on the October 25, 1987 airing of WWF Wrestling Challenge. He quickly captured the attention of fans with his comic book physique, neon face paint and dynamic ring entrance. While most wrestlers slowly walked to the ring, Warrior sprinted full speed down the entrance ramp and ran circles around the squared circle before shaking the ropes in a violent manner.
After several months of steamrolling jobbers, Warrior suffered his first defeat inside a WWF ring on December 28, 1987 to "Ravishing" Rick Rude.