John Cena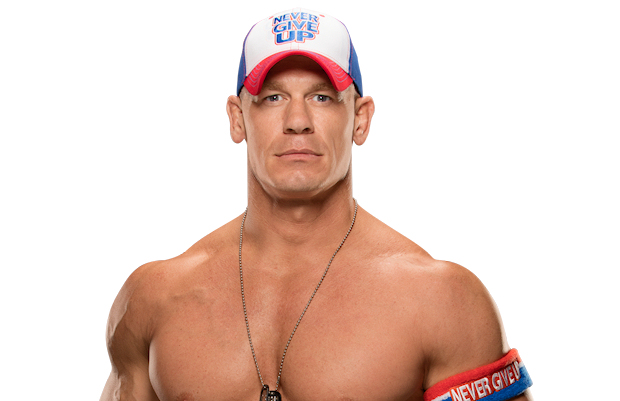 Love him or hate him, WWE fans must respect John Cena.
Who Is John Cena's Ex-Wife? ▸
Before his relationship with Nikki Bella got out in the open, John Cena was quietly married to a woman named Elizabeth Huberdeau. See photos of when the two were together, and from their wedding. There are even some photos of Elizabeth which would be considered trashy . . .
Latest John Cena News, Photos & Videos ▸
John Cena on PWPIX.net, your go-to source for the latest news, rumors, photos and videos on the 15-time World Heavyweight Champion . . .
Get A Look At John Cena's House ▸
John Cena currently resides in the private, gated community in Land O' Lakes, Florida. The WWE Superstar's waterfront home, which you can see here, is valued at roughly $750,000 . . .
What Is John Cena's Net Worth As Of 2016? ▸
By now, John Cena has made quite a bit of cash. Since 2005, the leader of the Cenation has been the top Superstar in WWE because he is an absolute cash cow for the sports-entertainment organization. So, just how much is "The Champ" worth as of 2016? Find out here . . .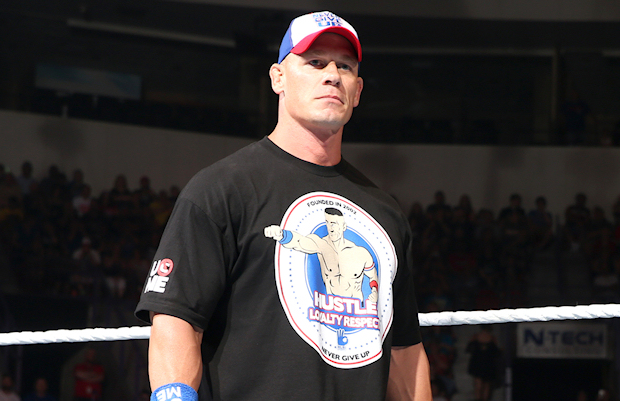 John Cena's Relationship With Nikki Bella ▸
Thanks to Total Divas on E!, fans of WWE and reality television have gotten an inside look at John Cena's relationship with Nikki Bella. Here are details and rare pics of their relationship . . .
John Cena Involved In A Car Accident ▸
Less than two weeks before his epic "Once in a Lifetime" Match against Dwayne "The Rock" Johnson at WrestleMania XXVIII, John Cena was involved in a car accident while traveling in the Philadelphia, Pennsylvania area. The SUV he was traveling in was rear ended by a Honda Civic, which had been rear ended by a tractor trailer. Check out photos from the accident . . .
How Much Money Does John Cena Make? ▸
As WWE's franchise star, John Cena rakes in a lot of money from Vince McMahon's company. But just how much money does "The Champ" make on a yearly basis from WWE?
John Cena Reveals His Halloween Costume ▸
John Cena and girlfriend Nikki Bella are Dumb and Dumber for Halloween. The couple tweeted a video of their Halloween costumes — the orange and blue suits worn by Lloyd and Harry in . . .
Why Doesn't John Cena Turn Heel? ▸
While a good portion of WWE's fanbase clamors for John Cena to finally turn heel, he has vowed to never cross over to the dark side. "[It will] never happen," Cena once said a video . . .
What Is John Cena's Net Worth?
---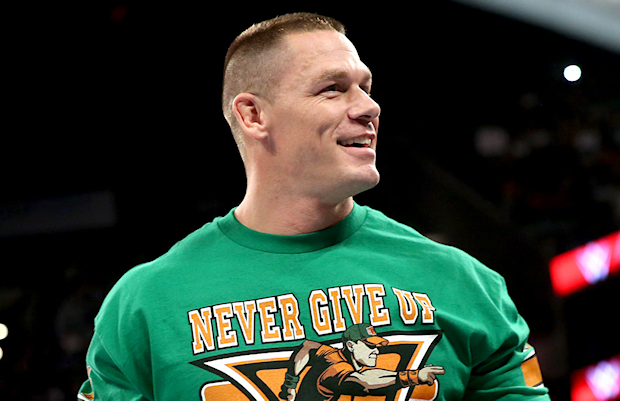 It pays to be the top Superstar of WWE. Just ask John Cena.
Since 2005, John Cena has been the most promoted Superstar in WWE. He is the face of the global company because he is an absolute cash cow. Not a month goes by where the sports-entertainment organization doesn't release a new piece of colorful Cena merchandise. It's truly astonishing.
The leader of the Cenation works hard for his money and is rewarded handsomely for it. With the possible exception of Vince McMahon, WWE's Chairman of the Board and Chief Executive Officer, nobody in the company works harder than Cena. He is constantly on the road and makes more personal appearances than any other WWE Superstar.
Numerous websites have Cena's net worth estimated at approximately $35 million. That, however, is a shot in the dark answer since his net worth has never been confirmed. Based on his rumored earnings from WWE, it's highly possible.
According to Wrestling Observer Newsletter editor Dave Meltzer, Cena "is closing in on earning $10 million per year" from WWE. This appears to be an accurate number given Meltzer's credibility and what other top WWE Superstars, such as Brock Lesnar and Randy Orton, are rumored to be earning.
It was reported in 2013 that Orton was earning $291,666 per month from WWE while Lesnar's contract with the sports-entertainment organization was paying him $5 million on an annual basis. While it's unclear if these figures included earnings from video game royalties and merchandise sales, they're whopping numbers either way. It's possible that Lesnar, who signed a new contract with WWE last year, and Orton are raking in even more money now.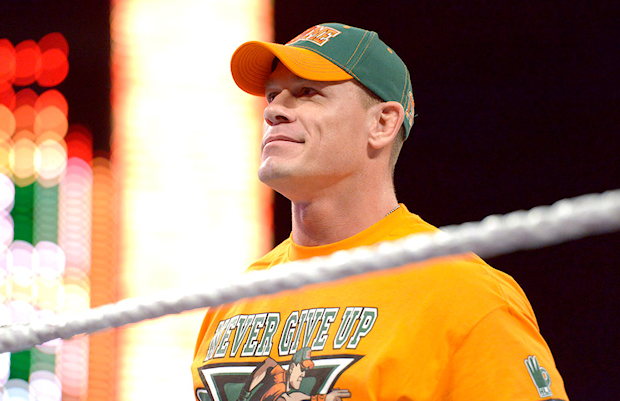 This is why Cena, who has been the driving force behind WWE's success for more than a decade, earning almost $10 million per year should not be seen as surprising. It was reported by Meltzer in the November 16, 2015 issue of the Wrestling Observer Newsletter that Cena was the top merchandise seller in WWE, with Roman Reigns ranking second.
Having dipped his foot into Hollywood, Cena's earnings aren't just limited to WWE. He has starred in action films such as 12 Rounds and The Marine while putting his comedic chops on display with Amy Schumer in Trainwreck. In 2015, he was enlisted by Fox to host and executive produce American Grit, a military-inspired reality competition show. Endeavors outside of WWE should safeguard his financial prospects in the future when he's done wrestling.
An avid car collector who spends a lot of money on powerful vintage cars, his garage includes the 1969 Dodge Daytona, a 1969 Chevrolet COPO Camaro, a 1971 Pontiac GTO, and a 1971 Plymouth Road Runner. He currently resides in the private, gated community of Nature's Reserve in Land O' Lakes, Florida. His waterfront home is valued at roughly $750,000, and includes a swimming pool and a boat dock.
John Cena's hard work, determination and business acumen should set an example for anyone who desires to be financially successful.
About John Cena
---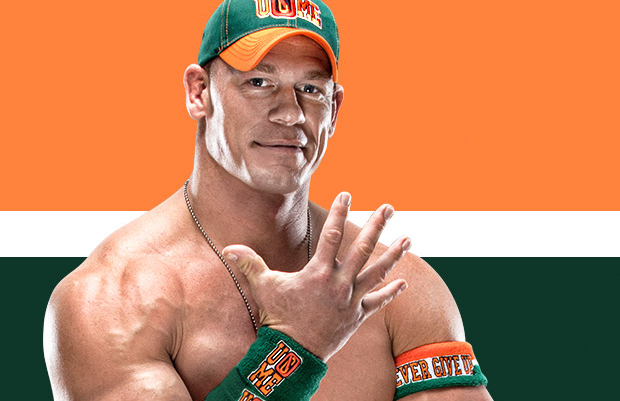 After more than a decade competing in WWE rings, the native of West Newbury, Massachusetts has proven himself as one of the greatest Superstars to ever lace a pair of boots (or sneakers). En route, John Cena has also become the most polarizing personality in the history of professional wrestling. In nearly every arena he enters, the leader of the Cenation is regularly showered with chants of "Let's go Cena!" followed by "Cena sucks!"
Early Life
---
Growing up in West Newbury, Massachusetts, seven-year-old John Cena became an instant wrestling fan. Hulk Hogan, The Iron Sheik and "Rowdy" Roddy Piper captured his imagination and ignited the spark that would set him on a course to WWE stardom. As a child, he and his buddies would wrestle in his basement, emulating their WWE heroes. They put on shows and even made title belts out of computer paper.
At Cushing Academy in Ashburnham, Massachusetts, Cena continued to follow the professional wrestling industry, but turned his athletic pursuits to the football field. All his peers played football, and even though he didn't love the sport at first, he played because his friends did. A bit undersized at just over 200 pounds, Cena nevertheless excelled playing center.
Upon graduating from high school, Cena enrolled at Springfield College in Ashburnham, Massachusetts. He considered entering the military, but didn't want to lose any of the size and strength that he had worked so hard to build during his high school days – the very same reason why he didn't wrestle in high school. At Springfield, he bulked up to 240 pounds – large by normal standards, but still small as far as football centers go. His size didn't prove to be a detriment, though, as he played standout football for one of the better Division III schools in the United States.
After graduating from Springfield in 1998 with a degree in exercise physiology, Cena moved to Southern California. Tired of the long, cold New England winters, he moved to sunny California. He took a job moving exercise equipment and worked 75 hours per week.
"Basically, my job sucked," Cena recalled in a 2002 interview. "It was the worst job ever."
While working this thankless job, Cena took his first active steps towards becoming a WWE Superstar.
Early Wrestling Years (1999-2001)
---
One of his friends was a wrestler for the Rick Bassman-operated Ultimate Pro Wrestling (UPW), which at the time was associated with WWE. Cena enrolled at UPW in 1999 to learn how to wrestle. "It was a great opportunity for me to be seen," says Cena. "I wasn't any good, and I bless the WWE Talent Relations Department for seeing something in me. They gave me a chance."
Cena wrestled for UPW from November 1999 through early 2001, when he was signed to a developmental contract by WWE and sent to Ohio Valley Wrestling (OVW) in Louisville, Kentucky for further seasoning. There, Cena's athletic background and physique, along with his tireless work ethic both in the ring and in the gym, had people calling him the prototypical wrestler. Thus was born "The Prototype," Cena's persona in Ohio Valley Wrestling.
Following his arrival in the minor league outfit, Cena formed a relationship with Rico Constantino, who was attempting to be a role model for the fans. Constantino dubbed the chiseled upstart "The Perfect Man." While the people of Kentucky didn't take to Rico and Cena's condescending attitude there was no doubting their success. The charismatic duo captured the OVW Southern Tag Team Championship and ruled the division for much of 2001.
Cena's knowledge and ability grew by leaps and bounds in Louisville. The atmosphere for learning was perfect, and for someone with a passion for the professional wrestling industry.
"John came from California, we got him really early on in his career, but you could tell he was a natural," says Jim Cornette, who partially owned Ohio Valley Wrestling during Cena's time in the promotion. "I thought he would actually be this generation's version of a Ric Flair. He was a heel then, and he was so cocky, arrogant and good looking – he had the physique and the genetics, he could talk, but they decided to go a different direction with him and he got over just as big on the other side."
Following Constantino's promotion to the main WWE roster to become the personal stylist to Billy and Chuck, Cena blossomed on his own. "The Perfect Man" became the perfect champion, winning the OVW Heavyweight Championship from Batista, who was then known as Leviathan, on February 20, 2002. His reign would be short-lived, as he was promoted to WWE's main roster on the June 27, 2002 edition of SmackDown!.
Ruthless Aggression (2002)
---
Few WWE Superstars have had as impressive a debut match as Cena. Selected to wrestle Kurt Angle the very day he was promoted from Ohio Valley Wrestling, the rookie nearly pulled off the impossible by dethroning the Olympic Gold Medalist. In the end, Angle's ability and experience proved too much, and the West Newbury, Massachusetts native ended up on the short end of the stick. But Cena's performance turned heads; he had made his mark and proved that he was no ordinary rookie.
Before Cena's SmackDown debut in Chicago, Illinois, Cena was told two things: He had a match that night, and he needed to get a haircut. It all happened so fast that Cena didn't have time to get nervous. He rushed out to get his haircut and by the time he returned, he had to prepare for his match. The match itself was so fast-paced that he didn't have time to think, and the fans were so loud that he moved into that zone where nervousness cannot enter. His debut turned out to be much easier than he ever thought it could be.
"I'd like to take my hat off to Kurt Angle," remarked Cena in an interview shortly after the match. "He's a tremendous athlete and one of the most professional guys I've ever met. It's incredible being in the ring with such a talent."
WWE apparently had big plans for the wide-eyed babyface rookie as he was quickly programming with another veteran star, Chris Jericho. But it was all too much, too soon. The fans began to resent this good-looking greenhorn, who wore the campiest trunks imaginable while laughably claiming to have "ruthless aggression."
Following the event, Cena appeared as a babyface and began feuding with Chris Jericho. In a tag team affair, Cena partnered with The Undertaker to defeat Jericho and Angle on the July 11, 2002 episode of SmackDown. Cena rolled up Jericho for the victory, and defeating the former Undisputed Champion again at Vengeance on July 21, 2002 in a match that was supposed to establish him as a new star. But their match was deathly-dull and the live crowd obviously hated it. Still, WWE's creative team persevered with their Natural Born Thriller wannabee. Alongside Edge and Rey Mysterio, Cena was proclaimed to be "the future of SmackDown!" The three were even given a win over Chris Benoit, Eddie Guerrero and Angle to 'prove the point' on the August 8, 2002 episode of SmackDown!.
But, by the end of the month, management had given up on him: they'd realized the babyface version of Cena was boring and did not connect with the audience. So, they relegated him to Velocity and a jobber role on SmackDown!, and he stared at the ceiling for everyone from Brock Lesnar to Reverend D-Von.
In October, Cena aligned himself with Billy Kidman and participated in a tag team ltournament to crown SmackDown's first WWE Tag Team Champions – they lost to the team of Chris Benoit and Kurt Angle. On the following week's episode of SmackDown!, Cena blamed Kidman for the loss since the former WWE and WCW Cruiserweight Champion had tapped out to Benoit's Crippler Crossface. Cena effectively turned heel in his subsequent match with Kidman by cheating to win with his feet on the ropes.
Word Life (2002-2004)
---
John Cena was already growing by leaps and bounds in the ring by this time, and was given television exposure with the likes of Angle and Undertaker, but he still needed that extra something to make his appearances memorable. On the way home from an overseas tour of the United Kingdom, Cena was sitting in the back of the plane, getting back to his second nature – freestyle rapping. Little did Cena or anyone else know that with a little time-killing rapping on a long flight home, all the pieces were about to come together for the youngster.
"I was just freestyling on the plane and I just kept going and going – I was in a zone," Cena said. "Someone heard it and passed it on. Soon I was asked to do it again for the creative team, and then it all started on the Halloween party on SmackDown! [in which Cena was dressed as Vanilla Ice and first broke out his rhymes for television]. It's just grown from there."
With a thick steel chain around his neck and baggy jean shorts hanging low from his waist, the WWE newcomer projected a thug-like identity that was impossible to overlook. Cena complimented his street-tough appearance with never-before-heard freestyle rapping skills. It wasn't long before WWE's newest bad boy earned the nickname "Doctor of Thuganomics."
Rhyming and rapping wasn't new to WWE, as anyone who recalls Men on a Mission or Road Dogg's intros will tell you. Cena was given free rein to create his own rap promos denigrating the most popular WWE Superstars on SmackDown and, combined with the "old-school" pro sports gear he donned to the ring, he quickly found himself with one of the most overbearing – and entertaining – personae in WWE.
The rhymes are all original. Once Cena finds out who he will be competing against, he retreats to the upper levels of whatever arena SmackDown is in that night and creates. The cheap seats are what Cena calls "The Lab," and it's where his years of freestyling are put to good use.
And, although his rhymes and obnoxious TV demeanor earn him a cascade of jeers from fans, Cena believed he was delivering an important message through his persona.
"It's entertaining, but it's not something corny like Men on a Mission," Cena remarked. "You can get with it if you really like hip-hop. I put forth a lot of effort into my lyrics and make them funny and entertaining at the same time, but they're also creative. The younger generation can get into it. Hip-hop is mainstream now, whether people like it nor not. As much as some want to make it thug, it's mainstream. There are a lot of non-street-raised kids out there now listening to hip-hop. Although people take the gimmick for a joke, it's just a good image to show those kids that you don't have to be a gangsta or a thug. You can come out, and if you've got skills, show your skills. You've just got to back up what you stand for and get behind it.
"I grew up in a small town, I went to a $30,000 prep school, I have a college degree," Cena added. "I don't drink or do drugs. I've never hustled for anybody or stolen anything from anybody. But I've got skills. I have a degree in exercise physiology from Springfield College. And I don't care who knows that."
"If people want to say that I'm not down and I'm not a thug, no, I didn't have to rob and shoot people to get where I am. But I can rock the mic, so give me the opportunity to rock the mic. Respect the art form rather than [say], 'You have to have a thug background to be in the rap game.' That's just what I'm showing the kids, which is something different."
But the new John Cena didn't break out of the mid-card pack at first, partly because some bright spark decided to saddle him with a ball and chain.
On the November 21, 2002 episode of SmackDown!, former Right to Censor member Bull Buchanan was repackaged as Cena's homeboy sidekick to aid him in feuds with Rikishi and Los Guerreros. Wearing a wool cap and yelling "BOO-YA!," Buchanan's B-2 character was abysmal.
Luckily, the mismatched combo only lasted two months; the dreadful B-2 was given his marching orders in January 2003. Bizarrely, his replacement, Redd Dogg last two weeks before he was shipped off to Raw.
Cena sought the WWE Championship during the first half of 2003 and pursued the reigning champion, Brock Lesnar following WrestleMania XIX. In the meantime, however, Cena feuded with Chris Benoit and mocked the Canadian grappler by sporting a "Toothless Aggression" T-shirt. "The Doctor of Thuganomics" earned the right to face Lesnar at Backlash on April 27, 2003 by winning a No. 1 Contender's Tournament, but came up short in their pay-per-view contest. On July 27, 2003 at Vengeance, Cena lost to Undertaker in a singles match.
Cena became a babyface again at the end of the year when he joined forces with Kurt Angle as a member of his squad at Survivor Series on November 16, 2003. Team Angle, which also consisted of Bradshaw, Chris Benoit and Hardcore Holly, defeated Team Lesnar (consisting of A-Train, Big Show, Matt Morgan, Nathan Jones and team captain Brock Lesnar) in a Ten-Man Elimination Match. Cena and Benoit were the sole survivors.
John Cena, who was featured in the promotional poster for the 2004 Royal Rumble on January 25, participated in the annual Royal Rumble Match. He was among the remaining six competitors before being eliminated by Big Show in a battle royal match won by Benoit. Despite the loss, Cena had proven his worth by toppling many of WWE's top names over the last year, including Kurt Angle, Undertaker and Eddie Guerrero. With such an impressive won-loss record to his credit, Cena was in line for the biggest opportunity of his career to date: A United States Championship Match against Big Show at WrestleMania XX on March 14, 2004 at Madison Square Garden in New York City. With the help of his brass knuckles, Cena chopped the giant Big Show down to size on his way to capturing the United States Championship. The victory proved to be the first of many WrestleMania moments for John Cena.
Cena's United States Championship reign came to an end on the July 8, 2004 episode of SmackDown, who was stripped of the title by brand General Manager Kurt Angle for laying a hand on him. Cena accidentally knocked a wheelchair-bound Angle over during a match, which the 1996 Olympic gold medalist considered to be an attack. He reclaimed the title on October 4, 2004 at No Mercy after defeating Booker T in the final match of a Best of Five Series to determine an undisputed United States Champion. Cena, however, would lose the title to the debuting Carlito Caribbean Cool on the following episode of SmackDown. This kicked off a feud between the WWE Superstars, which led to Cena allegedly being stabbed in the kidney by Carlito's bodyguard, Jesús, at a nightclub in Boston, Massachusetts. WWE's creative department scripted this angle to explain Cena absence from television while he filming The Marine. Cena gained retribution on the November 18, 2004 episode of SmackDown when he annihilated Carlito to reclaim the United States Championship.
The Champ Is Here (2005)
---
In 2005, there was no denying Cena his time to shine. He participated in the Royal Rumble Match, making it to the final two with Batista. Cena and "The Animal" simultaneously went over the top rope, ostensibly ending the contest. The contest was restarted, which resulted in Batista eliminating Cena to secure the win. Following this setback, he defeated Orlando Jordan, Booker T and Kurt Angle in a No. 1 Contender's tournament to earn an opportunity at John "Bradshaw" Layfield's WWE Championship on the grandest stage of them all, WrestleMania 21.
With a sold-out STAPLES Center in his corner, Cena permanently etched his name in the annals of professional wrestling when he dropped JBL with an Attitude Adjustment to claim the WWE Championship. To prove his reign was no fluke, the new champ followed his WrestleMania victory with another win over JBL at Judgment Day. This time, Cena did it in one of wrestling history's most gruesome "I Quit" Matches.
With the WWE Championship strapped firmly around his waist, Cena's star began to shoot higher and faster than any other Superstar in recent times. Before long, the champ's time was in high demand. When he wasn't competing in the ring, he was making personal appearances; and when he wasn't making personal appearances, he was training or traveling or in the recording studio making his debut album, You Can't See Me, which debuted at No. 15 on the Billboard charts.
Through it all, Cena also managed to find time to redesign the WWE Championship from its traditional look into what is regularly referred to as the "spinner belt." Wrestling traditionalists gasped at the idea of altering the most elite championship, but Cena simply shrugs off the naysayers, claiming his business is evolutionary and must move forward to survive. His defense: Go back and watch an old match from the 1950s and compare it today's action. It's evolved; so should the title.
Feuding Over The WWE Championship (2006-2007)
---
John Cena proudly carried the WWE Championship into 2006. His first big test came at January's New Year's Revolution when he defended the gold against Kurt Angle, Shawn Michaels, Kane, Carlito and Chris Masters in an unforgiving Elimination Chamber. Despite having the odds stacked firmly against him, Cena never backed down and walked away from the grueling half-hour affair with the win.
Shortly after the match, however, a beaten and battered Cena was forced to defend the title yet again when Edge emerged to cash in his Money in the Bank briefcase. The exhausted champ was no match for the well-rested Rated-R Superstar. Less than two minutes into the contest, Cena and his title reign fell victim to Edge's lethal spear.
For Cena, the loss marked the end of his amazing nine-month reign atop WWE. Luckily for him, however, he only had to wait three weeks before gaining revenge on Edge and reclaiming the title at Royal Rumble.
Around the same time, the movement that has become known as the "Cena divide" began to gain steam. Some of the Cena cheers transformed into boos. But the more anti-Cena fans booed, the more Cena supporters cheered. It eventually turned into a giant circle of deafening sentiment, both for and against, showering down on the champ.
In June 2006, however, there was no circle of sentiment. When Cena defended the WWE Championship against Rob Van Dam at One Night Stand in front of a venomous ECW crowd, there was only one reaction Cena elicited: "Cena sucks!" The ECW faithful were so anti-Cena that they even rejected the champ's merchandise when he threw it into the crowd as a souvenir.
Cena suffered a discouraging loss at One Night Stand but it failed to derail him. By year's end, he reclaimed the WWE Championship for a third time. He went onto to hold the gold longer than anybody in many years. In the past three decades, only Hulk Hogan's WWF Championship reign in the 1980s exceeded Cena's 380 days.
Unfortunately for Cena, a torn right pectoral tendon put a premature end to his epic title reign. The injury required surgery and a six-month rehabilitation period.
World Championship Reigns (2008-2010)
---
After only three months, a determined John Cena made a shocking return to win the 2008 Royal Rumble. The win not only added "Royal Rumble winner" to his accomplishments, but also led to a WWE Championship Match at WrestleMania XXIV against Triple H and belt holder Randy Orton.
Cena was unable to regain the gold at WrestleMania XXIV and later that same year, a herniated disc delayed his continued pursuit to return to the top. When Cena finally returned in November 2008, he made a huge splash by doing something he had never done before: He won the World Heavyweight Championship by defeating Chris Jericho at Survivor Series.
Cena topped Edge and Big Show at WrestleMania XXV to tack a second World Heavyweight Championship reign to his credit before turning his attention back to the WWE Championship. In September 2009–three years after last losing the WWE Championship– Cena turned back Orton in a thrilling "I Quit" Match to finally regain the title.
The victory gave Cena his fourth reign with the WWE Championship. Reign No. 5 also came at Orton's expense, while a victory over Sheamus awarded Cena his sixth run at the top. WrestleMania XXVI was the historic backdrop for Cena's thrilling victory over Batista and his seventh WWE Championship reign.
Record-breaking WWE Champion (2011-2012)
---
With plans of tying Triple H's then-record of eight WWE Championship reigns, John Cena challenged The Miz for the gold at WrestleMania XXVIII. But the event's host, Dwayne "The Rock" Johnson, had other plans for Cena. Toward the end of the match, Rock flattened Cena with a Rock Bottom, allowing The Miz to pick up the win. The controversial conclusion to the match set the wheels in motion for the epic year-long rivalry with The Rock, which culminated with a victory at WrestleMania XXVIII.
Despite all the championship success, Cena wanted nothing more than to defeat The Rock in a "Once in a Lifetime" encounter at WrestleMania XXVIII. In the months leading up to the epic matchup, each Superstar tossed psyche-crushing barbs at the other but neither man backed down. As WrestleMania approached, it became clear that neither man would be broken by mere words. Their score was to be settled in the ring.
Unfortunately for Cena, The Rock got the best of him at WrestleMania. Like a man, however, Cena dusted himself and accepted defeat the next night on Raw. Members of Cenation applauded their leader's humility and recognize that regardless of the outcome of any one match, John Cena is, and always will be, one of the greatest WWE Superstars of all-time.
John Cena Files For Divorce From Elizabeth Huberdeau
---
After nearly three years of marriage, John Cena filed for divorce from his wife, Elizabeth Huberdeau, on May 1, 2012. Their divorce played out in the media as an all-out war before the two amicably settled two months later.
According to sources close to the situation, the WWE Superstar and Huberdeau agreed to bury the hatchet, a report by TMZ.com revealed on July 18, 2012.
Huberdeau was allegedly blindsided by Cena's decision get a divorce. He claimed his marriage to his high school sweetheart was "irretrievably broken." Huberdeau didn't take the news well as she challenged their prenuptial agreement, which was described by TMZ.com as "crippling," by saying Cena had been messing around with other women behind her back.
But the weeks after being hit with divorce papers must have been enough for Huberdeau's shock to wear off. Raymond Rafool, her attorney, explained to TMZ.com that the couple were able to work everything out privately, saying, "All matters [in the divorce] have been settled and resolved amicably."
All terms of the settlement have been kept confidential. Cena's representatives did not publicly comment on the matter.
John Cena Gets Involved In A Car Accident
---
John Cena was involved in an automobile accident on March 19, 2012 while traveling in the Philadelphia, Pennsylvania area. According to the official WWE website, the SUV the WWE Superstar was traveling in was rear ended by a Honda Civic, which had been rear ended by a tractor trailer. (John Cena Car Accident Photos »)
"We were doing some early morning media for the event tonight in Philadelphia and we got in a car accident," Cena said to WWE.com. "The [Acura] was totaled, but no one was hurt, believe it or not."
Cena was "a little shaken up" from the accident, according to WWE physician Dr. Michael Sampson.
"They were whiplash-type injuries that he sustained," Sampson told WWE.com. "He feels good today, but then a couple days later, that's when you get the neck stiffness and the pain. He is cleared to compete tonight. We're going to let him go, but we're definitely going to keep an eye on him. We're going to check him right before his match one more time, just to make sure he's okay."
According to Jules Anderson, Cena's driver, the accident occurred at approximately 11:30 a.m., when Cena's automobile was traveling eastbound on Rt. 76. The SUV sustained damage in the rear, according to Anderson, who noted that Cena was on a phone meeting at the time of the accident.
Cena's celebrity status may have helped calm issues between the other drivers, who were arguing after the accident. According to Anderson, once he informed the other drivers that his passenger was the Cenation Commander in Chief, tempers cooled.
WWE Live Events employee Justin Clarke, who was in the automobile with Cena, explained the accident in a WWE.com exclusive video.
"I felt the impact … [Cena] took that same hit with me," Clarke said. "I'm sure he's feeling it as well right now, but he's not the kind of guy who shows it."
Less than two weeks later, Cena faced Dwayne "The Rock" Johnson at WrestleMania XXVIII in one of the most anticipated match-ups in WWE history. The accident had little effect on the Cenation leader, who viciously went back-and-forth with "The Most Electrifying Man in All of Entertainment."
How Old Is John Cena?
---
As of 2016, John Cena is 39-years-old. The son of Carol (née Lupien) and John Cena, Sr., he was born on April 23, 1977 in West Newbury, Massachusetts. He is the second oldest of five brothers: Sean, Steve, Matt and Dan.
As NBA legend Charles Barkley once said, Father Time is undefeated. Now, at the age of 39, Cena is at an age where athletes in professional sports begin to think of retirement and replacements are waiting in the wings. In a November 2013 interview with Neil Cavuto of the Fox Business Network, The Cenation Commander-in-Chief vowed to "gracefully walk away" from WWE when he feels that he can't hang with the younger Superstars anymore.
"A lot of these athletes that are married to their sport think this is going to last forever," Cena stated. "Then, they blow out an ACL, they look around when they're 35 or 36 and their career is coming to an end and they act like the income stream is going to continue."
Cena made mention of most professional athletes winding down their careers in their mid-30's, but stopped short of saying how close he is to retiring from the squared circle.
John Cena's Relationship With Nikki Bella
---
Thanks to the hit E! reality show Total Divas, fans of professional wrestling and reality television have gotten an inside look at John Cena's relationship with girlfriend Nikki Bella. While most people see the Cenation Commander-in-Chief as the greatest wrestling superstar on the planet, the two-time WWE Divas Champion doesn't look at him in that regard.
"What's funny is that I look at John as just John Cena," Nikki stated in an interview published in the June 2014 issue of WWE Magazine. "So when we go out and everyone wants his photo or autograph, I'm always like, "Oh yeah, you're really cool." I've known him for so long, and I know him so well, that I honestly forget what a big star he is. But when I do remember, I always think to myself, "Yeah, my guy is the best thing in the world." But to me he's just John."
"Before I leave, I would love to have a storyline with John or a mixed tag match—anything really. It's so much fun to go out there and work with the boys. I worked with both The Miz and John Morrison and The Rhodes Scholars before, and I keep pushing to try and do something like that again. It lends a different excitement to the night for me, and a different level of competition for everyone involved. Fans of John and I would really love to see that, too."
With all that attention on her relationship with WWE's premiere Superstar, was Nikki ever nervous about putting her personal life on display on Total Divas?
"Definitely," said Nikki. "We kept our relationship personal for a long time, so we really had to sit down and talk about what it would mean for us. It was difficult for me because our ups and downs were now going to be out there for everyone to watch and have a say in. John and I have such a strong bond, though, and that's what made me confident to move forward with it. He's honestly the greatest man to ever walk the earth, and he treats me like a queen. He makes me comfortable with it."
Nikki would shut down rumors that she could be engaged to John as she confirmed to Life & Style that he has not put a ring on it.
"John is in a place where he doesn't see marriage. I respect his decision right now because I'm happy," Nikki stated in an interview published in a September 2014 issue.
Despite John's protests against marriage, the WWE Diva hopes he will one day change his mind. She told the mag, "I do want to get married and I want to have kids—and I want to have all that with John. I hope one day he wants those things!"
In a deleted scene from the September 7, 2014 episode of Total Divas, John shocked Nikki with a question that she never expected to hear.
"Let me ask you something," John says to Nikki while they are getting ready for dinner. "Let's just say I was to ask you to marry me and we get married. Is that enough?"
"Right when I think I get through one obstacle with him," Nikki reveals in a confessional, "now there's another one."
You can almost see the wheels spinning in John's head. He's trying to keep Nikki happy by giving her something that she desires, but in turn he's also denying her something else she desires.
"I'm trying to be a realist," Cena explains. "I've told you that I don't want to get married and I don't want to have kids and you do want to get married and you do want to have kids, so I feel there's this time bomb over my head."
Why Doesn't WWE Turn John Cena Heel?
---
Fans have been loudly booing John Cena for nine years now. Why doesn't WWE bow to public demand and turn Cena heel to capitalize on the hostility?
One word: money. A Cena heel turn would deter many young children from following the WWE product, which would result in a sharp decline in Cena-related merchandise sales and adversely effect ticket sales, pay-per-view orders and other aspects of the business too.
One could argue that a heel Cena would be far more interesting and versatile than the current version, and that a villainous/cool Cena character would enable WWE to achieve growth in ways that would offset most if not all of the aforementioned decreases. Some have even theorized that the existing Cena character, who dresses like a six-year-old and sells like Spongebob Squarepants, is holding the company back, and a heel Cena could attract a whole new audience to WWE.
However, WWE earns so much money from babyface Cena merchandise (and has done so since 2005) that it is not willing to take the risk of turning him.
If WWE can create another character whose merchandise sells in similar quantities as Cena-related goods, then a Cena heel turn might be feasible – Daniel Bryan could not and it's too early to tell whether Roman Reigns will be able to. Until that day comes, basic economics dictates that it will not happen.
If it even does.