Madison Rayne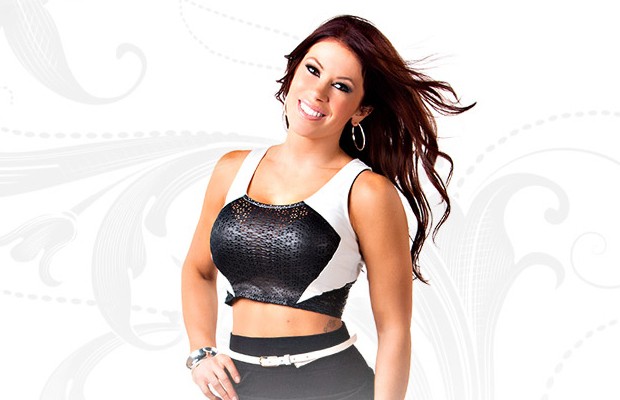 Madison Rayne is an extremely gifted competitor who isn't afraid to duke it out in the squared circle if need be. She is a vicious prima donna who will stop at nothing to seek retribution from those who dare to cross her. (Continue Reading ▸)
Madison Rayne Photos
---
MADISON RAYNE GETS STRIPPED TO HER UNDERWEAR IN AN EVENING GOWN MATCH ON IMPACT
BIKINI PHOTOS OF MADISON RAYNE COMPETING IN A FITNESS COMPETITION
MADISON RAYNE'S WEDDING PHOTOS
PHOTOS OF MADISON RAYNE PREGNANT
MADISON RAYNE TAKES ON JESSICKA HAVOK AT TNA KNOCKOUTS PAY-PER-VIEW TAPING
THE BEAUTIFUL PEOPLE FACE MADISON RAYNE AND BRITTANY IN AN EVENING GOWN MATCH (PHOTOS – PART 2)
THE BEAUTIFUL PEOPLE FACE MADISON RAYNE AND BRITTANY IN AN EVENING GOWN MATCH (PHOTOS – PART 1)
SEE HOT ANIMATIONS OF MADISON RAYNE FROM IMPACT
SEE HOT PHOTOS OF VELVET SKY, MADISON RAYNE AND ANGELINA LOVE FROM IMPACT WRESTLING
MADISON RAYNE DEFENDS THE KNOCKOUTS CHAMPIONSHIP AGAINST GAIL KIM AT LOCKDOWN
MADISON RAYNE AND VELVET SKY REUNITE ON IMPACT WRESTLING (FEB. 27, 2014)
MADISON RAYNE AND ODB VS. GAIL KIM AND LEI'D TAPA (IMPACT – DECEMBER 19, 2013)
PHOTOS OF MADISON RAYNE VS. MISS TESSMACHER AT TNA HARDCORE JUSTICE
PHOTOS OF MADISON RAYNE, MISS TESSMACHER, GAIL KIM AND CHRISTY HEMME ON IMPACT WRESTLING
Going Strong With Madison Rayne
---
Madison Rayne is an extremely gifted competitor who isn't afraid to duke it out in the squared circle if need be. She is a vicious prima donna who will stop at nothing to seek retribution from those who dare to cross her.
During her seven-year tenure with Total Nonstop Action Wrestling, Rayne has captured the TNA Women's Knockout Championship on five occasions and the TNA Knockout Tag Team Championship twice, making her one of the most decorated female wrestlers in company history. She is also the first Knockout to hold both Knockout Championships simultaneously.
Madison Rayne first appeared in TNA Wrestling in early 2009 as a lowly singles competitor before joining "The Beautiful People" with Angelina Love and Velvet Sky, a faction of narcissistic bombshells who proclaimed to "cleanse the world, one ugly person at a time." In order fit in with the bleached blonde starlets, Rayne had to clear a background check confirming that in high school she was the Homecoming Queen, a varsity cheerleader, and was a member of the drama club–to gain influence with the ugly people. Rayne would eventually come into her own by defeating Tara at 2010's Lockdown pay-per-view event to become the TNA Women's Knockout Champion. This hot Knockout proved that win wasn't a fluke when she successfully defended the title against the former WWE Diva at Sacrifice.
Rayne subsequently retained the TNA Women's Knockout Championship with an impressive victory over Roxxi at Slammiversary in June. She lost the belt under a cloud of controversy the following month at Victory Road when a mysterious helmeted woman on a motorcycle interfered in her match against Love. According to the stipulation of the match, Rayne would be stripped of the title if either Sky or Lacey Von Erich interfered on her behalf. Since the identity of the interloper was never determined, Rayne filed an appeal and demanded that the referee's decision be overturned.
Prior to joining TNA Wrestling, Rayne, as Lexi Lane, held the Ohio Championship Wrestling Women's Championship until losing it to Sara Del Ray in February 2009. She was one-half of one of the most dominant tag teams in SHIMMER history as she and Nevaeh held the promotion's tag team title for seven months, ultimately losing it to The Canadian Ninjas in 2009. Despite her national fame, Rayne has continued to compete on the independent wrestling circuit.
This Knockout's finishing maneuver is the Rayne Drop overdrive neckbreaker. She is an impressive competitor who has improved significantly since her TNA Wrestling debut, though her grappling abilities are often overshadowed by her sexy ring entrances.
For Your Information
---
Madison Rayne's Background: Madison Rayne was born Ashley Nichole Simmons on February 5, 1986 in West Lafayette, Ohio. A homecoming queen, varsity cheerleader, drama club geek and captain of her track team, the multifaceted Simmons set her sights on becoming a professional wrestler after graduating from high school.
"I have two older brothers, and we used to watch wrestling with my dad. I quickly realised that if I wanted to be the cool little sister, then getting into wrestling was the way to go," she told Manchester Confidential regarding how she was drawn to the sport. "From the first time I started watching I became a fan. I first wanted to be a doctor, then Miss America, but I finally settled on pro wrestling. I put college on hold and chased my dream; luckily it worked out."
Has Madison Rayne Appeared Nude?: The thought of actually seeing someone as attractive as Madison Rayne without any clothes on is enough to send your average male wrestling fan into a head spin. Naturally, many grappling aficionados have wondered if the five-time TNA Knockouts Champion would follow in the footsteps of such wrestling women as Sable, Chyna, Torrie Wilson, Christy Hemme, Candice Michelle, Kimberly Page and Madusa by participating in a nude pictorial. Although Rayne has appeared nude before TNA Wrestling photographers, images of the female wrestling standout completely naked have yet to be released. She did, however, appear topless in a series of photo shoots over the course of 2010 and 2011, with her hands covering her large, surgically enhanced boobs.
After unleashing her inner wild child through that series of provocative photo shoots, Rayne gave birth to her first child, a girl named Charley, on August 29, 2013. With the 28-year-old Ohio native embracing motherhood as well as religion, it is highly unlikely that she will ever participate in pornography.
Going under the knife: Although Madison Rayne has never publicly commented on the matter, it is quite apparent she has undergone at least one breast augmentation procedure during her wrestling career. Notably, it very much appears she acquired implants shortly after she joined TNA Wrestling in 2009.
Find Madison Rayne Online: Madison Rayne can be found on both Facebook and Twitter. Her Facebook page is located at www.facebook.com/ashley.cabot.7 while her Twitter account can be found at MRayneTNA. Rayne, however, limits her Facebook account to family and friends.