Naomi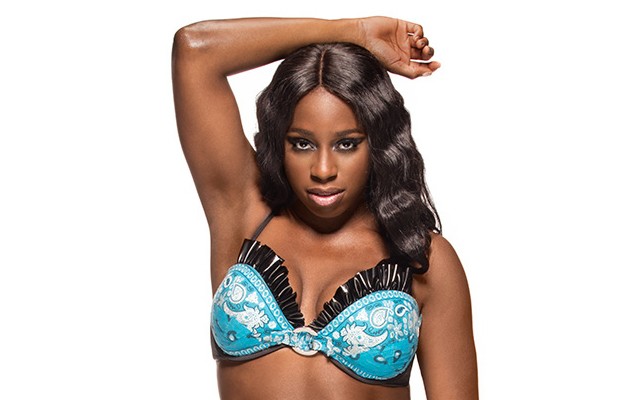 Sporting a personality just as colorful as her neon ring gear, Naomi burst onto the scene as Kelly Kelly's energetic Rookie on season three of WWE NXT. Wasting no time, she made an immediate impact by not only winning a Capture the Flag competition, but also teaming with her Pro to defeat Alicia Fox and Maxine.
Naomi's "Extreme" Photo Shoot | Naomi Wearing An Eyepatch Due To Injury | Pre-WWE Photos Of Naomi
In her quest to become WWE's next breakout Diva, Naomi made it all the way to the finals of NXT, but was ultimately beaten out by Vickie Guerrero's Rookie, Kaitlyn.
Prior to NXT, Naomi entertained basketball fans as a dancer for the NBA's Orlando Magic. She also toured the world as a backup dancer for various hip hop acts, including the Grammy-nominated Flo Rida.
When Naomi was young, she dreamed of one day becoming a WWE Diva. Despite falling short on NXT, the athletically-gifted Diva-hopeful showed enough desire and promise that her dream is now at hand.

Naomi Dropped From "Total Divas" Cast, Rumored Additions
---
September 9, 2015 – Total Divas continues to be a ratings success and an important part of both WWE and the E! cable television network. To keep the show fresh, especially one that's been on the air for a multiple seasons, cast changes are a must.
Naomi, who has appeared on each season of Total Divas, revealed Wednesday night that she won't be apart of the upcoming season.
Unfortunately we have been replaced for the 2nd time but I support my girls & wish for another successful season https://t.co/1TnouzqMMG

— Trinity Fatu (@NaomiWWE) September 9, 2015
Naomi was dropped from the Total Divas cast in the middle of season three, but returned for the ongoing fourth season.
Filming has been ongoing for Total Divas and rumored cast additions include Tough Enough finalist Amanda Saccomanno and the return of Rosa Mendes.