Nikki Bella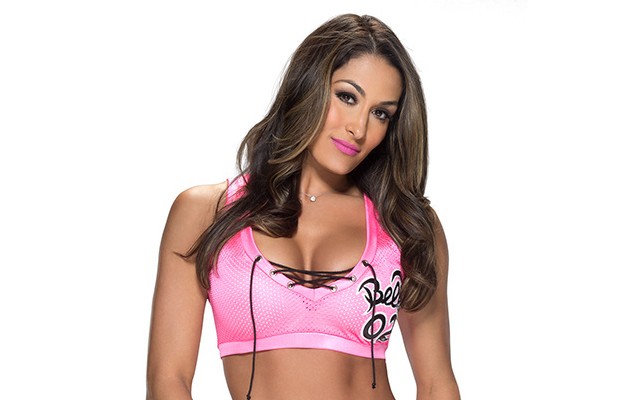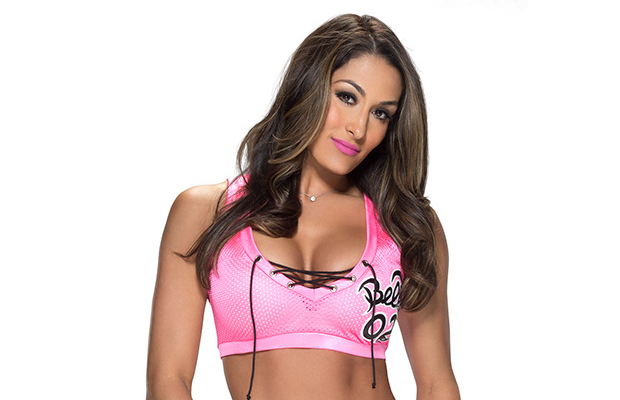 If traffic has come to a screeching halt, it just might be Nikki Bella bouncing down the street.
70 Hot Photos Of Nikki Bella Showing Off Her Big Boobs →
Nikki Bella is definitely not shy about showing off her large assets, and by assets, we mean her boobs. Check out these 70 amazing photos of Nikki Bella showing off her big chest…
See All Nikki Bella Photos →
Nikki Bella on PWPIX.net, your go-to source for the best photos of the sexy Total Divas star…
40 Hot Photos Of Nikki Bella's Ass You Need To See →
Besides Nikki Bella's considerably large breasts, wrestling fans can tell her apart from her twin sister Brie through her ass! Check out these 40 amazing photos of Nikki's bountiful booty…
There Are Nude Photos Of Nikki Bella →
While Nikki Bella has yet to do a photo shoot involving nudity, that doesn't mean there aren't any real nude photos floating around online. That's right! Click here for details…
Nikki Bella Suffers A Nip Slip →
Nearly one year to the day of Brie Bella suffering a nip slip during a live episode of Raw, Nikki Bella appeared on camera having a humiliating wardrobe malfunction of her own…
Nikki Bella Goes Braless →
Who needs a bra, anyway!? Side boob, nipples and cleavage are all fair game when it comes to Nikki Bella, and she has no problem going braless to pull off a sexy look…
20 Hot Photos Of Nikki Bella In A Bikini →
Amidst all the excitement in WWE, Nikki Bella always makes time to slip into a two-piece and show off her fantastic figure. Check out 20 of the hottest bikini photos of Nikki Bella…
Nikki Bella Photos You Need To See →
There are tons of hot photos of Nikki Bella online, but these right here are the hottest…
Bikini-Clad Nikki Bella Rubbing Her Huge Boobs →
There are thousands of sexy pics of Nikki Bella out there from over the years, plenty in skimpy bikinis, and plenty with the WWE star showing off her big boobs, but this one is really nice…
Nikki Bella In Her Bra and Panties →
After hitting three million followers on Instagram, Nikki Bella celebrated the milestone by posting some revealing photos of herself in her bra and panties. You definitely want to see these…
Would Nikki Bella Pose Nude? →
With Nikki Bella's jaw-dropping physique and lofty standing, wrestling fans have wondered whether the Total Divas star would ever follow in the footsteps of past Divas by posing nude…
Nikki Bella Wakes Up On Her Birthday With A Girl →
Nikki Bella, who turned 32-years-old on November 21, 2015, starts off her birthday waking up in bed with a girl who is not her twin sister Brie. Check out this pic of Nikki in her panties…
Nikki Bella Has A Tattoo On Her Butt →
"Can you believe that we got tattoos when we were 15?" Nikki Bella said on an episode of Total Divas, before revealing a burning heart tattoo on her own booty. See photos of her tattoo…
Nikki Bella Shares A Sexy Selfie Of Her Huge Boobs Before The 2015 ESPY Awards →
Whoa! Before heading out to the 2015 ESPYs, Nikki Bella posted this sexy near nude selfie with her massive boobs front and center. The racy photo gives fans a very close-up view of the Total Diva star's cleavage and there's no way around it, Nikki's breasts are huge…
Nikki Bella's Sexy Slammy Awards Outfit →
At the 2015 Slammy Awards, R-Truth announced that Paige had won the Diva of the Year Award before realizing that he misread the card. Nikki Bella was the true winner, who stepped up to the podium in a revealing see-through outfit. Check out photos of Nikki Bella's risqué outfit…
Nikki Bella Just Loves Showing Off Her Boobs →
While backstage at Monday Night Raw in Tulsa, Oklahoma, WWE Superstar Nikki Bella took to Instagram to share a revealing selfie showing off her cleavage in a plunging red wrestling top…
Nikki Bella Still Posting Revealing Photos Of Herself →
Even while down and out due to a rash of injuries, it didn't stop the longest-reigning Divas Champion of all-time from continuing to post revealing pics of herself online…
Nikki Bella's Hottest Instagram Photos →
As a two-time WWE Divas Champion, Nikki Bella knows how to bring the heat in the ring … and on Instagram. We've gathered the sexiest social media shots that make this Bella Twin a clean finish for your Woman Crush Wednesday. Don't tap out until you've seen them all…
Sexy Booty Shot Of The Bella Twins In Bikinis At The Beach →
Nicole Garcia-Colace and her sister Brianna Garcia-Colace, better known as The Bella Twins, took to the beach in bikinis to stretch and tumble and generally cause a scene to onlookers…
Nikki Bella Talks About Her Boobs →
Amidst speculation on her noticeably enlarged breasts, Nikki Bella confirmed that she had indeed undergone a breast augmentation. She said, "Love how "Nikki's" my boobs are trending…
Nikki Bella Shares A Photo Of Herself In Victoria's Secret Lingerie →
Now this is how you do a sexy selfie! Nikki Bella treated her Instagram followers to a sexy photo of herself in Victoria's Secret Lingerie just before getting out of bed. Take a look at this photo…
Nikki Bella Sits Pretty In A Bikini →
Whoa! Nikki Bella took to Instagram to show off her amazing figure — including her famous ass — in one of her hottest bikini photos yet! As always, Nikki is looking very, very good…
Amazing Shot Of Nikki Bella Showing Off Her Cleavage →
Before heading off for a workout, Nikki took to Instagram to share this revealing selfie…
Nikki Bella In A Revealing Red Dress →
A rash of injuries certainly couldn't slow Nikki Bella down. Check out this photo of the longest-reigning Divas Champion of all-time flaunting her ample assets in a revealing red dress…
The Bella Twins Throw A Slumber Party →
While vacationing in Paris, France, Nikki and Brie Bella decided to throw a slumber party for themselves. Check out this shot of The Bella Twins in bed together in their nighties…
Nikki Bella Shows Off Her Flat Stomach In Sports Bra Selfie Post-Workout →
As a WWE Superstar, Nikki Bella always has to stay in shape. Following a hard workout, the Total Divas star snapped this selfie to show off her flat stomach to her Instagram followers…
Nikki Bella Reveals Her Outfit For Hell in a Cell →
Prior to going one-on-one against Charlotte for the Divas Championship at Hell in a Cell 2015 in Los Angeles, California, Nikki reveals her sexy white outfit for the match. Check out this shot…
Nikki Bella Flaunts A Lot Of Cleavage In A White Dress →
Nikki Bella is certainly not shy when it comes down to showing off her best assets and this photo is no different as the Total Divas star flaunts some serious cleavage on Instagram…
A Look At Nikki Bella's Relationship With John Cena →
Thanks to Total Divas on E!, fans of professional wrestling and reality television have gotten an inside look at Nikki Bella's relationship with John Cena. Although most people see her…
A Look Back At Nikki Bella's Relationship With Dolph Ziggler →
When Nikki was starting out her career in WWE, she was dating Dolph Ziggler. While it's difficult to pinpoint the exact timeline of their relationship, photos that have surfaced online of the two…
Nikki Bella Shows Off Impressive Abs, Cleavage In Post-Workout Selfie →
Nikki Bella shares another post-workout selfie of herself looking in tip-top shape on Instagram. Check out this shot of the WWE star rolling up her top and showing off her cleavage…
Nikki Bella Shares A Makeup-Free Post-Workout Selfie →
Nikki Bella somehow always looks good, even after a workout. The Total Divas star knows this, and she doesn't shy away from posting sweaty selfies such as this one on Instagram…
Get Up Close and Personal With Nikki Bella →
Nikki Bella definitely knows how to light up her fans' day. The Total Divas star posted this close-up boob flaunting selfie of herself in her red wrestling gear on Instagram…
How Much Does Nikki Bella Weigh? →
While WWE bills Nikki Bella at 125 pounds, she is actually a bit heavier than that. Nikki admitted to her sister Brie on an episode of the E! series Total Divas that she really weighs…
Are There Nude Photos Of Nikki Bella?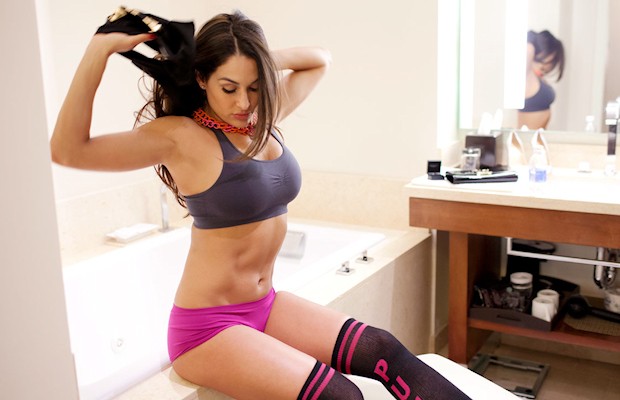 In October 2015, Playboy announced that beginning with the March 2016 issue, the publication would no longer feature full frontal nudity. With this change, that means fans could potentially see the return of WWE's female stars to the magazine.
For years, a WWE Diva would grace the cover of the famed publication as part of the hype for WrestleMania. But when WWE committed in 2008 to creating family-friendly, TV-PG broadcast programming, it was no longer suitable for the women to take part in pictorials for Playboy.
That could all change with the redesigned Playboy featuring photos of women clothed. As a publicity vehicle, it makes sense for WWE to form a partnership with the magazine again. There's a whole range of women on the WWE roster who could take part in a pictorial for Playboy, including Nikki Bella and her sister Brie.
"You can look, but you can't touch."
The Bella Twins would definitely be favorites for a WWE-themed spread in Playboy. They are two of the most prominent women in WWE, not to mention the biggest stars of the hit E! reality series, Total Divas. They're also sexy as hell, and Playboy loves twins.
Nikki and Brie are WWE's go-to girls for publicity, which is why the twin duo would be ideal candidates for Playboy. They say the right things and do a great job of promoting the WWE brand. There is also the fact that Nikki dates WWE's top Superstar, John Cena, and Playboy would probably want to ask her about their sex life.
Nikki emerged as a solid WWE talent in 2015 and became the longest-reigning Divas Champion in history. She's as big of a name as any of the women on the roster, so a pictorial in Playboy is possible if the partnership is ever renewed. But until that day comes, fans will have to settle for sexy Instagram photos of Nikki. Now that doesn't mean there aren't any real nude photos of Nikki online.
During Raw on July 21, 2014, Brie, whose character had recently quit WWE, appeared in the audience as a fan to show her support for Nikki. Brie, however, couldn't help herself and argued her way into a physical confrontation with Stephanie McMahon that saw her slapped and banned from ringside.
As hot as the confrontation came across on television, it was quickly overshadowed by the fact that Nikki, who wrestled Alicia Fox, Eva Marie, Cameron and Rosa Mendes in a 4-on-1 Handicap Match immediately afterward, suffered a wardrobe malfunction!
After being shoved out of the ring by her four opponents, Nikki was lying on the floor in pain. As she struggled to regain her composure, disaster struck.
With the quartet surrounding her — as well as millions of fans worldwide — Nikki's nipple became exposed.
Her revealing red top momentarily slipped below her ample cleavage.
For those watching at home when Nikki's wardrobe malfunction occurred, it was a blink-and-you-miss-it moment. But after photos surfaced online, it quickly went viral. Since then, millions of people have gotten a glimpse of her embarrassing moment.
Two weeks before the incident, Nikki nearly had a wardrobe malfunction as she was lying on the ground with one arm tied behind her back.
This wasn't the first time where one of the twins had a wardrobe malfunction on live television. In fact, it was almost a year to the day that Brie had a nip slip of her own.
On Raw on July 22, 2013, Brie's left nipple got exposed on Miz TV when the Total Divas cast dropped by to talk about the premiere of their brand-new E! reality show. As she was sitting casually on a chair, Brie's boob inexplicably escaped her dress.
WWE officials were furious over this, prompting Brie to issue an apology via social media.
She wrote on Twitter, "I apologize 4 my wardrobe malfunction I'm embarrassed & it looks as though the humidity made my tape come off You'll never see that again! B."
According to Wrestling Observer Newsletter editor Dave Meltzer, the women of WWE are emphatically told by company executives to cover their nipples while performing.
"WWE women are told emphatically to make sure when they wrestle or appear to have costumes that are going to cover nipples," Meltzer said. "Although in doing matches, straps have given way or boobs have escaped from their holsters every now and then."
Former WWE Diva Maria Kanellis says the trick to keeping things in place involves double-sided tape.
In a blog post she wrote about her wrestling outfits, the one-time Playboy cover girl revealed, "I usually try to wear something practical and cute to wrestle in. But the problem is that most things that are sexy are so small and have a tendency to slip and move so the tigers (a.k.a. boobs) or other places come out to visit. As much as that might be entertaining to some of the studs out there (maybe some of the ladies too hehe), I think I would get thrown off the show. So, all of us girls have a secret that I am about to tell you to keep our clothes in place. It is double-sided tape. Sexy, right? Well at least it keeps the Divas covered so we can come out to play every week without getting thrown off the air for over-exposure."
Since Nikki has never posed in her birthday suit before, you are probably wondering whether more naked photos and videos of the WWE Superstar have surfaced online.
On August 31, 2014, almost 500 private pictures of various celebrities, mostly women, and with much containing nudity, were systematically stolen and uploaded online. This massive breach of privacy, which is known as "The Fappening," involved some of the biggest celebrities around, most notably actress Jennifer Lawrence. So was Nikki Bella a victim of the most significant celebrity nude scandal in the history of mankind?
While it seems highly possible that nude photos of Nikki would leak online since she often posts revealing selfie shots of herself on Instagram, it hasn't happened … yet.
Nikki Bella Talks About Her Boobs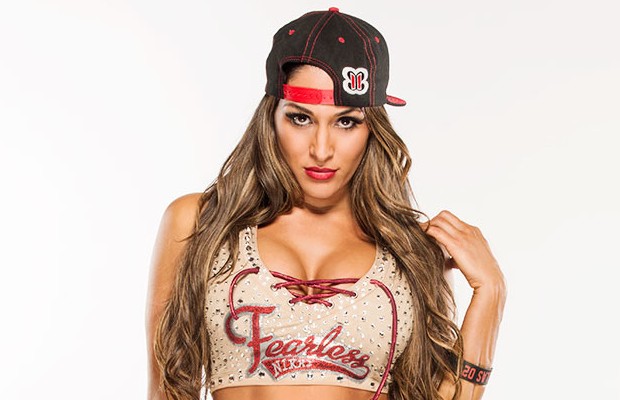 In August 2008, Nikki and Brie Bella dazzled WWE fans with a dose of "Twin Magic," and they haven't looked back since. But during a brief sabbatical from the squared circle, the twin duo began a stunning reinvention. Their biggest change you ask? Nikki got huge breast implants.
Amidst speculation on her noticeably different chest, Nikki admitted to getting a boob job.
She said on Twitter on July 11, 2012, "Love how "Nikki's" my boobs are trending worldwide! Ha what can I say… I wanted my own set of #TwinMagic 😉 haha Besos."
In 2013, The Bella Twins became the stars of the hit E! reality show Total Divas. Along with their castmates, Nikki and Brie give viewers an eye-opening look into their lives outside the ring. During a radio interview promoting the show, Nikki again spoke out on getting breast implants.
"On my time off I went and got my own set of "Twin Magic." If The Bella Twins weren't enough, I wanted my own twins," she revealed to TribLIVE Radio.
A few weeks before Bray Wyatt took on John Cena at WrestleMania 30 — the pay-per-view extravaganza took place on April 6, 2014, at the Mercedes-Benz Superdome in New Orleans, Louisiana — the mysterious leader of The Wyatt Family ridiculed Nikki for going under the knife.
On Raw on March 17, 2014, "The Eater of Worlds" caused controversy by referring to Nikki as Cena's "plastic girlfriend." Nikki reacted to his remark a few days later during a podcast interview.
"Right before it aired, he goes, 'I'm just going to apologize now for something I said.' And I was like, 'What?!' And everyone popped so huge backstage and I have to say like, this is what we signed up for, ya know?" she said on the Road To Wrestlemania 30 Podcast at ElvisDuran.com.
"We're WWE and that's what I love about WWE and Total Divas," Nikki continued. "[In WWE], I'm Nikki Bella, we're in storylines, we're these characters. And when it comes to Total Divas, I am Nicole, I am that real person. And hey, I spent a good $6,500 on making my own "Twin Magic" so if someone wants to make a comment about it, well then shoot. So be it. I'm comfortable in my own skin and so I'm the one that got 'em and trust me, I know it's very noticeable. I mean, I have an identical twin sister."
Nikki was also asked during a red carpet interview whether she gets annoyed by people asking about her boobs.
"God, no! I paid $6,500 for these babies so I'm proud!" she told Hollywood Life. "There's a reason why I bought them."
All About Nikki Bella's Ass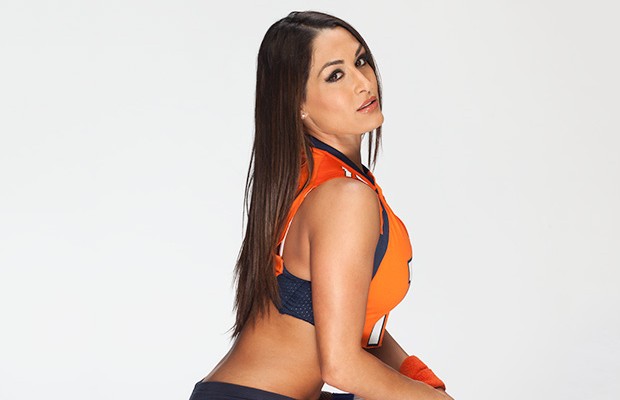 Besides her super-sized breast implants, WWE fans can tell Nikki Bella apart from her sister Brie through her booty!
With her shapely body, Nikki obviously has a larger backside than Brie. And both twins don't mind admitting that Nikki has the biggest booty.
"I have two beauty marks on my chest, and our faces are shaped differently. We joke that I have more of a banana head, and Nikki has an apple head. She has the bigger booty, too, which she's proud of," Brie said in an interview with WWE Magazine.
Nikki added, "Oh, heck yeah! I carry way more curves than Brie. And I usually have a flower in my hair. I love celebrating my Mexican-Italian heritage, and a flower makes me feel Spanish … and pretty!"
During a September 2015 episode of Total Divas, Nikki accompanied Brie as she had a tattoo of a fairy removed from her butt — we're talking about Brie's butt here.
"Can you believe that we got tattoos when we were 15?" Nikki said to the laser technician, before revealing a burning heart tattoo on her own ass.
"I want to be a mom soon, so the fairy one just had to go," Brie replied to Nikki. "I don't even know how to explain it to my kids."
"My heart on fire is cool," Nikki said. "No, it's not," Brie replied.
"John likes it," Nikki responds. "Your fairy was weird."
"Yeah, but the fairy is going away," Brie countered. "Your heart on fire is not cute."
Nikki then said she's keeping her tattoo forever.
How Much Does Nikki Bella Weigh?
Fans don't really expect to see the sexiest women on television struggle with body issues, but that's something Nikki Bella and her twin sister Brie fought during an episode of Total Divas.
Anyone can see that The Bella Twins are beautiful. Both girls have fantastic bodies, but during breakfast with Eva Marie and JoJo, Nikki got slapped in the face with some online hate. The crimson-haired wrestler noticed a fan wrote, "Nikki is sooooo the fat twin" in a comment on a photo of her on Instagram. Nikki was ticked off, at least in part because, as she put it: "Why so many Os?" Well, that and presumably because she is not at all fat.
Actually, it is unclear what the producers of Total Divas wanted the viewing audience to think, because the next time we saw Nikki, she was gorging on dessert while having dinner with Brie and Daniel Bryan. Frustrated with Nikki's overindulgence with an important photo shoot coming up, Brie challenged her twin sister to participate in 20-day cleanse with her where desserts and alcohol were prohibited.
Nikki was clearly rejecting the cleanse when she consumed the green smoothies that Brie wanted to center them around, referring to it as "the Go-Green-Go tastes like I'm eating someone's garden." Thus, when Nikki was not herself when they were hanging out at her apartment that night, Brie suspected shenanigans. Brie ran to the kitchen trash can where she found a freshly emptied wine bottle. This led to Brie uttering, "No wonder people on Twitter call you fat, Nicole!" The rift, however, didn't last past the commercial break as the two aired out their grievances and Brie apologized to Nikki.
Although Nikki is billed at 125 pounds by WWE, in actuality, she is a bit heavier than that. On Total Divas, Nikki admitted to her sister Brie that she weighs 135 pounds.
For Your Information
One way to tell Nikki and Brie Bella apart is by a tattoo. Brie has a tattoo just above her waistline whereas Nikki does not. If Nikki does have a tattoo, it's not visible.
During an August 2013 interview with OK! Magazine answering Twitter questions from fans, Nikki was asked if she would ever place a tattoo above her hip like her sister. The buxom twin was adamant about not getting inked there, as she wouldn't want her tattoos to be so easily visible.
Nikki has made her presence known on social media with accounts on Instagram and Twitter. Sharing a Twitter account with her Brie, Nikki can be reached at twitter.com/bellatwins. Nikki's Instagram account is located at thenikkibella.
As of 2016, Nikki Bella is 33-years-old. She was born on November 21, 1983, to parents of Mexican and Italian descent and was raised in Scottsdale, Arizona. Her theme song is called "You Can Look (But You Can't Touch)." It is sung by Kim Sozzi and produced by Jim Johnston.
About Nikki Bella
If traffic has come to a screeching halt, it just might be Nikki Bella bouncing down the street. This fearless WWE Diva is not a hallucination.
For years, this bountiful bombshell has turned heads and broken hearts in WWE, but do not dismiss her as just another piece of eye candy. Whether grappling with other Divas or unleashing a little "Twin Magic" with her sister Brie Bella, this spicy sister spells trouble for all her rivals. In 2011, Nikki helped Brie in capturing the first Divas Championship for the twin duo. The following year, however, Nikki was able to put the butterfly-emblazoned belt around her trim waist by toppling the mighty "Glamazon," Beth Phoenix.
While no one will ever consider Nikki a technical wrestling master, she has been one of WWE's most successful female performers over the past several years, thanks in large part to her charisma, solid verbal abilities, and — of course — The Bellas' twin magic switches. She is also one of the top female athletes in professional wrestling. Footloose and fancy-free in high school, Nikki was a standout soccer player who had planned to play professionally until a devastating leg injury dashed her dream.
The hit E! reality show Total Divas provides a look into the fearless Diva's private life. This extra attention has caused jealousy among the Divas in the locker room, but Nikki has the skills to prove that she's more than just another pretty face.