Nikki Bella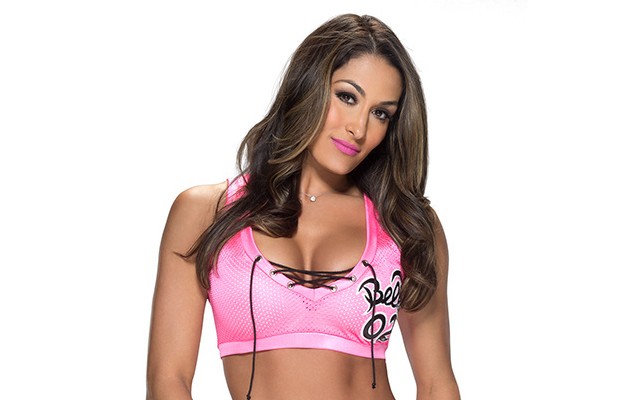 If traffic has come to a screeching halt, it just might be Nikki Bella bouncing down the street. Nikki Bella Showing Off Her Huge Boobs | Nikki Bella Ass Photos | Nikki Bella Almost Had Another Wardrobe Malfunction | Nikki Bella Goes Braless | Nikki Bella's Personal Photos | How Much Does Nikki Bella Weigh? | Former WWE Diva Says Dancing With Dolph Ziggler Started Heat With Nikki Bella | Nikki Bella's Relationship With John Cena | Would Nikki Bella Pose For Playboy? | Check Out More Nikki Bella Photos | About Nikki Bella
People Also Search For: Brie Bella | Paige | John Cena | Stephanie McMahon | Lana | AJ Lee | Natalya | Rosa Mendes | Eva Marie | Charlotte | Becky Lynch | Sasha Banks

Nikki Bella Photos
---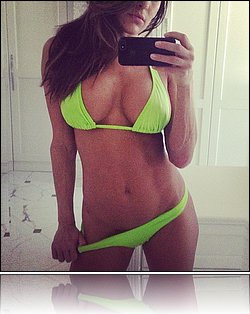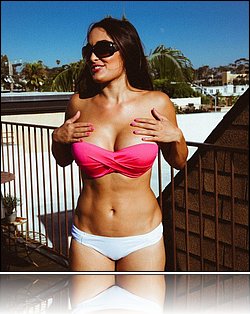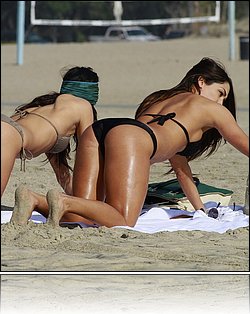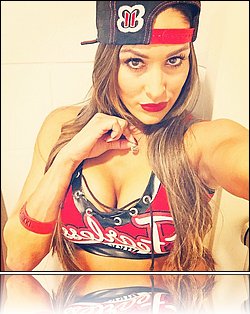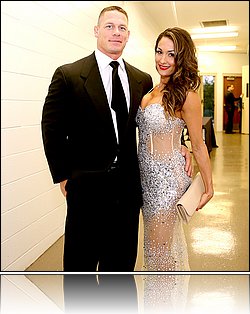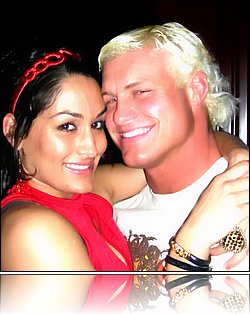 Nikki Bella Photos You Need To See
---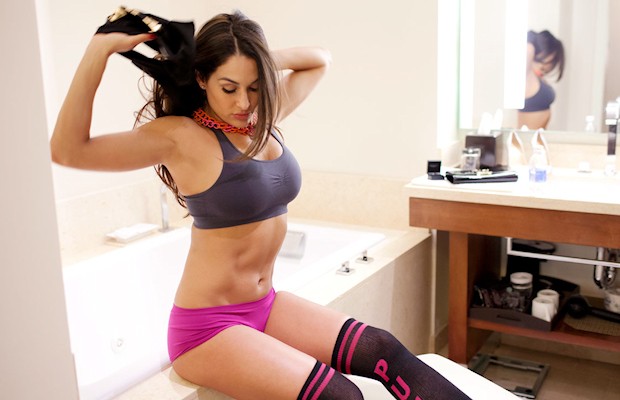 Nikki Bella In A Bikini – As a WWE Diva and star of the hit E! reality show Total Divas, Nikki Bella has never been shy to show off what she's got. This time, she does not miss the opportunity to display her massive assets to the world in a bikini. Check out Nikki and her twin sister Brie bouncing on the beach in bikinis in in this photo gallery.
Nikki Bella's Ass – We here at PWPIX.net have decided to pay tribute to what is perhaps Nikki Bella's greatest asset: her ass!
We've compiled this photo gallery showcasing the Total Divas star's ample backside.
Besides her large breast implants, wrestling fans can tell Nikki apart from Brie through their respective booties. In a 2009 interview with WWE Magazine, Brie said, "I have two beauty marks on my chest, and our faces are shaped differently. We joke that I have more of a banana head, and Nikki has an apple head. She has the bigger booty, too, which she's proud of."
She continued, "I have two beauty marks on my chest, and our faces are shaped differently. We joke that I have more of a banana head, and Nikki has an apple head. She has the bigger booty, too, which she's proud of."
Nikki added, "Oh, heck yeah! I carry way more curves than Brie. And I usually have a flower in my hair. I love celebrating my Mexican-Italian heritage, and a flower makes me feel Spanish…and pretty!"
Nikki Bella Almost Has A Nip Slip At Hell In A Cell – Nikki Bella learned her lesson from the nip slip she had on Raw back in July 2014.
During her match at Hell in a Cell on October 26, 2014 against her sister Brie, Nikki was close to having another slip-up. But as you can see in this photo, she was wearing pasties.

Nikki Bella Gets Breast Implants
---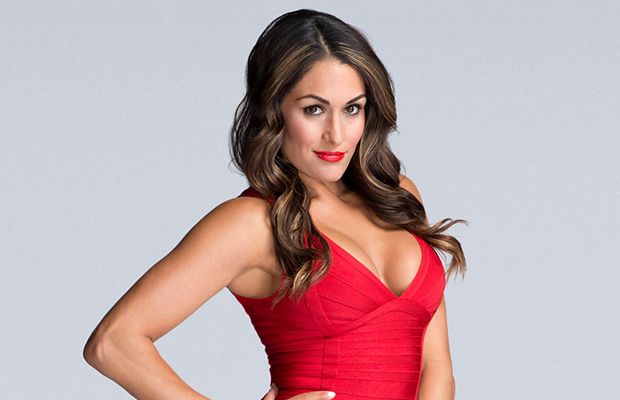 Amidst speculation concerning her noticeably enlarged chest, Nikki Bella admitted in a joking manner through Twitter on July 11, 2012 that she had indeed undergone breast augmentation surgery.
"Love how 'Nikki's' my boobs are trending worldwide! Ha what can I say… I wanted my own set of #TwinMagic? 😉 haha Besos!," she remarked on the social media outlet.
She would address her enhancement again during a June 2013 interview promoting Total Divas. Speaking to TribLIVE Radio, Nikki said, "On my time off [from WWE in 2012] I went and got my own set of "Twin Magic." If the Bella Twins weren't enough, I wanted my own twins."
In the build-up to the John Cena vs. Bray Wyatt match at WrestleMania XXX, Nikki's surgical procedure was acknowledged by "The Eater of Worlds." On the March 17, 2014 edition of Raw, Wyatt caused a small stir online by referring to Nikki as Cena's "plastic girlfriend," a reference to the fact that she has breast implants. During an appearance on the ElvisDuran.com Road To Wrestlemania 30 Podcast, Nikki said she holds no animosity toward Wyatt, who informed her of the remark ahead of time.
"Right before it aired, he goes, "I'm just going to apologize now for something I said." And I was like, "What?!" And everyone popped so huge backstage and I have to say like, this is what we signed up for, ya know?" said Nikki. "We're WWE and that's what I love about WWE and Total Divas. [In WWE], I'm Nikki Bella, we're in storylines, we're these characters. And when it comes to Total Divas, I am Nicole, I am that real person. And hey, I spent a good $6,500 on making my own "Twin Magic" so if someone wants to make a comment about it, well then shoot. So be it. I'm comfortable in my own skin and so I'm the one that got 'em and trust me, I know it's very noticeable. I mean, I have an identical twin sister."

Has Nikki Bella Appeared Nude?
---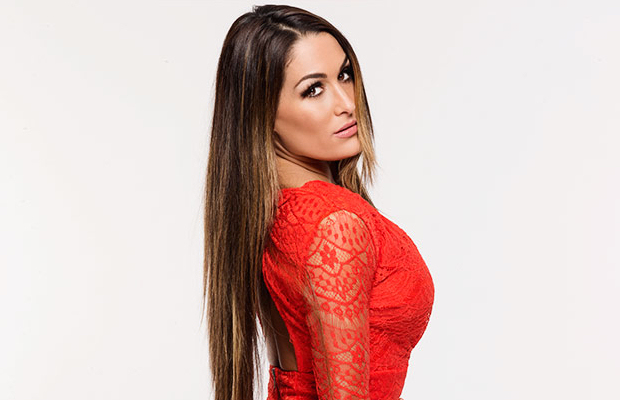 With Nikki Bella's lofty standing in WWE and curvaceous physique, wrestling fans have naturally wondered whether the San Diego native would ever appear naked for Playboy. While grappling fans were accustomed for years to seeing a WWE Diva grace the cover of the famed publication as part of the annual WrestleMania synergy, with WWE's current commitment to presenting a family-friendly, TV-PG product, don't hold your breath on Nikki participating in any form of porn (at least while she is under contract to WWE).
Nikki's twin sister Brie has appeared nude, albeit by accident. During a segment promoting the E! reality program Total Divas on the July 22, 2013 episode of Raw, Brie's left breast inexplicably popped out of her dress. WWE's public relations department was not happy with her wardrobe malfunction and had her apologize on social media.
"I apologize 4 my wardrobe malfunction I'm embarrassed & it looks as though the humidity made my tape come off," Brie immediately remarked on Twitter following the show. "You'll never see that again!"

Nikki Bella Almost Had Another Wardrobe Malfunction
---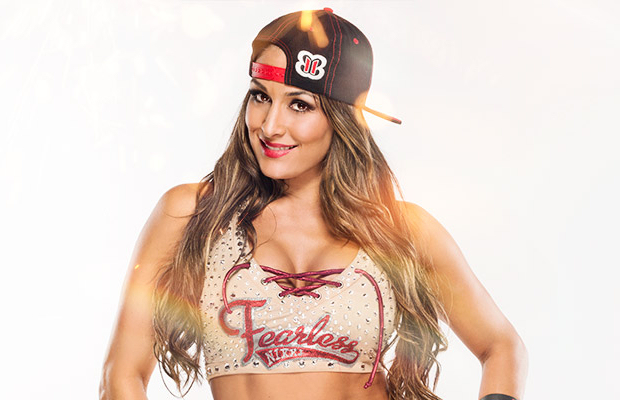 Almost exactly to the day last year of Brie Bella suffering a nipslip during a live episode of Raw, her sister Nikki suffered one of her own during the July 21 Raw!
Two weeks prior to that on Raw, Nikki almost had a similar wardrobe malfunction when laid out on the ground and tied up. However, in this case, her nipple didn't pop out.
The Divas' trick to keep things in place comes in the form of double-sided tape. Former WWE Diva Maria Kanellis revealed once: "I usually try to wear something practical and cute to wrestle in. But the problem is that most things that are sexy are so small and have a tendency to slip and move so the tigers (a.k.a. boobs) or other places come out to visit. As much as that might be entertaining to some of the studs out there (maybe some of the ladies too hehe), I think I would get thrown off the show. So, all of us girls have a secret that I am about to tell you to keep our clothes in place. It is double-sided tape. Sexy, right? Well at least it keeps the Divas covered so we can come out to play every week without getting thrown off the air for over-exposure."

How Much Does Nikki Bella Weigh?
---
Fans don't really expect to see the sexiest women on television struggle with body issues, but that's something Nikki and her twin sister Brie fought during an episode of Total Divas.
Anyone can see that The Bella Twins are beautiful. Both girls have fantastic bodies, but during breakfast with Eva Marie and JoJo, Nikki got slapped in the face with some online hate. The crimson-haired wrestler noticed a fan wrote, "Nikki is sooooo the fat twin" in a comment on a photo of her on Instagram. Nikki was ticked off, at least in part because, as she put it: "Why so many Os?" Well, that and presumably because she is not at all fat.
Actually, it is unclear what the producers of Total Divas wanted the viewing audience to think, because the next time we saw Nikki, she was gorging on dessert while having supper with Brie and Danie Bryan. Frustrated with Nikki's overindulgence with an important photo shoot coming up, Brie challenged her twin sister to participate in 20-day cleanse with her where desserts and alcohol were prohibited.
Nikki was clearly rejecting the cleanse when she consumed the green smoothies that Brie wanted to center them around, referring to it as "the Go-Green-Go tastes like I'm eating someone's garden." Thus, when Nikki was not herself when they were hanging out at her apartment that night, Brie suspected shenanigans. Brie ran to the kitchen trash can where she found a freshly emptied wine bottle. This led to Brie uttering, "No wonder people on Twitter call you fat, Nicole!" The rift, however, didn't last past the commercial break as the two aired out their grievances and Brie apologized to Nikki.
Although Nikki is billed at 125 pounds by WWE, in actuality, she is a bit heavier than that. On Total Divas, Nikki admitted to her sister Brie that she weighs 135 pounds.

Nikki Bella Discusses Her Relationship With John Cena
---
Thanks to E's hit reality series Total Divas, grappling aficionados have gotten an inside look at Nikki Bella's relationship with John Cena. Although most people see her boyfriend as the biggest wrestling star in the world, to Nikki, he's just John.
"What's funny is that I look at John as just John Cena," Nikki tells WWE Magazine [cover dated June 2014]. "So when we go out and everyone wants his photo or autograph, I'm always like, "Oh yeah, you're really cool." I've known him for so long, and I know him so well, that I honestly forget what a big star he is. But when I do remember, I always think to myself, "Yeah, my guy is the best thing in the world." But to me he's just John."
"Before I leave, I would love to have a storyline with John or a mixed tag match – anything really. It's so much fun to go out there and work with the boys. I worked with both The Miz and John Morrison and The Rhodes Scholars before, and I keep pushing to try and do something like that again. It lends a different excitement to the night for me, and a different level of competition for everyone involved. Fans of John and I would really love to see that, too."
With all that attention and focus on her dating relationship with The Cenation Commander-in-Chief, was Nikki ever nervous about putting her personal life on display before millions?
"Definitely," said Nikki. "We kept our relationship personal for a long time, so we really had to sit down and talk about what it would mean for us. It was difficult for me because our ups and downs were now going to be out there for everyone to watch and have a say in. John and I have such a strong bond, though, and that's what made me confident to move forward with it. He's honestly the greatest man to ever walk the earth, and he treats me like a queen. He makes me comfortable with it."

Nikki Bella Takes A Pregnancy Test
---
Like any two people forced to put their love on display for reality television, Nikki Bella and John Cena have a lot of sex. Since their relationship is very complicated – Nikki wants to get married while Cena vows to never remarry again – that fiery sexual passion must also provide their greatest complication yet. So it was only a matter of time before Nikki thought she might be pregnant, and what better place to put that belief on display than on Total Divas!
Since Nikki and Brie are twins, their special lady times are often exact, so when Brie got her visit from Aunt Period while Nikki didn't, there was a very convenient cause for alarm. Considering that pregnancy could greatly affect Nikki's standing WWE, she decided to take a pregnancy test in a bathroom stall at a Raw venue.
Well, it turns out that Nikki wasn't pregnant, so what a relief, right? The WWE Diva's response to the thought of "What if it had been positive?" – "Can you imagine if I couldn't have wine for nine months?" We are all very fortunate that the pregnancy test read: "No."

For Your Information
---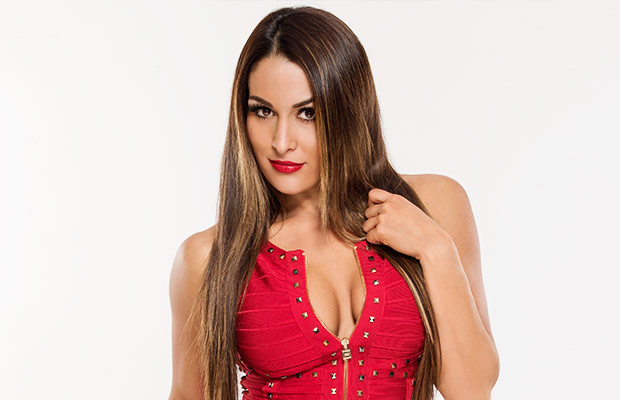 Does Nikki Bella Have A Tattoo? – One way to tell Nikki and Brie Bella apart is by a tattoo. Brie has a tattoo just above her waistline whereas Nikki does not. If Nikki does have a tattoo, it's not visible.
During an August 2013 interview with OK! Magazine answering Twitter questions from fans, Nikki was asked if she would ever place a tattoo above her hip like her sister. The buxon twim was adamant about not getting inked there, as she wouldn't want her tattoos to be so easily visible.
Find Nikki Bella Online – Nikki Bella has made her presence known on social media with accounts on Facebook, Twitter and Instagram. Sharing accounts with her twin sister Brie, Nikki can be reached on Facebook at www.facebook.com/nicoleandbriannagarcia and on Twitter at www.twitter.com/bellatwins. Nikki is also on Instagram at thenikkibella.
How Old Is Nikki Bella? – As of 2015, Nikki Bella is 31-years-old. She was born on November 21, 1983 to parents of Mexican and Italian descent and was raised in Scottsdale, Arizona.
Nikki Bella's Theme Song – Her theme song is called "You Can Look (But You Can't Touch)." It is sung by Kim Sozzi and produced by Jim Johnston.

About Nikki Bella
---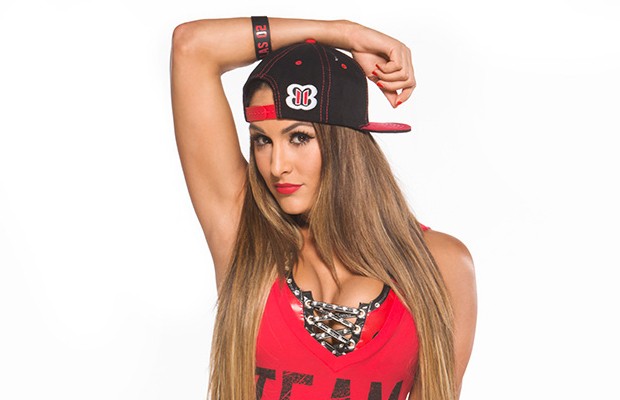 If traffic has come to a screeching halt, it just might be Nikki Bella bouncing down the street. This fearless WWE Diva is not a hallucination.
For years, this bountiful bombshell has turned heads and broken hearts in WWE, but do not dismiss her as just another piece of eye candy. Whether grappling with other Divas or unleashing a little "Twin Magic" with her sister Brie Bella, this spicy sister spells trouble for all her rivals. In 2011, Nikki aided Brie in capturing the first Divas Championship for the twin duo. The following year, however, Nikki was able to score the the butterfly-emblazoned belt around her trim waist by toppling the mighty "Glamazon," Beth Phoenix.
While no one will ever consider Nikki a technical wrestling master, she has been one of WWE's most successful female performers over the past several years, thanks in large part to her charisma, solid verbal abilities, and — of course — the Bellas' twin magic switches. She is also one of the top female athletes in professional wrestling. Foot loose and fancy free in high school, Nikki was a standout soccer player who had planned to play professionally until a devastating leg injury dashed her dream.
The hit E! reality show Total Divas provides a look into the fearless Diva's private life. This extra attention has caused jealousy among the Divas in the locker room, but Nikki has the skills to prove that she's more than just another pretty face.