Jerry Lawler Checks Out Paige (Again)
---
| | | |
| --- | --- | --- |
| | Paige | |
Jerry "The King" Lawler can't seem to get his eyes off Paige.
Back in June, there was this.
Then last month, there was this.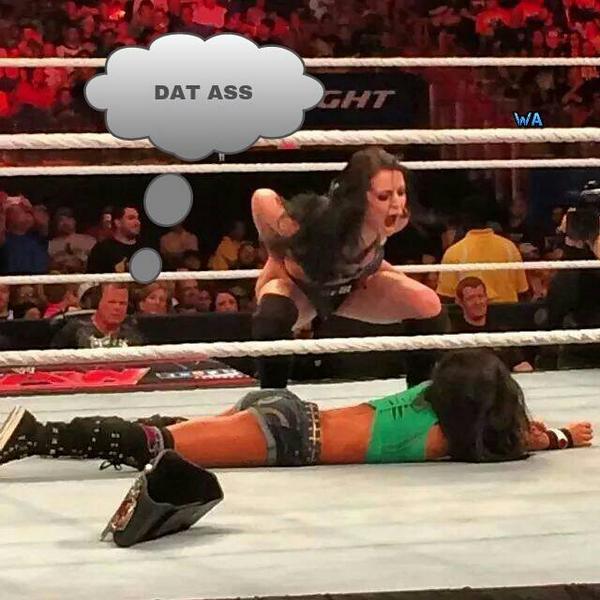 And now we come to SummerSlam.

Latest Updates
| | | |
| --- | --- | --- |
| | Paige | |
As one of WWE's premiere Divas, it is only natural that fans want to know about Paige outside of the ring. A Google search of the 22-year-old will display numerous results concerning her dating status as well as rumors of who she may or may not have had relations with.
On Thursday, the former Divas Champion addressed her relationship status during a Q&A session at the Austin Comic Con.
With that being said, it has been rumored that she dated Brad Maddox for a short time while in Florida Championship Wrestling in 2012.

Latest Headlines
»

Final Card for WWE's Hell In a Cell Pay-Per-View on Sunday
»

William Regal Makes Match for Next Week's WWE NXT, Survivor Series Promo
»

WWE NXT Star "Turning Heads" In Developmental, More News from NXT Match
»

Report - The Undertaker Has A New Role In WWE
»

John Cena Called Out By Former Hulk Hogan Enemy - "Fake Rapper"
»

AJ On Why She Won't Appear On Total Divas, Same-Sex Crush Angle w/Paige
»

Ambrose Finds It Strange Being A Babyface, Does He Have A Girlfriend?
»

Seth Rollins Asked If CM Punk Will Ever Return To WWE
»

Jericho Reveals A Wacky Gimmick That Was Proposed For Candice Michelle
»

AJ Lee On Why She's Not On Total Divas, Potentially Wrestling Stephanie
»

More on Mickie James Being Interested In a WWE Return
»

More Details on the WWE Hell In a Cell Pre-show, First-Ever Mizdow TV
»

WWE NXT Fan Favorite Out of Action with Injury, Sabu Talks to Jericho
»

Wrestling Legend at WWE NXT, The Rock Working on HBO Show, Trish
»

More on the Name for WWE NXT Takeover, NXT Diva Suffers Very Bad Cut