Jerry Lawler Checks Out Paige (Again)
---
| | | |
| --- | --- | --- |
| | Paige | |
Jerry "The King" Lawler can't seem to get his eyes off Paige.
Back in June, there was this.
Then last month, there was this.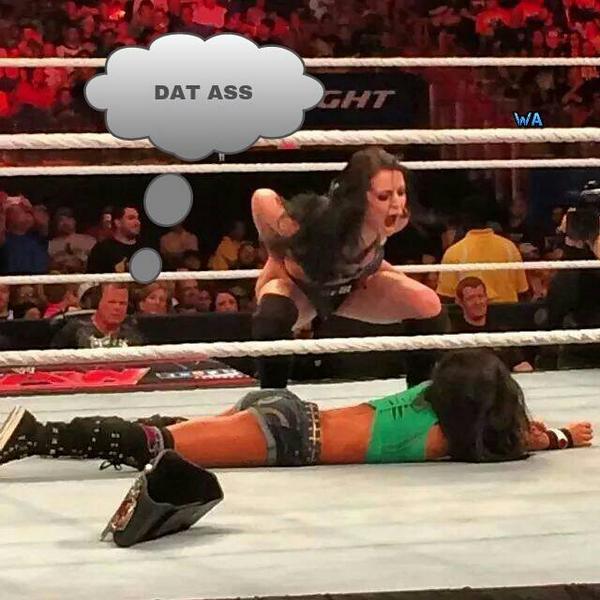 And now we come to SummerSlam.

Latest Updates
| | | |
| --- | --- | --- |
| | Paige | |
As one of WWE's premiere Divas, it is only natural that fans want to know about Paige outside of the ring. A Google search of the 22-year-old will display numerous results concerning her dating status as well as rumors of who she may or may not have had relations with.
On Thursday, the former Divas Champion addressed her relationship status during a Q&A session at the Austin Comic Con.
With that being said, it has been rumored that she dated Brad Maddox for a short time while in Florida Championship Wrestling in 2012.

Latest Headlines
»

WWE Removes Video Accidentally Showing The Bunny Without His Mask On
»

Brock Lesnar Slimming Down for UFC Return?, Backstage Talk on His Future
»

Triple H Makes Rare Request for Feedback, Update on Injured WWE Diva
»

Roman Reigns Talks Sami Zayn, Ryback Responds to Podcast Feedback, More
»

WWE Looks at Best Superstar Taunts, Uso Sharing Total Divas Feedback
»

Live WWE Super SmackDown Rating Down, The Rock Visits Children's Hospital
»

Mick Foley Talks About CM Punk's Decision to Join UFC
»

Ronda Rousey on Possibly Going to WWE and Living Up To Piper's Legacy
»

WWE Stars Sing Happy Holidays, Former WWE Star Has Surgery, More
»

E! Hypes the Return of WWE Total Divas, More Storyline Details
»

WWE Network Announces 12 Days of Attitude
»

Will Axel Get a Shot In WWE NXT?, Jericho on The JBL Show, RVD, Top 10
»

Jeff Jarrett Talks About Plans for GFW, What Makes Wrestling Healthy
»

Why Hogan Wants One More Match with WWE, WWE Looks at Sting vs. HHH, More
»

Football Player Makes WWE NXT Debut, Update on NXT's Shoot Nation Stable